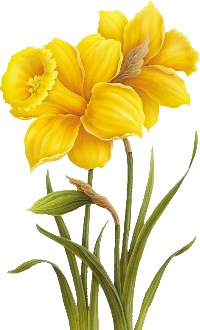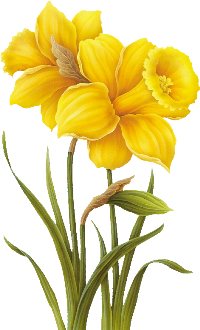 "March winds......
...and april showers..."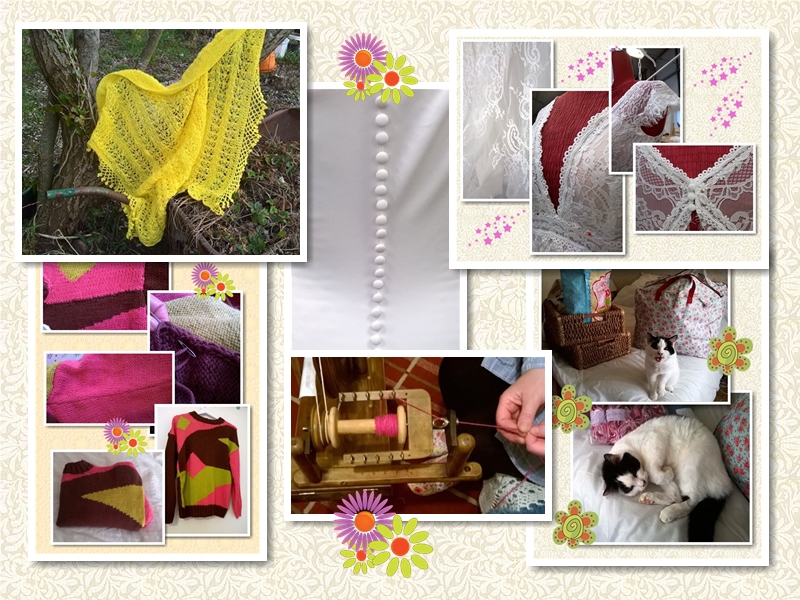 Lyric snippet from "March Winds and April Showers" by Ruth Etting.
Please click here if you would like to listen to it via YouTube.
March.......

365 Days of Creativity - Marching onwards!
There has been lots more creativity going on this month. In terms of finishing things, I completed my lovely lacy knitted throw for the kitchen, and the knitted Neapolitan jumper - both of these items had been in my WIPs bag for a long time!
Talking of WIPs I had a very successful day of sorting them all out, so that they are more accessible and I can work through them all.
I've been doing lots of creative work in my job, with some beautiful gowns, and some work on various cross-stitch, crochet and knitting projects. I've also been working on my website to keep it up to date and make it more user-friendly......oh, and I've started learning to spin! This is something which I've wanted to do since I was a little girl, and it has been facilitated for me by my Lovely Man, who has bought a spinning wheel for us both to learn.
Now that the weather is getting warmer I'm looking forward to some crafting out in the sunshine, and to including some gardening amongst my creative posts. Also, when the Great British Sewing Bee starts in April, I want to do some sewing at home every single day for the six weeks it is running.
Let's hope my energy levels are up and my creative juices flowing throughout April....and beyond!
If you want to look at the posts from the first one on March 1st, then please click here.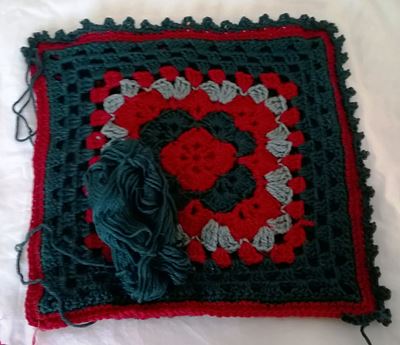 Day 89 - Tuesday 30th March 2021
Some work on the new lounge cushion. I've crochet-joined the front to the back......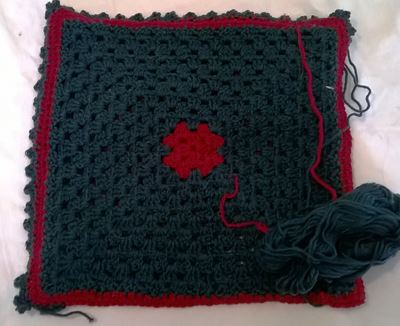 ......and am currently crocheting a picot edging around the whole cushion cover.
I will then need to make a cushion to go inside, so I'll be putting it with the pile of sewing projects which I want to do whilst this year's Great British Sewing Bee is running.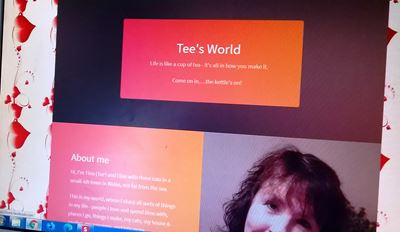 Day 88 - Monday 29th March 2021
Some creativity on this lovely website.
I've now archived the December 2020 blog to a page of its own.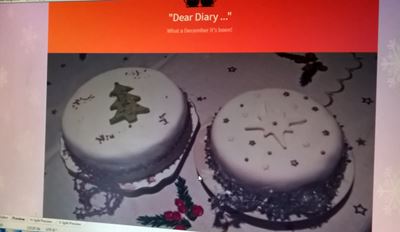 I gave the new page a banner picture, taken from the ones I'd used throughout the month (yummy Christmas cakes) and added a background of pretty snowflakes......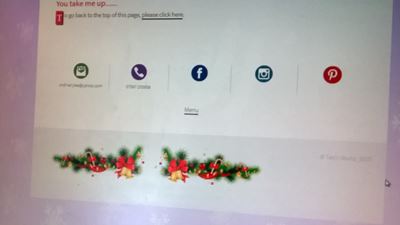 ......then I found a colourful Christmas-themed garland, and mirrored it to use as a border for the banner at the bottom of the page......

......wrote a bit of a blurb to summarise the month......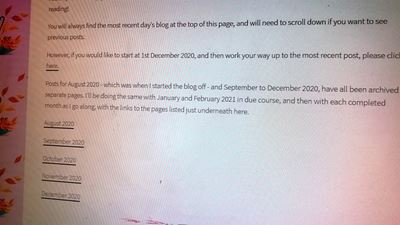 ......and added links so that it can be accessed from the main blog page, and each of the other pages already archived. It can't be accessed from the main website menu - this is to keep the menu as clutter-free as possible, which is more user-friendly.
If you'd like to look at my current blog and/or the archived pages from here, just click on the following: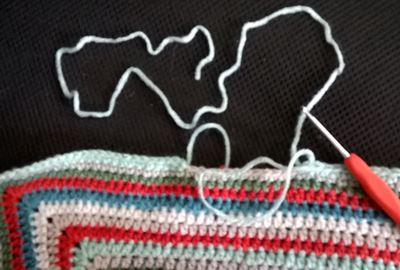 Day 87 - Sunday 28th March 2021
Whilst working on my cwtchy blanket, and using the last of the pale green to do the single crochet row, I was faced with Yarn Chicken! Oh no!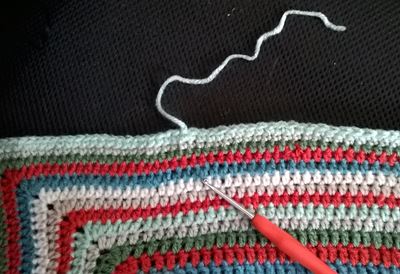 But there was just enough, with a bit left over for weaving in! So I breathed a sigh of relief and continued with the next colour. And that is a post for another day!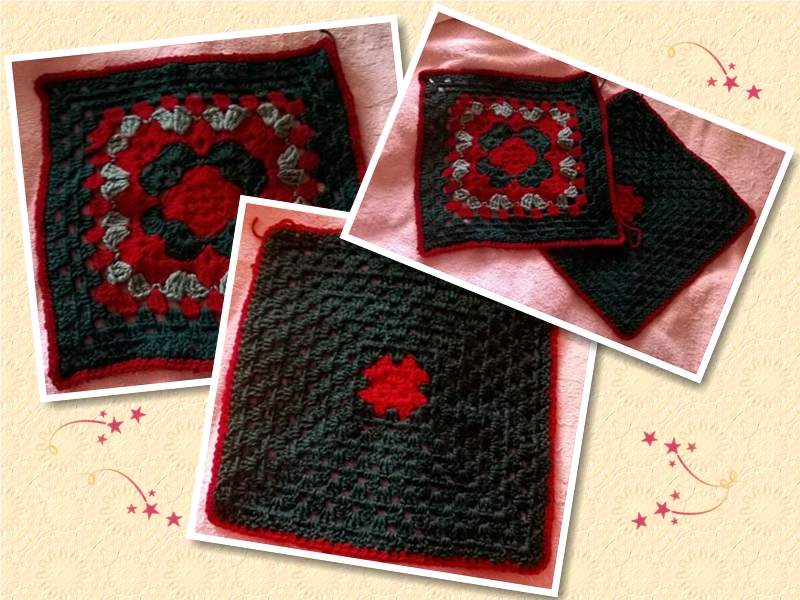 Day 86 - Saturday 27th March 2021
Some work on my latest cushion for the lounge. I've finished both the back and the front panels now, and they're ready to be crocheted together and edged with a picot or scallop (depending upon how far the yarn I have left will stretch!).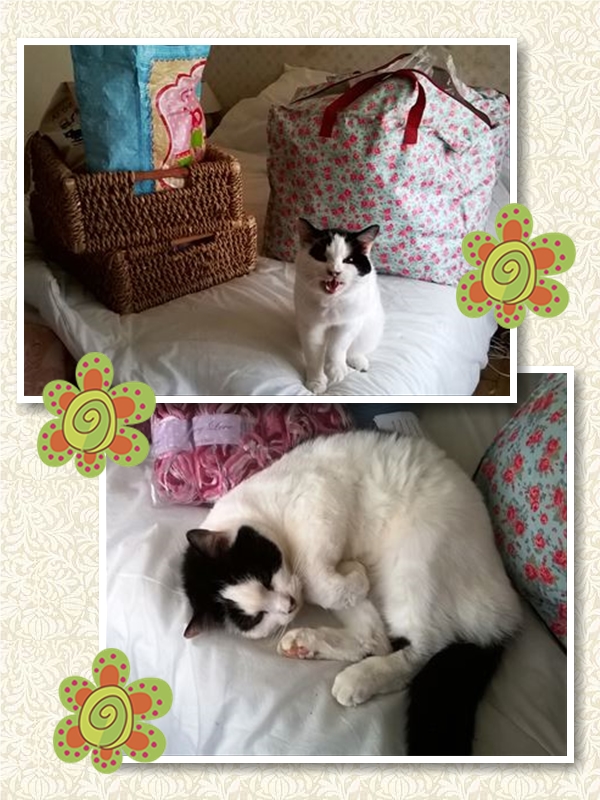 Day 85 - Friday 26th March 2021
I thought I'd head into the weekend with a proper old sort-out of my yarny WIPs. I have done some crochet today, but the main focus of today's creativity was to get some order into some of my creativity!
I got all my WIPs out and I have to confess at having been telling porkies - I didn't have a "WIPs bag", I had a few! You can't tell from the picture, but there are actually two of those great big flowery bags.
When I put them on the bed, the first thing that happened was that Joe shouted at me for having so much!
However, when I asked him to help me sort, he lay down and demonstrated that even though he has delightful toe beans, he has no thumbs!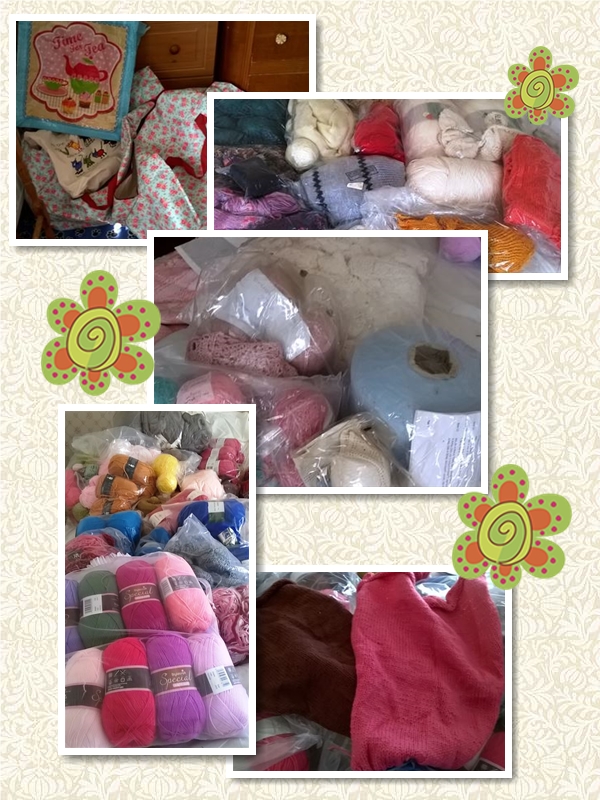 So anyway I got sorting, and after emptying out all the bags, I sorted stuff into categories......crochet WIPs, knitting WIPs, and yarn - some of which included leftovers from recent completed WIPs, and a whole pack of yarn, which is actually one of the Attic 24 kits, so doesn't really count.
I also annoyingly found two sleeves - from the Neapolitan jumper which I recently finished and knitted two new whole sleeves for, because I couldn't remember if I'd knitted them before or not! There is no hope.
Anyway, when this lot was sorted I didn't feel quite so bad when I realised that the "WIPs bags" actually contained more new yarn than they did WIPs!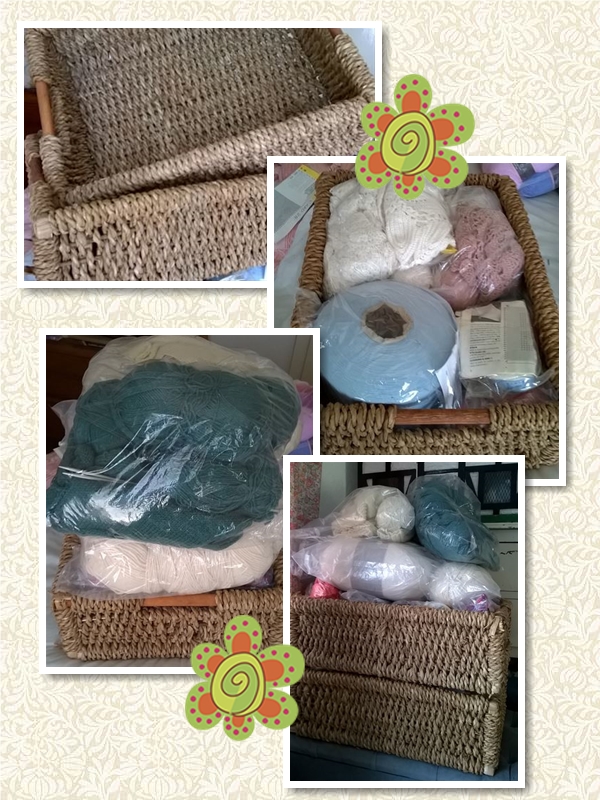 The next step of course was to tidy it all away, but in a way which makes it accessible so that I can finish all the WIPs!
A couple of years ago, somebody gave me two lovely rattan baskets, and so I thought I would make use of those by putting all the WIPs into them.
There aren't many crochet WIPs, so they fitted nicely into one. The other one has the knitting WIPs, with the excess on top, but that's ok - they ARE all going to be finished soon! Haha.
Both baskets are now stored neatly in one corner of my craft room.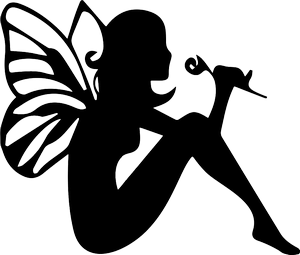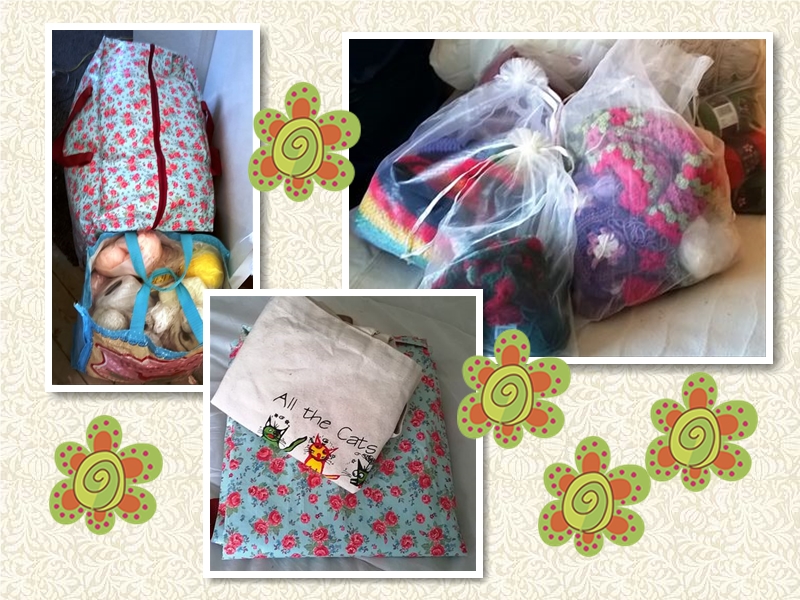 I managed to get all the new yarn back into one of the large flowery bags, with the leftovers into a smaller bag. The other flowery bag plus one smaller one remained liberated!
I found some lovely organza project bags too, so all my current projects each have a temporary home. Better get some yarny crafting done then I suppose! All in all, a successful Friday night sort-out!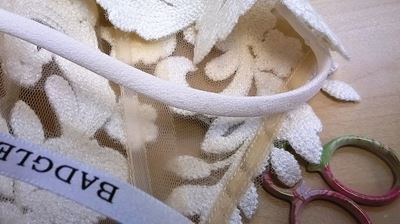 Day 84 - Thursday 25th March 2021
This lovely wedding dress customisation is the opposite to what I'm normally asked to do.
Usually brides want to have diamantés removed from straps and have lace as a replacement. This bride has bought a gown with a plain strap, and wants to add some bling!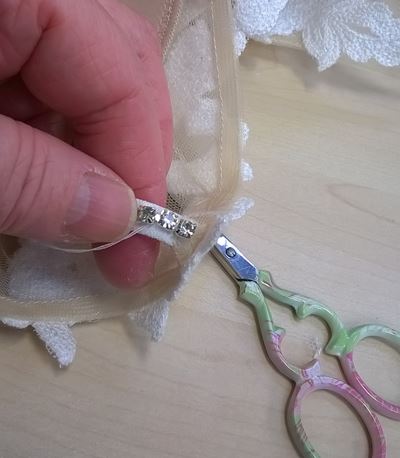 So I've been stitching diamantés along the length of each strap.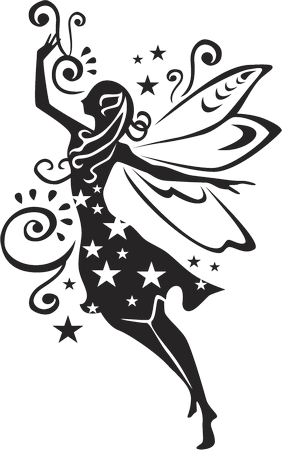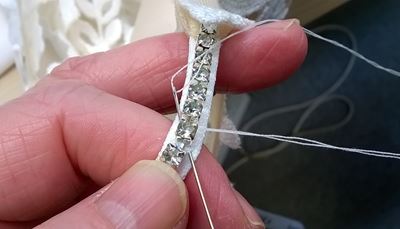 These diamantés come ready attached in a line along a narrow strip of ribbon, so that needs to be stitched neatly along the length of the strap.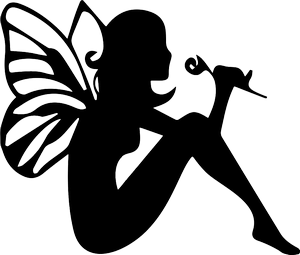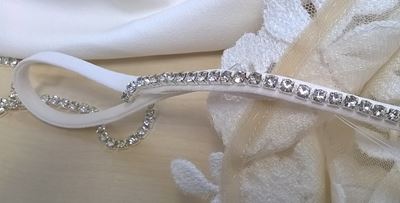 The ribbon strip helps with the neatness. It's much harder to achieve this when stitching single diamantés on, although I have done this before too.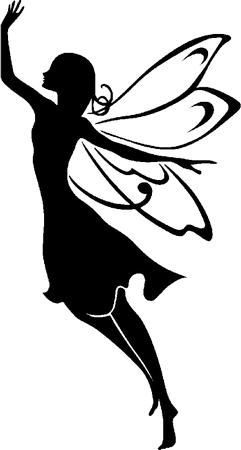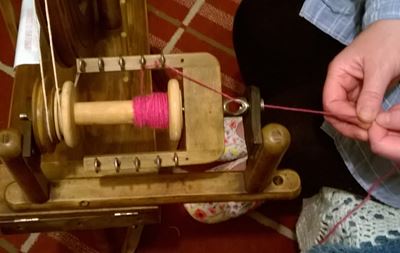 Day 83 - Wednesday 24th March 2021
I've been playing with Bob's lovely spinning wheel!
Bob tells me that apparently it's a good idea to practise 'spinning' with an actual ball of yarn before trying it out on some fleece.
This is so that you can get a feel for the tension, and develop your own rhythm. Also, you can see the twist in the yarn, so you tell how even it is, etc.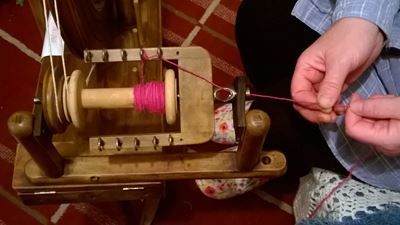 So that's what I've been doing!
I've wanted a spinning wheel, and to try spinning, ever since I was a little girl, so I'm going to really enjoy this journey!
She's a beautiful wheel, and it's so nice using the treadle. It reminds me of my mother's treadle sewing machine, which I learned to sew on, around the age of seven, and which I still have.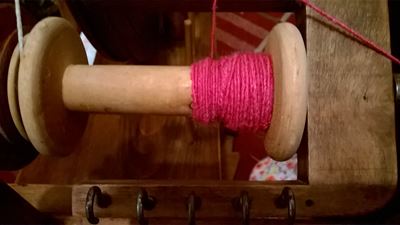 In this picture you can see the twist of the yarn. I'm quite pleased with how even it is so far, but I think I do need quite a lot more practice before I move on to the fleece.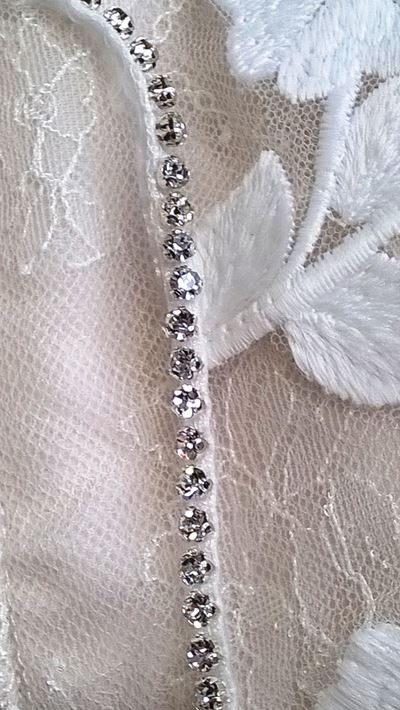 Day 82 - Tuesday 23rd March 2021
More wedding dress creativity today.
One of the customisations we often get asked to do is to replace diamanté embellished straps with lace embellished ones - usually using whatever lace is on the gown.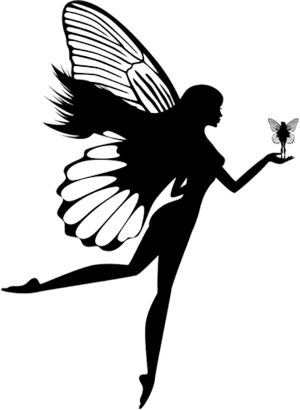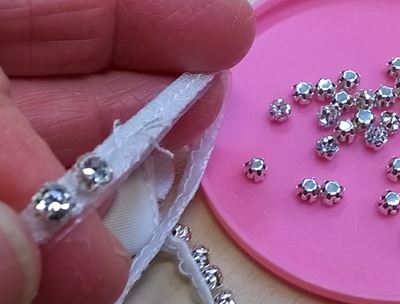 I was working on one such customisation today, on one of our popular gowns.
The job began by removing all the diamanté stones from the straps.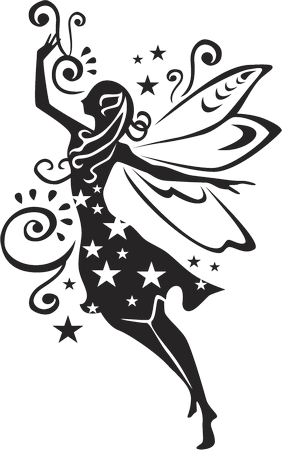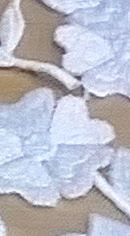 Next I needed to cut apart the allocated motif, choosing small flower parts which could then be arranged into a suitable design along the length of the strap.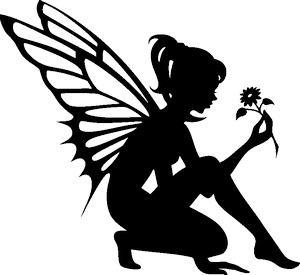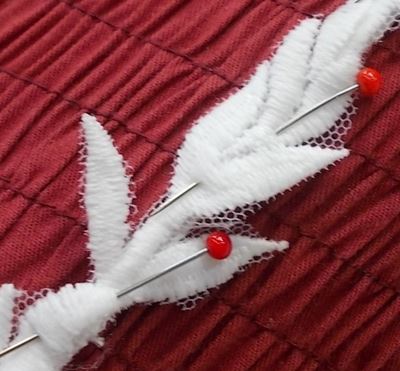 Then I pinned the various pieces in place on the strap, arranging and re-arranging as needed to give a pretty, delicate strap design, in keeping with lace arrangements on the gown. This was to ensure that the straps blended in nicely, so that it wasn't obvious that the gown had been changed.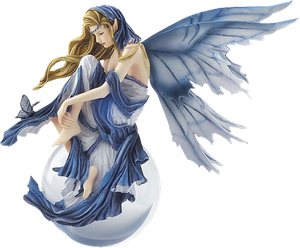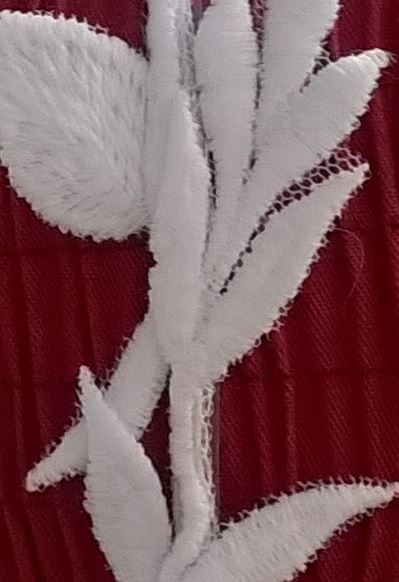 The final stage was to stitch the pieces in place, fine-tuning as necessary. The gown could then be pressed and quality controlled, ready to be shipped off to a hopefully excited bride!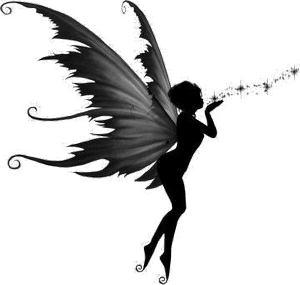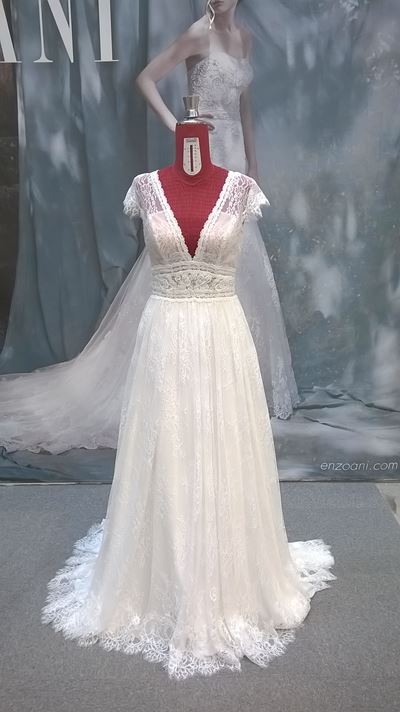 Day 81 - Monday 22nd March 2021
This is the front view of our Lillium gown......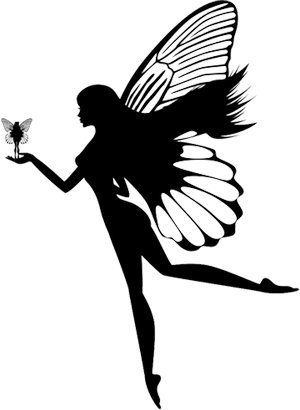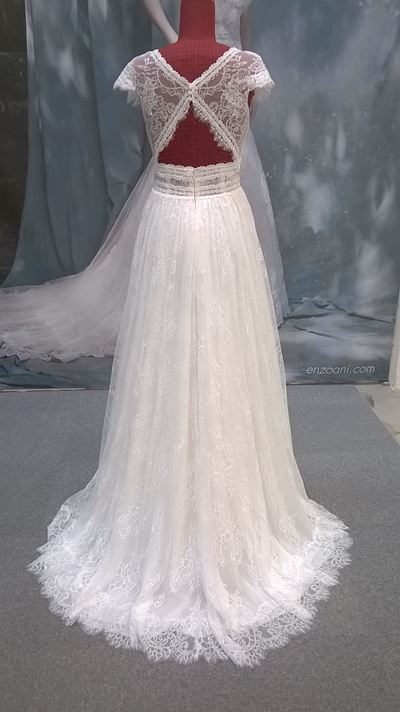 ......and this is the back view.
I really like this gown - it's one of my favourites.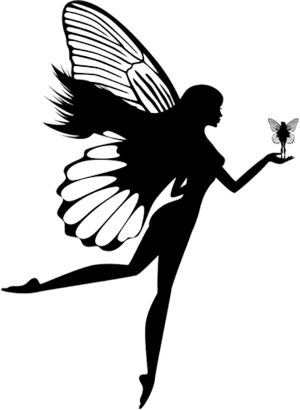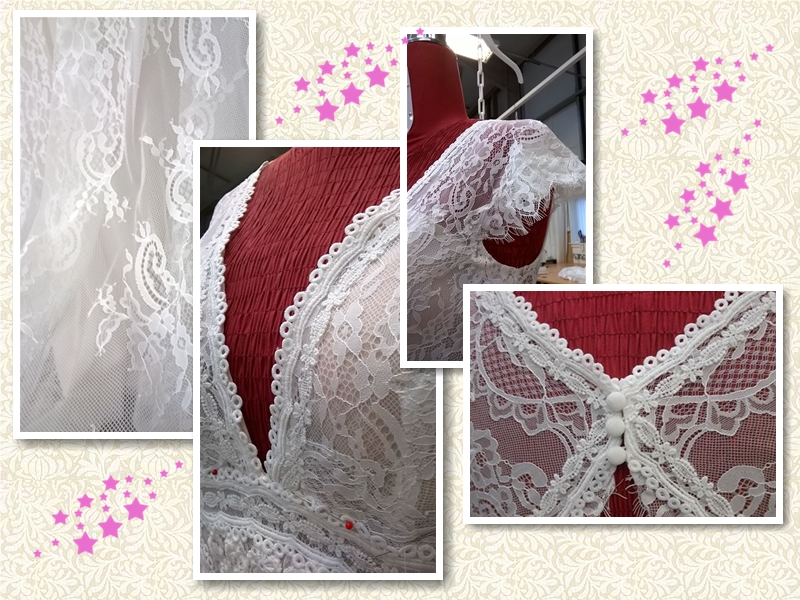 I like the simple lines, and that it's quite Bohemian in style......
......I love the lace that's used on it......
......the pretty little cap sleeve......
......the shape and lines of the bodice......
......and the simple three-buttoned fastening at the back.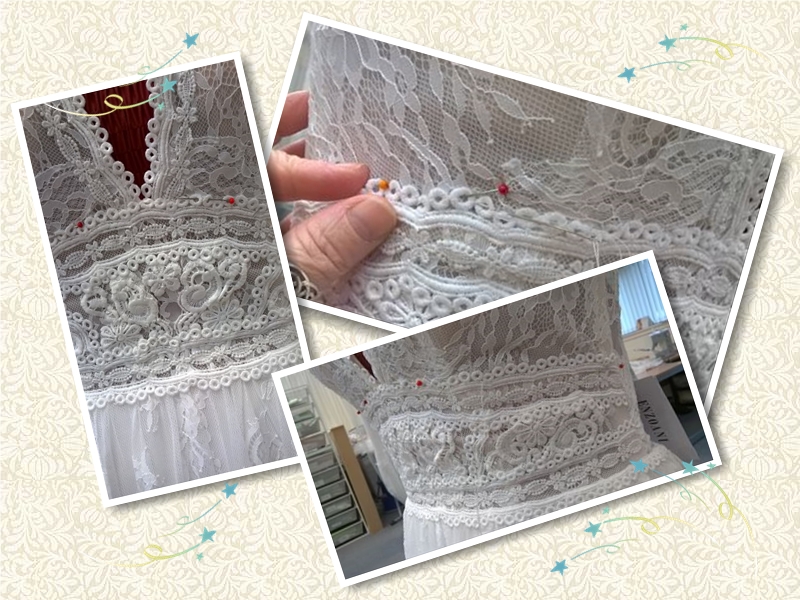 My job today was to insert some boning into the sides and front seams of the bodice.
This involved taking the bodice off at the waistline, inserting the boning, attaching the bodice and skirt back together again, and finally hand-stitching the lace back around the waistline.
I really enjoyed doing this. I get a great deal of satisfaction in creating nice clean lines where the boning has gone in, and then replacing the lace exactly as it was to start with, so that you wouldn't know that an alteration had been done.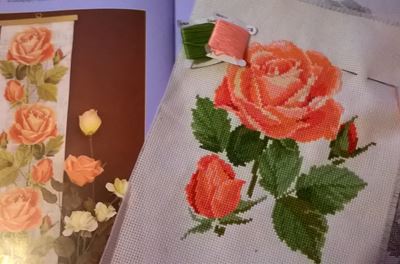 Day 80 - Sunday 21st March 2021
I've been doing some cross-stitching, and working on the lovely roses cushion panel.
There's not much left to do on this now - a couple of hours should see it done - and then I can wash it and make it up into a cushion.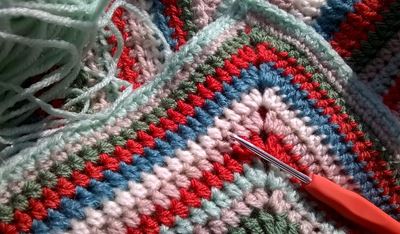 Day 79 - Saturday 20th March 2021
More cwtchy blanket!
I've done the first row, and most of the second, of the single crochet on the border. That is all!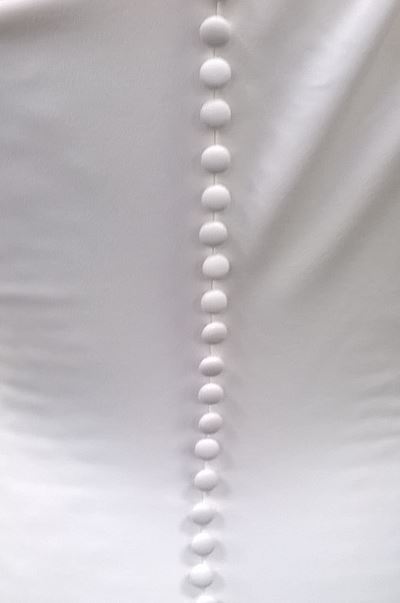 Day 78 - Friday 19th March 2021
The absolute simplicity of a row of covered buttons down the back of a wedding gown!
I love covered buttons.....depending on the fabric that's used for them. I'm not keen on satin and other shiny fabrics, as the sheen causes an optical illusion and makes the buttons look almond shaped, instead of perfectly round.
However the fabric of these covered buttons is a crêpe - the same as the gown - and I think they look lovely.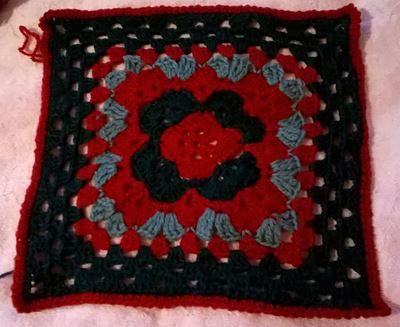 Day 77 - Thursday 18th March 2021
Carrying on with the wool crochet cushion for my lounge.
I've finished the front.
Given that the centre of it is so lovely, I just continued with simple granny treble clusters in the jade yarn, and had enough red to put a single crochet border around it.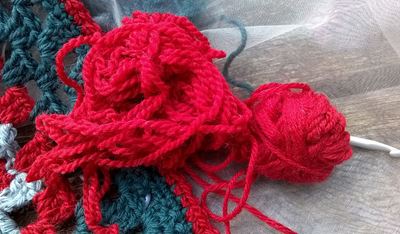 If you've been following, you may remember that for the throw which I made from these yarns, I ran out of red, and was able to source another red yarn of the same quality and a perfect colour match.
I have a little of the original red left, and I really want to use it in this cushion (I don't like tiny leftovers, because I feel they're a bit of a waste).
When you put these two yarns next to each other, they do look quite different, even though they are both identical colours, both pure wool, and both double knitting weight.
However, they do look absolutely fine with each other when crocheted up.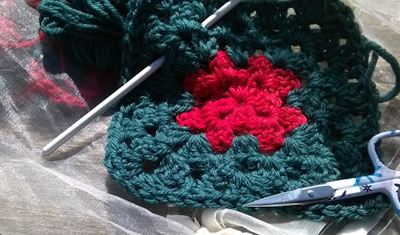 So I've started the back, using the red for the centre and then continuing with the jade. I'm just literally making a large granny square, and hopefully there will be enough red left to border the back with single crochet the same as the front, and then hopefully enough jade to put a picot or scalloped edging around the whole cushion.
This beautiful yarn (Jaeger Matchmaker) crochets up really quickly, so hopefully I can get this finished within the next week.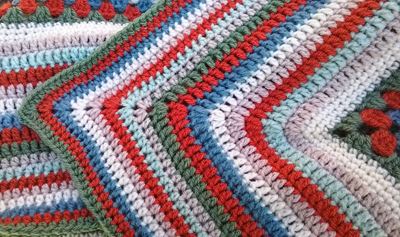 Day 76 - Wednesday 17th March 2021
Some more work on my cwtchy blanket. I've finished going around the border with half trebles now.
I had previously been around with trebles, and these half treble rounds are slightly narrower than the treble ones. I love the striped effect this is giving.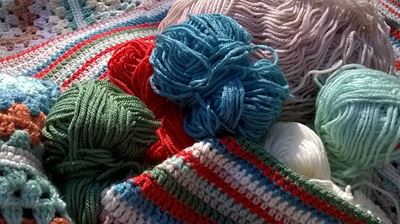 I have lots left of a few of the colours, and I think enough of the other colours to go around once more using single crochet for each colour. This will further add to the striped effect.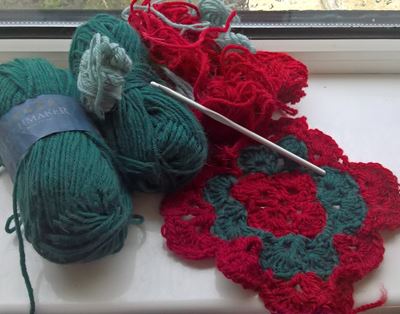 Day 75 - Tuesday 16th March 2021
A reminder of the partly-crocheted cushion I found when moving the lounge around recently.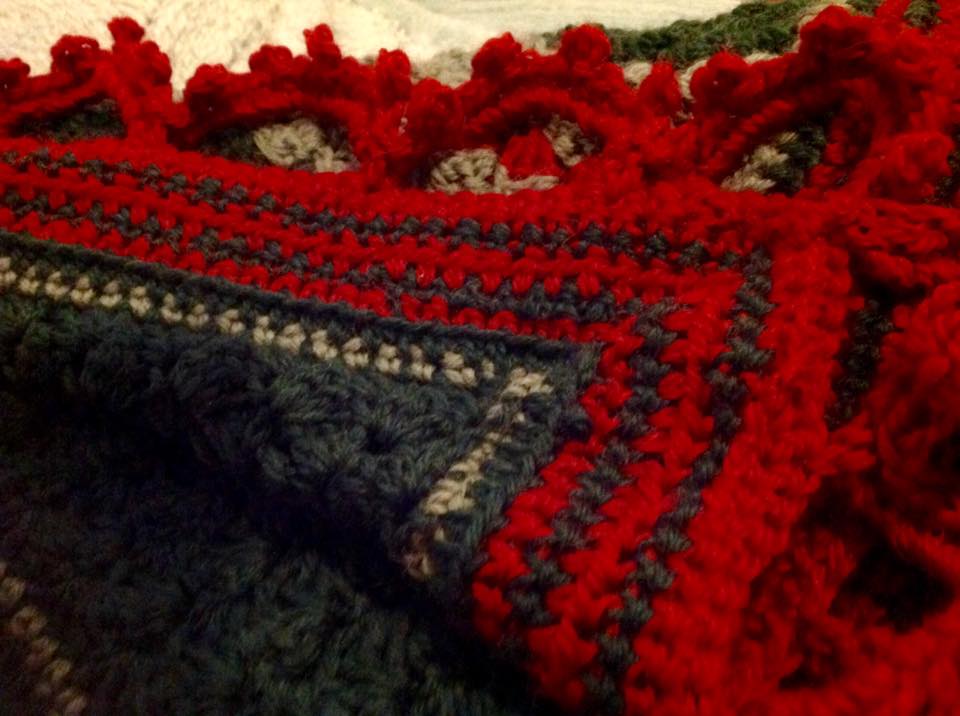 I started it some time ago, after finishing this throw, which is currently draped on a basket in the lounge. It was in the basket that I found the cushion and yarn.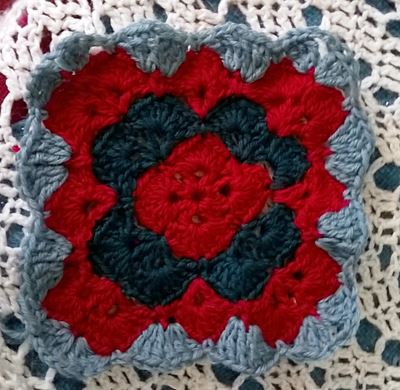 I'm now continuing with it, so that I can get it done and display it on the basket with the throw.
I have no idea what pattern I was using, other than it was something online. I did have a look through my Pinterest posts, but to no avail. So I'm kind of making it up as I go along.
I've started off by using the small amount of duck egg blue which was left, to go around filling in the gaps that are there, to make it more granny-treble friendly.
The yarn is beautiful - it's Jaeger Matchmaker pure wool, and feels so nice to work with. It's years old, and I'm not even sure it's made any more!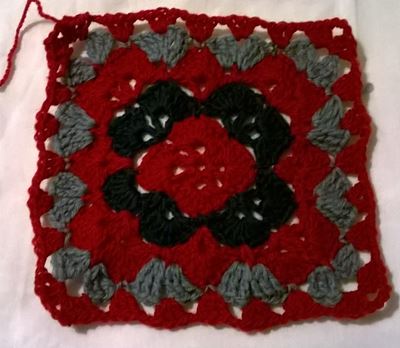 I'm literally then going to just finish it off in treble clusters, as I think the centre of it is really nice and I don't really want to detract from that. Also, I just want to get it done to reduce my WIPs. Can you tell I'm itching to start something else? Haha.
So I then went around with granny treble clusters, using some of the red yarn......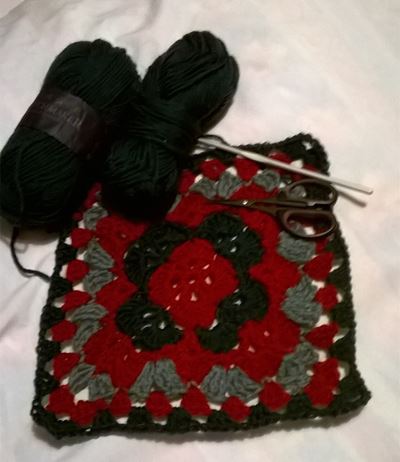 ......and then another round using the jade yarn. I'm out of the duck egg blue now, and only have a small amount of the red - maybe enough to do a round of double or single crochet. I do have more than a ball of the jade, so I'll use some of it to finish off this front, and the rest of it to make a simple granny square for the back of the cushion.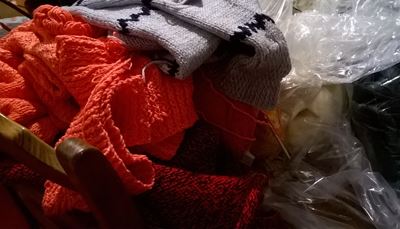 Day 74 - Monday 15th March 2021
I've been rummaging around in my bag of WIPs again!
This is a pile of knitting WIPs - I counted ten in all. Almost all of them are at the sewing up/finishing off stage, and as we've already established that this is the part about knitting which I dislike the most, it's safe to say that is WHY they're in the WIPs bag! This situation clearly couldn't continue indefinitely, and that is why I have been dipping in and out of the WIPs bag, determined to get stuff finished before I allow myself to start anything new!
Unfortunately, there are no patterns with any of these projects. I've clearly at some point decided to sort things out, and have put the patterns to one side, to put into a file or something. I'll need to find the patterns to be able to finish most of them off.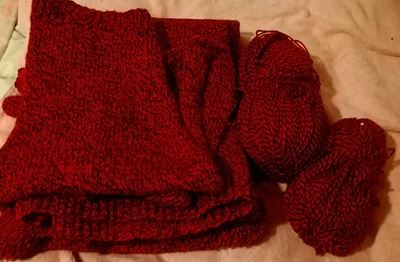 So having now finished my Neapolitan jumper, I need another knitting WIP to be getting on with, and this is the one I have chosen. It's a waterfall cardigan and the yarn is a lovely black and red mix. Black and red is one of my favourite colour combinations to wear. The yarn is a "Rebecca" yarn, which I bought more years ago than I care to remember, when I was working for BACM in Cardiff with a lovely lady called Nancy, who was also a fellow knitter, and like a second mum to me! We both loved to shop for yarn at Shaws, which was where I bought this particular yarn from.
Although the pattern is being elusive, I had actually got to the blocking stage with this one, so I think I can probably stitch it all together without the pattern, even if it might be a bit like doing a jigsaw puzzle without the picture!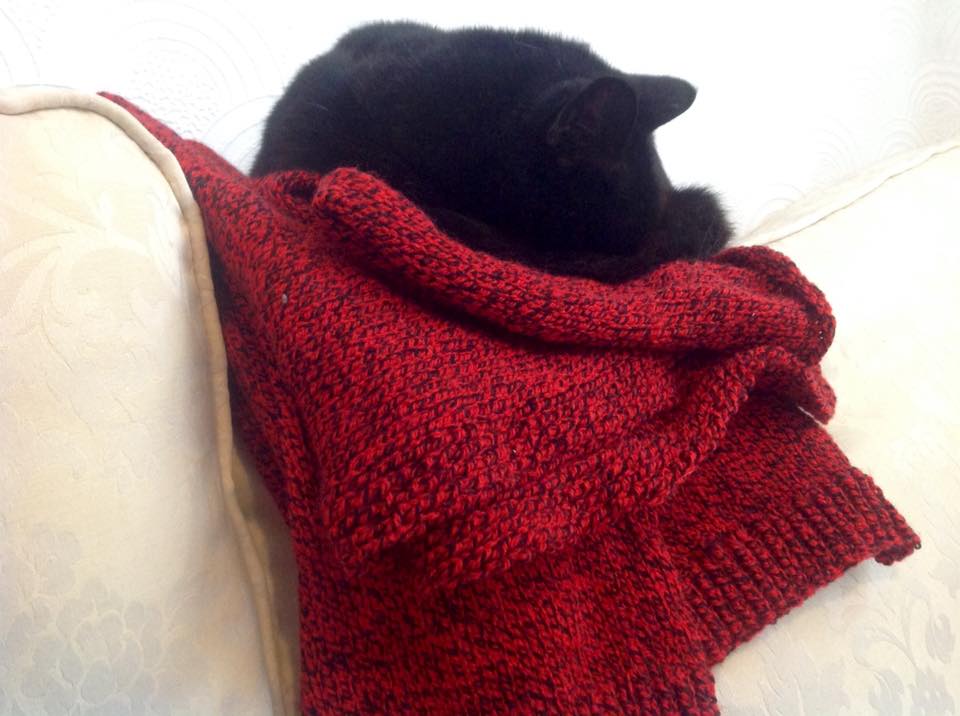 I actually blocked it ready for sewing up around four years ago. At the time I took this picture of the late, great Nala Cat, who decided at the time that it was a lovely place for a snooze! I couldn't not include this picture here. You're welcome!

Day 73 - Sunday 14th March 2021
My Neapolitan jumper WIP is now a finished project! Yaay.
I gently steamed the shoulder seams and the seams where I had joined the sleeves into the main body.
Then I stitched up the sides and sleeve seams, using a small, neat backstitch, as before, to give a neat, flat seam.
Finally I steamed those seams, and gave the whole garment a bit of a steam. I really dislike sewing up knitted garments, so I'm really glad it's done.
I'll be having a rummage through my WIPs bags again now, to find the next knitting WIP.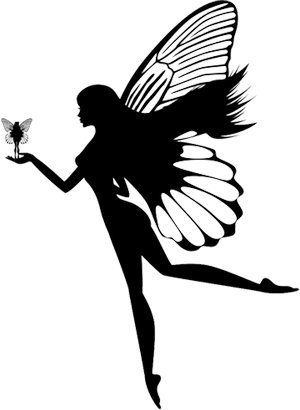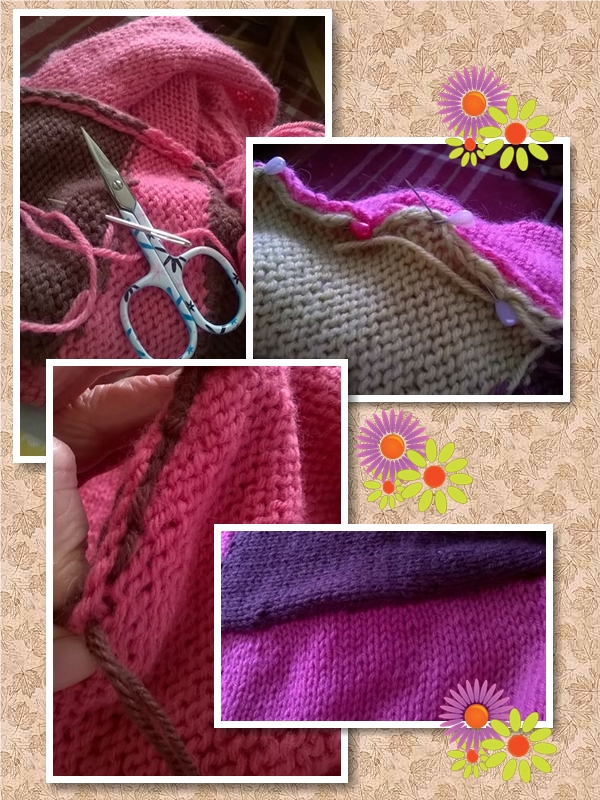 Day 72 - Saturday 13th March 2021
Following on from stitching up the shoulders of my Neapolitan jumper, I've been stitching the sleeves into it.
I used a neat, small backstitch for this.....tight enough so that it won't fall apart, but not too tight, so as to pucker it.
This has left a nice, neat seam which itself will need steaming to flatten it and make it even neater.
However, that's for another day - there's only so much stitching up of knitwear a girl can face in one day!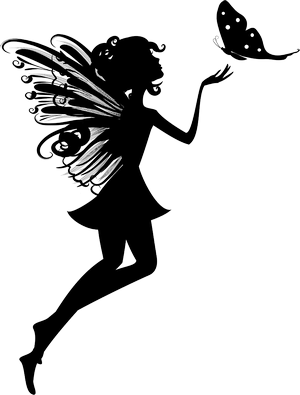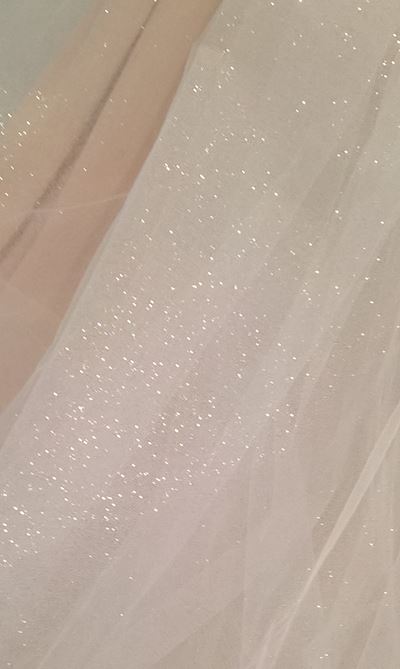 Day 71 - Friday 12th March 2021
A little bit of workplace creativity.
I'm on the finishing stages of the wedding gown with the added sparkly layer in the skirt. Today I've been inserting the sparkly layer, sandwiched between the top layer and the remaining under layers, and then re-attaching all of that to the bodice.
It's such a pretty gown, with delicate lace appliqué and floaty skirts.
The skirt is lined with a subtle 'nude' lining, and this really helps to bring out the sparkle in the added layer.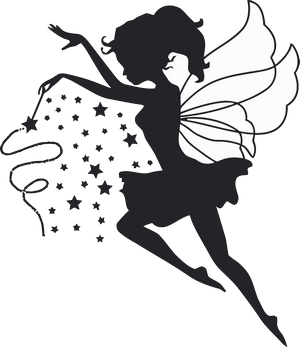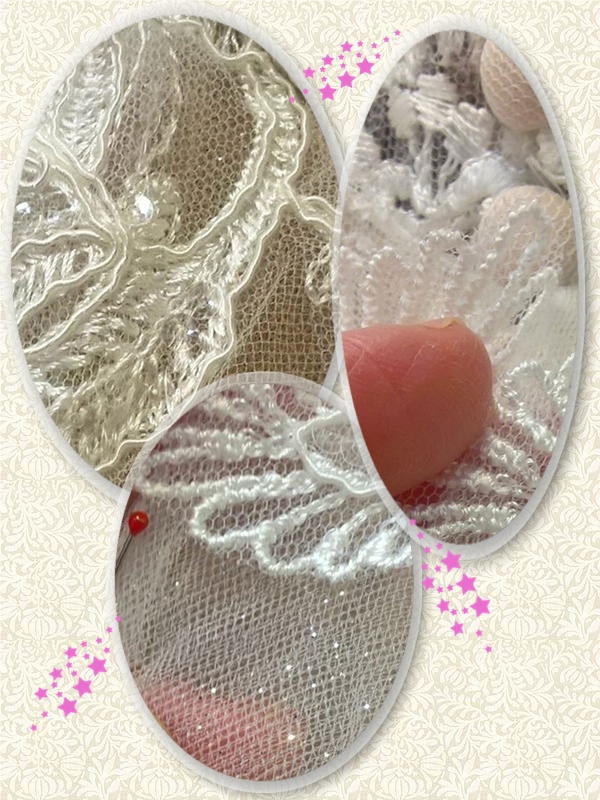 After re-attaching the skirts to the bodice, I then needed to re-attach and secure all the pieces of loose appliqué which had needed to come off in order to take the gown apart to work with it.
This kind of stitching is very therapeutic and getting the placements correct really appeals to my need to pay attention to detail in my job.
The appliqué flowers are decorated with tiny sequins, which add to the overall sparkle of the gown. With the new sparkly layer it looks very much the fairytale gown and I'm sure that the bride is going to be delighted!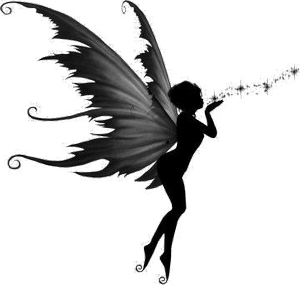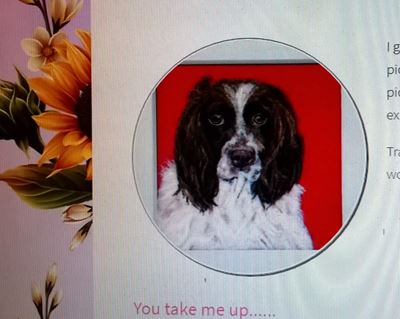 Day 70 - Thursday 11th March 2021
More website creativity......I love this website stuff, it's quite addictive!
My Lovely Man has been teaching me how to do some more css, and I've been learning how to put shaped photographs into my website.
I can now do circular photographs......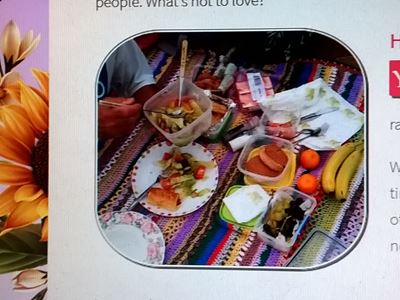 ......photographs with rounded corners......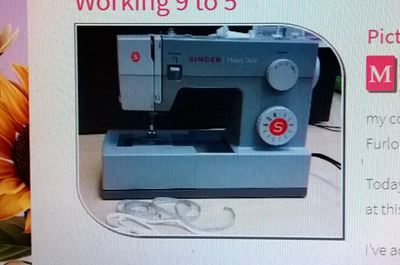 ......photographs with a quirky mix of corners......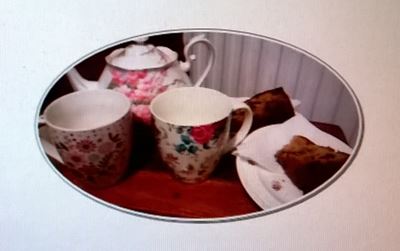 ......and oval-shaped photographs.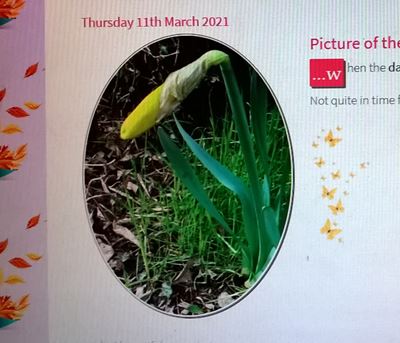 I've put this into practice in this evening's website, as I thought the oval shape was perfect to show off the beautiful daffodil in my garden.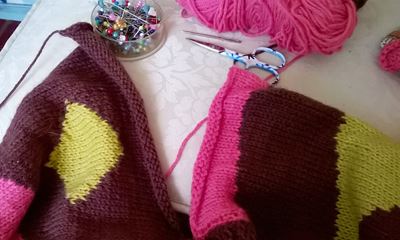 Day 69 - Wednesday 10th March 2021
Now that my Neapolitan jumper has been blocked I can stitch it up!
Like a lot of knitters, stitching up is my least favourite part of any project, so I tend not to do it all in one go! I've started off with the shoulders.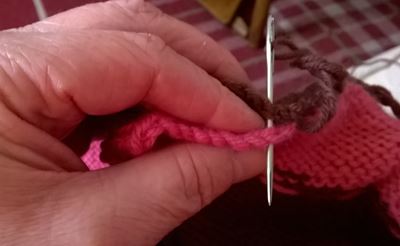 I lined up the front and back shoulders on each side, and used an over stitch and a double thickness of yarn, to go through one stitch on the front and one stitch on the back, all the way along, making sure that I kept a good tension - to make a secure seam, but at the same time not to pucker the seam.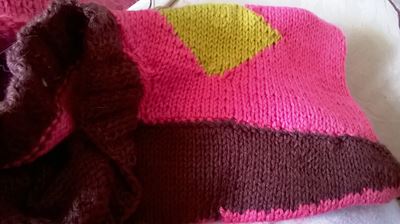 This has left me with a nice neat, flat seam.
The next stage will be to join the sleeves to the main garment......but that's for another day!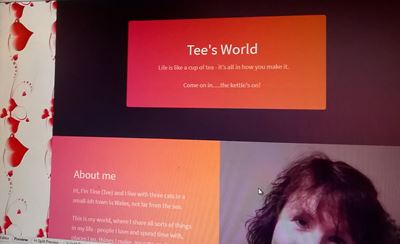 Days 66, 67 and 68 - Sunday 7th to Tuesday 9th March 2021
Some more website creativity.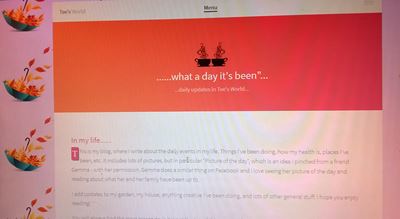 I've been doing more archiving of my blog page.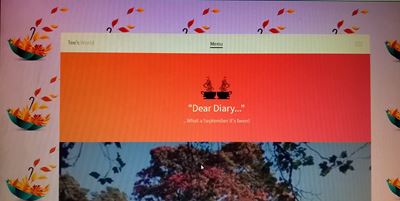 A few days ago I archived the blog page for August 2020 - the month my blog began - and made it accessible via a link from the main page.

Over the last few days I've been doing the same for the September, October, and November 2020 pages. All three pages have lovely autumnal backgrounds, and are each headed up with a photograph specific to that month.
There are plenty of links on the main blog page, and within the archived pages themselves to hop back and fore between all the pages!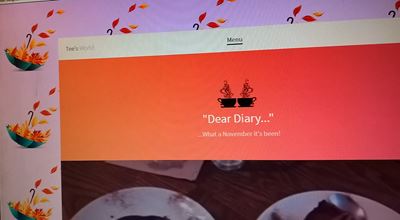 To visit the September page please click here.
To visit the October page please click here.
To visit the November page please click here.
If you'd like to visit the main blog page, to see what's currently happening in Teesworld, please click here.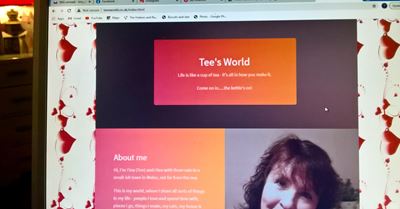 Day 65 - Saturday 6th March 2021
A little more website creativity.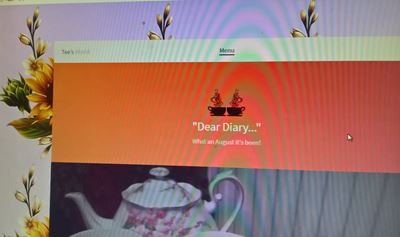 This time I've been setting up the first of my blog archive pages.
My blog has been going for over six months now - that's a lot of posts! So, I'm separating out the months and 'archiving' each month as a stand-alone page. I've started with August 2020, since my blog began on 14th August.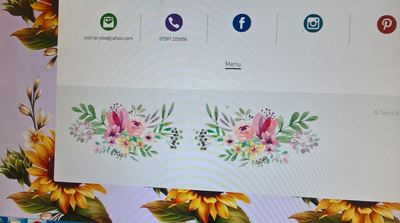 I've given the page a new banner picture across the top, and a new background - lovely summer sunflowers. I've also used some summer flowers across the bottom band of the page, and added a bit of a blurb about what a lovely month August was.

Anybody who visits the site can link to the August 2020 page from the main, current blog page.
If you'd like to visit the August 2020 page, to see where it all began, please click here.
If you'd like to visit the main blog page, to see what's currently happening in Teesworld, please click here.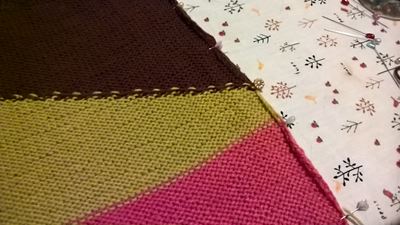 Day 64 - Friday 5th March 2021
More blocking - this time my Neapolitan three-coloured knitted jumper.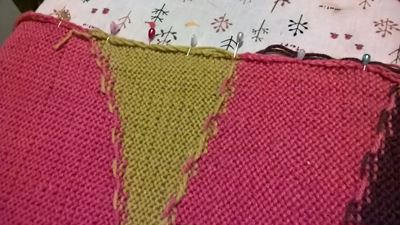 This Sirdar "Snuggly" yarn was lovely to knit with, and just as lovely to block.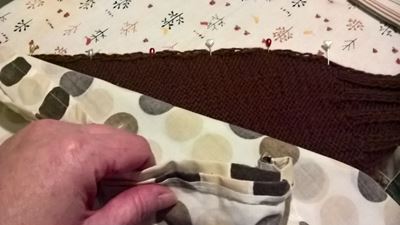 I used the same gentle method of blocking as I used yesterday with the yellow throw, so as not to squash the lovely fibres. I'm actually looking forward to stitching this one together now - that's something I never thought I'd hear myself say!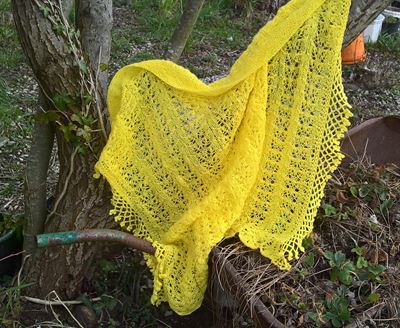 Day 63 - Thursday 4th March 2021
I've blocked and finished the yellow lacy throw for my kitchen, and I love it so much!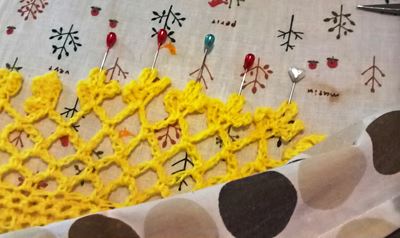 I blocked it on the ironing board, pinning out each section, and then using a piece of polycotton fabric to cover, before hovering over it and releasing steam with the iron, then finally gently patting on top with light hand pressure, then lifting the cloth, allowing the section to cool and moving onto the next section to repeat the process.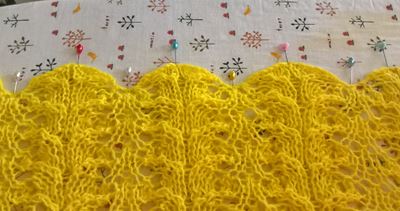 Using this gentle method of blocking means that the fibres aren't completely squashed. I always cringe when I see a lovely piece of knitting or crochet, and then it has been blocked by someone actually putting an iron on top of it, therefore flattening all the fibres and making the item look dull and lifeless.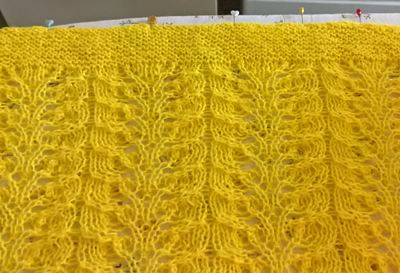 By relying on steam and gentle hand pressure, it means that the pattern of the item is spread out to show it off, yet still retaining the vibrancy and bounce of the yarn.
On the central parts of the throw I didn't need to use pins, as I was able to spread it gently over the ironing board in order to bring out the pattern for blocking.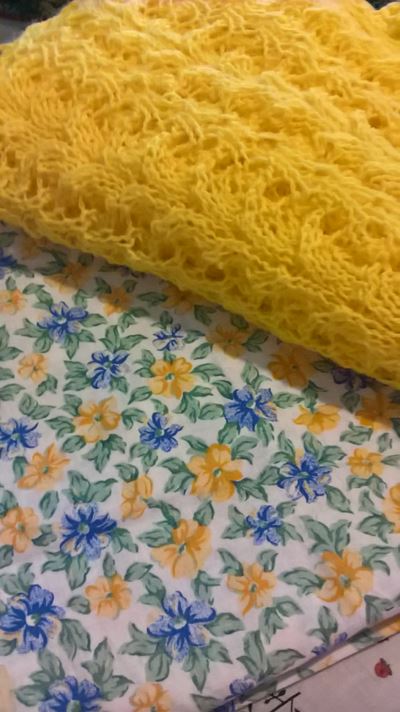 This is the curtain fabric I have for my kitchen. Well, it's an actual curtain, since I made them a while ago, but I won't put them up until I've finished all the painting and stuff.
The throw picks out one of the paler yellows in the fabric.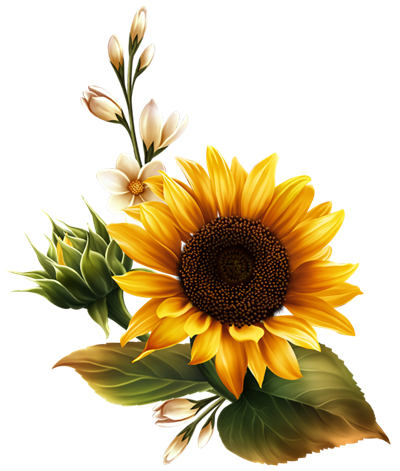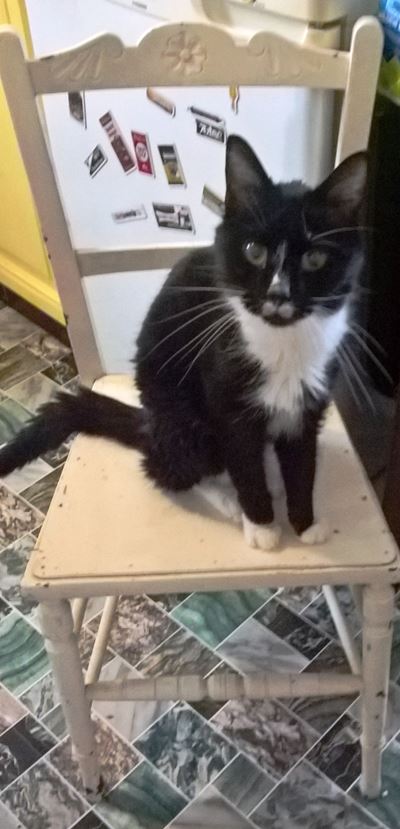 This is a little chair which I have for my kitchen....and which Basil decided to sit on and look gowjus when I got it out to photograph it.
It's a chair which I really love, and it has sentimental value - it was in my childhood bedroom, and I'm not sure if either my father or my grandfather may have made it.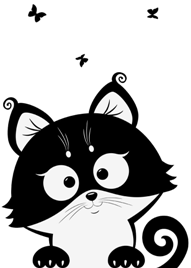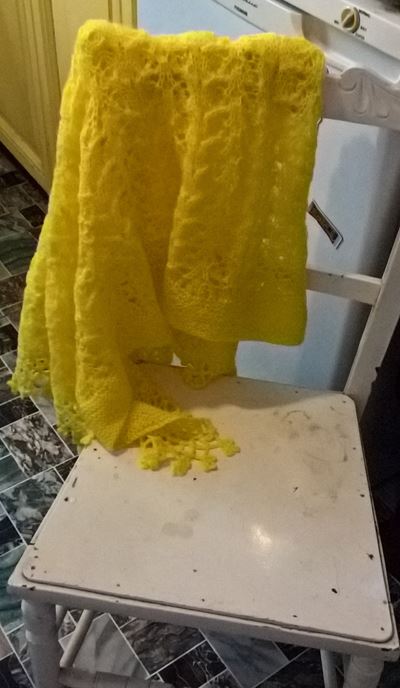 I made the throw specifically to drape over this chair - just to add a bit of textile interest to my kitchen.
The chair obviously needs upcycling, so please excuse the state of it! I'll probably just sand it down and re-paint it, probably still in white, so that it shows off the lovely yellow of the throw.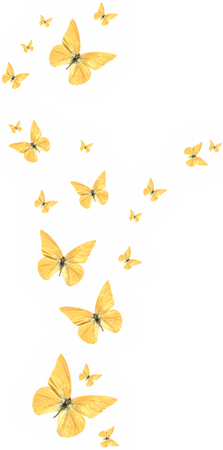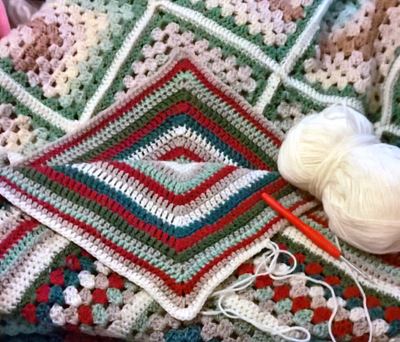 Day 62 - Wednesday 3rd March 2021
Slow but sure progress on my cwtchy blanket. I'm on the fifth of eight rows of half-trebles around the edge. Each round is now taking around an hour.....I estimate that I have about twenty hours of crochet left to do on it, then washing and blocking (as best as I can with such a large blanket), so it should be finished by about the end of March! Haha.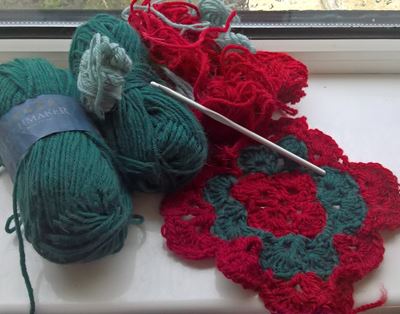 Day 61 - Tuesday 2nd March 2021
Whilst spring-cleaning the lounge, and looking through baskets I have things stored in, I came across the beginnings of a cushion. A WIP that wasn't in the bag of WIPs! Ha, these WIPs get everywhere.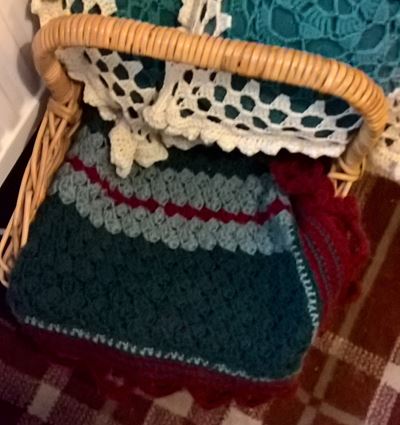 The basket where it was stored is covered with a lovely pure wool crocheted throw which I made a few years ago, and I obviously started the cushion to match it!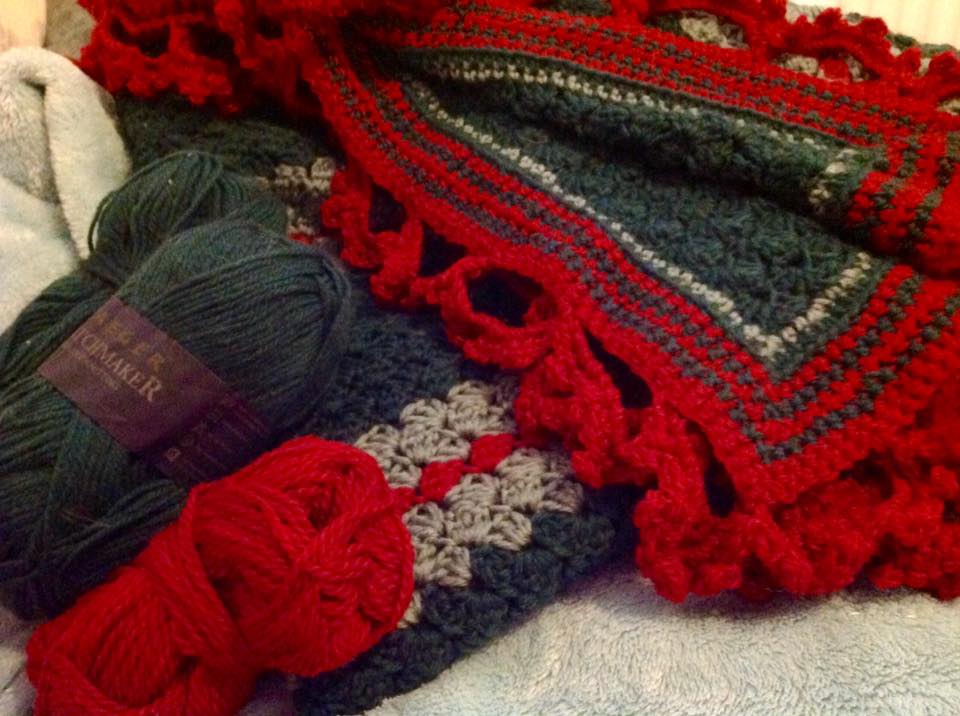 Here is a picture of the throw at the time I was making it. The yarn is Jaeger "Matchmaker" - really lovely, soft and warm. Originally I bought the yarns to knit an intarsia jumper with a picture of a heron on the front, but I seem to remember that I wasn't enjoying knitting it, and so took it apart and decided to use the yarn for something else.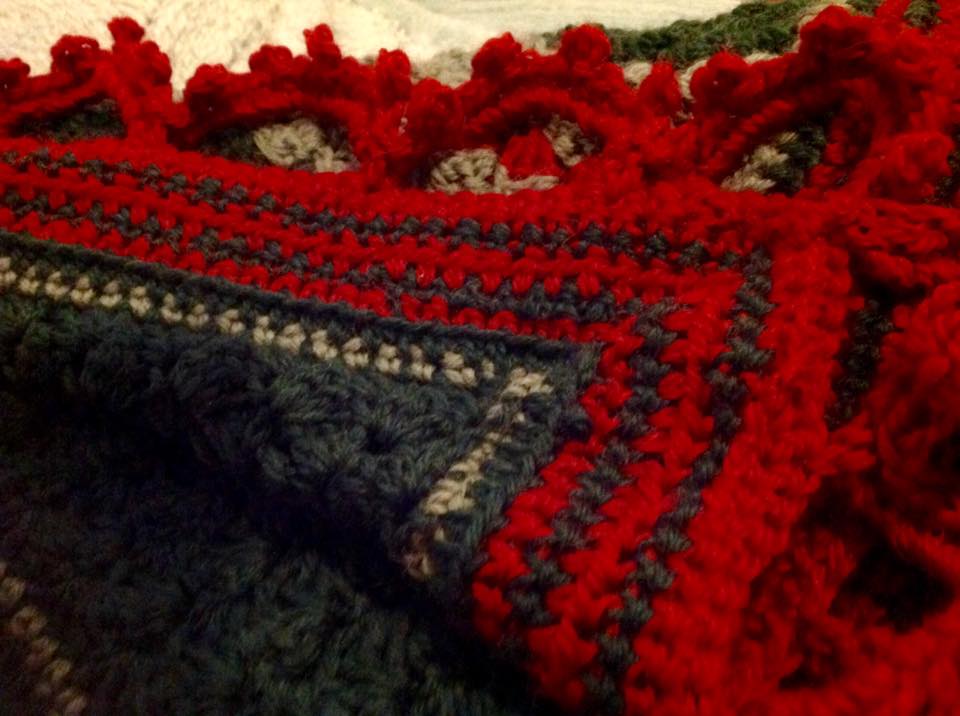 I also remember that I ran out of the red colour, and a couple of years ago, went in search at Wonderwool Wales to try and find a matching yarn, which I did very successfully!
Anyway, I shall continue with this cushion cover. I have no idea what pattern I was following, and have a feeling I might have been making it up as I went along, so I shall continue in the same vein.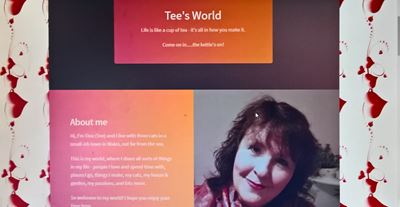 Day 60 - Monday 1st March 2021
The first of the month means some website creativity, to update the creative pages.
I've set up a February page, so that I can move all the February creativity posts there, to cut down on loading times on the 365 Days of Creativity section of the main creative page, and also so that the page is not cluttered with too much history.
You can access it by clicking here, or by clicking the 'February' link further up this page.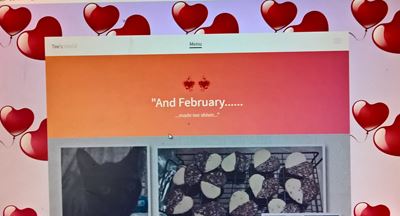 For the February page, I've changed the banner picture to a collage of February's craft items – both finished and still on the go. I've also put a lovely new background with a Valentine theme, and changed the heading and heading graphics accordingly.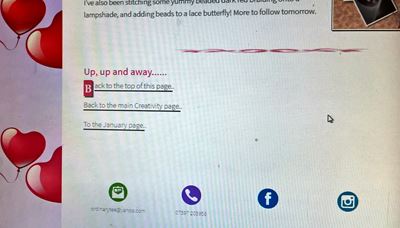 I've also added links so that my website visitors can navigate between the main creative page, and the 365 Days of Creativity January and February pages.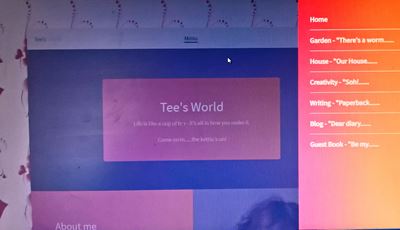 Continuing thanks to my Lovely Man Bob for all his help with my website – he is teaching me new things every day, and I am so enjoying it.
Just for info too – Bob designs websites himself. If you would like to visit his Computech website please click here (Opens in a separate web page).

Up, up and away......
Back to the top of this page..
Back to the main Creativity page..
07597 205956