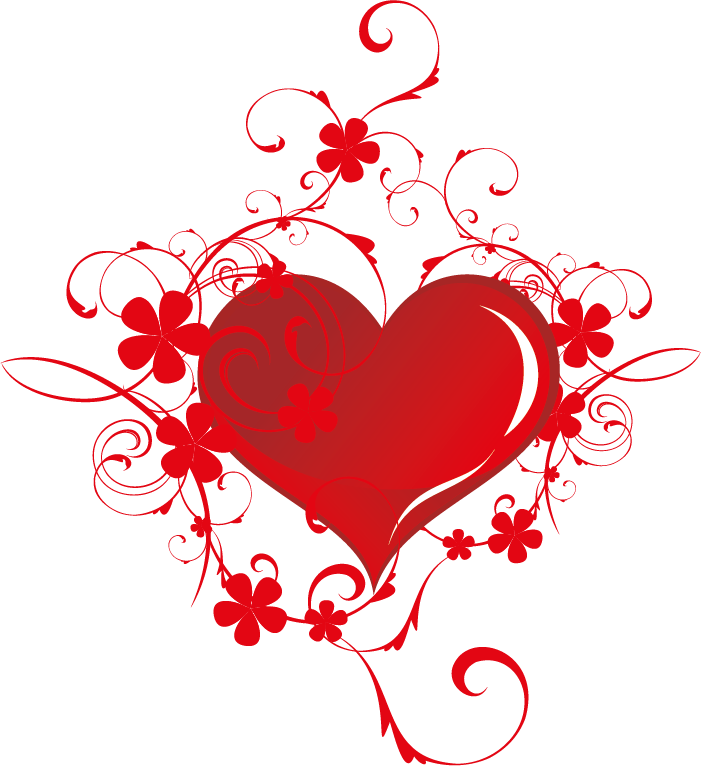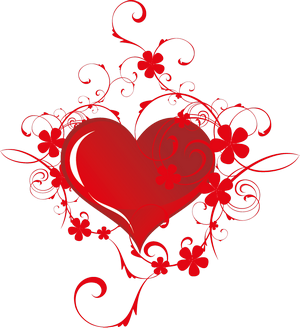 "And February......
...made me shiver..."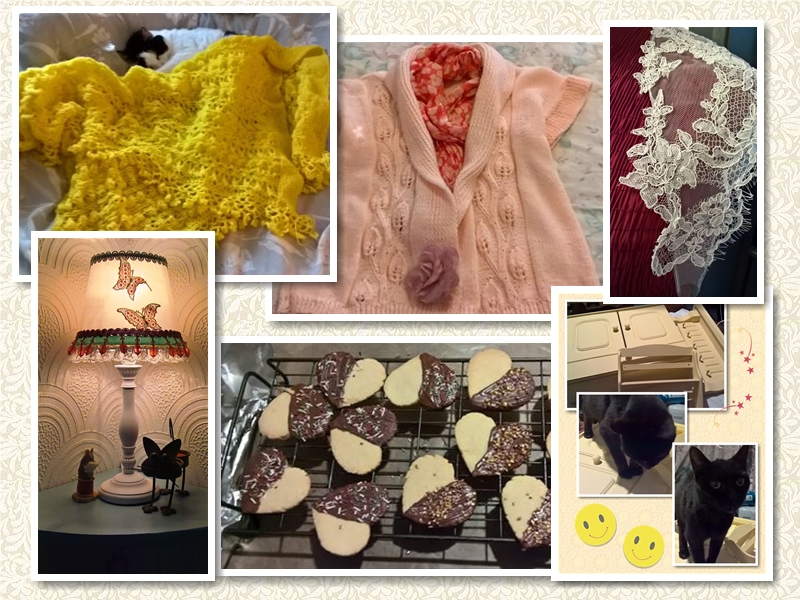 Lyric snippet from "American Pie" by Don McLean.
Please click here if you would like to listen to it via YouTube.
February seems as short as January seems long!
However, I still managed to get a fair bit of crafting done, even if I didn't get an awful lot actually finished! Here's to more crafting during March - I'm hoping the spring weather will inspire me to be very creative!

365 Days of Creativity - the next 28 days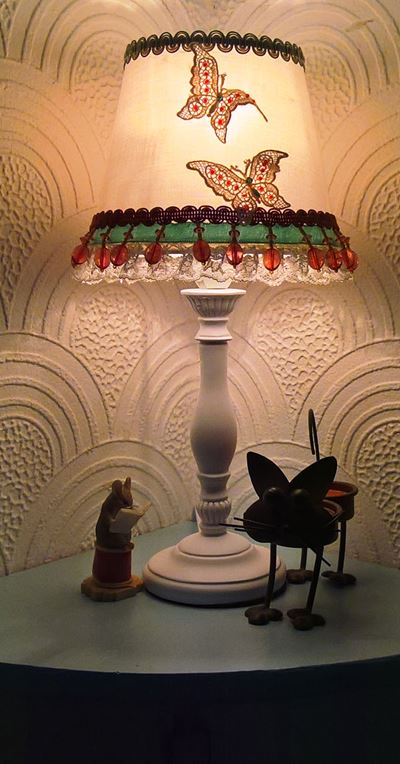 Day 59 - Sunday 28th February 2021
I put up the blue corner shelf in the lounge, for the new lamp.
I also found a new home for my lovely cat tea light holder and the Beatrix Potter "Tailor Of Gloucester" mouse figure which my Gowjus Girl bought for me a few years ago.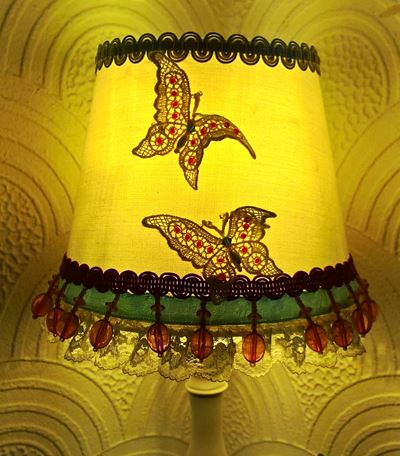 Although I finished decorating the lamp shade a few weeks ago, I decided that one butterfly didn't look quite right, so I added another, and now I'm very happy with it!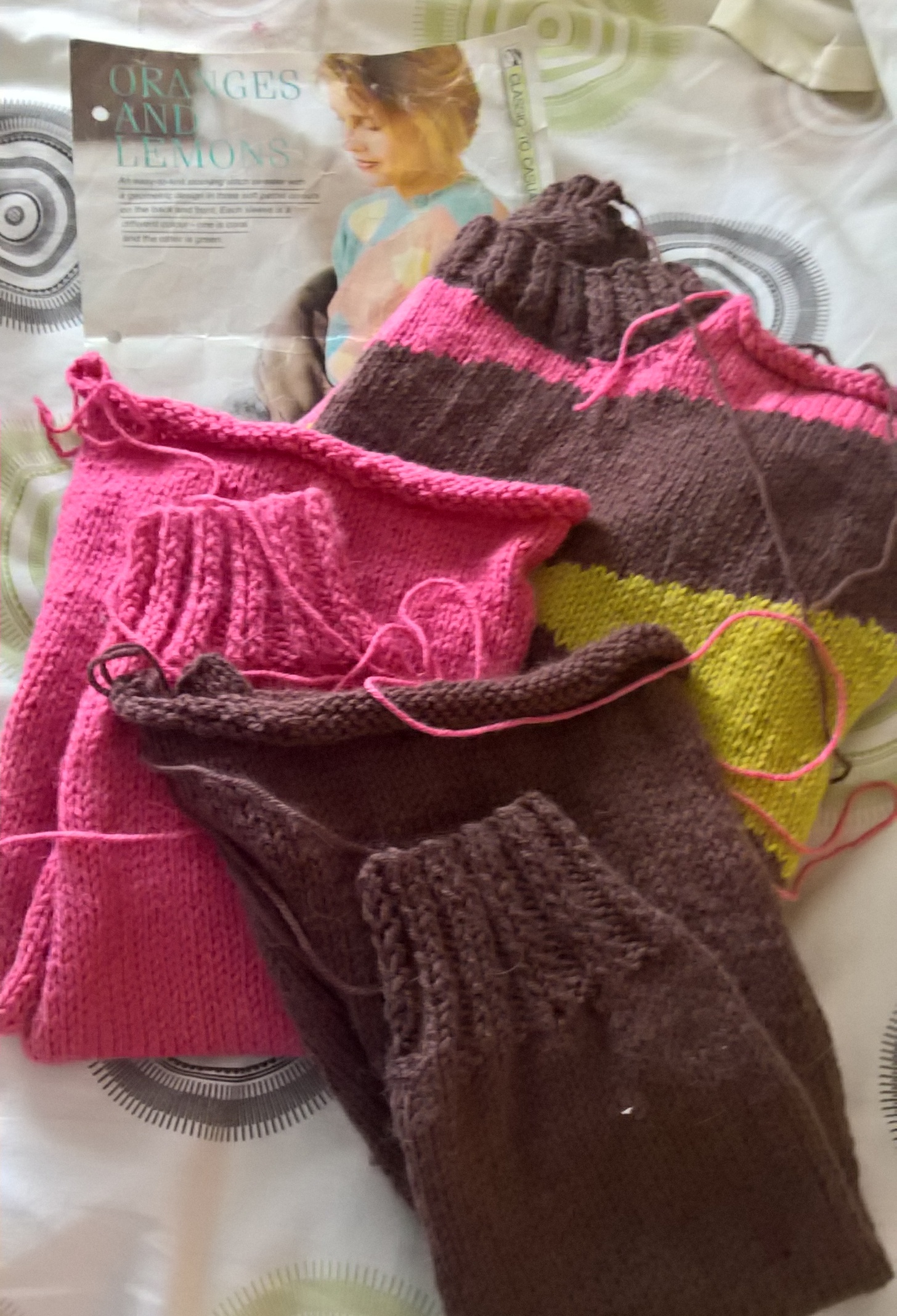 Day 58 - Saturday 27th February 2021
All of the knitting on my three-coloured 'Neapolitan' jumper is finished! Yaaay.
Now for the lovely jobs of weaving in all the ends to neaten the intarsia, blocking it, and stitching it all up so that it resembles an actual jumper instead of a bunch of knitted panels! Oh. Deep. Joy. Haha.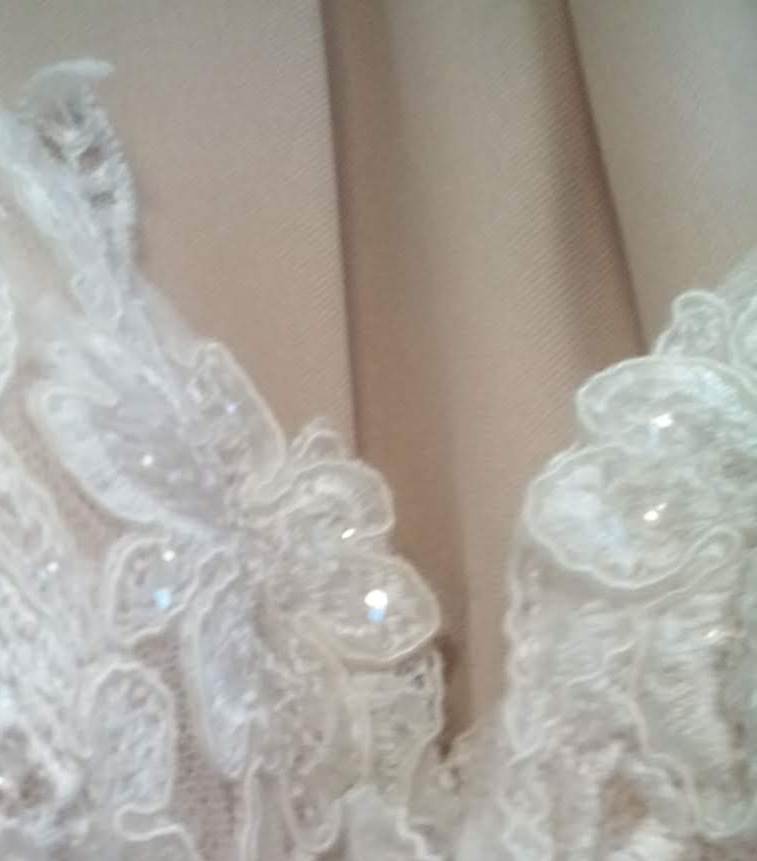 Day 57 - Friday 26th February 2021
Some job creativity....today I started the lovely customisation of adding a sparkly layer to a full-skirted gown.
The gown itself is embellished all over the bodice, and on part of the skirt, with pretty, sequinned lace appliqué, so this should really complement the glittered tulle, and vice-versa.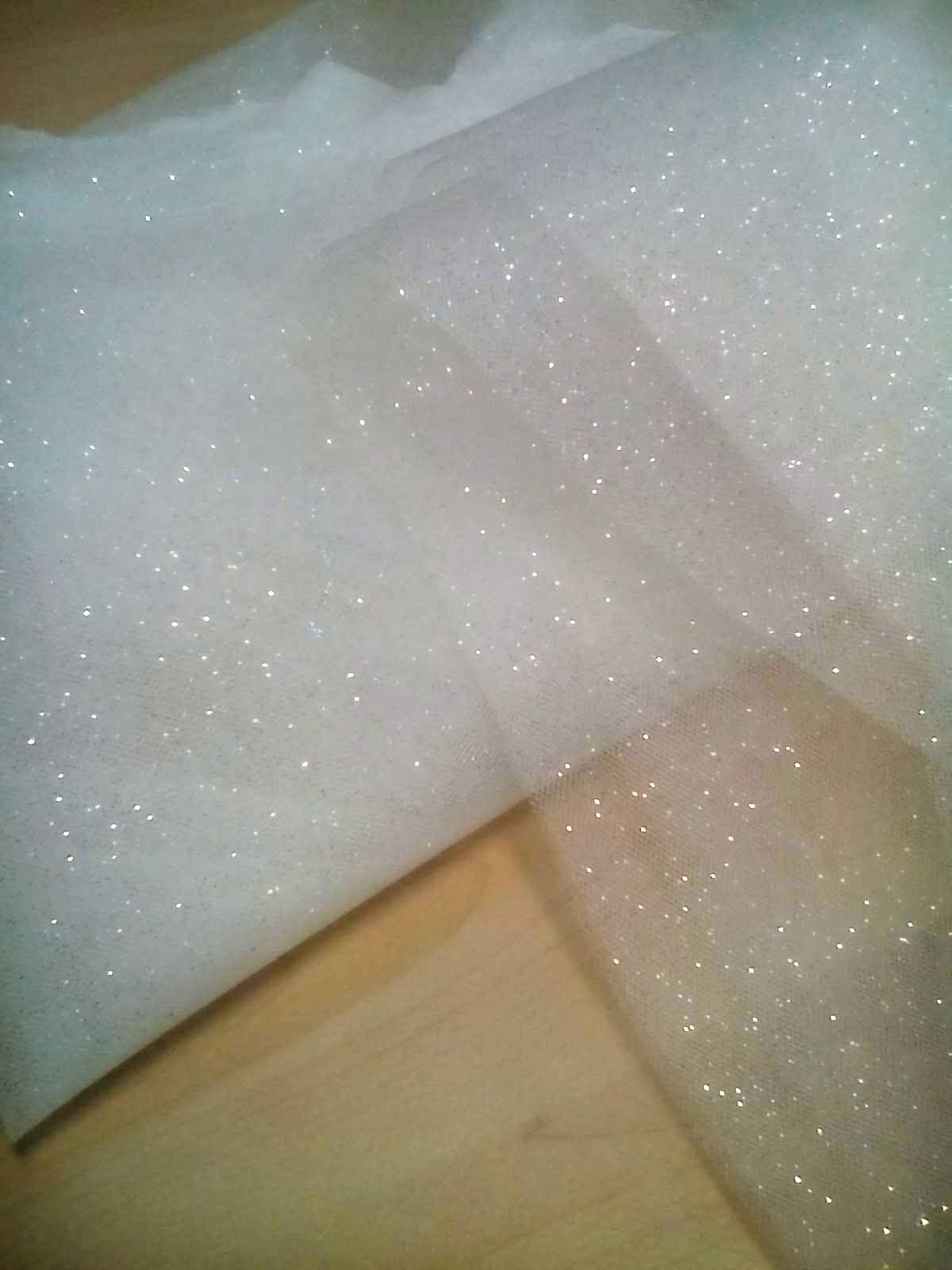 Today I cut out and made up the extra skirt layer, ready to go into the dress.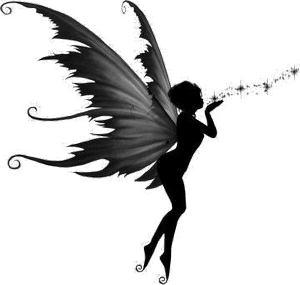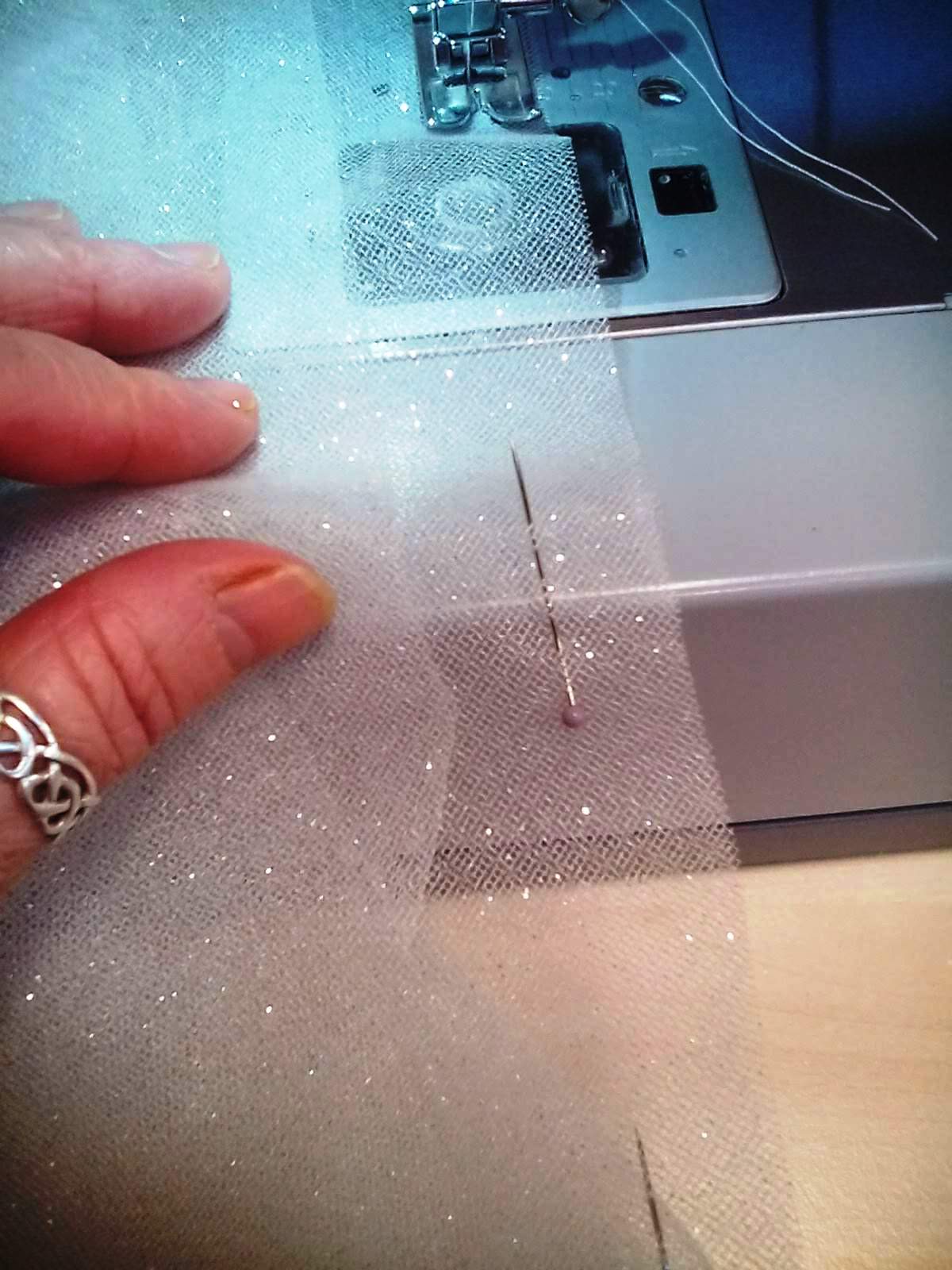 Next week I'll be putting it all together and fine tuning it to finish it off.
I know I've said this before, but I absolutely love working with such beautiful gowns, fabrics, and embellishments, and feel so blessed to be able to do this as my job!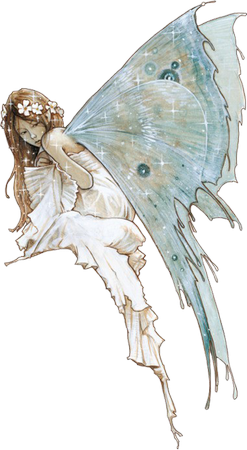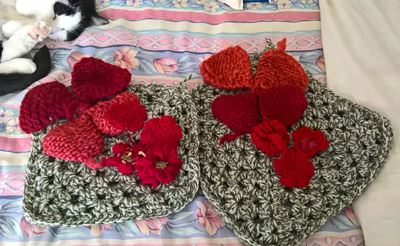 Day 56 - Thursday 25th February 2021
I've now found suitable fabric and stuffing to make cushions for my rainbow cushion covers, so I've also looked through the rest of the cushion cover WIPs I got out last month, to decide on which one/s to finish next.
I know that I started these two cushions for the landing, and was making some butterflies and flowers to put onto them, so I'll continue with those for the next few days.
Oh, and also - look at those toebeans again!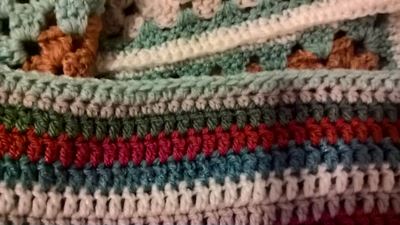 Day 55 - Wednesday 24th February 2021
I haven't been ever so creative today, although I have done bits and pieces of crochet and knitting.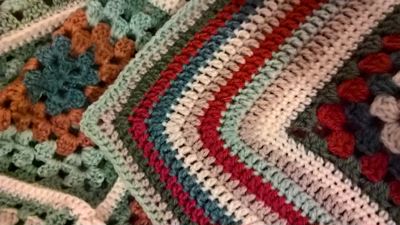 So this is what the edging of my cwtchy blanket is currently looking like. I'm on the second round of half trebles. I think there's actually also going to be enough yarn to do a set of single crochets too, before I add the final scallop edging. I love how it's progressing, but because the blanket is now quite large, it takes ages to go around each time. Never mind, nobody chasing me - other than my itch to get it finished and start something else that is! Haha.


Day 54 - Tuesday 23rd February 2021
Just a bit of website creativity today.
February seems to be racing away, and before we know it, it will be the end of the month, so I thought I would get my February page ready, to transfer over the posts from this main creativity page to that one.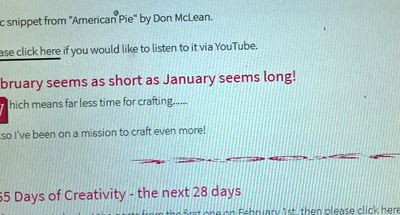 That way, it keeps the loading times down and reduces the clutter on this page, but the February posts will still be available for anyone who wants to look at them - including myself if I want to look back over anything.
So I've been setting up the heading with a lyric snippet, adding a link to the song it's from, and putting a new background suitable for February.
I'm pleased with how it's looking so far.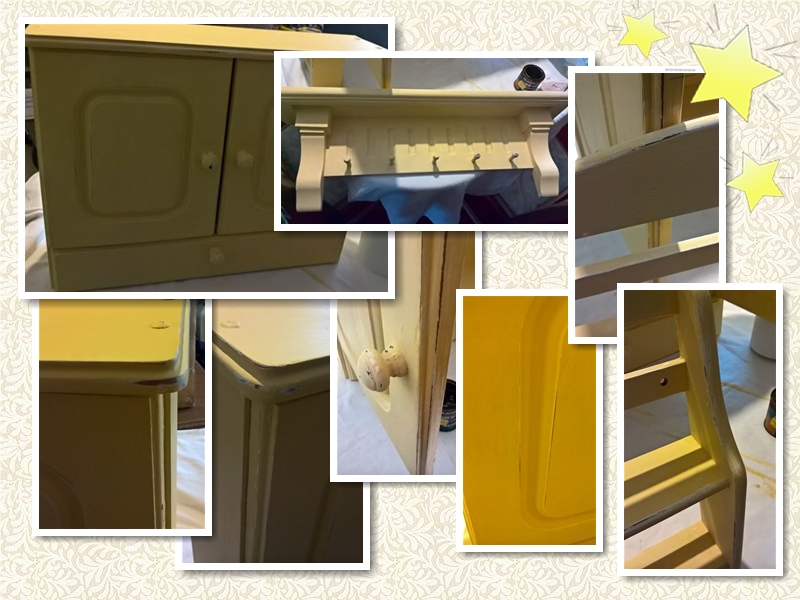 Day 53 - Monday 22nd February 2021
Today I've been working on the cupboard, shelf, and spice rack for my kitchen.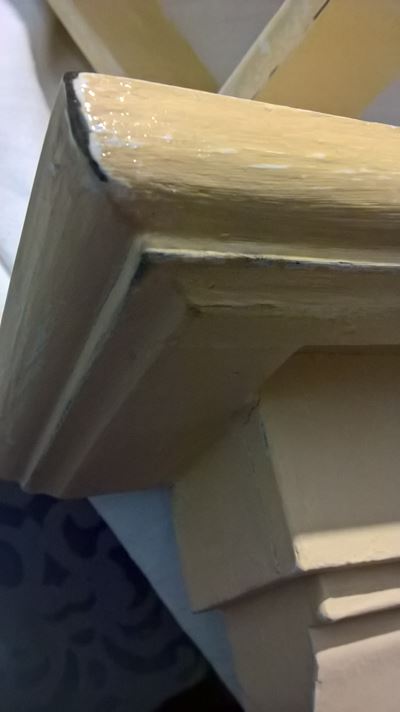 I finished the painting a couple of days ago, and today I've been sanding down parts of them - some edges, corners, and handles - to give a distressed, vintage look.
I've now made a start on varnishing them.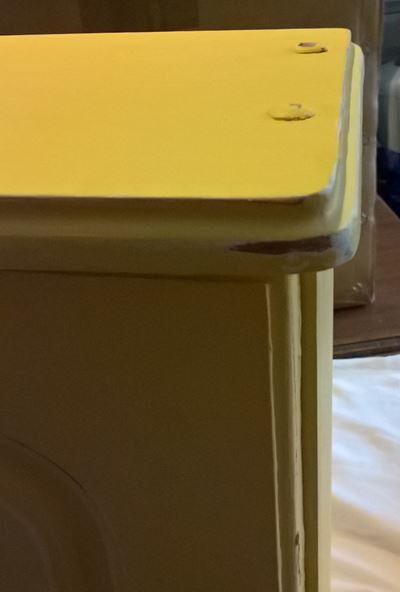 I'm so looking forward to them being up on the wall, and filled with both useful and pretty things! Oh and of course, to not have to swear at the spice jars every time I open the cupboard where they're currently housed, and literally falling over each other to get out! Haha.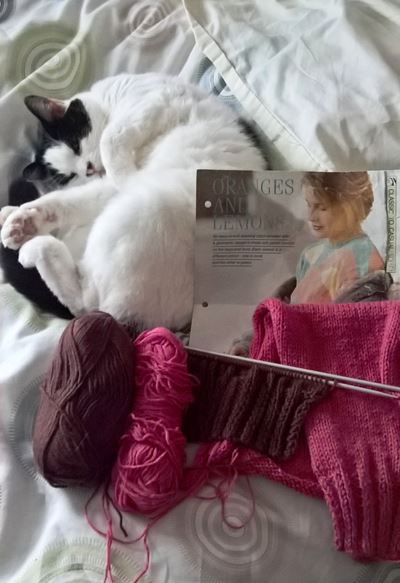 Day 52 - Sunday 21st February 2021
More on my three coloured jumper, and more kitty approval!
I have finished the pink sleeve, and started the brown one.....but please don't be distracted by those yummy kitty toebeans!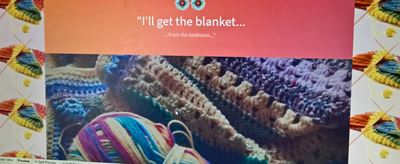 Day 51 - Saturday 20th February 2021
I've been working on this website today......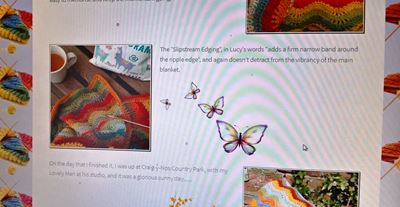 ......adding some stuff to the blankets page - some pictures and information about the Attic 24 Woodland Blanket, which I made a couple of years ago.
If you would like to visit my blanket page, then please click here.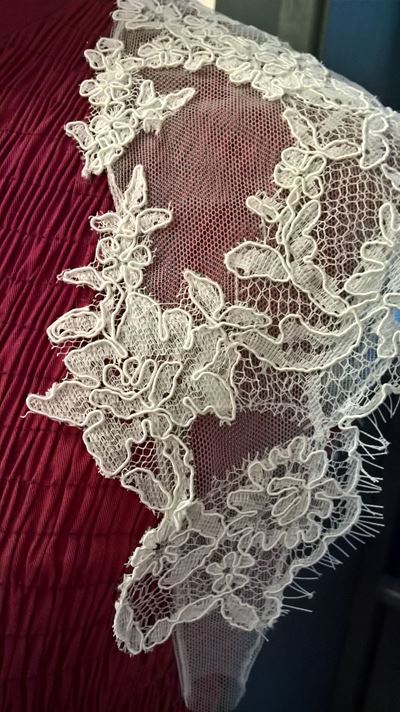 Day 50 - Friday 19th February 2021
A creative day at work when amongst other things, I was making a lace cap sleeve sample for a kit box for our customisation programme.
Lace is one of my favourite things in the world, and I love making and working on anything which involves it. I really love the pretty lace we use for this sample, and never tire of working with it.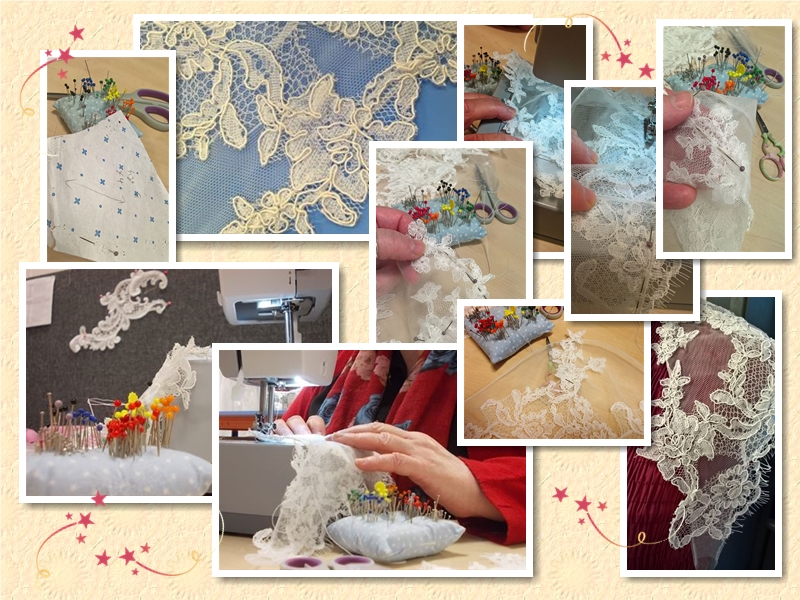 If a bride chooses to customise her gown with these sleeves, we can also make them up in whatever lace is already on her gown, so that it blends in beautifully with the original design.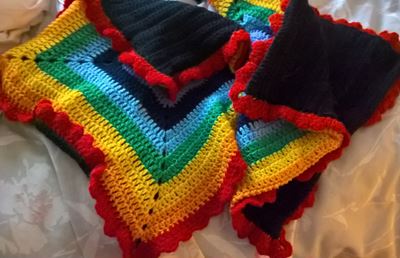 Day 49 - Thursday 18th February 2021
I've finished all the crocheting on my two rainbow cushion covers.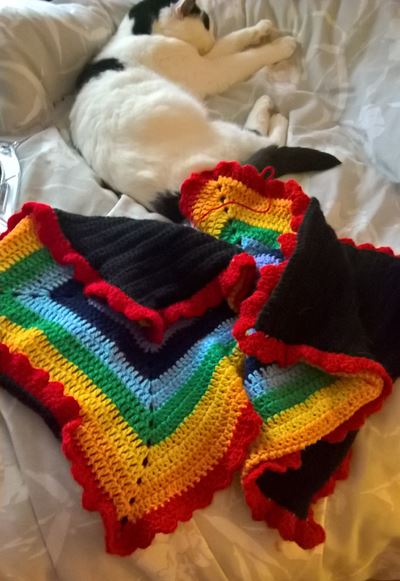 Now they just need two cushions to put them on!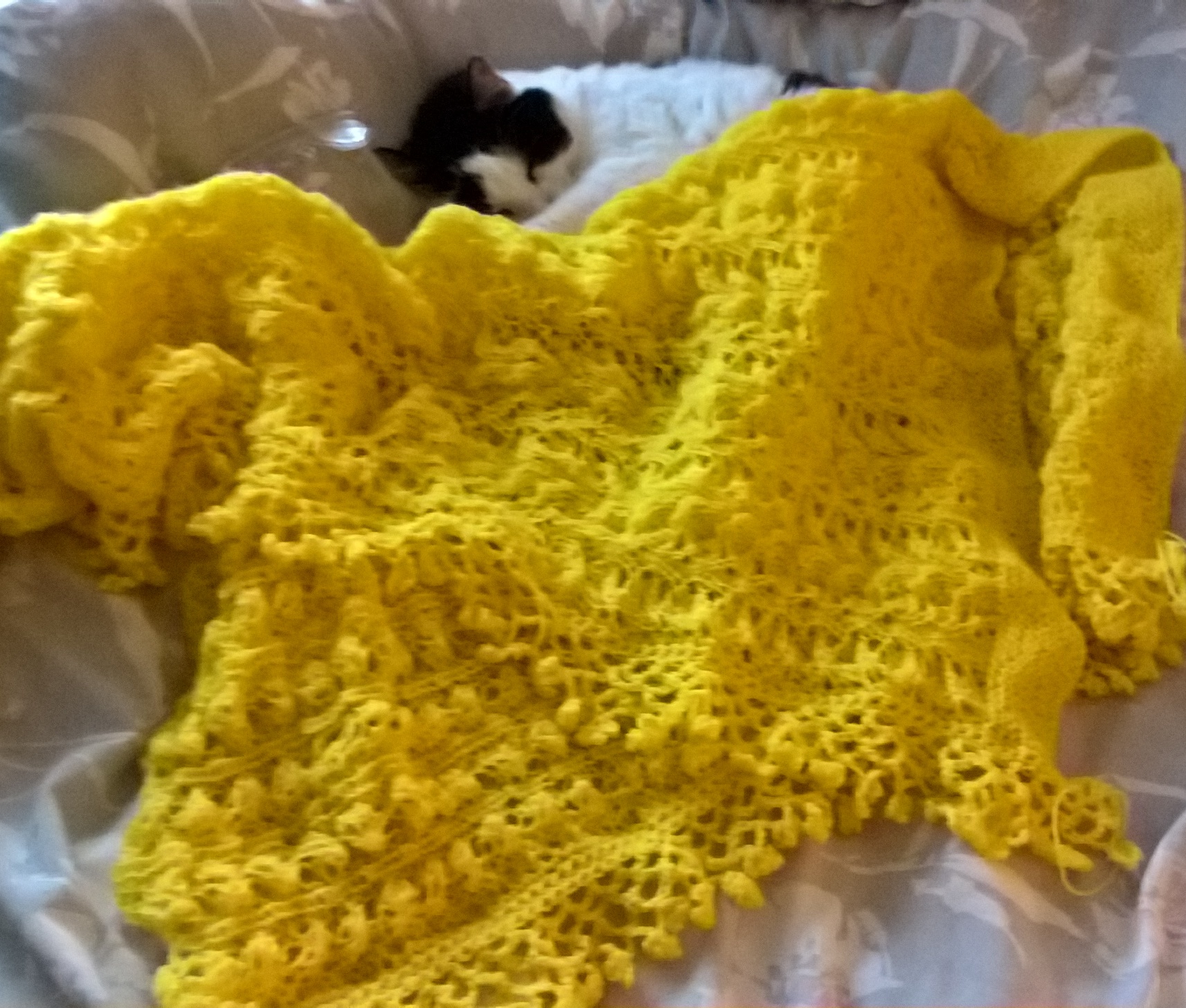 Day 48 - Wednesday 17th February 2021
My lovely yellow lacy throw for the kitchen is finished. Well, the knitting and crochet on it are finished anyway.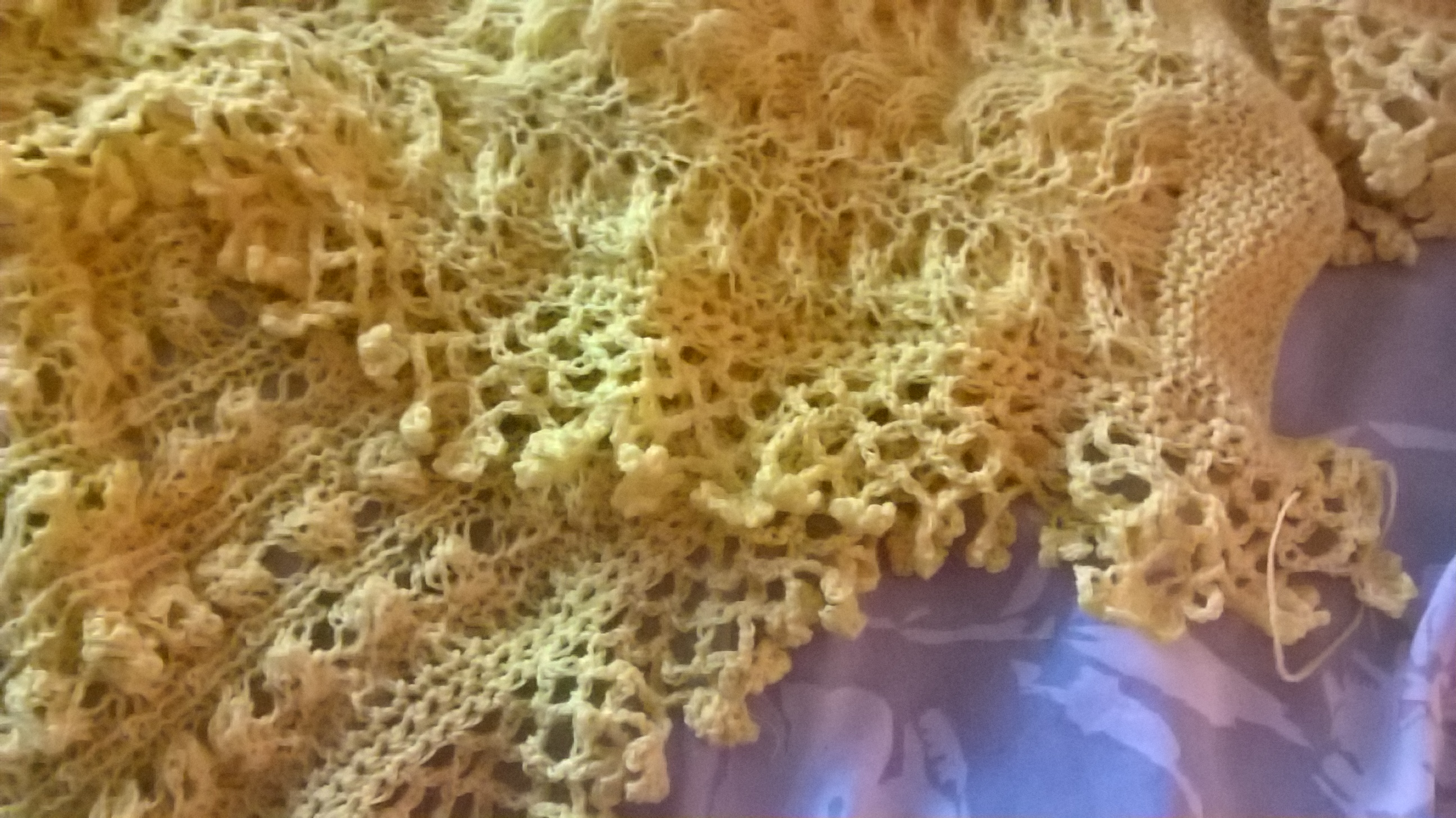 I now have to wash and block it. I'll probably steam it first to get all the edging flat, and then give it a gentle wash and block it again.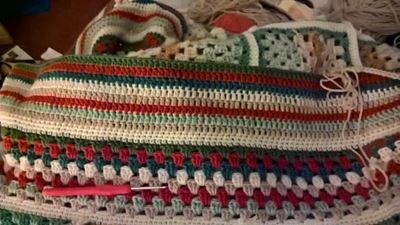 Day 47 - Tuesday 16th February 2021
Yaay! I've finally finished going around my cwtchy blanket in rows of trebles! Phew.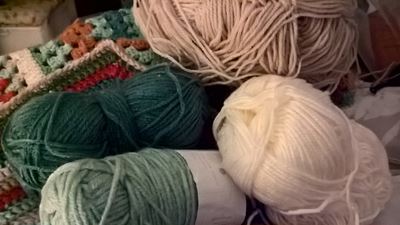 However, I do still have quite a bit of some of the original colours left....enough to go around again I think....so......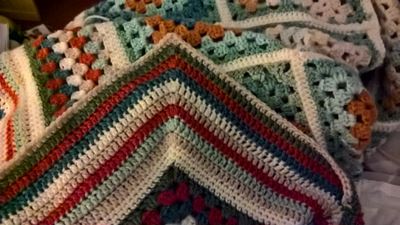 ......I'm going around again, with rows of half trebles! Haha yes I know, I'm a glutton for punishment! I think it will be rather yummy when it's done though.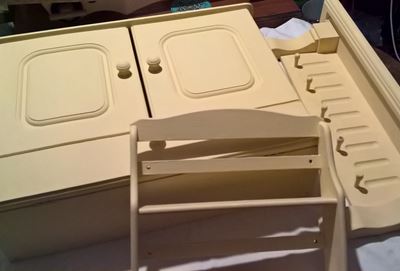 Day 46 - Monday 15th February 2021
Today I finished painting the yellow on the cupboard, shelf and spice rack for my kitchen, so now they are ready to be distressed before varnishing.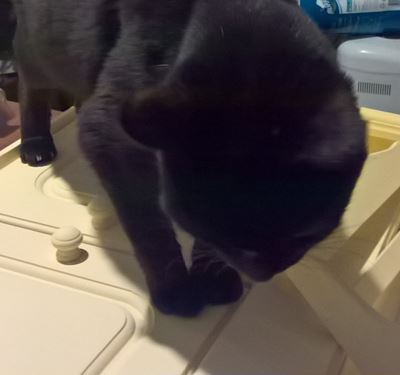 Nala Cat, who is looking and feeling much better, decided that it was her duty to inspect them, and have a sneaky chin-scratch on the spice rack, at the same time.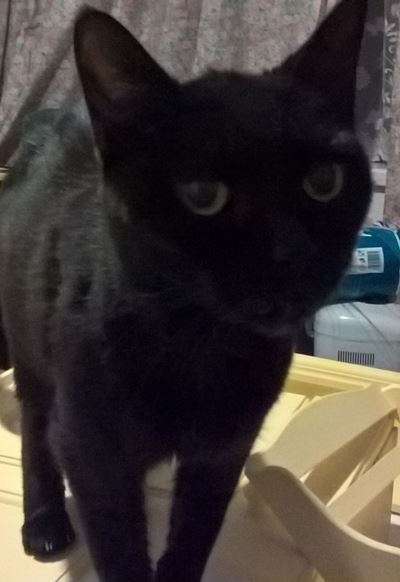 I think she definitely gives them her seal of approval! Sorry Nala, they won't be used for storing your fishies.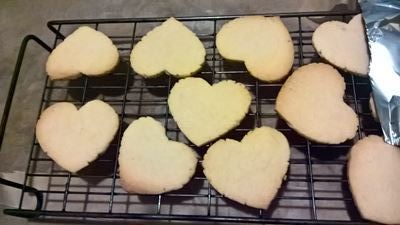 Day 45 - Sunday 14th February 2021
Today's creativity was home-made biscuits......made with love.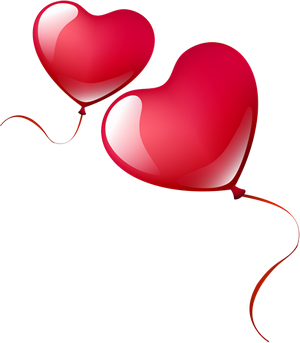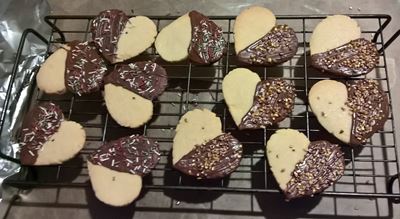 I found the recipe online, and really liked the half-dipped in chocolate effect. I didn't have a heart shaped cutter, so used a carboard heart shape as a template and cut around with a sharp knife.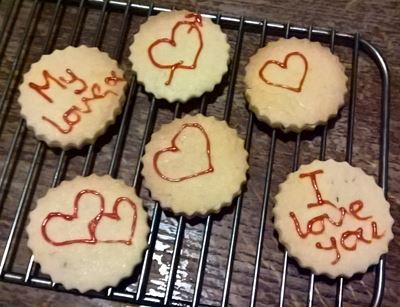 I also decided to just make some round ones and write soppy messages on! Haha.
Of course, it was my duty to taste some...it would never do to give my True Love dodgy biscuits! Whenever I've made biscuits in the past, they've always turned out a disaster! Thankfully, these are rather good!
I did give him some chocolates this morning with his card, just in case it all went wrong!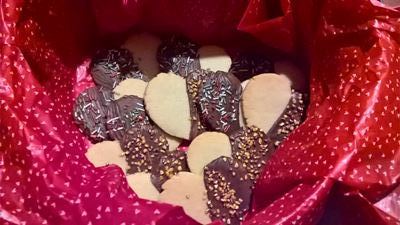 I lined a tin with some pretty heart-patterned paper......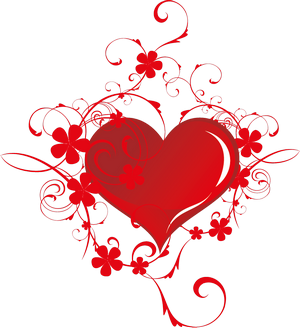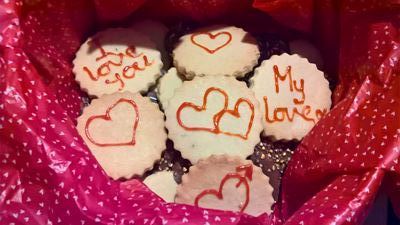 ......and layered the biscuits in.
Bob seemed really pleased with them anyway.
All-in-all, today seems to have been a successful hand-made Valentine's Day!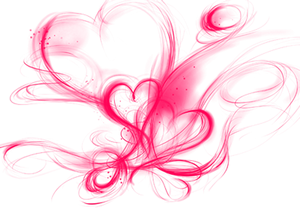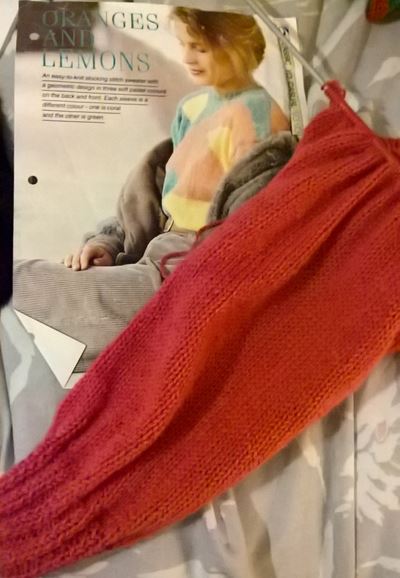 Day 44 - Saturday 13th February 2021
I'm making great progress on the sleeves for my three-coloured jumper.
This "Sirdar Snuggly" yarn is so lovely to work with. It's really soft, and knits up very quickly - although it's a double knitting yarn, it kind of has the feel of an Aran weight.
I'm about three quarters of the way through this first sleeve.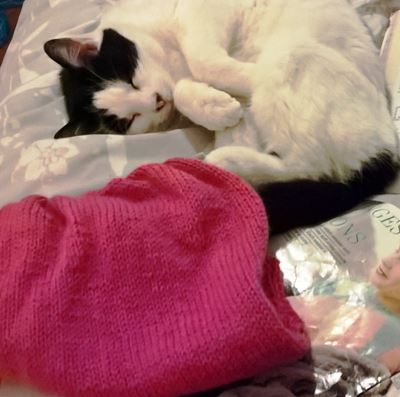 I love this pink colour too. The other sleeve is also a solid colour - brown, and I think they will complement the fact that the main body of the jumper is in three colours.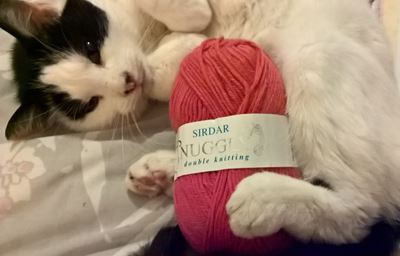 My little helper says that the yarn is almost as snuggly as him, and I have to say that I totally agree with him!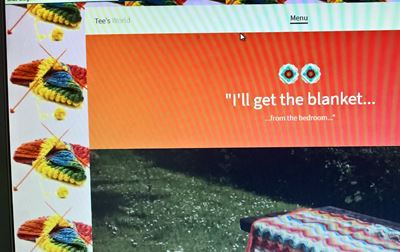 Day 43 - Friday 12th February 2021
More creativity on this website today.
I've been getting my blankets page ready for publication.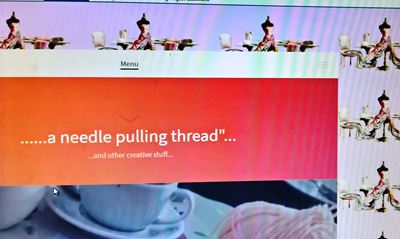 The blankets page is a sub page from this main creativity page. I've made (and still want to make) so many blankets and throws, that I felt they deserve their own page!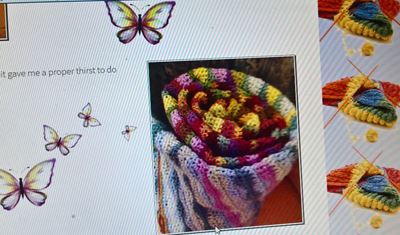 As the first blanket on the page, I've featured the Attic 24 Moorland Blanket, which I crocheted about three years ago, and was the first Attic 24 pattern I followed.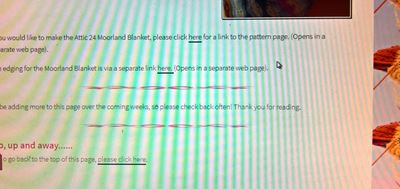 I've added links to the Attic 24 website, as well as to the Moorland Blanket itself.
I'll be adding to this new page - hopefully a little bit each day - to bring the content up to date, and then further add to it as and when I add to my blanket collection!
If you would like to visit my blanket page, then please click here.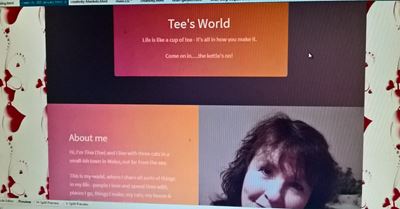 Day 42 - Thursday 11th February 2021
Today I've been creative with this website!
I've been rearranging things a bit on this creativity page, and moving stuff onto another page, to reduce clutter and loading times.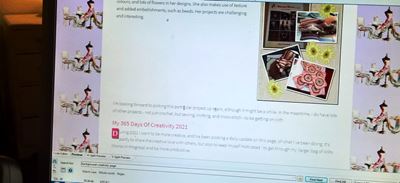 365 days of creativity means 365 separate posts! I've decided to split them up, and put them on separate pages, accessible via a link for each new page, from this page.

I'm splitting according to month, so obviously the first new page I've made is for January. My Lovely Man has taught me how to work with the css, to give the new pages different backgrounds, and I'm also giving each page a different title to the main one.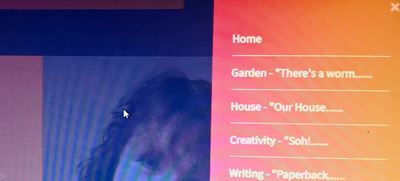 I'll be doing the same with my blog posts over the next week or so.
In the meantime, to access the link for the January page, please click here and it will take you back to the 'January' link, further up this page.
By the way, My Lovely Man Bob Grainger designs and builds websites - he built this one for me, and I add to the content! If you would like to look him up, you can find his website by clicking here!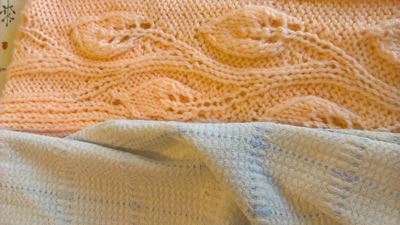 Day 41 - Wednesday 10th February 2021
Today's been a really productive and creative day. I'm feeling a lot better than I have for a few days, and I took full advantage!
As well as working on my lacy yellow kitchen throw, my cwtchy blanket, and my rainbow cushion covers, this morning I blocked and finished......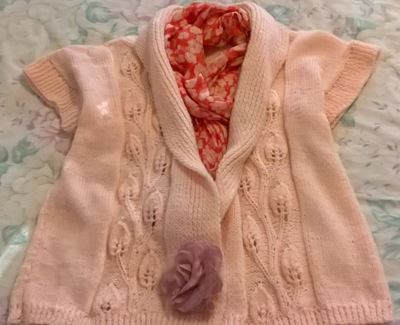 ......my peach gilet! Yaay, an actual finish. Haha.
So as to keep up the momentum, I went for a furcle through the WIPs bag again to find another knitting WIP. I was kind of spurred on by a memory which came up on my Facebook page this morning. It was a picture of this jumper which I posted a couple of years ago - and it was a WIP even then! Ha.
I love the colours, which remind me of Neapolitan ice cream, and the yarn is Sirdar Snuggly, which is so soft and lovely
In the memory post, it says that I was going to make a start on the sleeves. Well, when I found it in my WIPs bag today, all I found were the front and back, the pattern, and a bag of yarn. No sleeves to be seen. Perhaps I didn't bother with it after all, or perhaps I started a sleeve (or two) and then put it to one side again?
Anyway not to worry - I've started a sleeve again, and if I come across the other one(s) I'll just undo it/them and put the yarn with what is going to be left over anyway.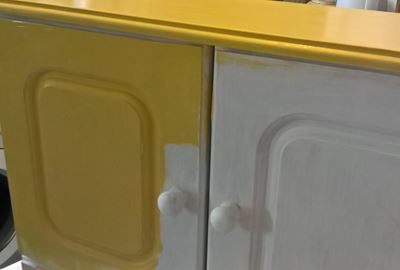 Another project I picked up today is one which has been on the very back burner for way too long.
I have a small cupboard, a shelf, and a spice rack, which are all for my kitchen, and which I had started to paint yellow, which is the paint I'm using for my kitchen cupboards.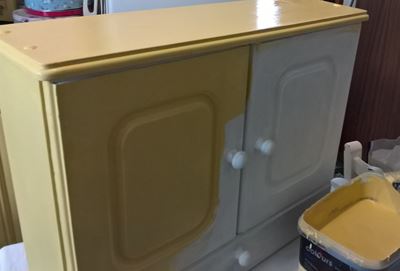 Every time I open my current spice cupboard in the kitchen, I say very norty words, because everything falls out! I need these things up on the wall, to reduce my stress and stop Bob from putting his hands over his ears! Haha.
By the way, this isn't how I left the cupboard the last time I worked on it! I would never leave something halfway through a coat of paint.
I painted it yellow today - the spice rack and shelf have already had one coat of yellow, so now I just need to re-coat all three pieces. Then I'll be distressing the edges, and giving them all a coat of varnish.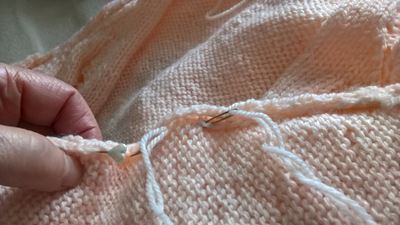 Day 40 - Tuesday 9th February 2021
Today, amongst other things, I've been sewing up my peach knitted gilet.
I've stitched in the arm bands and now I'm on to sewing up the side seams.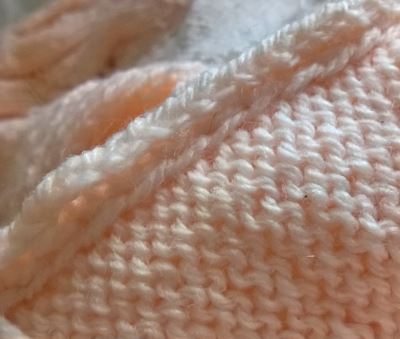 For this I'm using a backstitch, using two strands of yarn, and making the stitches fairly small, but not tiny.
I'm keeping an even tension, that's not too tight which would pucker the seam, but not too loose, which would create gaps or cause it to come apart.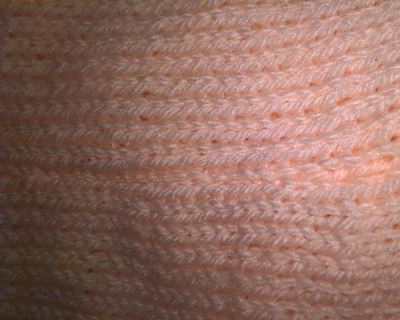 This is giving me a nice neat, flat seam, which will be even neater and flatter when the garment is blocked and steamed.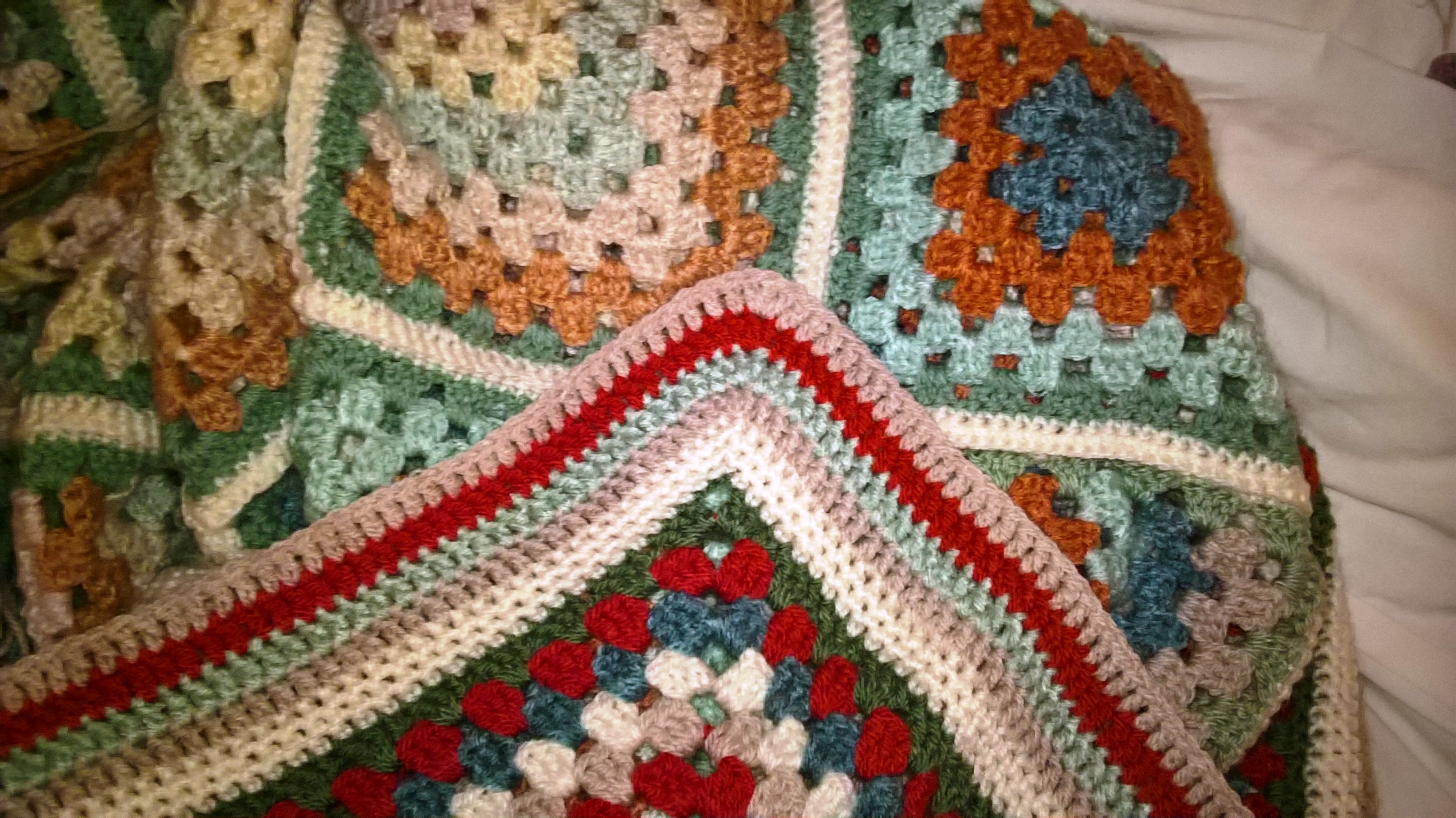 Day 39 - Monday 8th February 2021
I haven't been very creative today....in fact, I haven't done much at all, since I'm feeling a bit below par.
I've managed a bit of crochet on my cwtchy blanket though, so here is that. I think it has more rows than the last time I photographed and posted it.....if not, then apologies and normal service will resume shortly! Ha.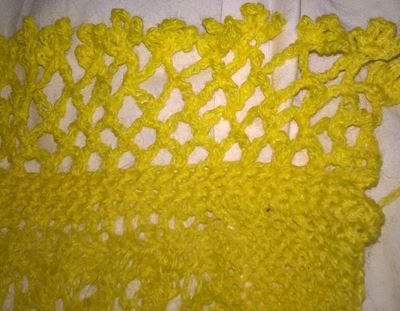 Day 38 - Sunday 7th February 2021
I've done quite a bit of creative stuff today, but I've only taken one photograph - of the edging I'm crocheting along the two sides of my yellow lacy kitchen throw.
As well as the throw, I've worked on my cwtchy blanket (it takes forever to go around each row of edging now, because it is so big!), my rainbow cushion covers - including looking to see if I have fabric to make a couple of cushions for them to go on, my peach gilet (continuing to stitch in the sleeve bands), and my website, which I'm adding pages to, amongst other stuff. Watch this space!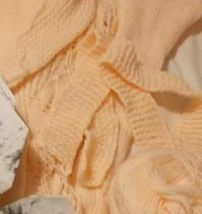 Day 37 - Saturday 6th February 2021
Today I've been looking at my lovely knitted peach gilet to see what needs to be done. I remember now, that I was at the point in the pattern where I needed to pick up stitches along the armhole edges, in order to knit ribbed bands, and I didn't like the way that was going as I didn't feel it was neat enough. So I decided to knit separate bands, and then stitch them in place.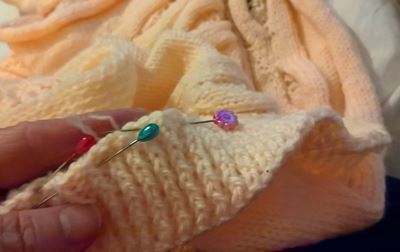 So today I pinned them into place, ready to be stitched.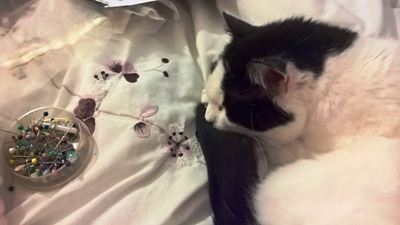 My little helper was supposed to hand me the pins as I went along......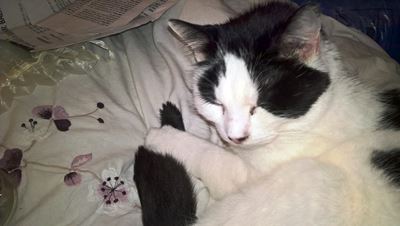 ......but he used the get-out phrase "No thumbs!" and curled up for a snooze!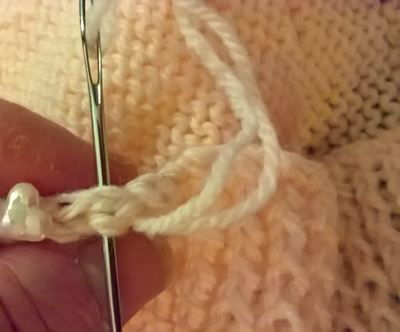 Once I was happy with their pinned position, I started stitching them into place, by over sewing them.
I used a double thickness of yarn for a strong seam, then with the needle picked up one stitch from each piece (the main garment body and the ribbed band), pulled the yarn through - not too tight, so that it doesn't pucker - then went over the top to the next one, and so on.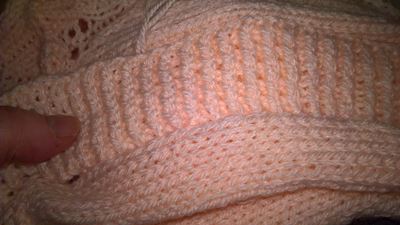 This is giving me a nice even, flat and neat seam.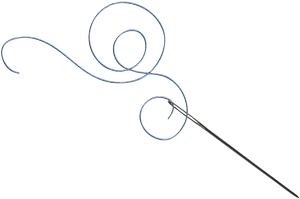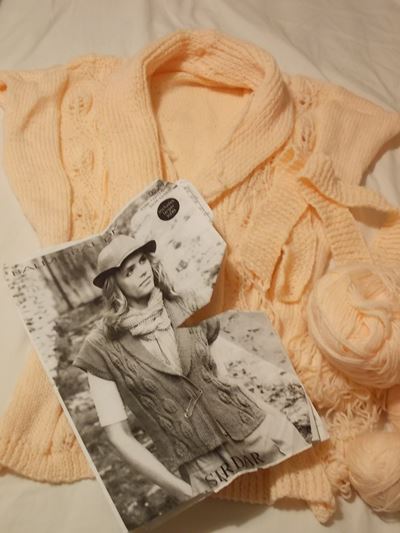 Day 36 - Friday 5th February 2021
Since my yellow lacy kitchen throw, which was a knitting WIP, has now become a crochet WIP, I wanted to find another knitting WIP to be getting on with.
So after work today I had a furcle through my WIPs bag, and found this little beauty, which I started lots of years ago!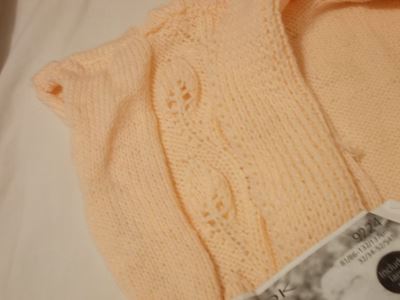 It's a gilet, and I love the soft peach colour and the beautiful stitch texture.
It looks as though I'm already quite a way into it, so it shouldn't take too much to get it finished off. I'll be on it this weekend!.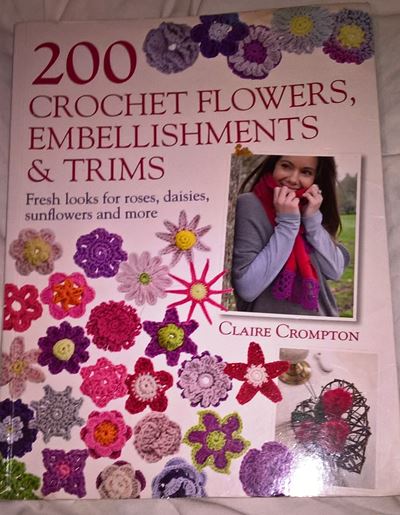 Day 35 - Thursday 4th February 2021
Today I've been working on the edgings for my yellow lacy kitchen throw.
I love this book by Claire Crompton. It has some really pretty things in it, and I've made some of the flowers from it before, so I know the patterns are easy to follow......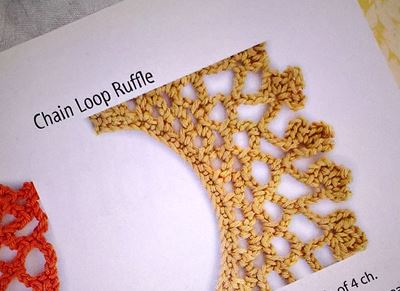 ......so I've decided to do this "Chain Loop Ruffle" edging.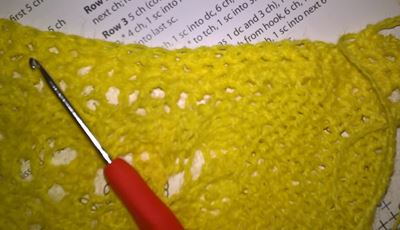 I wanted to do a few rows of single crochet along the edge first though, just to give it some stability. I've done that now on the first edging, so tomorrow I'll be ready to start on the edging from the book.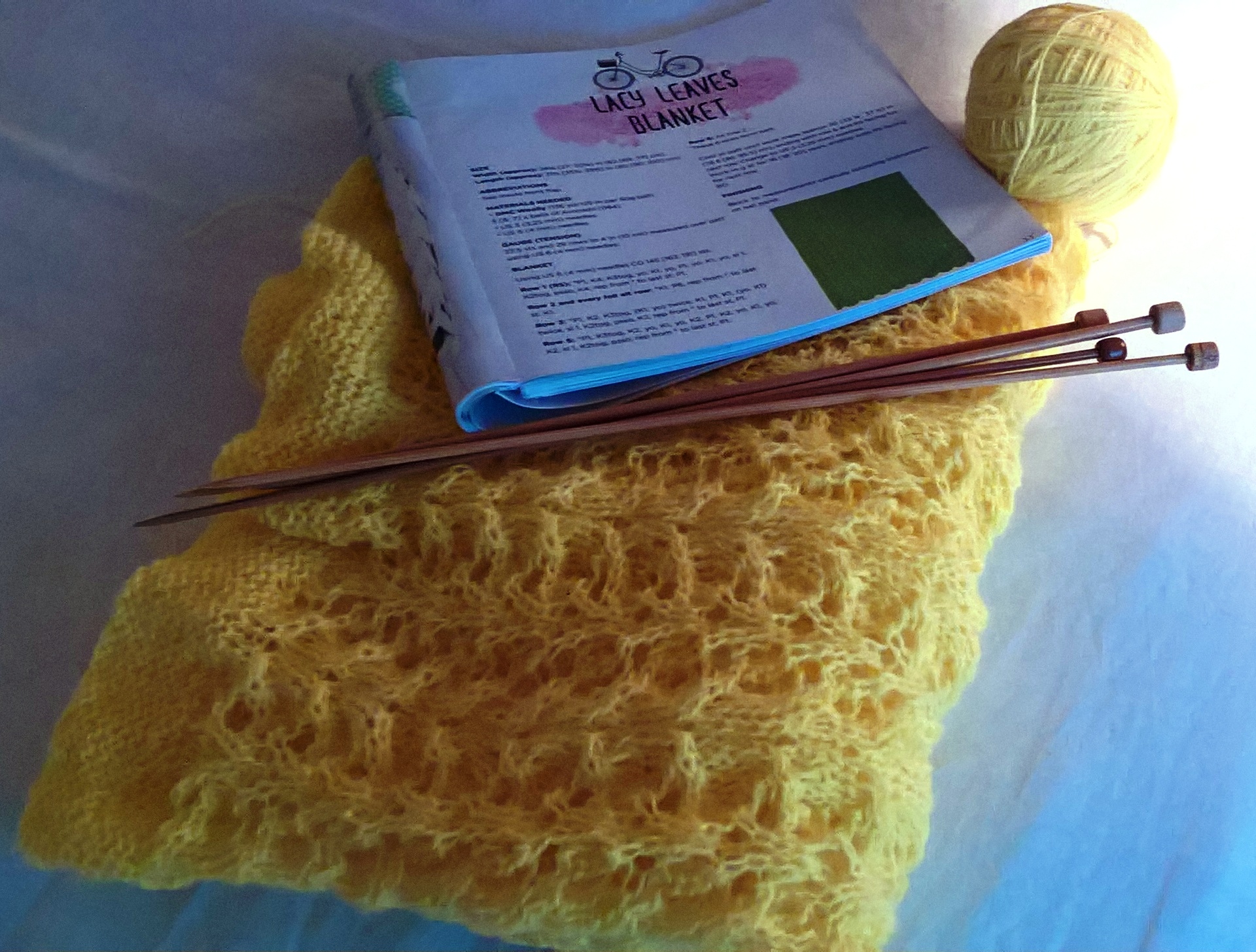 Day 34 - Wednesday 3rd February 2021
I've finished following the knitting pattern for the lacy yellow throw for my kitchen, and have cast off.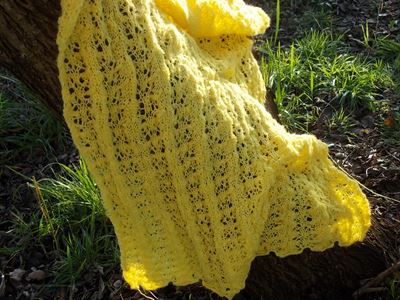 Technically, this means that - apart from washing and blocking - it is complete, and even though I say so myself, it is looking lovely. Also, it was nice to be able to take it out into the garden to photograph it this afternoon.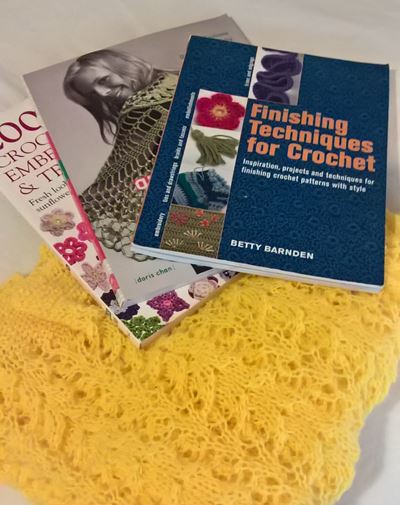 However, I don't want to leave it at that, and have decided to put a crocheted lace edging along both long sides of it.
So I've got out my crochet books with edgings in, and will have a bit of a ponder tonight.
Since this knitting WIP has also now become a crochet WIP, I'll have a rummage through my WIP bag for another knitting project to be getting on with.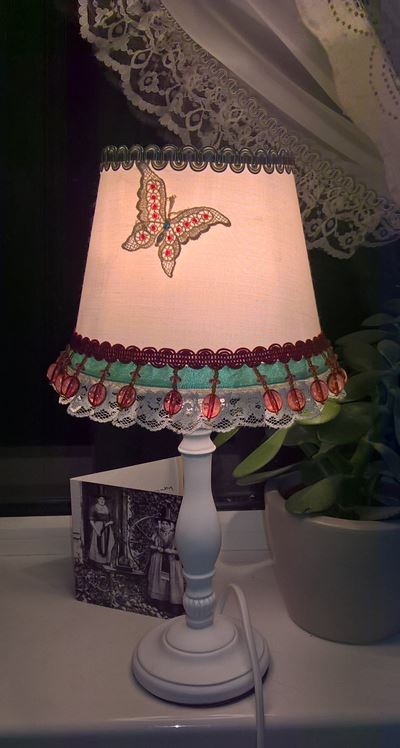 Day 33 - Tuesday 2nd February 2021
I finished my pretty lamp shade today.
It's in a temporary position in the photograph, as I need to put up the shelf it will live on, and add a few bits and bobs to the shelf above, etc. A job for tomorrow I think!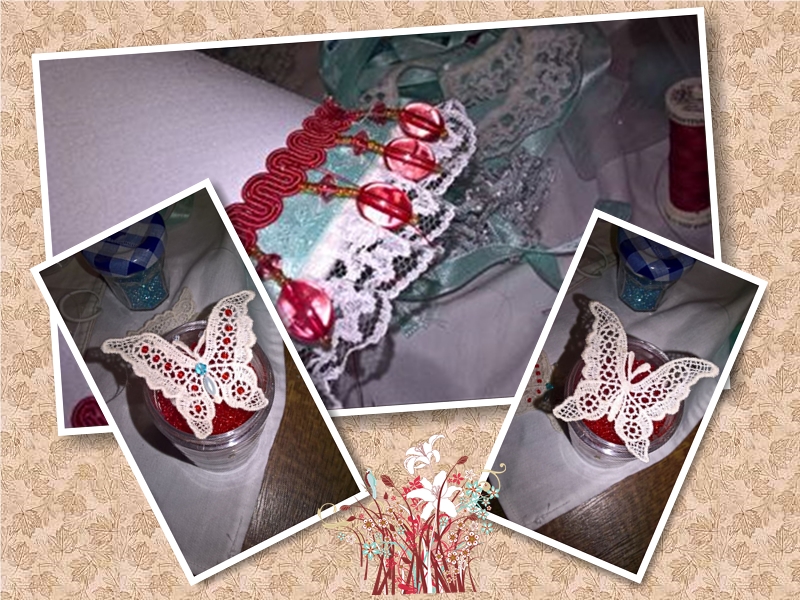 Day 32 - Monday 1st February 2021
Today I've been crocheting - my cwtchy blanket, and the backing for a rainbow cushion; knitting - my lovely lacy yellow throw for the kitchen; and working on my website.
I've also been stitching some yummy beaded dark red braiding onto a lampshade, and adding beads to a lace butterfly! More to follow tomorrow.

Up, up and away......
07597 205956