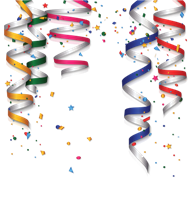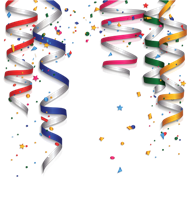 "January......
...sick and tired you've been hanging on me..."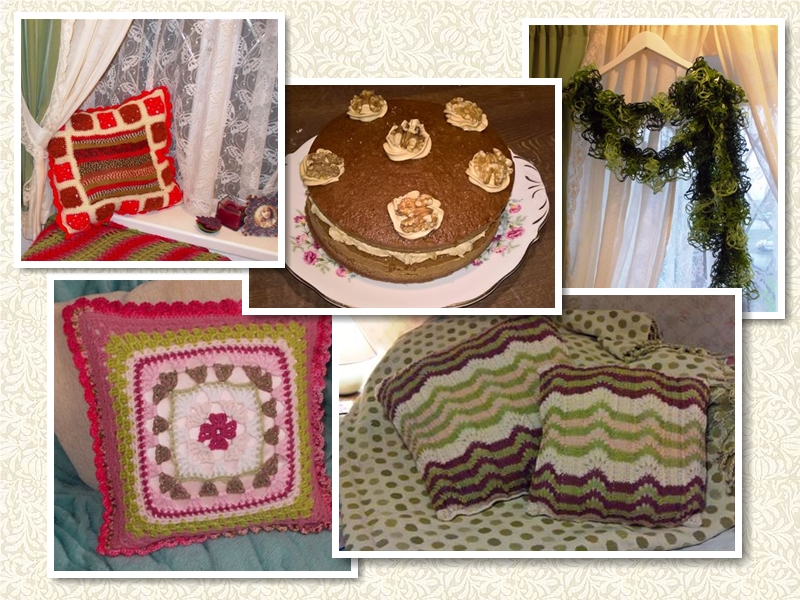 Lyric snippet from "January" by Pilot.
Please click here if you would like to listen to it via YouTube.
January can feel a bit long!
We've gone from Christmas straight into New Year celebrations. The new year resolutions have been made and we head into the new year full of determination......
......then before long, the next pay day is ages away, we're living off baked beans, and all our determination seems to have fallen a bit flat!
That's why I set out on this '365 Days Of Creativity' journey - to keep up the momentum. If I'd begun the year posting something creative each day on social media, then it was a personal challenge to keep that up!
As a result, January was quite a creative month for me.......as well as the determination to keep going, cold depressing January is the perfect time to cosy up indoors and knit/crochet/sew with a cuppa and the company of my Lovely Man, Ollie Dog and the kitties. Add some soft lighting, cosy blankets and lots of cushions, and the perfect Hygge setting is there. As a result, my '365 Days of Creativity' got off to a great start.

365 Days of Creativity - the first 31 days
If you want to look at the posts from the first one on January 1st, then please click here.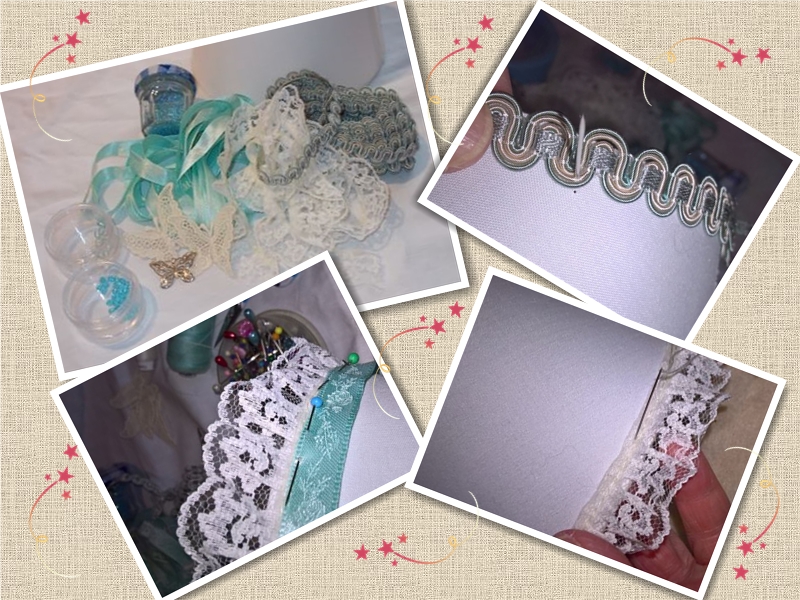 Day 31 - Sunday 31st January 2021
Today I managed to get around to working on something I've had put to one side for quite a few weeks.
I bought a lamp to put on the opposite side of the lounge to where I already have one. It has a pretty stem and a very plain shade, and I want to decorate it, as I have done with the other one. Although they are identical lamps (from Dunelm - one of my favourite shops), I want the shades to be of a similar style but not exactly the same.
So today I narrowed down the choice of haberdashery bits and pieces I had set aside for the job, and made a start. So far I've stitched some braid around the top and some lace and ribbon around the bottom. I have more braid and some decorative butterflies to add, which I'll hopefully get done tomorrow.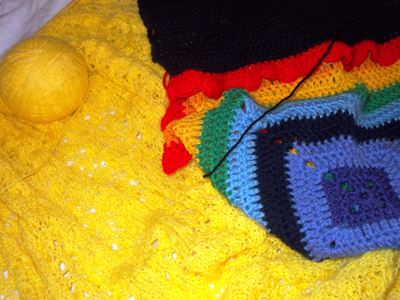 Day 30 - Saturday 30th January 2021
Today I've been working on two projects - the yellow lacy throw I am knitting for my kitchen, and the first of the two rainbow cushion covers from my WIPs bag.
I love all the colours in this photograph!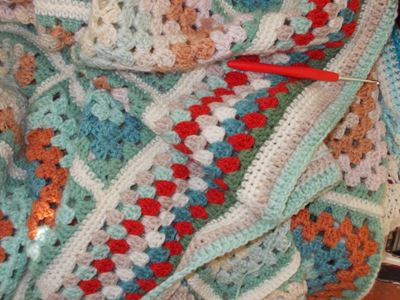 Day 29 - Friday 29th January 2021
Today I've been working on the edging of my cwtchy blanket.
I'm just doing trebles, so it's fairly straightforward.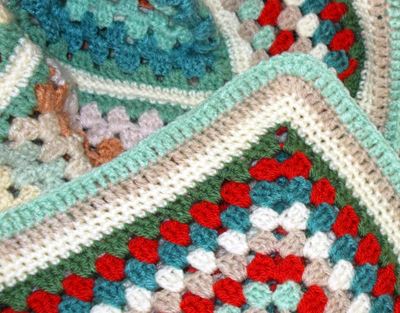 I'll be doing a shell (scalloped) final edging on it. I was thinking one colour, but I still have lots of yarn, and if that's the case when I'm ready to do the scallops, I may do more than one row of them, in whatever colours are left.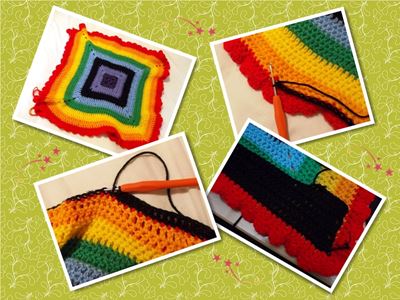 Day 28 - Thursday 28th January 2021
Today I've got stuck into my rainbow cushion WIP.
There are two identical panels, and I was going to join them to make one cushion, but I've changed my mind and will make two separate cushions, each with a plain back. I had some black yarn in my stash, which I'm using to back them.
I picked up the stitches along one edge of the cushion, where the scallop joins, and made a foundation chain with this. Then I've been building on this, going back and fore with simple trebles. I'll continue this until the back measures the same as the front, then join it at the other side, before inserting a cushion pad and crocheting shut the other two sides.
I love the contrast of the black against the lovely rainbow colours. These cushions are for my craft room, and the rainbow panels have been made from yarns left over from a rainbow striped blanket I made about three years ago.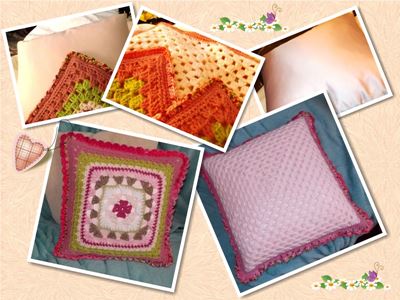 Day 27 - Wednesday 27th January 2021
My lovely pinks and greens crocheted cushion, which seems to have been a WIP forever, is finally finished!
After playing around with the two options for an edging yarn, I decided to go with a shell (scalloped) edging, using the multi-coloured yarn. The green "Flamenco" is so pretty, but is a bit too delicate for this particular cushion, so I've put that to one side for another cushion on another day!
I covered the cushion pad with a pretty pale pink satin, and you can't see it in the photograph, but it does peep through the gaps in between the crochet stitches with a lovely sheen.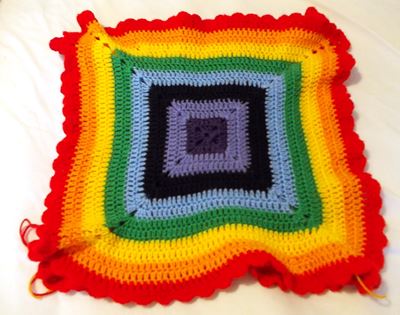 I'm going to take on another WIP cushion now, and it's this one - a simple rainbow stripe - two sides the same. I love rainbows, and this was made using leftover yarns from a rainbow striped blanket I made a few years ago. There's not much to do on it - just weave in all the ends (yawn), join it together, and find a suitable cushion pad. I may need to cover the cushion pad with a coloured fabric, it depends how much shows through when I put the cover on.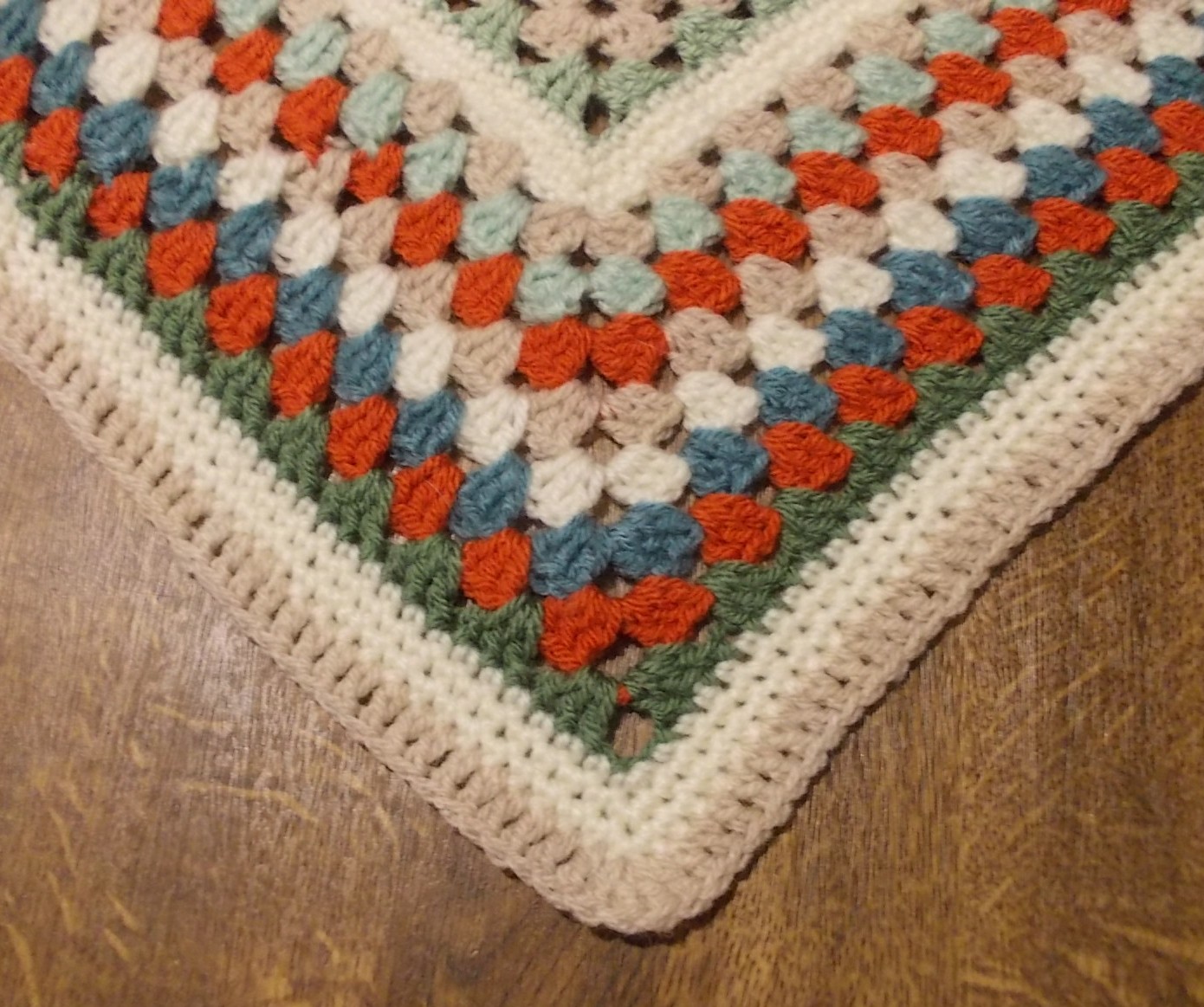 I've had very little energy today, so I've been kind to myself, and taken it easy, and therefore done quite a bit of crochet. I've been working on my cwtchy blanket. I'm on the trebles edging now, and I love how it's looking. There are still some very satisfying corners!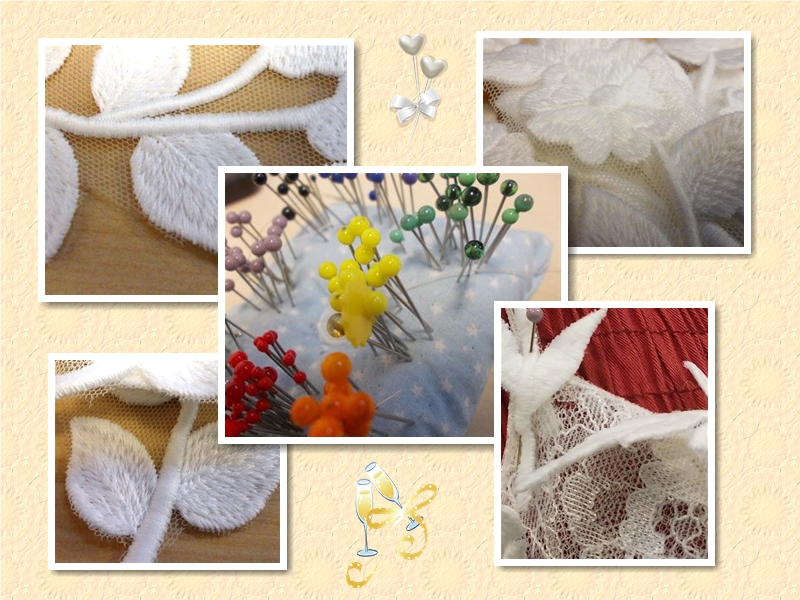 Day 26 - Tuesday 26th January 2021
A creative day at work, remodelling some straps for one of our popular gowns. It's always so lovely to work with beautiful gowns, fabrics and embellishments, and to add something to a gown to make it unique, extra special, and exactly how the bride wants it for her special day.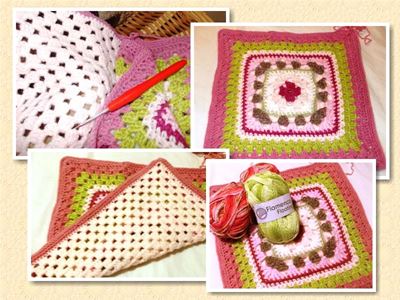 Day 25 - Monday 25th January 2021
Today I finished the main body of my lovely pinks and greens cushion, attaching the front to the back.
I want to put some sort of decorative edging on it, and I have two options. The first is to make a scalloped edging, using a ball of multi-coloured yarn, which has all the colours that are already in the cushion, and is another of the left-over yarns from the original blanket I made with these yarns. This would go well, since the cushion and blanket are going in the same room.
The second option is to use a lovely lime green yarn, to create a kind of frilled edging. It's a yarn called "Flamenco" and I have it left over from a scarf I knitted a few years ago. It's one of those yarns that comes flat on the ball (a bit like a braid) and you knit or crochet into the edge of it, and it then fans out, making a sort of lacy frill.
I will have a play around tomorrow and see what I come up with.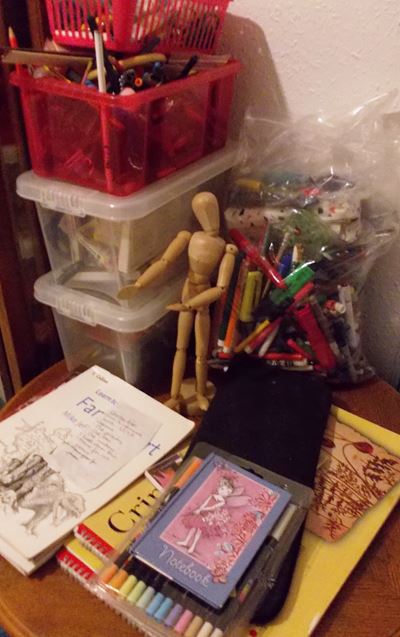 Day 24 - Sunday 24th January 2021
Today's creativity is more about preparing for some creativity.
I've been going through my craft cupboard - a large cupboard, which is in the corner of the front bedroom, and is a different entity completely to my craft room - and getting out arts & crafts supplies that I think I'm going to need for the fairy projects I currently have on the back burner.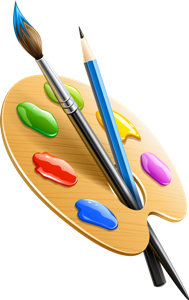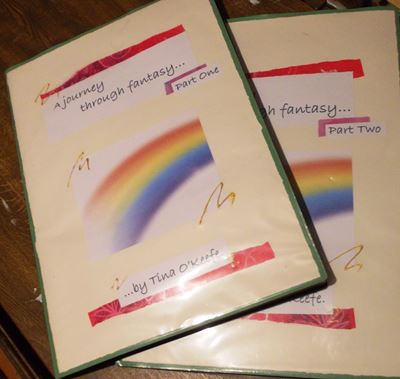 I've also dug out the two large display books I put together for my degree course work, which are very much fairy/fantasy themed, and which I need to draw some inspiration from.
That'll do for now, and goes some way towards hopefully bringing the fairy projects a little bit further forward than the back burner!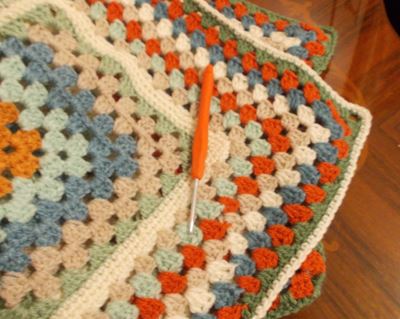 Day 23 - Saturday 23rd January 2021
Two current projects and a lovely chair!
Today I finished putting the granny trebles border around my cwtchy blanket. Before I start doing rows of trebles in the same colour order, and to make up the final edging, I want to do a few rows of single crochet in the cream colour, so that it's in keeping with the cream between each of the squares on the main blanket. So that's what I started today.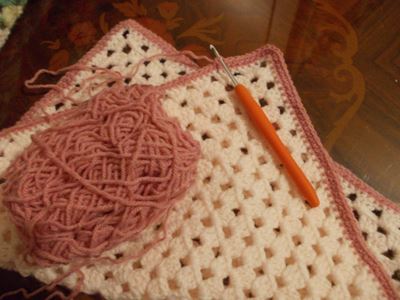 I'm also on the second row around of the dark pink border on the back of my current WIP cushion.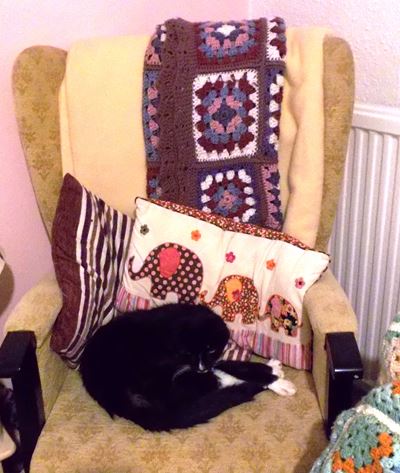 I've also set up a dedicated crochet spot in the spare bedroom.
This lovely chair was a freebie! Not long after the summer lockdown, Bob was over in the Gower on a PAT testing job, and he spotted this chair, which had been put out onto the pavement outside a house, with a notice that it was free to whoever wanted it. Bob knew I would love it (I do!) and so he grabbed it for me.
It's been in the spare bedroom for a while, but up until today had stuff on and around it - stuff which is now packed away ready to go up in the loft.
It's such a comfy chair, and in such lovely condition. I will change the upholstery on it at some point, but for now, it's perfect to sit and crochet in.....although clearly I'm going to have to fight Basil for it, since he thinks it's perfect to snooze in!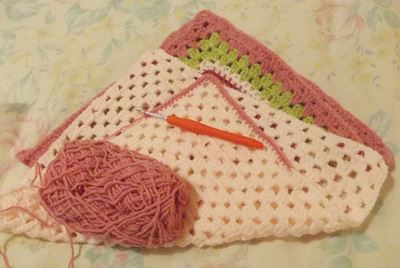 Day 22 - Friday 22nd January 2021
It's that cushion again!
I got more done on it during my breaks in work today. I've finished crocheting the back panel, and I'm putting a single crochet border around it, ready to attach it to the front of the cushion.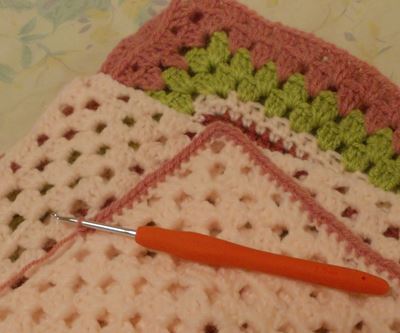 I'm hoping to get the whole thing finished this weekend. After joining the front & back, I'll put some sort of scallop edging around it, then pop it onto the actual cushion, before slip stitching it closed.
Tomorrow I'll give Pearl (my sewing machine) a work out, by making up the pink satin cover for the cushion pad. It will be nice to do a bit of sewing at home, as it's been a little while!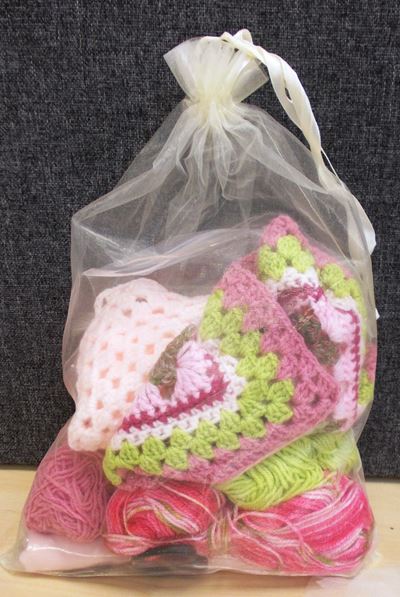 Day 21 - Thursday 21st January 2021
I worked on my current WIP cushion today, during my break times in work. I love these little organza project bags. They come free, when you order yarn from places such as Wool Warehouse, and I always feel they make the yarn/project inside look very inviting!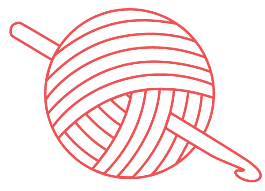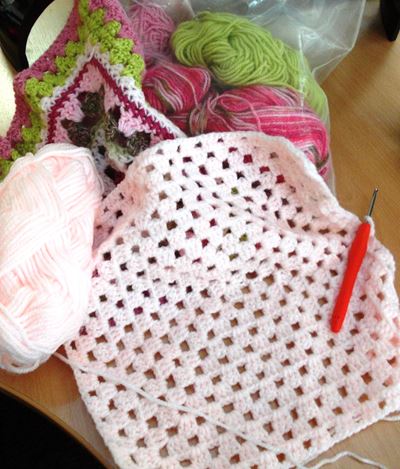 I'm quite a way through the backing panel for the cushion now. I love the pale pink yarn I'm using, and actually can't wait to get this cushion finished!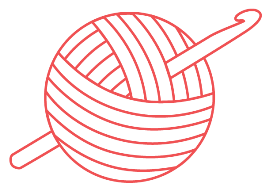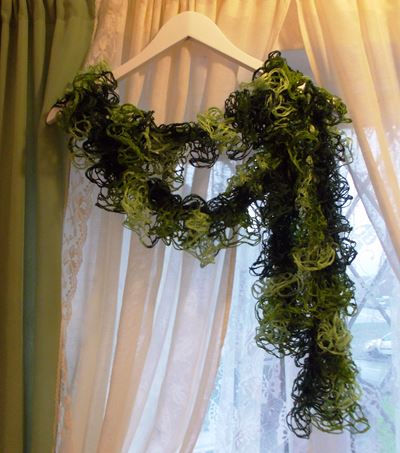 Day 20 - Wednesday 20th January 2021
When a WIP becomes a finish!
This morning I finished off my green cobweb lacy scarf.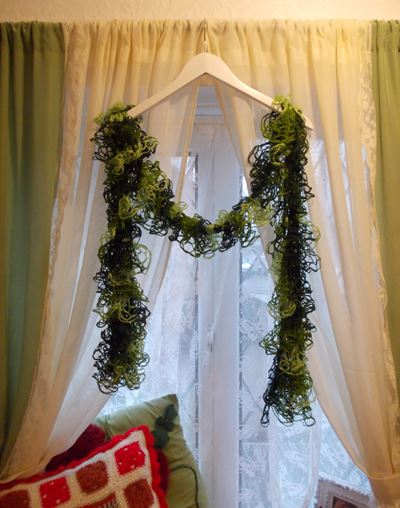 It didn't actually take long to get this done, and I suspect that's going to be the case with quite a few of my WIPs.
I'd forgotten how pretty these yarns are when they're made up, and I'm really looking forward to wearing it.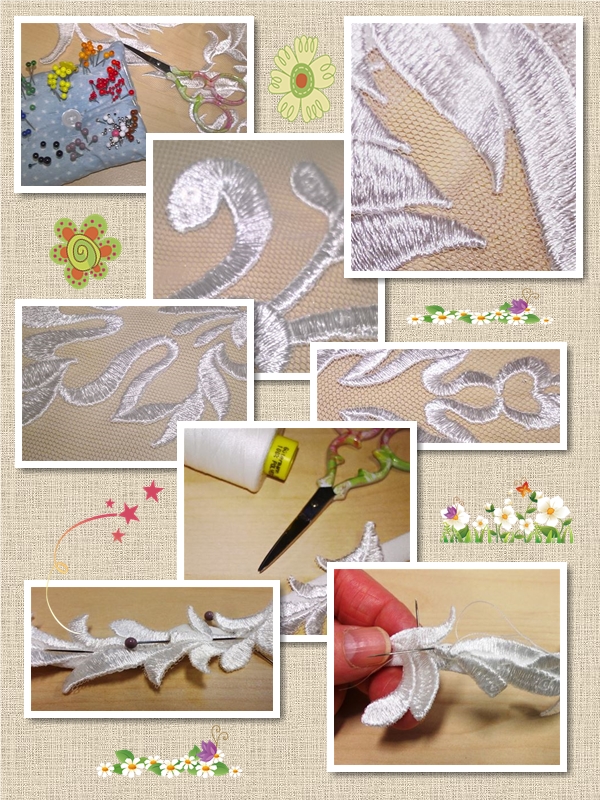 Day 19 - Tuesday 19th January 2021
Snippets of my creative working day!
Today I've been making some customised straps for one of our loveliest gowns. This involves taking a large motif, and splitting it up into smaller components, so that they will fit beautifully along a fine georgette strap.
I obviously can't show the whole gown, so this is a selection of little snippets of both the original motif and the straps in progress.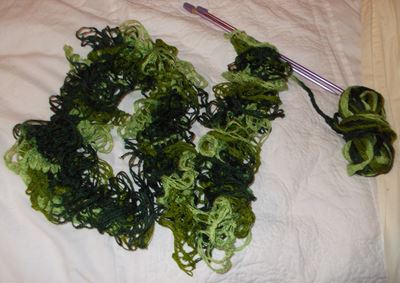 Day 18 - Monday 18th January 2021
Another day, another WIP!
This is a knitted scarf, which I started a few years ago. The yarn is one of those 'novelty' yarns, which looks very flat and braid-like when it's wound as a ball, but you knit into the top of it, and it falls into a sort of cobweb pattern. I love the colours in this - green is one of my favourite colours, and I think I will enjoy wearing it this spring.
I'm about half way through it, so it shouldn't take long to complete, as it does knit up quite quickly.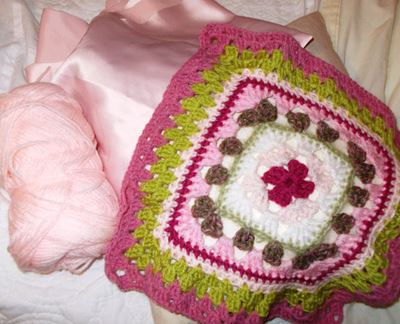 Day 17 - Sunday 17th January 2021
Today I finished crocheting the front of my latest WIP cushion cover.
I'll just make a large granny square to back it with, using the light pink yarn in the picture. I also found a cushion pad for it, and I am going to use some lovely pale pink satin (also in the picture) which I had in my fabric stash, to cover the cushion pad with, so that the pink peeps through the crochet.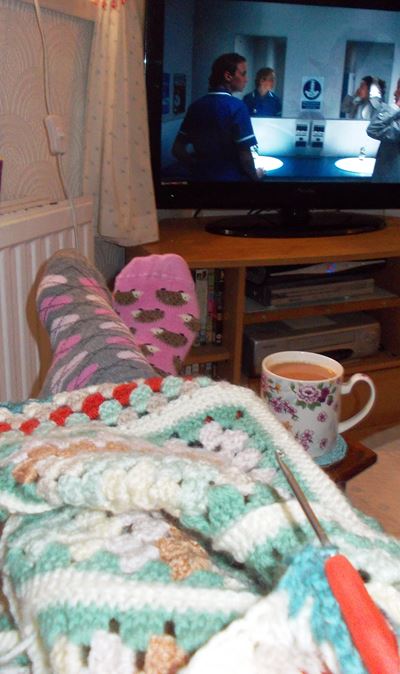 Day 16 - Saturday 16th January 2021
Today is an update on my cwtchy, off-centred granny blanket.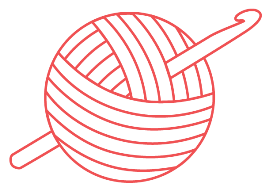 I had a lovely morning of self-care.....the sofa to myself, tea, cake, crochet, and T.V. I have loads of programmes on my Sky planner - including whole series of stuff - which I'd really like to catch up on, so I made a start this morning by watching three episodes from series two of "Killing Eve". Such a good programme!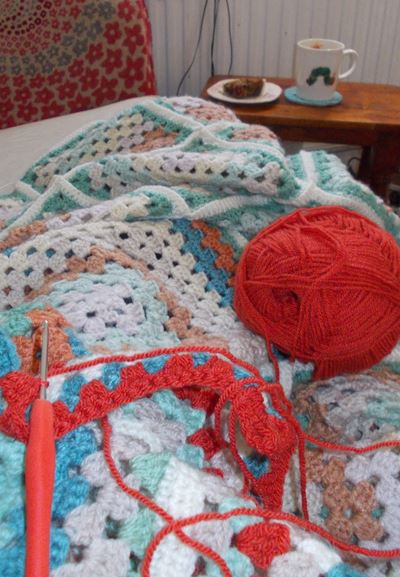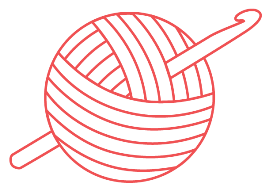 I did quite a bit on my blanket - two complete rows (all around the blanket) of the granny trebles border, and now I'm on the final row of that section.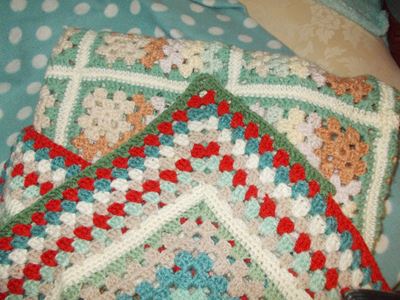 I'm really pleased with how it's looking, and hopefully I can finish this last row (the green) around, and then I can start the final edging, which is going to be stand alone doubles or trebles (or a combination of both) all around, in the same colour order as I've done the granny trebles.
Then it'll be just a case of putting some sort of scallop all around. I think about another week or so should see it finished. I'm hoping that when it's done I can take some lovely pictures of it out in the garden, where there's more space, since it is quite large!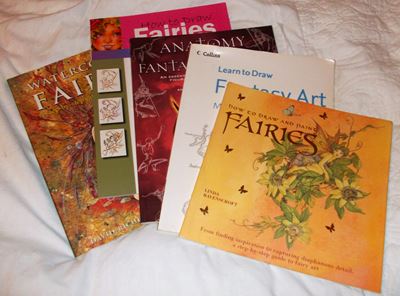 Day 15 - Friday 15th January 2021
Fairy books! More precisely, books which teach how to draw and paint fairies.
I currently have three projects which I am working on, which are all connected to fairies, and will require some images of fairies at some point. Two of them are writing projects, and the other is something completely different.
When I was doing my teaching degree (quite a few years ago now), my Major Field subject was Art, and as part of my self-development within the course work - which focused on fantasy art - I set about learning how to draw and paint fairies.
I didn't get very far with it, and then after graduating, and entering the busy world that is teaching, followed by all sorts of life events, change of career, etc., my drawing and painting aspirations were very much put on the back burner. I feel that now is a good time to resurrect those aspirations and see if there is some sort of actual artist within me!
If I find that there is, then you'll be hearing about it. If I never mention it again, then you'll know that my inner artist doesn't want to be revealed, and we'll say no more! Haha. In the meantime, I'm off to study some fairy drawing books!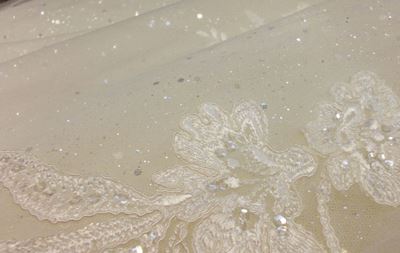 Day 14 - Thursday 14th January 2021
My work is the focus of creativity today.
This morning I finished the wedding gown that I've been working on, where I've been adding a glitter/sequin fabric layer to the skirt.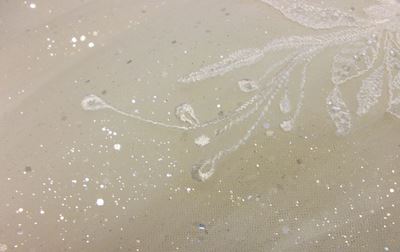 It is looking beautiful and I'd love to see the bride in it, although that's not likely to happen. I'm not able to post a photograph of the whole dress, because obviously the wedding hasn't happened yet, and that would be wrong.
In the pictures though, you can get the measure of the sparkle and there's a bit of applique to see. It's such a pretty gown.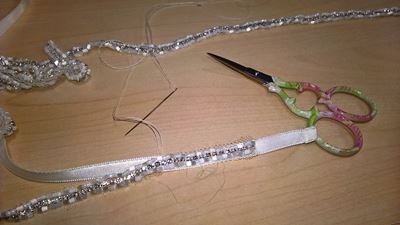 This afternoon I started working on a pair of fine, beaded straps for another gown. They are so pretty.
I know I've said it before, but I really do love working with such beautiful gowns, fabrics and embellishments!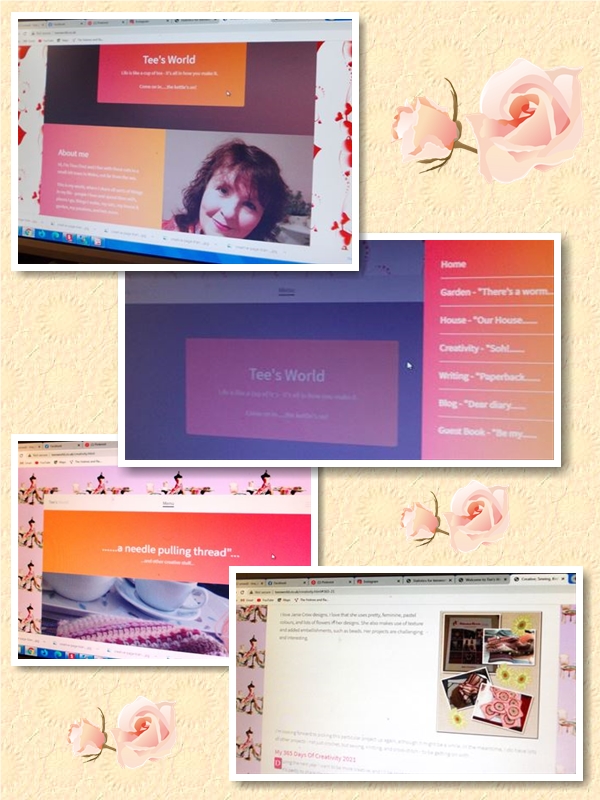 Day 13 - Wednesday 13th January 2021
My creativity today has involved this website!
The creative page itself has sat in limbo almost from the day I set up the site, so I wanted to fill it out a bit - add a few photo's, and some text about the stuff I've been making, etc.
I also wanted to give this section a clear title, and add a link directly to it from my home page.
I have lots and lots of stuff to put on here, and I will add more gradually, as the weeks go on.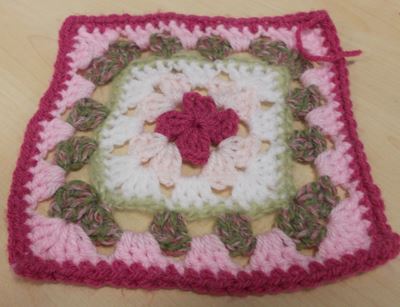 Day 12 - Tuesday 12th January 2021
The next cushion I'm going to do from my pile of WIP cushions. I think I originally started this intending it for my bedroom, which will be decorated in pinks and greens (one of my favourite colour combinations).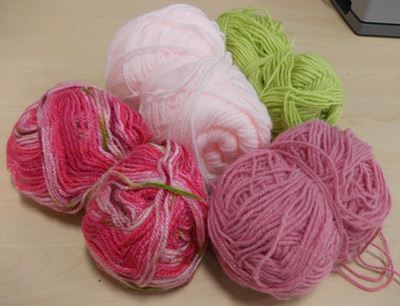 I think I had actually used up a few yarn leftovers to make this much, intending then to use other leftovers to carry on and finish it.
So I looked through my bag of odd balls this morning, and found these lovely yarns......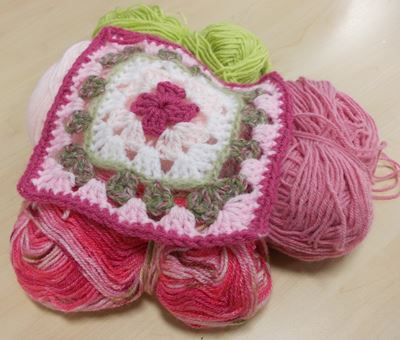 ......which I think complement it beautifully.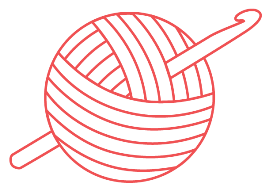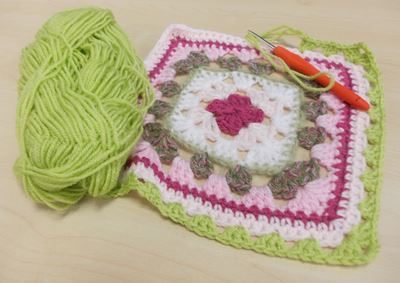 I took it into work with me, and did some on it during my morning, lunch and afternoon breaks. I don't think it will be long before it's done, and then I'll just either crochet a simple large granny square as the back of it, or maybe use some pretty fabric to make a back instead. I'll see how I feel when the front is done, and see what yarns I have left.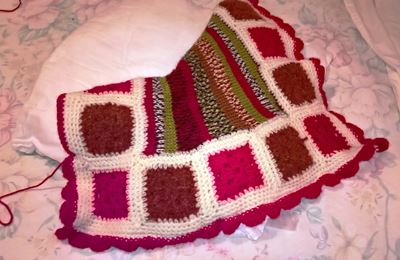 Day 11 - Monday 11th January 2021
Today I finished off a cushion from my pile of WIP (Work In Progress) cushions which I recently liberated from the WIP bag.
Yesterday it looked like this......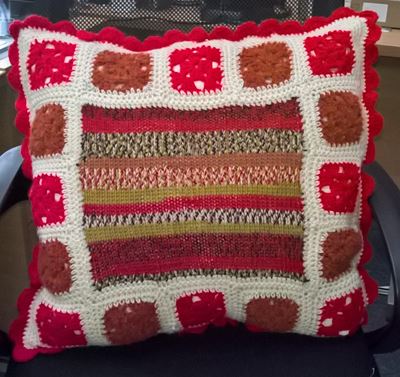 ......and now it looks like this!
The centre panel was knitted using a self-patterning/striping yarn. Then I used yarns from my stash to crochet some small granny squares to go around the centre square, and joined them all together with some cream yarn - again from my stash - and finishing off with a simple scallop in red all around the outside edge.
Both sides of the cushion are the same......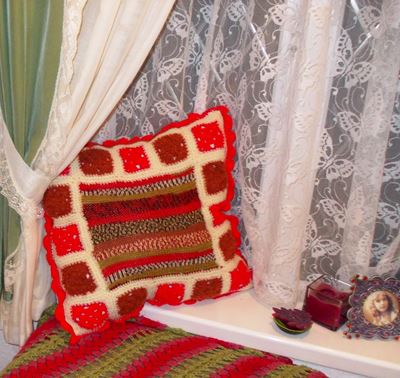 ......and here it is in situ on my landing! I really like it.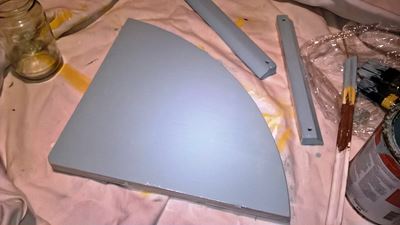 Day 10 - Sunday 10th January 2021
My paintbrushes have been out today, and instead of a 'blue hat for a blue day', here's a blue shelf for a pretty lamp!
That is all.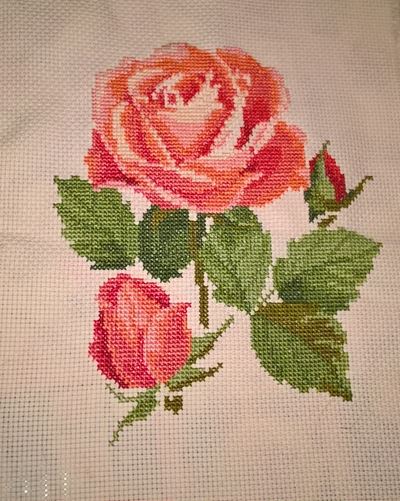 Day 9 - Saturday 9th January 2021
Today I've been cross stitching, and working on this picture of roses.
It's a project that my daughter started stitching a few years ago, so I can't take credit for at least two-thirds of it!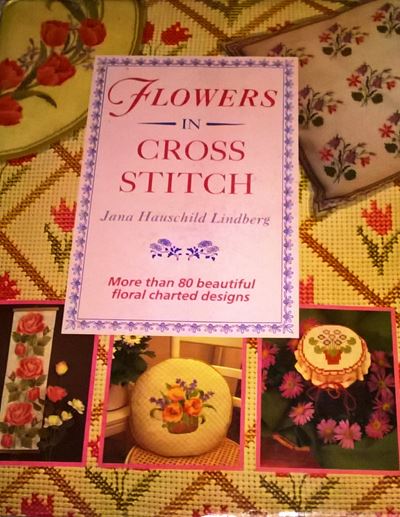 It's a design taken from this lovely book, which I've had for years.
The original design is for a wall hanging......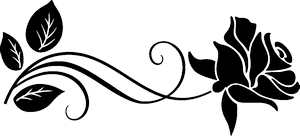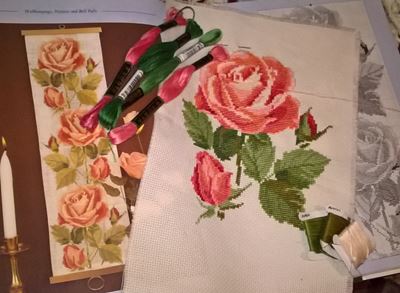 ......but Lydia isolated some of the design, so that it can be used as a panel for a cushion.
I've almost finished stitching the picture now, and then I will decide what fabrics to use with it, to turn it into a cushion, probably for the chair in my bathroom.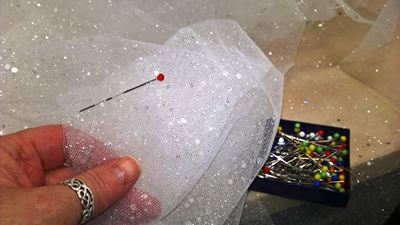 Day 8 - Friday 8th January 2021
Today has been a fairly un-creative day at home.
However, I am creative every day in my job, so here are a couple of pictures of some very pretty sparkly fabric!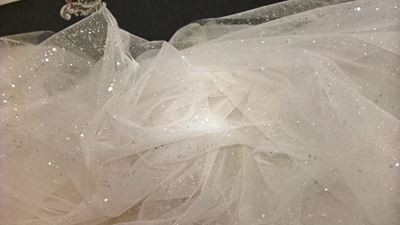 I am currently putting a sequined/glittered layer into the skirt of a wedding gown which has a ballgown style skirt.
I can't show you the whole dress, so as not to reveal any bride's secrets, but I think you can get the measure of the sparkle from these pictures. I love working with beautiful fabrics and dresses.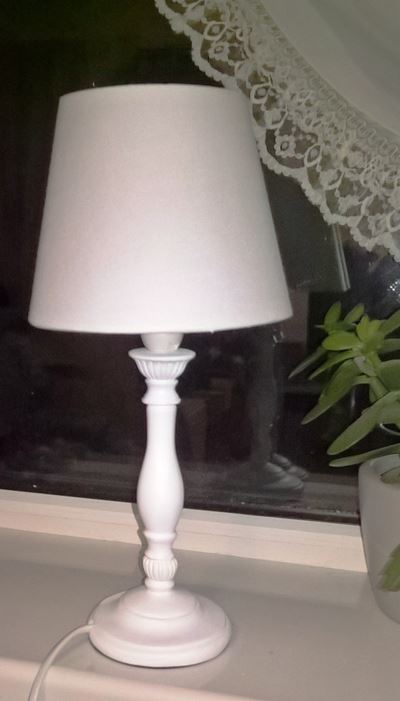 Day 7 - Thursday 7th January 2021
A pretty lamp with a very plain shade, which I bought for the lounge recently......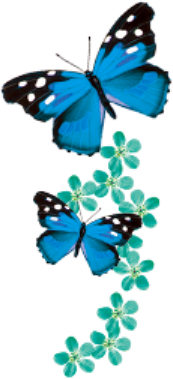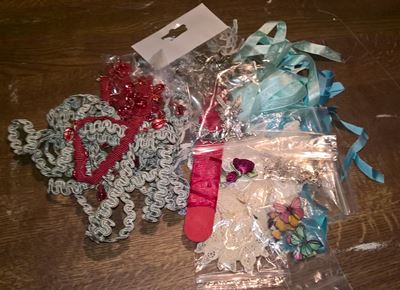 ......and a selection of pretty things. That is all......
......For now!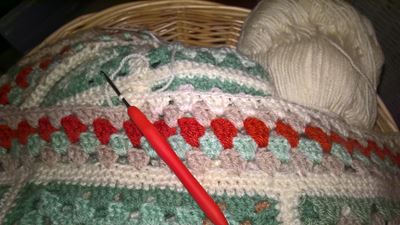 Day 6 - Wednesday 6th January 2021
My cwtchy blanket again!
The granny trebles edging is going really well now, and I'm so pleased with the colours.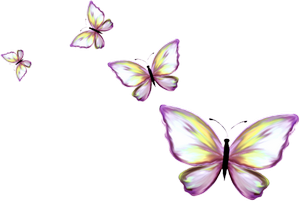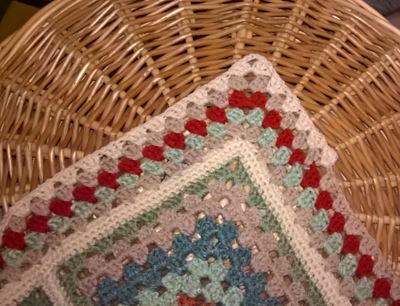 It has some very satisfying corners!
I think there about three more colour changes until I've used all the colours, then I'm going to go around again, using rows of either doubles or trebles, again with the same colour order, so that it looks more like an edging.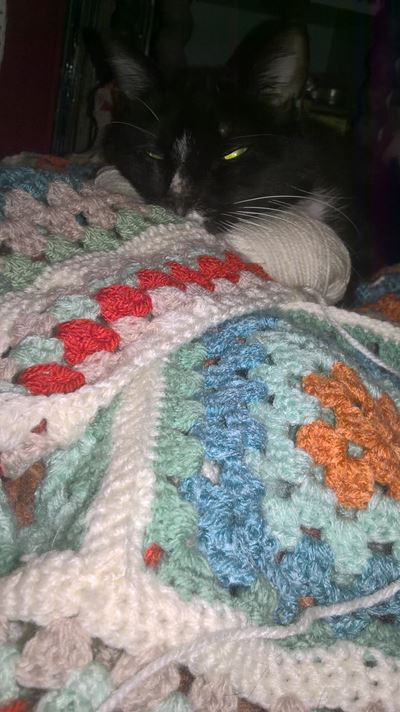 I have plenty of yarn and want it to be as big as I can make it really, so that there is plenty to cwtch under!
I'll finish with a deep scallop edging in one of the brighter colours.
I think that as well as Joe, Basil has taken rather a liking to it!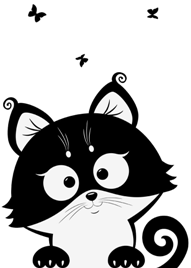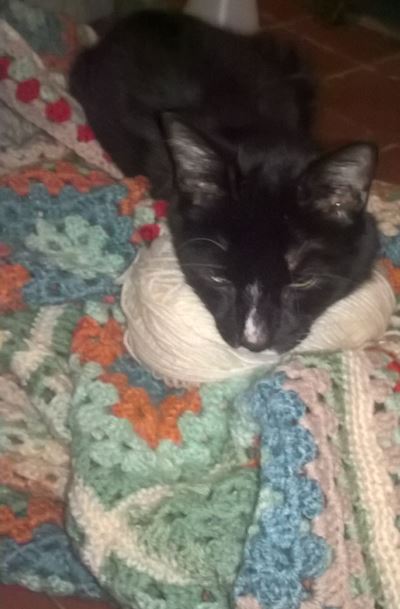 I turned my back to make dinner, and within minutes he'd cwtched up on it. I think he was definitely checking out its cwtchiness!
I couldn't resist the photo' opportunity!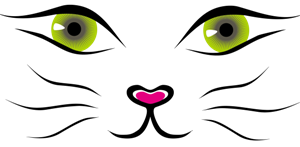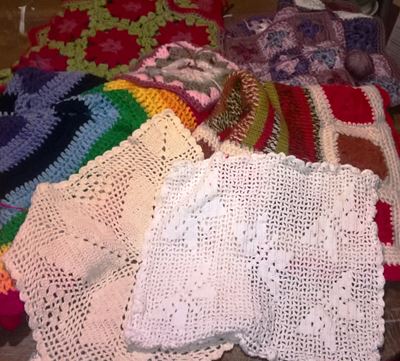 Day 5 - Tuesday 5th January 2021
A collection of colourful cushion covers!
I've been going through all my WIPs (Works In Progress) and came across this lot of cushion covers which need to be finished. Some of them are ready to be put onto cushion pads and crocheted together, and others need a bit more work. I shall work on them over the next couple of weeks.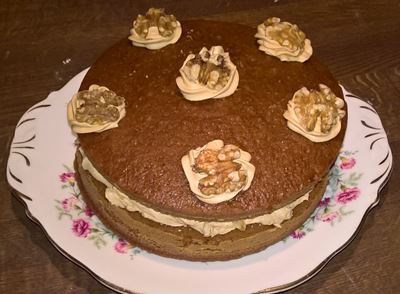 Day 4 - Monday 4th January 2021
Today's creativity has been a spot of baking, using my lovely vintage Braun Multipractic to mix the cake.
Bob requested a coffee and walnut cake, and that is exactly what he got!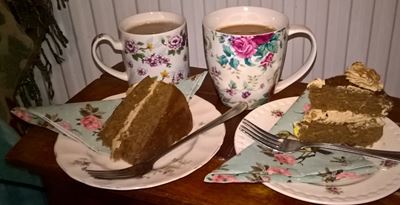 I've actually never made that flavour cake before, and I'm really pleased with how well it turned out.
We enjoyed a slice with a cup of Glengettie, and Bob was also pleased with how it turned out, since he told me that it's the best coffee and walnut cake he's tasted! Wow. This evening I am a happy baker!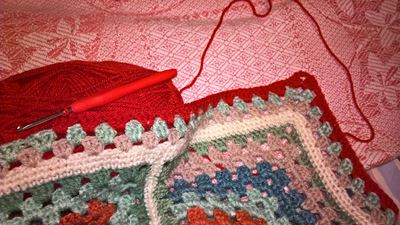 Day 3 - Sunday 3rd January 2021
I had to frog (aka undo, or in Llanelli speak 'take loose') the granny treble edging of my cwtchy blanket, because I hadn't got the spacing right on the first row, and it was causing it to frill slightly instead of laying flat.
However, I've re-crocheted it now, and it's looking lovely and flat.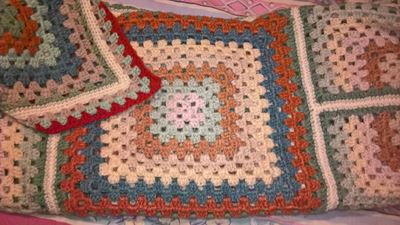 For the granny edging, I'm sort of echoing the colour order from the centre panel of the blanket, although I don't have much of the original colours left, so I'm using other, similar colours. It's all in the name of stash-busting, and the colours are still a good blend.
I'm really happy with how it's going, and since I do have plenty of yarn, I'll probably do another set of edge rows, just in plain doubles or trebles all around, again using the same order of colours. I just want to make the blanket as big as I can really.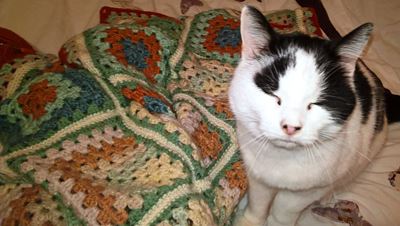 Joe Cat has given it his seal of approval anyway. He loves to cwtch up on it when I'm not working on it, and in this photograph, he has clearly closed his eyes in ecstasy at its cwtchiness and beauty!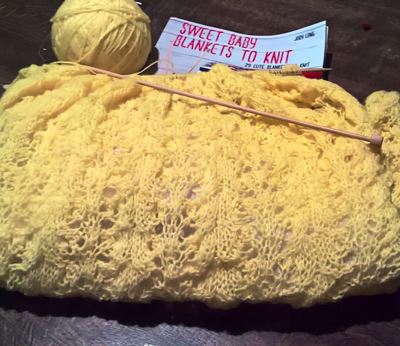 Day 2 - Saturday 2nd January 2021
My next project is another knitting WIP which has been around for a while.
It's a baby blanket pattern, but I am knitting it as a throw, which is intended for my kitchen, to drape over the back of a chair, just for a bit of textile interest in the kitchen. Yep, very frivolous!
It's been a while (probably around 18 months or so) since I worked on it, so I'll need to spend a bit of time working out where I am in the pattern! I think it's over half-way through though, so a couple of weeks should see it done.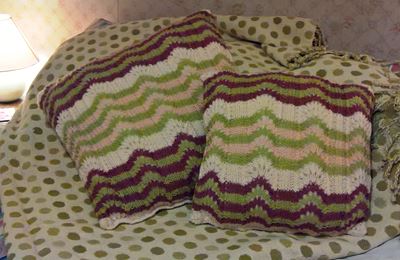 Day 1 - Friday 1st January 2021
This is a pair of knitted cushions, which have been in my WIP (Work In Progress) pile for much more time than I care to remember!
Although in fairness, they weren't so much a WIP, as a 'Knitting All Finished And Ready To Be Stitched Up' project!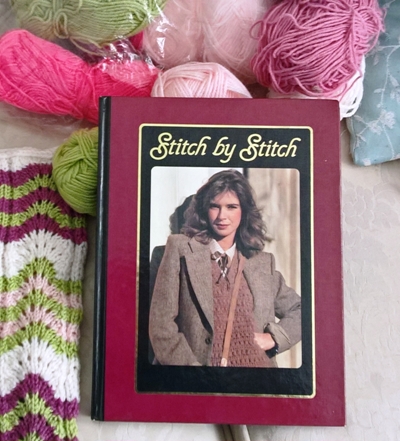 The pattern is a traditional feather and fan design, and I got it from one of a series of "Stitch by Stitch" books, produced by Marshall Cavendish in the 1970s or 1980s, and which cover all sorts of needlecrafts.
Lots of the things in the books are now rather dated, but nevertheless they are a very useful source of inspiration and ideas.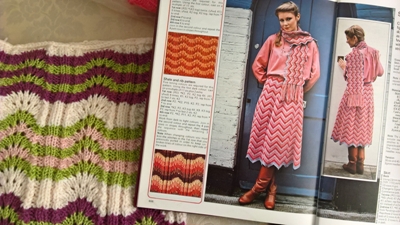 As you can see from the picture, originally the pattern was used for a skirt and scarf set, and I adapted it for my cushions.
The cushions are for my bedroom, which I'll be decorating some time this year (I hope) using cream, pinks and greens - one of my favourite colour combinations.

Up, up and away......
Back to the top of this page..
Back to the main Creativity page..
07597 205956