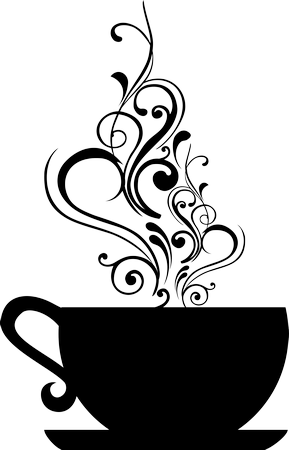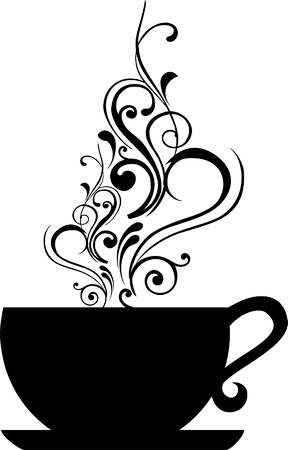 "Dear Diary..."
What an August it's been!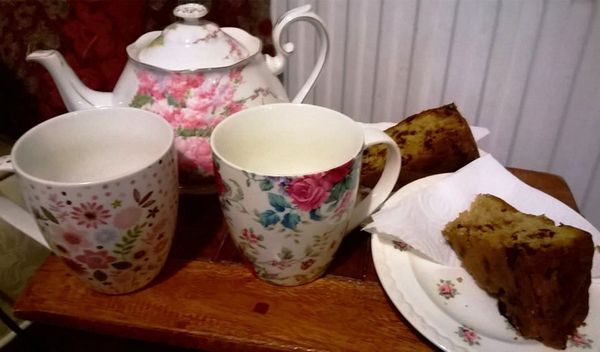 Lyric snippet from "Dear Diary" by The Moody Blues.
Please click here if you would like to listen to it via YouTube.

Back to life......

August 2020
What a lovely month this was! A month when I started up my website and kicked off my daily blog.
A visit from my Gowjus Girl and her lovely man was the highlight of the month for me. August also included reminiscences, plants, yummy food, returning to work after Furlough, upcycling, lovely weather, making memories, and of course my Lovely Man's birthday on the 13th.
If you would like to look at the posts from the very first one on Friday 14th August, then please click here.

Monday 31st August, 2020
Today was the last bank holiday of the year. Bob was working up at Craig-y-Nos, so I joined him at lunchtime for a picnic, then spent a very peaceful afternoon reading in his studio.
In the evening, I worked on this website, before getting a fairly early night, since tomorrow it's back to work again.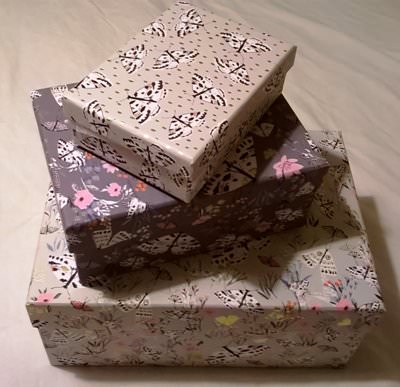 Picture of the day
These very pretty boxes which I picked up on my shopping travels at the weekend with Lydia and Lewis. I love butterflies, and love pretty boxes and jars to keep things in, which may otherwise look cluttered. I'm not sure where I'll put them yet, but I'm thinking that on the dresser in the cwtch is looking promising.

Sunday 30th August, 2020
Last day of having Lydia and Lewis to stay. We decided to chill out at home. We watched "Sunday Brunch" - something I love to do, but haven't done for absolutely ages! Then we had some lunch, and it was time for them to head back to Kent. Why does time pass so very quickly? I don't know when I'll see them again - probably not until around Christmas time I would think. It's been so lovely having them to stay.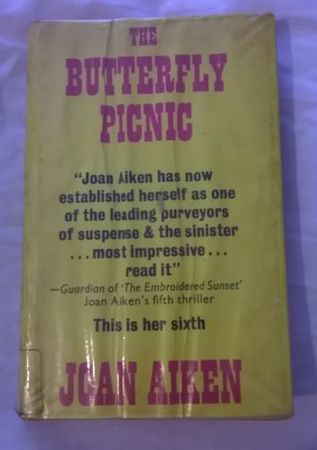 Picture of the day
After seeing Lydia and Lewis off, I decided to have a bit of me time, so I headed off upstairs to start this book......then promptly fell asleep! Haha.

Saturday 29th August, 2020
Day two of the L2 (as I've been affectionately calling it) visit. Bob was working at Craig-y-Nos today, so we packed a picnic - mainly consisting of pizza left over from last night - and drove up there to share it with my Lovely Man. It was a beautiful day, and Craig-y-Nos Country Park is definitely a fab place to eat al-fresco.
Bob is a wedding photographer and has a studio at Craig-y-Nos. If you'd like to take a look at his website, then please click here and you will be able to see his lovely photographs (opens in a new window).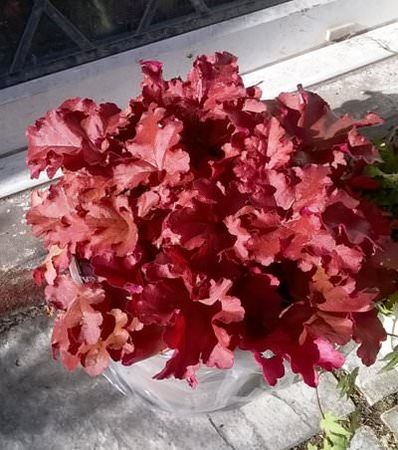 Picture of the day
Leaving Bob to his work, we then drove up to Brecon, where we had a browse around the shops, and where I bought this lovely Heuchera for my garden.
Back home in the evening, for a home cooked meal of baked salmon, with roast potatoes and lots of veggies! We were too full for our "Wicked" sticky toffee pudding, so it was a unanimous decision to save it for a very naughty breakfast tomorrow!

Friday 28th August, 2020
I have been waiting for these visitors......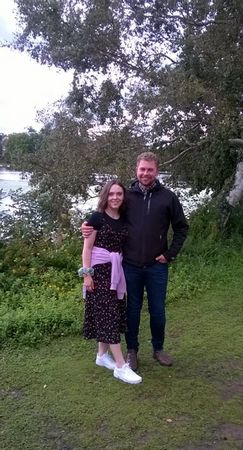 Picture of the day
Two of my favourite people, at one of my favourite places! Lydia (my daughter, aka my Gowjus Girl) and Lewis (her partner), taken at Roath Park Lake in Cardiff.
Lydia and Lewis arrived late last night. It's so good to see them. We were up fairly early, considering they'd had a long drive and a late night, and we decided on a day out in Cardiff. Lewis had been to Cardiff briefly before, but not to see anything of any significance....so we decided that a trip to Roath Park Lake was a must. We had a lovely walk around the lake, and got some take out coffees at the cafe, arriving back at the car just as the rain was starting.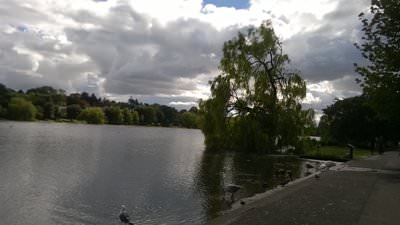 Roath Park Lake is one of my favourite places in the world. It's the one place in Cardiff which I have continued to love, even after leaving Cardiff at a difficult time in my life, when I no longer loved my home town as a whole. That has since passed, and I do love Cardiff again.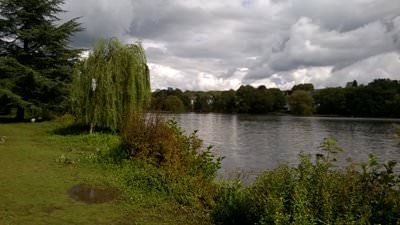 The lake has always been my place to go to for presence of mind and a sense of peace and tranquility.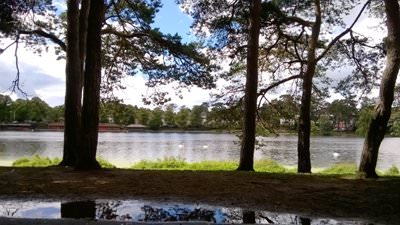 Having grown up in Cardiff, I have seen the lake grow and flourish and since now it is at least many months, and sometimes years between visits, I always see a difference in the volume of greenery and beauty.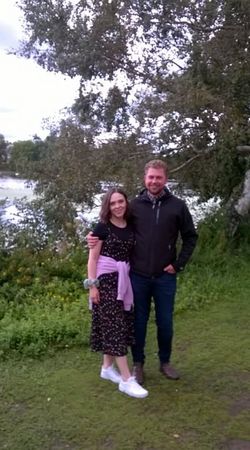 After leaving the lake, we went on into the city centre, to look around the shops, and in search of some lunch.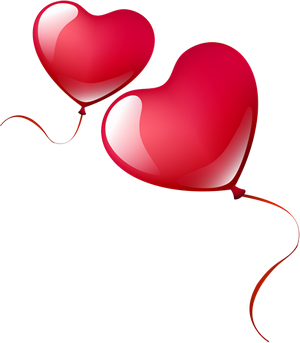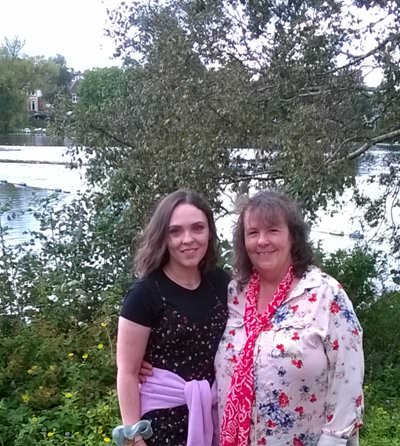 It's incredibly hard at the moment, to just walk into a cafe/bar/restaurant and simply order food and drink. Most places are only taking customers who have pre-booked a table. This is reassuring, because at least you know that places are not going to be over crowded, and social distancing is being observed. However, it's also rather frustrating when you're hungry & thirsty, and just want to enjoy a meal with loved ones!
After much trekking around, we were eventually able to get into Pie Minister, and it was absolutely worth the wait! I had the "Kevin" pie - a delicious vegan pie, accompanied by minted mushy peas and yummy mashed potato. I would definitely recommend Pie Minister as a lovely place to eat.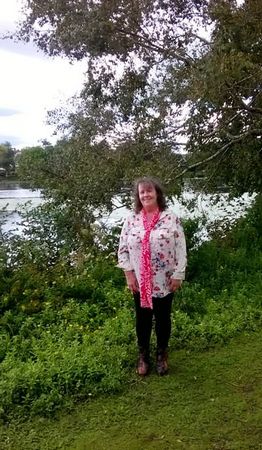 In the evening, Bob came over after working at Craig-y-Nos, and we enjoyed a relaxing evening of food, drink and conversation.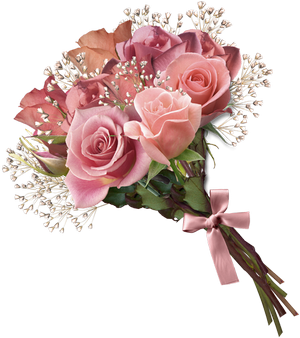 Thursday 27th August, 2020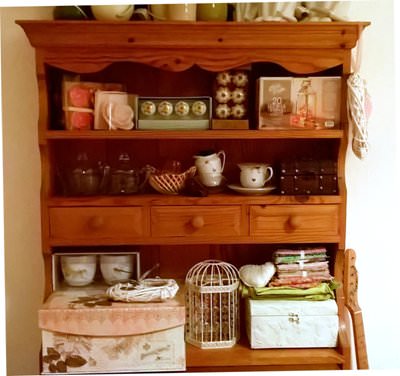 Picture of the day
This beautiful shelf unit came up on Freecycle. I didn't think I had a hope in hell's chance of getting it, but I did! I've popped it into the back bedroom temporarily. This was where I first thought of putting it when I saw the picture of it, but after getting it home, I think it would be much better in the kitchen. I love its warm, honey colour, and I think it will go nicely with the yellow and blue colours I'm planning for the kitchen. For the last eight months or so, I've been collecting Kilner style jars, for putting baking ingredients, pulses, rice, pasta, etc., into. I think they'll look fab on this unit.
The things which are on it now are items intended to accessorise various parts of my home. They were stacked up in one corner of the bedroom. I decided to put them on the unit for now, as they look much better than just piled up in a corner.
Today was a productive one. I did lots of cleaning and organising, including giving my Welsh dresser a good clean & polish, and putting her in place in my newly lino'd cwtch! I managed to fill her with lovely stuff within about half an hour, which freed up some work surface and cupboard space in my kitchen. It'll be a while before I get around to upcycling her, so I thought I might as well make use of the storage space in the meantime.
My Gowjus Girl and her lovely man arrive late tonight. I cannot wait to see them - I haven't seen them since February, and I'm so excited.

Wednesday 26th August, 2020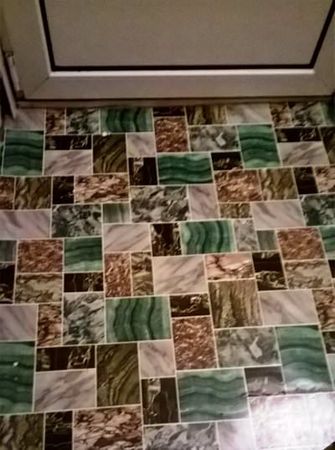 Picture of the day
This is the lino I've put down in the cwtch. It looks brighter in the picture - it's actually more pastel coloured. A lady on the Freegle site gifted it to me, and I really like it. It's already lifted the room, which isn't actually painted yet. Tomorrow I'll give the dresser a good clean before putting it back into the cwtch. I will be upcycling that at some point, but just for now it's fine.
Today has been really busy. I've been washing, drying and boxing up lots of dressing up clothes and other things which are going to be going into the loft. Also spring cleaning, and generally tidying and reorganising. I need my bed now!

Tuesday 25th August, 2020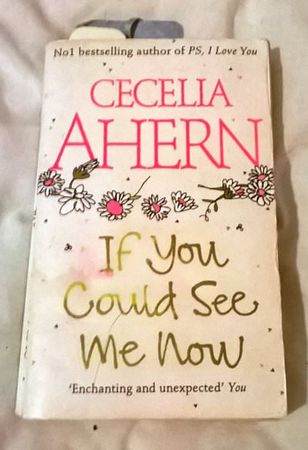 Picture of the day
This book, which I finished today. It only took me eight years to read! Haha. That isn't as bad as it sounds. I started it eight years ago and got half way through. Then I stopped being a bookworm for a while and didn't read any more. Then it got mislaid. During my recent (and actually still current!) clearout, when I was putting my library room together, I came across it again, so was determined to go back to it after I finished the book I was on. Of course, eight years on I couldn't remember much of it, so I started it from the beginning again. I thoroughly enjoyed it - a cracking good read.
Today was my last day in work until next Tuesday. I'm taking some holiday days for the visit from my Gowjus Girl Lydia and her lovely man Lewis. They are due late on Thursday, but I still have stuff to do in the house before they arrive, so I thought I'd take the last of my holidays for cleaning, decluttering, etc., and to spend some quality time with them. I am so looking forward to them arriving.

Monday 24th August, 2020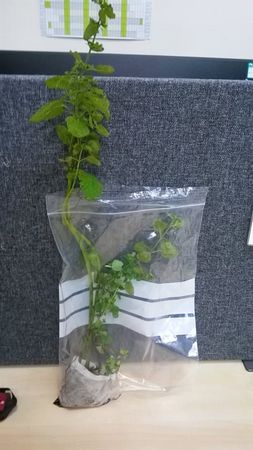 Picture of the day
Julie, my friend in work, gave me these rooted cuttings today for my herb garden. Lemon balm on the left, and oregano on the right. I shall pop them into pots so they can get used to their new surroundings before putting them in the herb garden properly in a couple of weeks.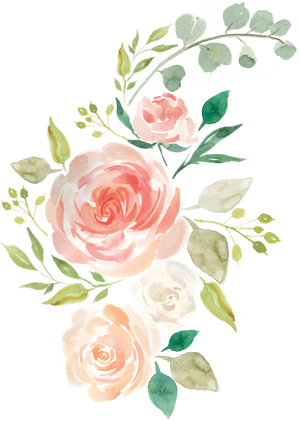 Another busy day - more cleaning, etc., and preparing the floor of the 'cwtch', which is a little room off my kitchen - and which has been used mainly for storage for the past few years - to put some lino down. It's not being used for storage any more, but as an extra room to the kitchen. A little while ago, I managed to get a lovely Welsh dresser from one of the selling sites, at a really good price. It's not an original - a repro from I think the 1980s - but I love it. It fits beautifully in the cwtch, and I'll use it for extra storage for things like baking tins, etc. There are pictures of it on my "Our House" page.

Sunday 23rd August, 2020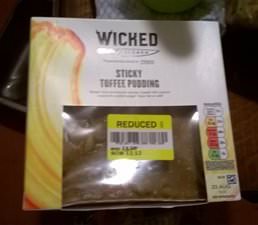 Picture of the day
Picking up one of these beauties for around half price in Tesco yesterday. I've popped it in the freezer ready for when Lydia and Lewis visit. I don't even know if they like this, but hey ho. I do! I love the "Wicked" range of vegan foods, but they're expensive, so I only buy them when they are reduced.
Today has been a fairly productive day, although it still feels like I am treading treacle at times. I'm still on the declutter/tidy/reorganise/spring clean mission, and I think I'm starting to see some light at the end of the tunnel!
The "Lydia and the Tooth Fairy" story is looking good! Bob has put it into a flip book, added the audio, and it's ready to roll. I want to do some more stuff to the other pages on this site though, before I publish it all and give out the website address.

Saturday 22nd August, 2020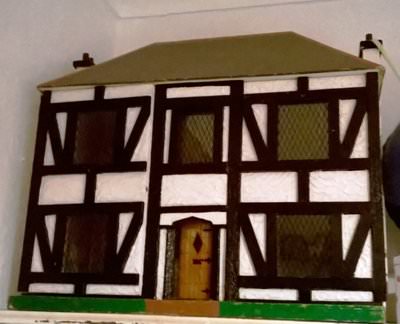 Picture of the day
This is a dolls house which my father built - using bits and pieces of scrap wood - over sixty years ago! Originally, it belonged (and still does actually) to my sister. When she grew out of it, it was put away, and when I came along it was taken out of storage, smartened up, and given to me. Then it went into storage again, and was brought out to be revamped for my sister's daughter. My brother-in-law, at that time, added the black Tudor-style strips, which weren't on it originally. After that, it came back to me, to re-paint, etc., for Lydia. Now it sits in my craft room, looking beautiful and bringing back memories!
The dolls house is referred to in the story of "Lydia and the Tooth Fairy". As I've mentioned before, there is a follow-up story, and I've decided to add to these two stories, and write at least a further four about Lydia and her adventures with the fairies, and I'm hoping to base one of them around this lovely dolls house.

Friday 21st August, 2020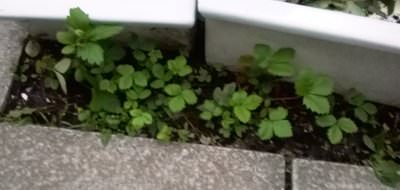 Picture of the day
When I planted up these strawberry plants, there were two in total, with a couple of runners. They started out as a cutting from a lovely friend Angela, and now they are covering the small area I planted them in, in front of the herb garden. I also noticed that on the large one on the left, there seems to be a flower bud. Wow, I may even get a strawberry or two!
Today Bob successfully transferred the fairy story from the cassette onto his laptop, so it seems like we will be able to add an audio on to the story when it is put on here, on my writing page - Paperback Writer. He's also able to make up a 'flip book' style copy of the story, so my next job is to type up a Word document, with the story and some illustrations, so that he can convert it into a book.

Thursday 20th August, 2020
I found it very difficult to get out of bed this morning, because I was so tired. I was expecting full-on fatigue all day long, but it actually wasn't that bad.
I've moved on from straps and am changing the bodice of a wedding gown - the bride wants a sweetheart neckline, instead of a plunge, so it involves taking the bodice apart, cutting a new central panel, and putting it all back together again. It's quite a task, but I really love that sort of thing.
Quite a few of my friends had posted on Facebook today about the great GCSE results their children had received. It was so nice to see these posts. I've been that proud mum, and it's lovely to see friends experiencing that proud mum (and dad) feeling!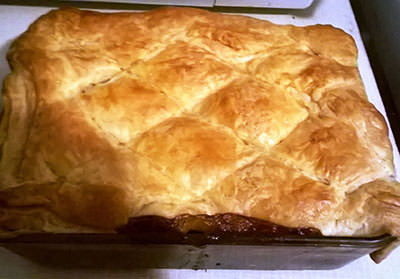 Picture of the day
Because the weather this evening was very blustery - apparently we're on the end of Storm Ellen - we decided that food needed to be warm and comforting, and so we had a yummy vegan pie!

Wednesday 19th August, 2020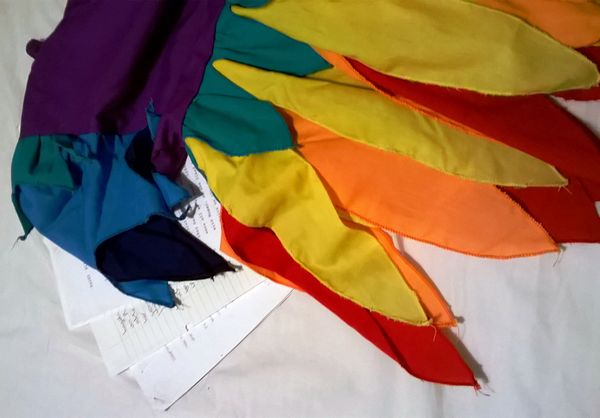 Picture of the day
I've been sorting more stuff in the house. I have lots of Lydia's childhood dressing up clothes, and outfits I made her for her various birthday parties. She always had lovely parties. For her seventh birthday, we did a rainbow themed party, and this is the dress I made her. As part of her gift that year, I wrote her another fairy story - a sequel to "Lydia and the Tooth Fairy", and again I'll be putting it on my writing page - Paperback Writer
Another hot day, and the fatigue this afternoon was particularly bad. So much so, that when I got in from work, I headed straight to bed and slept for about three hours. This evening has been a lot cooler, and for the last hour or so, it's been raining heavily and it sounds like there's a proper old storm brewing up outside. I think it will be a cuppa, my book and a fairly early night for me!
Bob has been busy working today, sorting out an MP3 link, so that we can transfer the original narrated story of "Lydia and the Tooth Fairy", from the cassette as an audio to listen to on here. It's very exciting!

Tuesday 18th August, 2020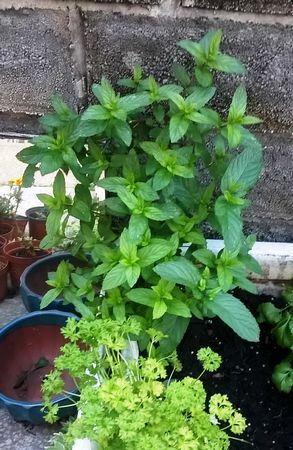 Picture of the day
I don't work on the garden every day, and some days I don't even go out there at all. So it's always nice when I see a change. This is the mint I planted in my herb garden around about a month ago, when it consisted of one stem - the result of a rooted cutting from a friend. Now look at it! It's going a bit mad. I really want to thin it out around the right hand side, so that I can train it to grow on the left, so that it trails around the mirror. I shall put that on my list of things to do!
Today was another productive day at work. I am working on adding customised straps to some lovely gowns at the moment. It was very hot again, especially this afternoon, but the fatigue wasn't quite as bad as yesterday.
Bob did quite a lot on the stylesheet aspects of my website yesterday, and I've downloaded his work now, ready to do the next bits myself. I've also been going through my creative writing stuff and have come across a few things that I will be putting on the writing page - so watch this space! Well, actually, the writing page - "Paperback Writer".

Monday 17th August, 2020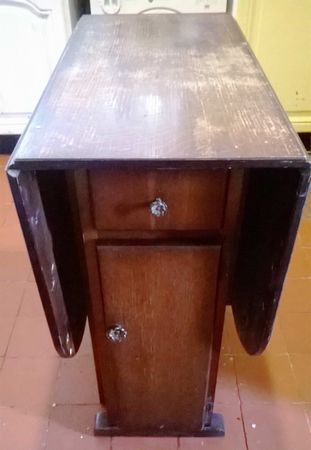 Picture of the day
The lovely table I was gifted from someone on a Facebook free site. I've cleaned it all up and now it's in the kitchen. I will at some point "shabby chic" it, but just for now I'm happy to have the extra storage provided by its cupboard and drawers, and to use it as a nice solid island.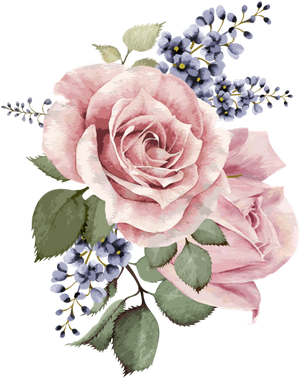 Today was my first day of my first full working week since the Covid 19 lockdown started on 23rd March,when I was placed on the government Furlough scheme. It went well - it was productive, and it was lovely to catch up properly with my work colleagues.
I did find the heat difficult. My Lupus symptoms - especially the joint pain and fatigue - really flare up in the heat, and if I take painkillers, that only adds to the effects of fatigue, so I try to avoid them, although it's difficult to go about an average working day whilst in pain.
Bob and I had a nice quiet evening, and watched the second part of an adaptation of Jane Austen's "Sense & Sensibility". Love a bit of Austen!

Sunday 16th August, 2020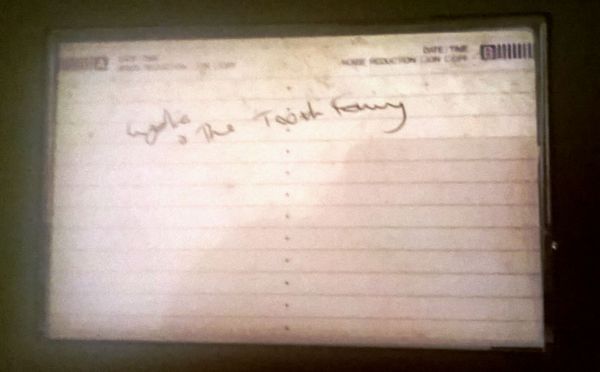 Picture of the day
I found the original cassette tape from 21 years ago, which is the recording of "Lydia and the Tooth Fairy"- a fairy story which I wrote for Lydia when she was six. On the cassette I am narrating the story, and it has a theme tune and sound effects written by Paul Davies, somebody who we knew at the time.
Today I continued with the decluttering, organising, and spring cleaning of my house. I put the lovely gate-legged table in place in my kitchen and gave it a jolly good clean. Tomorrow I will fill up its cupboard and drawers with cleaning cloths, cleaning products, etc. - all the stuff which falls out of the cupboard under the sink every time I open the door! It will be nice to have extra storage space in the kitchen, and the table itself is a fab kitchen island for preparing food.
Bob was working at Craig-y-Nos today, and he came back to my house in the evening and we had his delayed birthday meal of Vegan spinach & ricotta cannelloni, with garlic bread. I did take pics but they were rubbish, so I'm not putting them on here! It tasted lovely though.
Tomorrow is the first day of my first full working week since March! I think I may be more than a little tired by the end of the week.

Saturday 15th August, 2020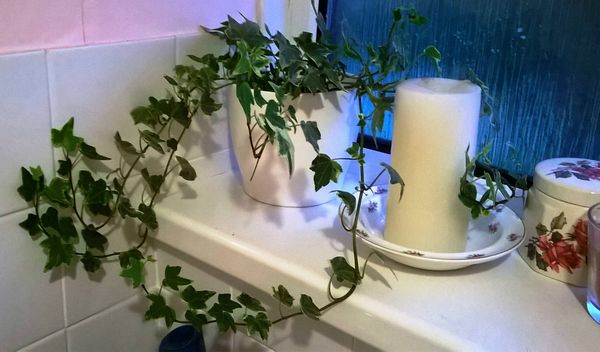 Picture of the day
This beautiful ivy plant! She was only about a third of this size when I bought her around six weeks ago. She's on the windowsill in my bathroom, and she clearly loves it there.
Today has been quietly productive. I am continuing the process of decluttering and organising my home, and today I've been working in the kitchen. I have two esteemed guests (my Gowjus Girl - Lydia my daughter, and her lovely man Lewis) arriving in around ten days, and so I am also spring cleaning. A few weeks ago, I picked up a lovely table from one of the free sites on Facebook. It's an old-fashioned gate-legged table, with drop leaves and storage going through it, via a drawer each end and a cupboard through the body of it. I originally had it with the intention of using it in the back bedroom as a computer table, but I've decided now that I'm going to put it in the kitchen, to use as an 'island' for food preparation, and for kitchen storage. I'm in the process of cleaning it up.
I spoke to Lydia on the telephone earlier today - always a lovely thing to do! She's looking forward to visiting. Her call woke me up, as fatigue had got the better of me today (I have a condition called Lupus, which amongst other things affects my joints and causes extreme fatigue), and I had slept for a couple of hours....it was a lovely way to be woken up though!

Friday 14th August, 2020 Working 9 to 5

Picture of the day

My blog begins today, and with it 'Picture of the day'. This is Martha, my trustee workplace sewing machine. I've missed Martha (along with all my colleagues) over the last five months, whilst being on the government's Furlough scheme, due to Covid 19.

Today was my first day back, so it does seem fitting to start writing my blog at this point.

I've actually really enjoyed the time out from the 'rat race'...getting stuff done in the house, and the garden, and just taking time for myself and being with my Lovely Man Bob, the kitties and Ollie, Bob's dog.

However, I do love my job. I work for Enzoani in Swansea. My job includes customising and altering wedding gowns. I get to sew for a living (sewing is one of my biggest passions), with really beautiful gowns, and alongside a great team of people. What's not to love?

Happy Birthday

Yesterday was Bob's birthday. We had a lovely, relaxed day together, and enjoyed a picnic on the beach - it was in the rain, but it was only light rain, and because it's been so hot, it was quite refreshing!

We had intended to go earlier in the day, but it was late afternoon by the time we were eating our picnic, so we didn't have the planned evening meal of vegan spinach and ricotta cannelloni. We'll have that at the weekend now, which means that Bob's birthday celebration continues!

Later in the evening we enjoyed tea and birthday cake. I love to bake, and Bob loves my baking! He had asked for a home baked fruit cake, so that's what I made. It was yummy, and tea always tastes lovely from pretty china.

I gave Bob a hand-made picture of Ollie for his birthday. It's a needle felted picture, made by a talented lady by the name of Tracey Deacon. I love the picture and think that Tracey has made a fabulous job of capturing Ollie's expression and personality. Look at his beautiful eyes!

Tracey has a Facebook page for her needle felting. Please click here if you would like to look at her work (opens in a new window).

Back to life......

07597 205956