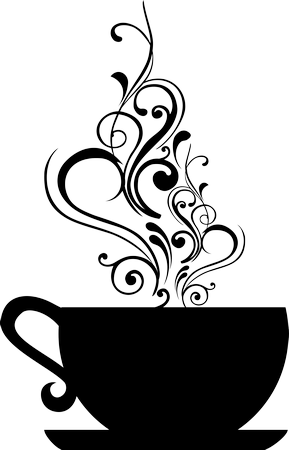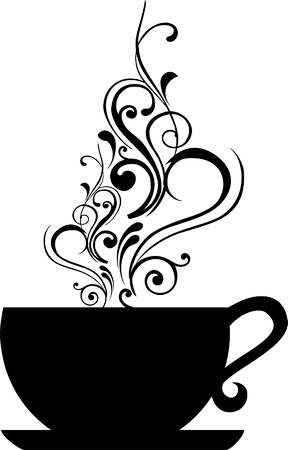 "Dear Diary..."
...What a November it's been!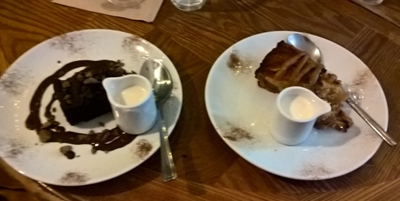 Lyric snippet from "Dear Diary" by The Moody Blues.
Please click here if you would like to listen to it via YouTube.

Back to life......

November 2020
November 14th is my birthday, and since some Covid 19 restrictions were lifted, Bob and I were able to go for a birthday meal at The Warren in Carmarthen.
This month, my kitchen was very happy to see the arrival of a washing machine and some new flooring, and my lounge was happy when I put the new curtains up.
November also had its share of sadness when Bob's brother Richard passed away from cancer.
However, the month saw all the usual lovelies.....quality time together, books, crafts, and yummy foods......and I kicked off my re-visit to a weight-loss programme.
If you would like to look at the posts from the very first one on Sunday 1st November, then please click here.

Monday 30th November 2020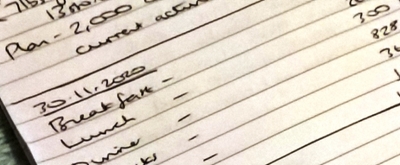 Picture of the day......"Inch worm..."
All my adult life I have battled with my weight, alongside having a bad relationship with food.
I won't deny that I am a foodie. It's clear to see for anyone who knows me, and/or follows my blog, that this is the case. However, I have also always been an emotional eater - both celebrating and 'drowning my sorrows' with food.
Over the years I've steadily gained weight, and in December 2008 I reached the weight of just over 14-and-a-half stone. For a short woman (five feet one inch - just about!) and a bone frame which isn't actually that large, this was not good news, and I decided to do something about it.
Over the course of the next couple of years, I successfully lost 38 pounds, by simply counting calories, and taking in less calories than I was burning off. I felt really good, and felt that I was on course to meet my ideal target (which I'm not prepared to share at this point in time). However, for some reason which I can't actually remember, it came to a stop, and I went back into old habits of eating all the wrong things, and too much of them.
I then spent a few years losing and gaining weight yo-yo fashion. I'd lose a stone here and there, and then put it back on again.
I've reached the point now, where I actually do have a better relationship with food, and I'm generally eating much more healthily. I've been pescatarian (a fish-eating vegetarian) for several years, and about a year-and-a-half ago I also gave up dairy. I feel much better for having done this.
However, I am still very overweight for my height and build, and know that for my own health, and to extend my life expectancy, I do need to lose a lot of extra weight. Lupus causes dreadful pain and stiffness in my joints, and of course, carrying extra weight means that my weight-bearing joints are going to be under a lot more strain than they need to be.
So, I have my calorie-counting hat back on, and I am determined to give it my absolute best shot and lose as much weight as I can and need to, to relieve some of the strain on my joints.
Since I'm now going public with it, on my blog, I have to succeed! Haha.
Although I have re-gained quite a bit of the 38 pounds I originally lost, being a positive person I am not seeing this as a negative thing. Rather, I am going on the basis that I have lost 16 pounds from my original highest weight, and carrying on from that point. Psychologically, that gives me a head start to work with, and means that I'm more likely to succeed.
I've bought a new notebook to work with, have set out thirteen smaller targets to meet on my journey, rather than one big target at the end, and off I go! As I've said before on this blog - watch this space!
I'd love to see your feedback!
please click here if you would like to comment on this blog entry via my Facebook page.

Sunday 29th November 2020
Picture of the day......"...a keeper for every flame..."
Today is the first Sunday in Advent.
The beginning of Advent is actually December 1st, however the first Sunday in Advent sometimes happens before December 1st if there are less than four Sundays between December 1st and Christmas Day, as is the case this year.
I bought a lovely Advent candle on Friday after work, which I will burn each day leading up to Christmas. I didn't want it to be a lone candle, so I've put it with a couple of others, and to mark today, I just lit those two this evening.
I always use the Advent period to reflect on life in general and on the year which has been....and what a year this has been! For me personally it has been a mixed year - some lower points, and I haven't enjoyed the best of health, but mostly the good has outweighed the bad. However, for lots of people of course it hasn't been a good one, and with Covid 19 hanging over everybody, for many it has been a year of fear, anxiety and sadness.
I hope it won't be too long before the virus is under control and people can have more freedom without fear and anxiety.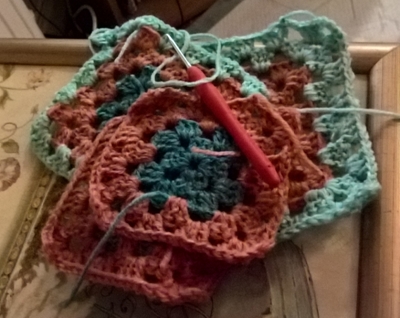 I've had a mixed day - a good balance of keeping busy and putting my feet up! I had quite a backlog of Great British Bake Off to watch, and I've just about caught up now, with just the final to watch, which I'm hoping to do over the next few days - complete with cake!
As you can see from this picture I've been crocheting the last four edge squares for my current blanket. I'll just have the four corners to make then, and will be crocheting them in place along the border. Then it's the edging, and I'm itching to do that - I can't wait to get my hands and hook on the lovely colours.
I had a lovely long telephone conversation with my Gowjus Girl this evening. It's always so lovely to catch up with her news.
I'm off to get things ready for work tomorrow, then It'll be off to bed with a book and a kitty or two to cwtch.
I hope whoever is reading this has had a lovely weekend, and I wish you a healthy, happy and safe week ahead.
I'd love to see your feedback!
please click here if you would like to comment on this blog entry via my Facebook page.

Saturday 28th November 2020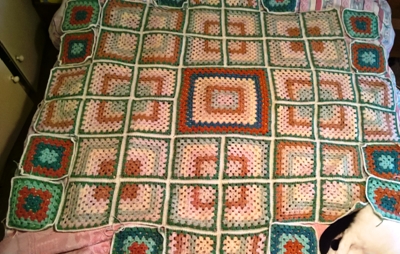 Picture of the day......"...little ball of yarn..."
Getting this picture of my lovely off-centred granny square blanket was very difficult.
It just about fits on my double bed, and I had to stand on the ottoman at the end of the bed and hold the 'phone up high - hoping that I was taking it at the right angle - to get it all in!
The task was further complicated by a Joe cat, who refused to vacate the bed and stubbornly lay there, even when I put a couple of the edge squares on him, to make up the bigger square.
Anyway, I did manage it, and the purpose of it was to see where I want to put the edge squares that I've made, and see what colours I need to make the odd four to make up the edge. I also wanted to see if off-centred grannies would be ok for the four corners. I think they will, although the order of the colours will be dictated by what I have left and how far they will stretch! Watch this space.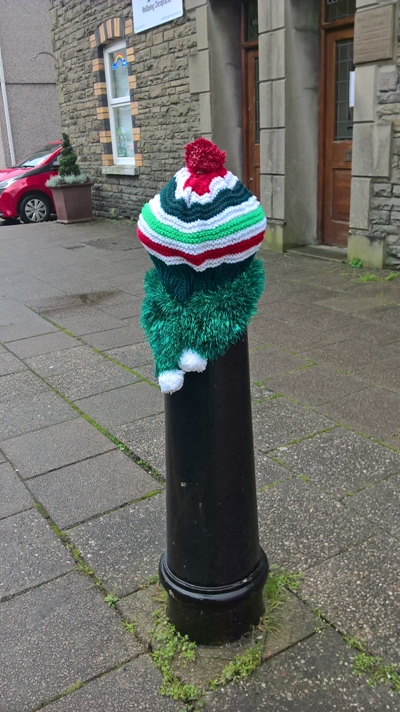 I needed to take a trip up to Ystradgynlais today, and I was amused by the yarn bombing which has been done there, on all the bollards on the main street.
I'm not usually a fan of yarn-bombing to be perfectly honest, but I do like these!
I like the Christmas colours which have been used in this one.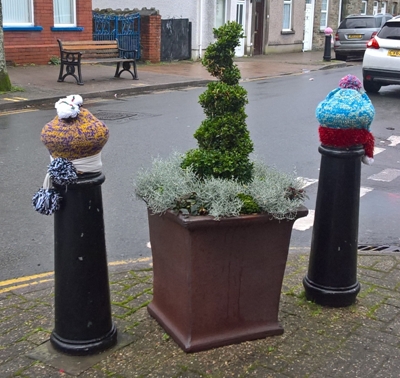 These two look as if they're having a conversation about the potted plants......
......or maybe they are having an argument, and the plant has got in between them to be a referee!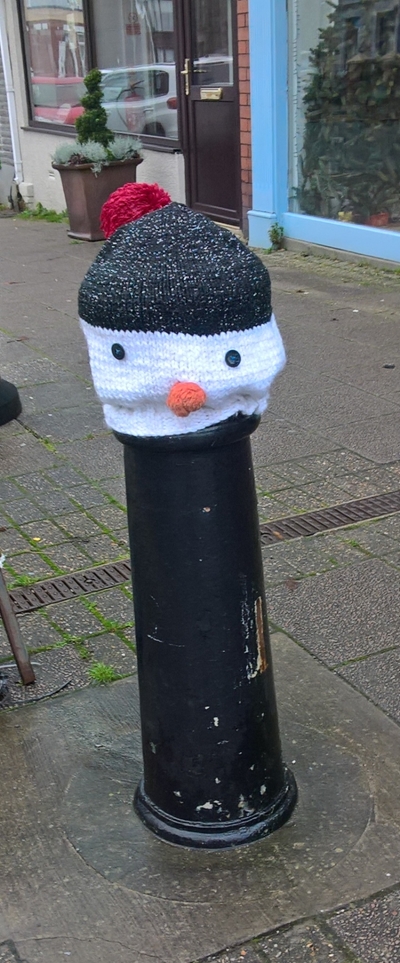 This one actually made me giggle out loud! What a cute little face.
Even though I'm not generally a fan of yarn bombing, I am a knifty knitter, and I know how long things take to make, so I do appreciate the time and effort which has gone into these.
Someone clearly wanted to cheer up the people of Ystradgynlais, and they certainly did that for this visitor today!
I'd love to see your feedback!
please click here if you would like to comment on this blog entry via my Facebook page.

Friday 27th November 2020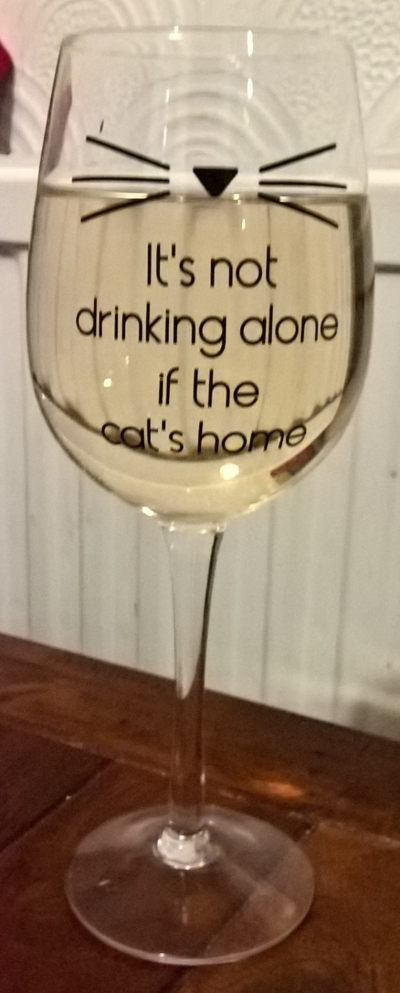 Picture of the day......"...bottle of wine..."
...Well, one glass anyway!
This evening I was just in the mood for some FNW (Friday Night Wine), and something yummy to eat.
This week has been fatigue-filled, especially in the evenings. However, despite feeling so tired, I've found it very hard to sleep most nights, so by the time this evening came around, I was very tired indeed. So I wanted to make something for dinner which required mimimal cooking, but maximum taste!
I decided that burgers would be just the badger, and so trotted off to Tesco after work, in search of a bottle of Black Tower and to see if there were any decent vegan burgers in the whoopsies section!
Sadly there weren't any burgers in the whoopsies section, but I didn't have to go with Plan B (paying full price for vegan burgers), because......
......amongst this rather impressive haul of whoopsies - which I knew would fit very nicely in the available spaces of my freezer - was one of my favourite vegan products - a "Plant Chef" 'fake steak'.
My plan for burgers - which was always a bit of a loose plan anyway - was therefore abandoned, in favour of the joking steak......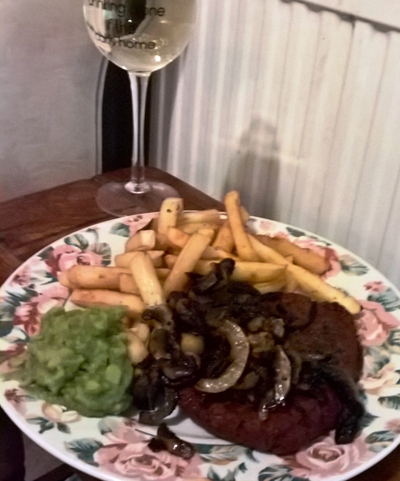 ......which I ate with (low fat) oven chips, fried onions & mushrooms, and some mushy peas.
Very yummy it was too!
I'm planning very little else for this evening. Maybe some more FNW, and a peruse of YouTube to enjoy some lovely music. Then it'll be off to bed, and I have a feeling that I will sleep ok tonight!
I'd love to see your feedback!
please click here if you would like to comment on this blog entry via my Facebook page.

Thursday 26th November 2020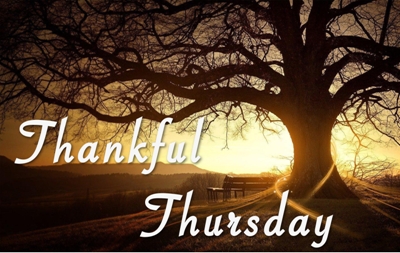 Picture of the day......"Thank you..."
I didn't actually take one single photograph today, so I decided to have a Thankful Thursday, and support it with pictures I've pinched from t'interweb!
Of course, I'm thankful every day, for all sorts of things - both big and small, good and even some of the bad - but it is nice to shout it out once in a while I think, and show appreciation for the world around us and all the stuff which makes up this strange yet wonderful life we live.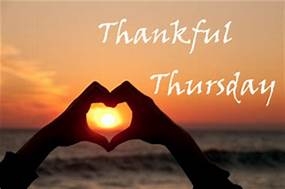 Today in particular, I am thankful for (in no particular order):
Whatever it is I am doing (it could be supplements, diet, having a day off mid-week - or a combination of all those things), which is helping me to feel generally better;
Florisene, which is definitely improving the quality of my hair;
My Gowjus Girl;
My Lovely Man;
Furry companions;
My family and friends;
My warm, safe, cosy home;
The things which make daily life easier - kitchen appliances, car, etc.;
My job;
My talents;
Books, music, and crafts.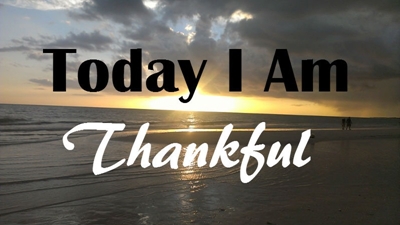 The thing I am most thankful for in my life, is my faith.
My faith has been a constant throughout most of my life, and has been my refuge in times of great difficulty and darkness. Times when I wasn't sure I'd actually get through and survive - but I did. My faith kept me going.
There are lots of songs with the words 'Thank you' in, but the 'Thank you' that is in today's blog heading is from a hymn which I remember singing in Sunday School as a child, and which has been going around in my head for the last few days......so I thought I would share it here. Do you know it at all? Maybe you sung it as a child too?
Thank you for giving me the morning.
Thank you for ev'ry day that's new.
Thank you that I can know my worries can be cast on you.
Thank you for all my friends and brothers.
Thank you for all the men that live.
Thank you for even greatest enemies I can forgive.
Thank you, I have my occupation.
Thank you for ev'ry pleasure small.
Thank you for music, light and gladness.
Thank you for them all.
Thank you for many little sorrows.
Thank you for ev'ry kindly word.
Thank you for ev'rywhere your guidance reaches ev'ry land.
Thank you, I see your Word has meaning.
Thank you, I know your Spirit here.
Thank you because you love all people,
those both far and near.
Thank you, O Lord, you spoke unto us.
Thank you that for our words you care.
Thank you, O Lord, you came among us,
bread and wine to share.
Thank you, O Lord, your love is boundless.
Thank you that I am full of you.
Thank you, you made me feel so glad and thankful as I do.
I'd love to see your feedback!
please click here if you would like to comment on this blog entry via my Facebook page.

Wednesday 25th November 2020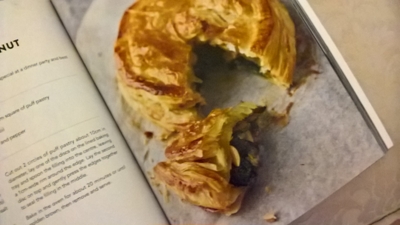 Picture of the day......"Yummy, yummy, yummy..."
I cooked something from my new book - "Miguel Barclay's Vegan One Pound Meals" this evening.
Bob and I both love spinach, and I bought a rather big bag of it whilst doing my food shop, because I couldn't find a smaller bag! So I decided to make Mushroom, Spinach & Pine Nut Wellington, as I had some puff pastry in the fridge.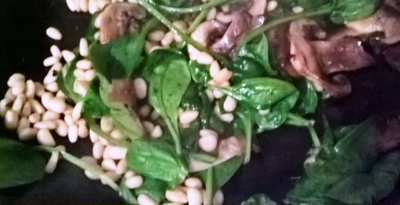 I have to confess that I don't usually make my own pastry. Ready-rolled pastry is so cheap to buy, and it's easy to get dairy-free versions, so I tend to buy that. I do make my own on rare occasions.
Anyway, the wellington was exactly as it said on the tin, in that there were (apart from the pastry) just three ingredients - mushrooms, spinach, and pine nuts!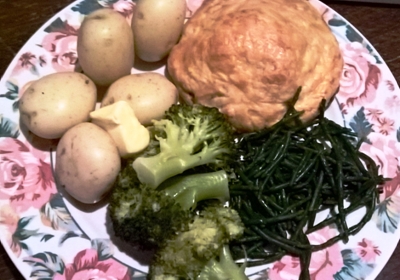 This was such an easy dish to make. The recipe said to season with salt & pepper, which I did. However, I also added a splash of Worcester sauce and a sprinkle of 'season all' type seasoning, just for a bit of an extra kick.
Regarding shape, mine didn't quite look like the one in the book! However, it tasted yummy, and we ate it with boiled new potatoes, and some steamed brocolli and samphire. Bob hadn't tasted samphire before, and he really liked the saltiness of it, although it does lose some of that in the steaming, so next time I may just use it raw in a salad.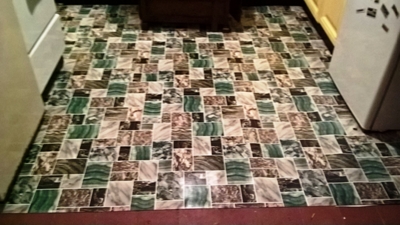 I also managed to lay down the next strip of lino in the kitchen. This was the hardest bit, because it runs under the cooker and fridge on one side of the kitchen, and under the fridge/freezer on the other side. Bob helped me to move things around. It's not laying perfectly matched at one point, but I think this is because the quarry tile floor underneath isn't even. So, I'm going to be doing a bit of nifty slicing to cut out a dart-shaped piece, somewhere where it won't show. Otherwise the non-matching at one end will drive me mad!
Bob came back early from work so we managed to have a short local walk with Ollie. Then some T.V. after our lovely meal, was a nice round-off to my day off!
I'd love to see your feedback!
please click here if you would like to comment on this blog entry via my Facebook page.

Tuesday 24th November 2020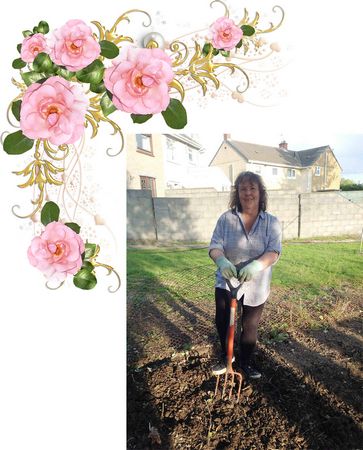 Picture of the day......"...turn back time..."
Throwback Tuesday!
Since it's been such a wet and dismal day, I thought I would dig out (no pun intended!) a picture from back in the spring, when my Lovely Man Bob had cut back my garden so that I could start again with it.
If you want to read my garden story, please visit my garden page on my website.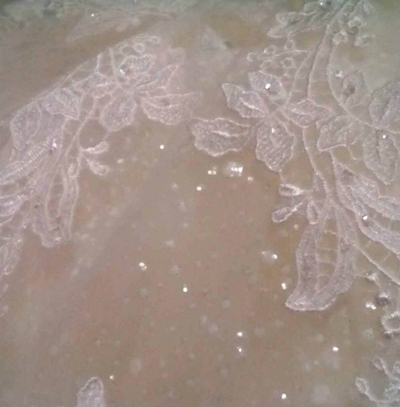 Today I continued working on the sparkly customisation.
In this picture, you can see how the sparkly layer shows through the top tulle and lace layer of the gown. It's looking really nice.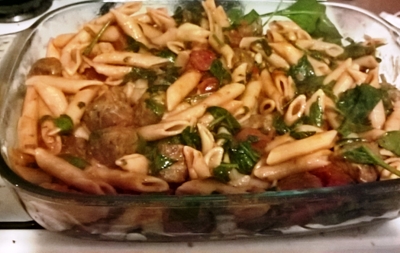 For dinner tonight I made a vegan sausage, spinach, tomato and pasta dish. It was a free recipe on the box containing some Richmond vegan sausages, and it was really yummy! I'll definitely pop that one into my file of recipes and make it again sometime.
It's my day off tomorrow, and I'm looking forward to getting some things done in the house, and to having a bit of a chill too. I'm also hoping to try out a recipe from one of my new vegan cookery books for dinner tomorrow evening. For now though, some T.V. and then bed! Night night.
I'd love to see your feedback!
please click here if you would like to comment on this blog entry via my Facebook page.

Monday 23rd November 2020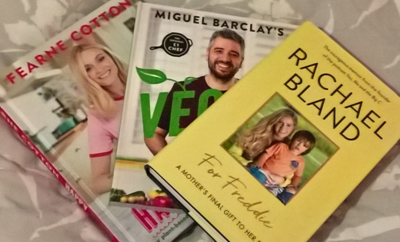 Picture of the day......"Pumpkin soup"
I popped to The Works after work today, for two reasons.....
1. In search of vegan cookery books which have decent curry recipes, and maybe some japanese recipes .
2. To browse.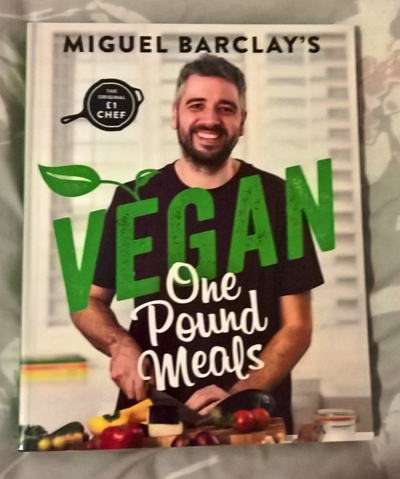 This seems like a lovely book. I have to admit, that I've not heard of this chef before.
However, any book which promotes home cooking on a budget gets my vote, and there are lots of lovely looking recipes in it, including a 'lettuce burrito buddha bowl', which is a sort of variation on those lovely lettuce wraps you get from a Chinese takeaway!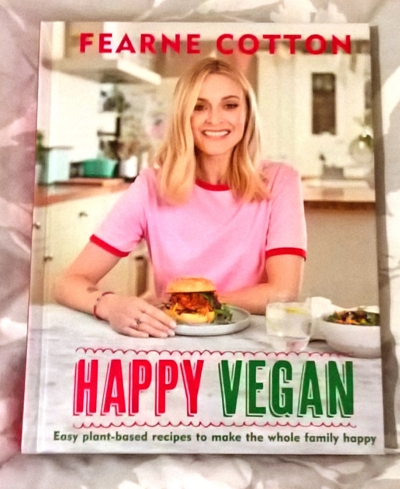 Then I spotted Fearne Cotton's vegan cookbook, and looking through it, there seems to be a very good variety of vegan food, including snacks, lunches, main meals, party and special occasion foods, and cakes & desserts.
Fearne also includes some handy hints and tricks for vegan cooking. What's not to love?
I'm looking forward to trying recipes from both of these lovely books.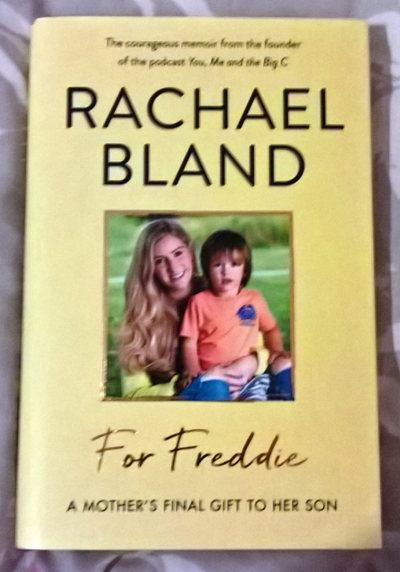 Whilst I was there, I spotted this book, which has been on my reading list for a while.
Rachael Bland was a BBC radio journalist. Rachael was diagnosed with breast cancer in 2016 and in 2018 sadly lost her battle. Rachael launched the hugely popular "You, Me and the Big C" podcast. Within the last few months of her life, Rachael wrote this book "For Freddie", which was intended as a personal memoir for her son Freddie, who was aged just three years when his mum passed away.
Although I know that it's not going to be the easiest read, I am very much looking forward to reading Rachael's book. I never met Rachael, but I am friends with her mum Gayna, who I know is incredibly proud of her daughter.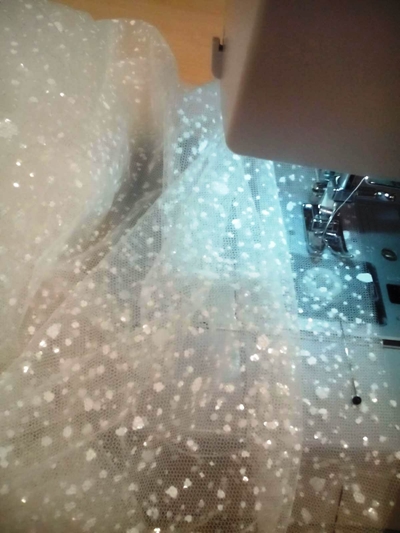 Today at work I've been continuing with the customisation where I'm adding a layer of sparkly fabric to the skirt. My goodness, there is glitter everywhere! Haha.
This picture shows the new sparkly skirt being stitched together, ready to put into the gown.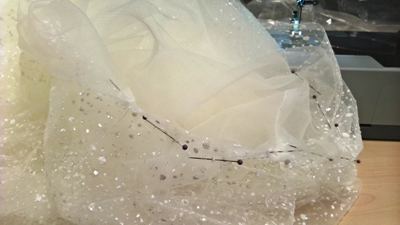 In this picture I am pinning the new sparkly skirt into place at the waist......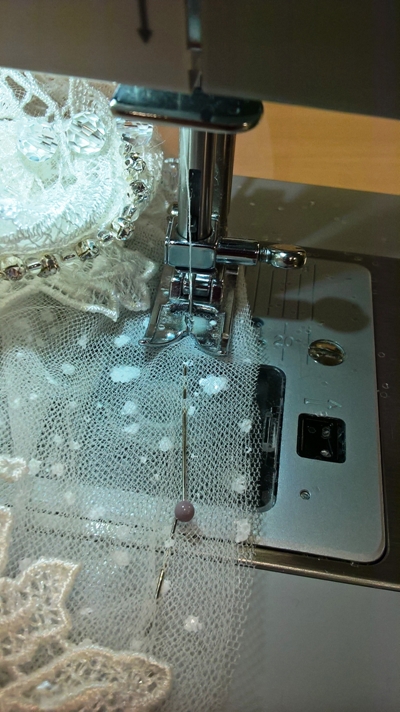 ......before stitching it in with Martha, my trusty sewing machine.
I am thoroughly enjoying this job, even if I am covered from head to toe in glitter, and leaving a sparkly trail wherever I go!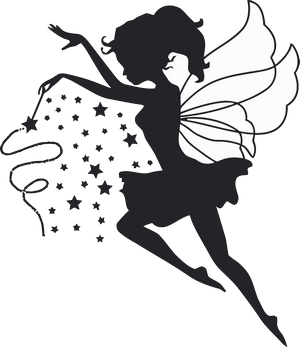 I hope that Monday has seen you off to a good start to the week! Is it as sparkly as mine, I wonder?
I'd love to see your feedback!
please click here if you would like to comment on this blog entry via my Facebook page.

Sunday 22nd November 2020
Picture of the day......"On a wave"
I went in search of a knitting WIP (Work In Progress) today, and found these cushion covers I started making for my bedroom quite a while ago!
I was pleasantly surprised to find that the knitting part is actually complete, and now all that needs is for them to be stitched up and put onto cushion pads.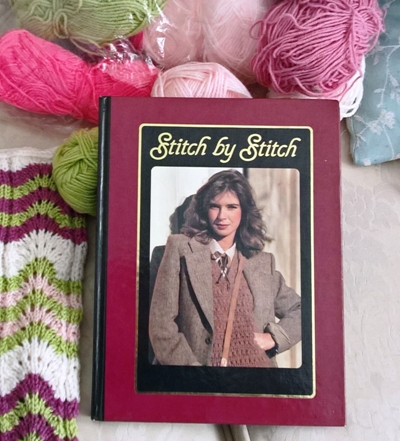 I got the pattern for them from one of a set of books which I have, called "Stitch by Stitch". They are quite old books - I think from either the 1970s or 1980s and were produced by a company called Marshall Cavendish.
They cover all sorts of needlecrafts - sewing, knitting, crochet, embroidery, etc., and over the years I've found them to be a good source of inspiration.
Some of the fashions in them are very dated, but good ideas and inspiration never go out of fashion.
As you can see from this picture, I adapted the pattern itself from one which has been used in the book for a skirt and scarf set. The 'fan and feather' design lends itself beautifully to things such as cushions, and I've used all the colours which will eventually be part of the walls and furnishings when I redecorate my bedroom.
I shall finish them off and then look through my WIPs for another knitting project to continue or complete.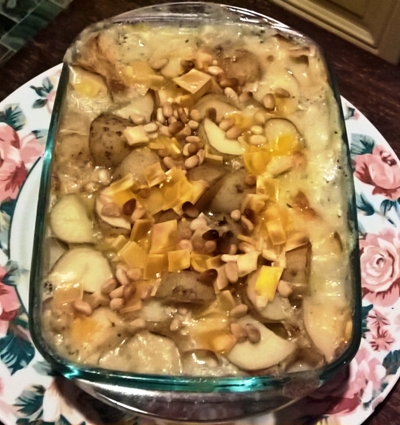 This evening's meal was a fish pie, made up from fish from the freezer and left over leeks and potatoes.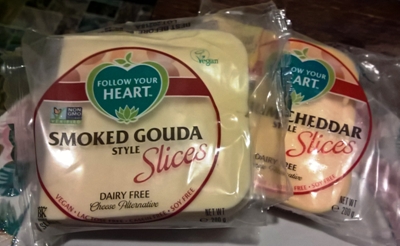 I topped it off with some 'Follow Your Heart' vegan cheese - the best vegan cheese I've found so far, in terms of texture and melting abilities......
......and some tasty pine nuts.
We ate it with spinach and baby carrots, and it was yummy, with left overs for lunch tomorrow.
I hope that whoever is reading this has had a lovely weekend, and I wish you a happy, healthy and safe week ahead.
I'd love to see your feedback!
please click here if you would like to comment on this blog entry via my Facebook page.

Saturday 21st November 2020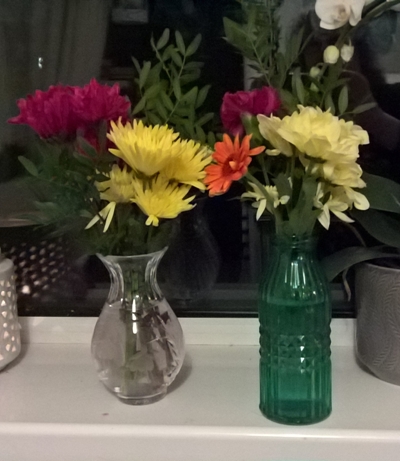 Picture of the day......"...I'll bring you flowers in the pouring rain..."
This evening my Lovely Man brought me lovely flowers!
I adore flowers, and one of my favourite things in the world is to be given flowers - it brings me such joy. They are so pretty, and I've split them into two vases - one for the lounge and one for the bedroom. Happy me!
Flowers were also a lovely boost, on a day when PMT has been at work!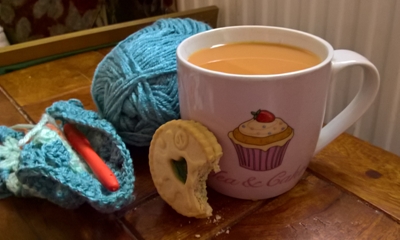 PMT was behaving like a norty computer programme today. It instructed all the hormones to tell my body to crave rubbish food, sleep all day, think negative thoughts, and generally try to cause glitches in my operating system.
I therefore enabled the more user-friendly programme of PMA.
PMA ensured that I was kind to my operating system, by making a lovely cup of tea, and sitting down to drink it, with one JD (not an entire packet as PMT has suggested), together with my crochet and some bake-off backlog to catch up on.
This most definitely restored my operating system back to normal and I was able to get through the rest of the day productively. Yaaay for PMA!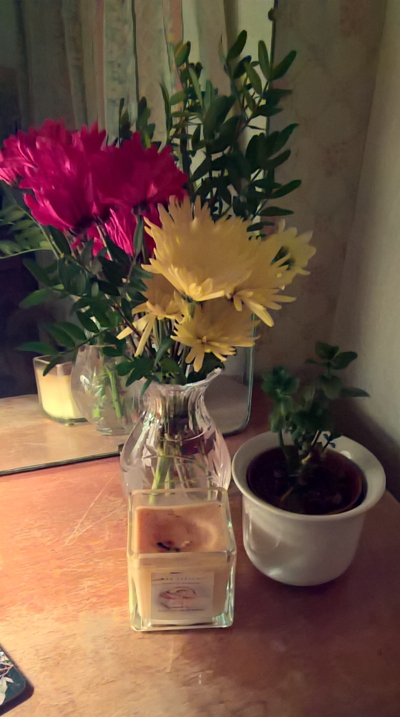 Most of the day was taken up with general tidying and cleaning. I was going to do a big shop, but I didn't really want to use precious Weekend time for that, so I've been going through the freezer, etc., to see what meals can be made up, and if I/we can survive until Monday, when I'll do the shopping after work.
I do always have a pretty well-stocked freezer, because I buy 'whoopsies' (reduced produce) as and when I see them, and pop them in the freezer for future use. It's fresh stuff which becomes a bit more sparse as the week goes on, because I try not to buy too much, to avoid waste. However, I do have potatoes left, so this evening's meal was fish fingers/cod bites from the freezer, with home-made oven-cooked potato wedges.
Tomorrow it will be fish pie (fish again from the freezer), with a potato topping, and I have some leeks to accompany it. There should be enough left overs for lunch on Monday too.
Of course, after work on a Monday isn't ideal for shopping either, because I'm usually pretty tired. However, I will find the energy to do it, and that's that!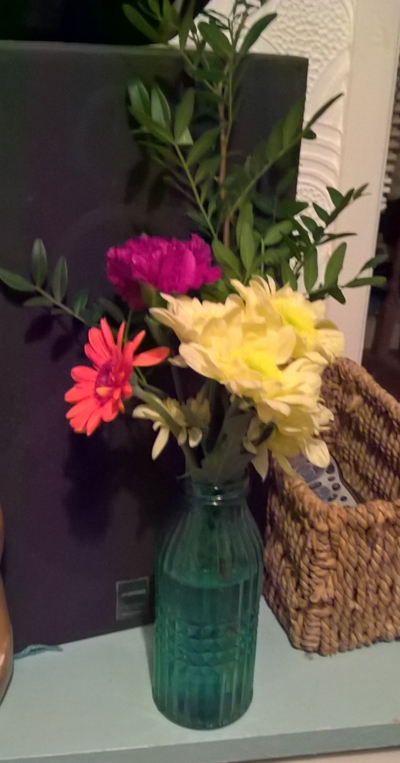 I'll be going through both fridges tomorrow, emptying and cleaning them out. I do this every couple of weeks anyway, but tomorrow I need to move them - and the freezer and cooker - to lay the next piece of lino, so the emptier things are, the better.
That piece of lino is going to be the hardest to lay, in terms of effort to move stuff, etc., so it will be nice to get it out of the way.
I'll then lay the final strip, which will be quite narrow and much less work, one evening - energy willing. If not, then on my day off on Wednesday. It will be so nice to have the whole floor covered with something which feels nice underfoot and is easy to keep clean. I can crack on then with painting the cupboards, etc.
The prospect of finally having a cosy, pretty kitchen is actually looking a bit more realistic!
For the rest of this evening though, it's me-and-my-Lovely-Man-time! I hope whoever is reading this is having a fab weekend!
Ooh, also - this is my 100th day of blogging! I have to say that I really enjoy doing it.....it's such good practise for the creative writing, and a great record of what's been going on in life, both personally and in the world in general.
So, on this 100th day, I'd really love to see your feedback! Are you a new reader? Have you been reading regularly? Are you enjoying it? I hope so! Please let me know.
please click here if you would like to comment on this blog entry via my Facebook page.

Friday 20th November 2020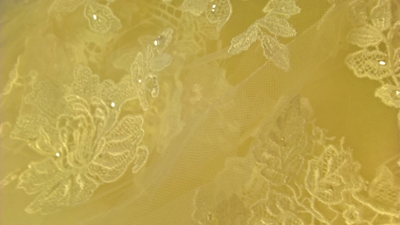 Picture of the day......"Sparkle..."
I love working with pretty fabrics and beautiful wedding gowns.
Today I've been working on one of my favourite gowns, which is made up of tulle, lace and sparkles. It has a fitted, embellished bodice, and a full, layered skirt. It is very feminine and frothy, without being over the top.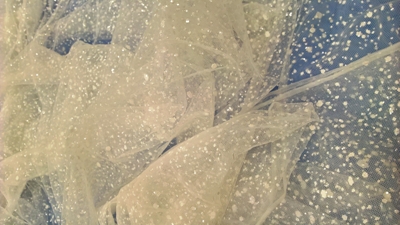 I am customising the gown, by adding a layer of sparkly fabric, underneath the top layer of the skirt.
Because of the glitter, the fabric immediately made me think of fairies!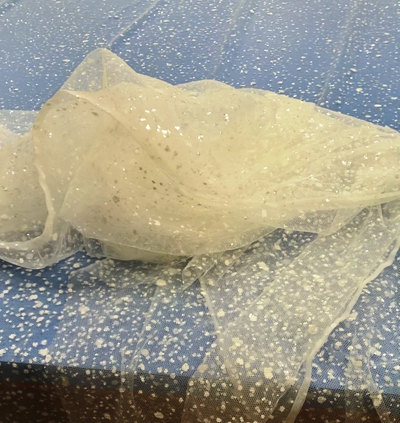 As well as the sparkle, you can see that there are little specks of white dotted around the fabric, which gives a snowy, Christmassy feel.
Although the fabric is quite busy, because it will be underneath the top layer of tulle, that will be toned down, and it will give the effect of twinkling stars as the bride moves in her beautiful gown.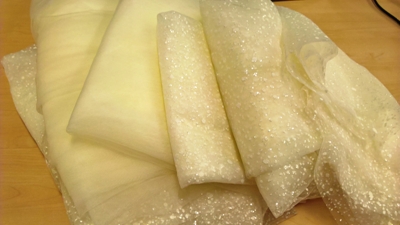 So the panels are all cut out, and ready to be stitched together and added to the gown on Monday. I'm really looking forward to going in and working on it next week.
I love customising gowns - to take an already beautiful gown, and make it even more beautiful, by adding a personal touch from our vast range of options. It think it must be quite exciting for a bride to be able to do that.
I'm looking forward to seeing it finished. I've customised a couple of gowns before with a sparkly layer, and they do look fab when they're done. I won't be able to show the whole thing here though, until some time next year, when the wedding date has well passed. I don't want to be spoiling anybody's surprise!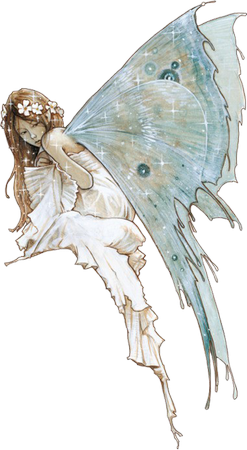 It's lovely to see Weekend. I'm planning some creativity - a bit of sewing, crochet, cross-stitch and knitting. Also I'd quite like to lay down some more of the lino, and of course I'll be doing lots of washing in my lovely machine!
What are you up to this weekend? Do you have plans, or are you going to go with the flow? Whatever it is you're doing, I wish you a happy, healthy, and safe weekend.
I'd love to see your feedback!
please click here if you would like to comment on this blog entry via my Facebook page.

Thursday 19th November 2020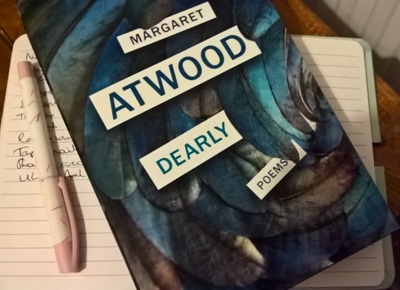 Picture of the day......"...and the poets dreamed..."
I used to write poetry quite a lot when I was younger.
It was fairly decent poetry, but run-of-the-mill in terms of rhyming patterns. I seemed to be stuck in the habit of feeling that my poems always had to have that traditional rhyming meter, in order to be 'right'.
I love reading poetry, and always admire poets who can put together a bunch of sentences, without necessarily having a rhyme to them, but always having a meter and a pattern, so that when read they sound like poetry. Really good poetry.
Since getting Margaret Atwood's new poetry book for my birthday from my Lovely Man, I've been pondering a lot on this type of poetry, and whether I would, if I took myself out of my comfort zone, actually be any good at it.
I've come to the conclusion that if I don't try, I'll never know! So for the last few days, I've been just jotting down random thoughts here and there - mainly on a theme - and we'll see what I can do with those random thoughts, in the way of putting them together in the form of poetry.
At the moment, those random thoughts are really just a list. I read my list to a colleague and friend today, and she made a comment which actually inspired me the same way that Margaret Atwood's book seems to be inspiring me. She said that I had read it out in a poetic way. Perhaps I'll try more of that with other lists!
It's good to be inspired, don't you think?
I'd love to see your feedback!
please click here if you would like to comment on this blog entry via my Facebook page.

Wednesday 18th November 2020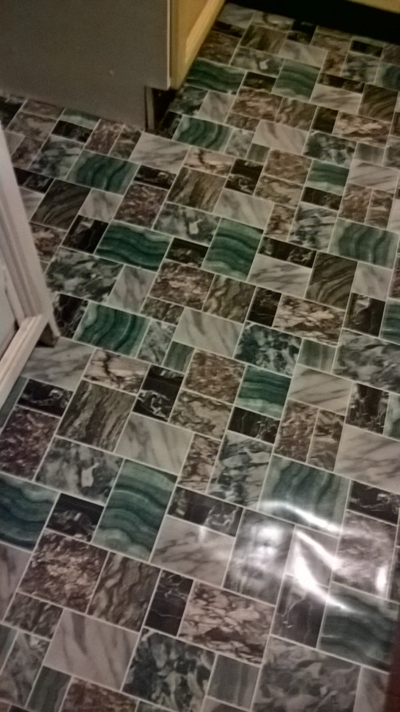 Picture of the day......"On the floor..."
I've started putting some lino down in the kitchen.
I needed to get something in place in the area where the washing machine is going. At the moment, there are quarry tiles down.
I do really like quarry tiles, and normally these would be fab - just my style - and I would have put some effort into polishing them up, re-grouting, etc. However, they have been laid badly. They're very uneven, and there are small parts of the kitchen where, for some reason, they've been skimmed on top with a layer of cement!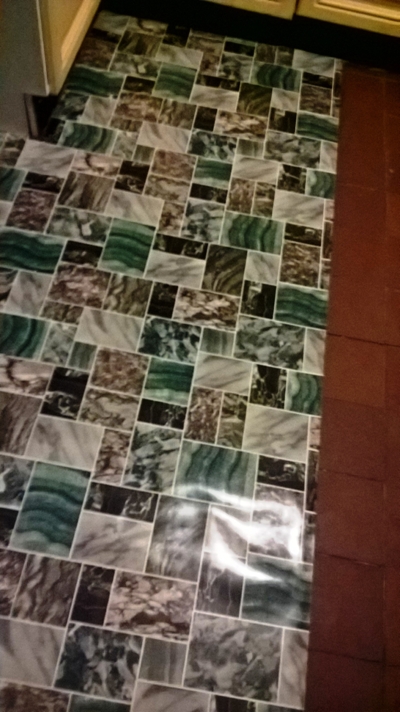 You can see them to the right of this picture. They are definitely not a good look!
The roll of lino was gifted to me during the summer, by a very nice lady on Freegle. It's a huge roll, and it's lovely lino - really good quality. I have to say, that it's not what I would have chosen in the way of pattern, but I really do like it. I laid some of it in the cwtch earlier in the year, and it looks fab out there, and when I upcycle the Welsh dresser, I'll be painting some of it in a sage green, which is one of the colours in the lino.
I was hesitant to use it in the kitchen, because I thought it wouldn't go at all with the decor I have in mind for there. I'm using a bright, happy yellow for all the cupboards, and I've made curtains from some lovely yellow/blue floral fabric.
However, since I have the lino, there is so much of it, and it's such lovely quality, it seemed a shame not to use it. I put one of the yellow painted shelves, together with a piece of the curtain fabric next to the lino, and it's actually ok. It definitely doesn't clash. It's not ideal, but I think with some clever use of the sage green paint, which will pick up the colour of the leaf in the fabric, it will all work ok.
In the photograph the colours look stronger - they are more pastel-coloured in reality.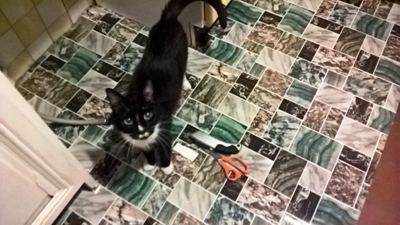 Basil approves of it anyway! All three cats (and Ollie) were having a proper good nose at the proceedings whilst I was laying it, but only Basil was willing to pose for a picture!
I need to put three strips of the lino across the kitchen all together, but didn't have the time or the energy today to do the whole lot, plus I didn't want to overdo it and make my hips and joints shout at me!
So, I got the first strip down, which was the one I needed for the washing machine space......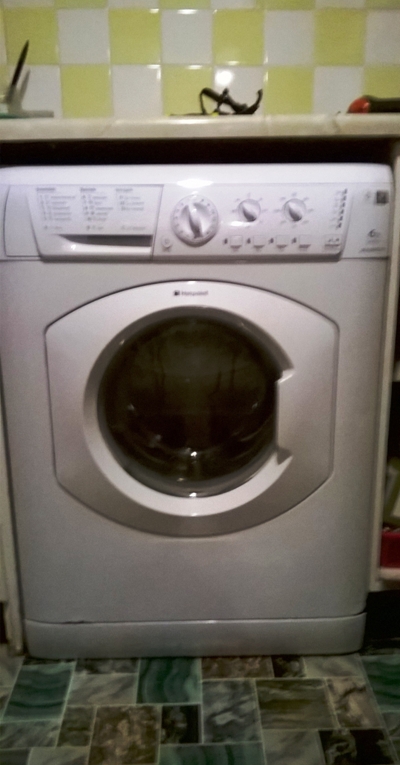 ......and when Bob got back from work this evening, we connected it up and put it into place. Bob did some wizardry with the electrics for me, so that I don't have to use an extension lead every time I do a wash.
It's so nice to have a washing machine again after best part of a year without one. Thank you so much to Paula for giving it to me, and to Bob for helping me put it in place.
The only thing now is that Bob, Ollie, and the kitties had better not stand still, in case I pop them in on a quick wash!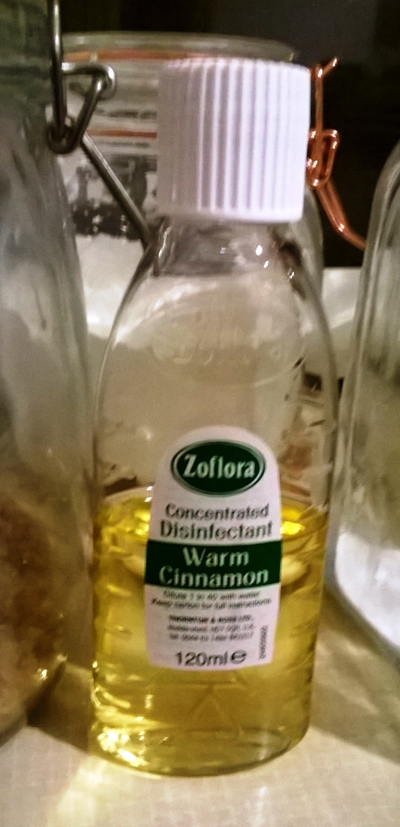 Since I was deep-cleaning the area where the washing machine was going, and the floor, etc., I decided to break out the 'warm cinnamon' Zoflora.
I love Zoflora, and use it for all my cleaning. My favourites include the 'springtime', 'pink grapefruit' and this one for the winter months. I love the smell of cinnamon. Zoflora is vegan too - bonus!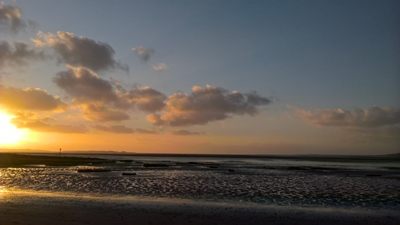 Bob was working up in Brecon today, so I was Ollie-sitting! A fab chance to pop down to the beach this afternoon, after the rain had stopped......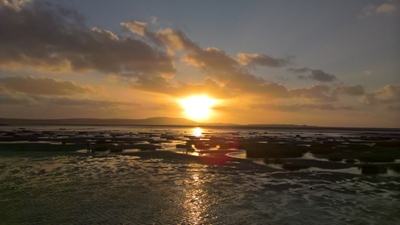 ......and catch some more moody almost-sunset pictures.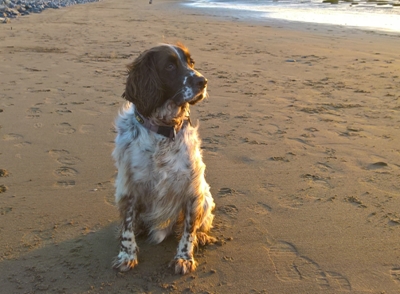 Ollie and me both absolutely love the beach!
Ollie and me,
running by the sea,
The wind in our hair,
And a bark here and there!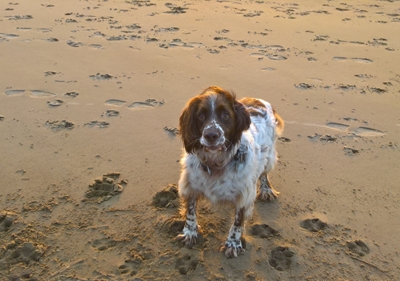 We found a lovely stick to chase!
"For goodness' sake Mum - stop messing about and throw the stick!"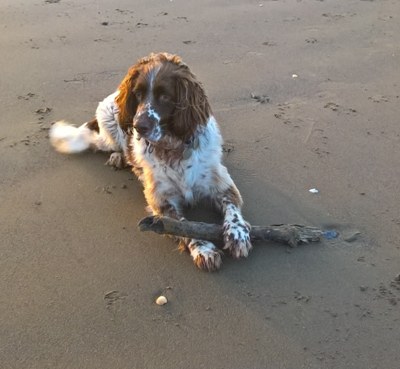 "Ha! My stick now!"
I am thankful for a productive day, with plenty of fun and chill time thrown in.
Back to work tomorrow, feeling refreshed!
I'd love to see your feedback!
please click here if you would like to comment on this blog entry via my Facebook page.

Tuesday 17th November 2020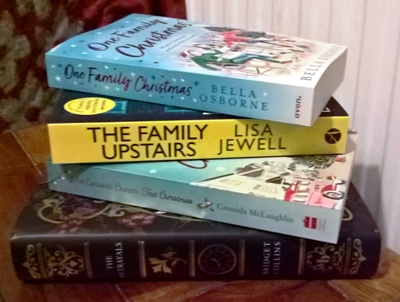 Picture of the day......"The book I read..."
I went to Tesco after work to do a bit of food shopping, and whilst there I heard a funny noise coming from the book section.
It turned out to be a plea from a book! It was calling me, and saying "My friends and I know that you had money for your birthday and we think you should buy some of us lovely books with it."
Well, what's a girl to do when confronted with a suggestion like that? Of course I had to buy some books. I couldn't leave them there on the shelves looking all rejected and forlorn. What kind of book-loving person would that make me?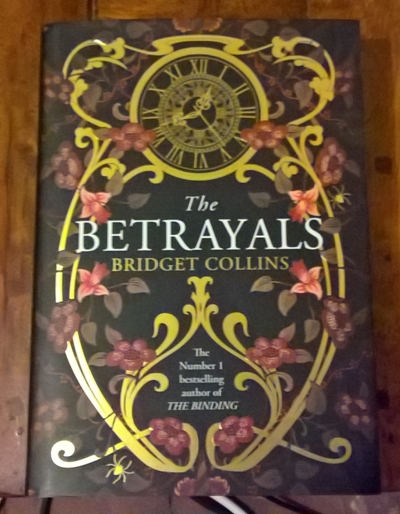 This is the new book from Bridget Collins. I recently read "The Binding" by her, and absolutely loved it, so I'm looking forward to reading this one, although it's probably going to be early next year before I do.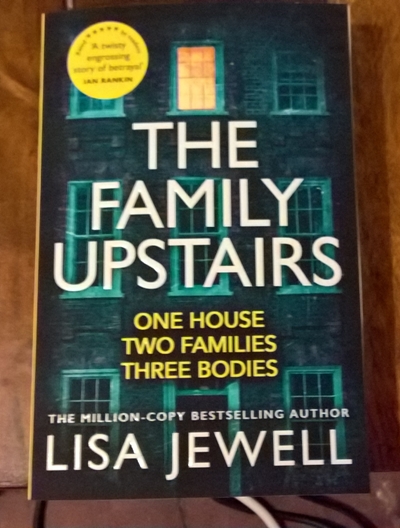 This book is one of the books on the reading list from the reading group I belong to.
We haven't met for months, due to Covid restrictions, but we keep in touch on Facebook, and we're each reading and sharing what we read.
Again, it will probably be early next year before I read this one - I just decided to get it when I saw it, as I've looked for it before and it hasn't been there.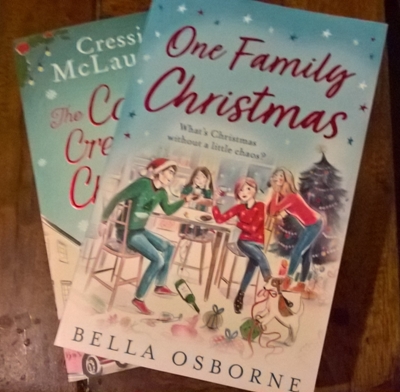 These two books will form part of my Christmas reading, although there are also one or two others which I have my eye on to read for Christmas, but I'll probably have to get them from Amazon.
All in all, a very good book haul!
I'm currently reading George Orwell's "1984", and really enjoying, although it's a scary book! Also of course, I'm dipping in and out of Margaret Atwood's lovely poetry book "Dearly".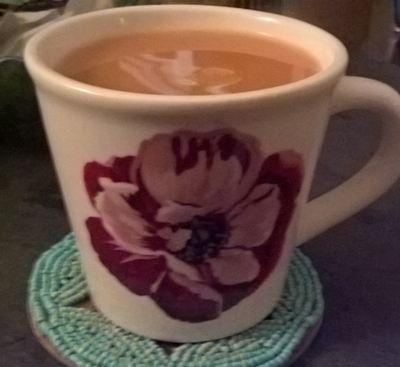 My working day is usually busy and noisy....there's a lot going on - lots of different activities at the same time, such as conversations, machinery, steam irons, the radio, packing boxes, etc.
So I do enjoy getting home, putting on the kettle, and enjoying a cuppa in peace and solitude.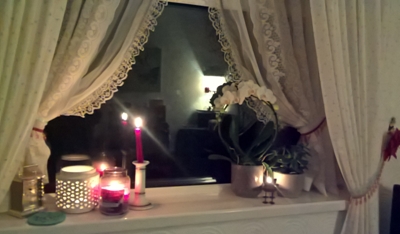 Of course at this time of the year, when it's already dark outside, it's lovely to practise some Hygge (pronounced 'hooga') - light some candles and fairy lights, and cwtch up on the sofa with cushions and a soft, warm throw and of course a kitty or three.
This afternoon I had a funny conversation with my colleague Julie about Hygge. Julie mentioned that she doesn't like the dark evenings, and I said that I do, because I was going home to practise Hygge. She gave me a sort of odd, puzzled look. I then explained about Hygge and the concept, and she said "Oh, I misheard you, and thought you said you were going home to practise being a cougar!"
Haha! It proper made us giggle. No, I'm definitely not a cougar!
I'd love to see your feedback!
please click here if you would like to comment on this blog entry via my Facebook page.

Monday 16th November 2020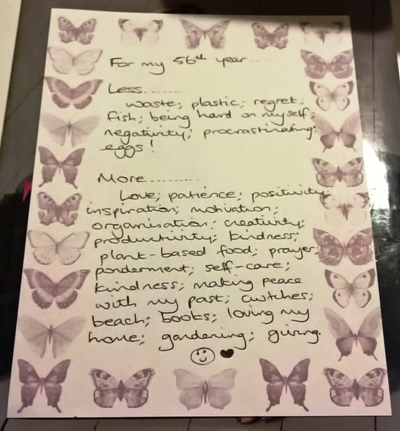 Picture of the day......"Happy New Year..."
It's ok, you're not caught in a time warp. It's not January 1st.
I've never really liked the concept of 'New Year resolutions', and used to make them, because it was kind of the done thing to do.
Then I stopped doing that, because....well, why on earth should I do something because everybody else does? I'm not a fan of the pressure that such things put on people - the pressure that we put on ourselves in making such resolutions. It's very negative.
A couple of years ago, I came to the conclusion, that one's own birthday has much more significance than the simple changing of the calendar from one year to the next. The day we are born is very special - our respective mothers gave us life, as did God (through my Christian beliefs).
I then took this thought a step further and decided that my birthday each year - marking a milestone in that I have lived another year on this planet - is far more worthy of setting aside some 'resolutions' (for want of a better word).
And so it came to pass that for the last two years - on my birthday - I have set out a few personal goals for the next year to come. They are set in such a way that they're not actually 'set'. If I achieve them, then that's fab, but if I don't then so what?
I do them in terms of 'less of' and 'more of'.....the 'less' being less of the negative things, and the 'more' more of the positive things.
To save you squinting at the picture, this is what it says:
For my 56th year...
Less.........
waste; plastic; regret; fish; being hard on myself; negativity; procrastinating; eggs!
More.........
love; patience; positivity; inspiration; motivation; organisation; creativity; productivity; kindness; plant-based food; prayer; ponderment; self-care; making peace with my past; cwtches; beach; books; loving my home; gardening; giving.
In a nutshell of course.....it's less of the things that cause unhappiness (both to myself and others), and more of the things which bring joy. It's that simple.
I'd love to see your feedback!
please click here if you would like to comment on this blog entry via my Facebook page.

Sunday 15th November 2020
Picture of the day......"Give a little bit..."
Today seems to have been all about the giving.
A friend of Bob's (and also now a friend of mine) put a post on her Facebook page yesterday about "Pantri y Pentre". This is an initiative by Abercraf Happy Helpers.
The idea is to provide a place where anybody who needs food (and other items), for whatever reason, can have access to it/them. A little wooden shed has been purpose-built and is situated in the village of Abercraf in the school carpark area. Anybody is welcome to take what they need from it, without any charge, questions, or judgement.
It is literally for the community to help the community, and I think it is such a wonderful idea.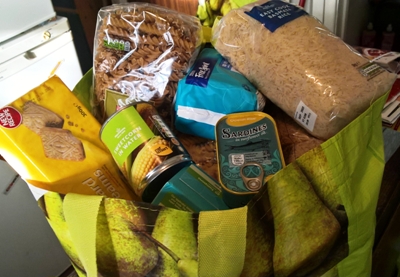 Of course, people are also welcome to donate to this too, and I was totally on board with helping out with whatever I could. Yesterday afternoon I popped to Morrisons and picked up some things which I thought may be useful for the Pantri. I also had some things in the house which fitted the bill too, so I popped everything in a bag.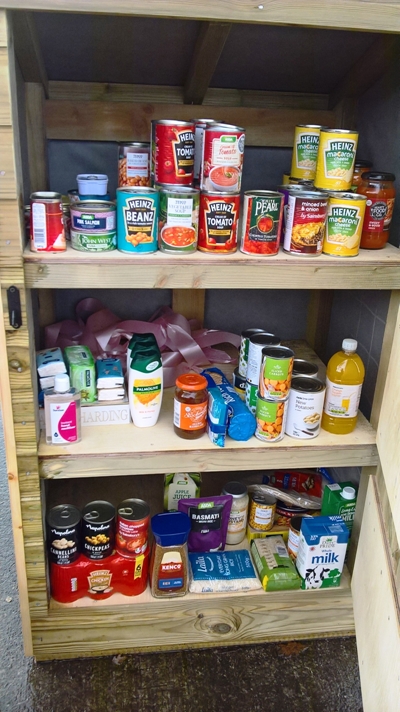 Bob was working up at Craig-y-Nos today, and we'd arranged for me to go up there and spend some time with him, and also to collect a washing machine from one of his friends. More about that later.
Abercraf is en route to the park, so I decided to call off to Pantri Y Pentre, and have a look at it for myself, and pop my donations in.
I was so impressed with it. It's been built so beautifully, and everything inside was laid out so neatly, in sections of food/product types. A lot of thought and care has gone into this.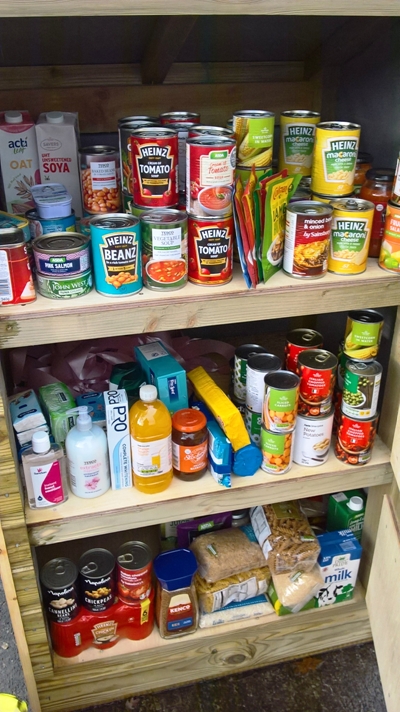 It felt really good to add to it, and I left there with such mixed emotions.
I feel really sad that in 2020, when much of the world is so affluent, that there is a need for this. However, I felt warmed and cheered that there are people who care enough to do it.
I'm hoping to donate to it regularly, and it is in my prayers that it works out well and that the people who need it are able to access and use it, and that the people who have set it up and have donated are able to continue to do so.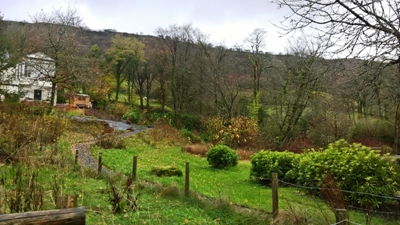 On to the park. It was so nice to be there again. Because of lockdowns, I haven't been up there for at least a couple of months.
The last time I was there, Autumn was just beginning - putting on her beautiful coloured gowns for the first time this year.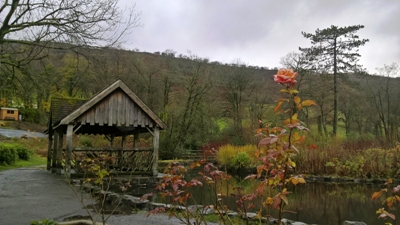 Now she is transforming in readiness for the season change again - shedding her colourful leaves upon the ground and taking on the starker contrast, ready for the winter.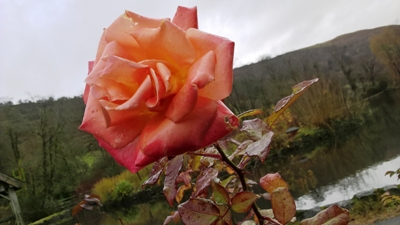 There is still plenty of beauty to be seen though, and in particular this lone rose, defiantly standing proud amongst the bare twigs of its former companions.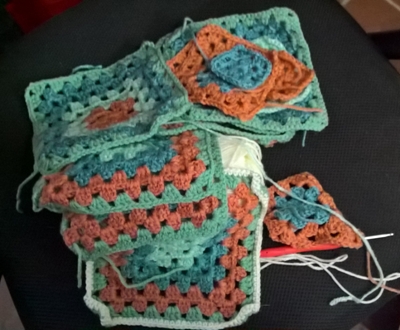 Whilst at Bob's studio, I managed to get some crochet done. I'm still working on the edge filler squares for my lovely blanket. I'm more than halfway through this lot now, and should be able to add them to the edge of the blanket within the next week.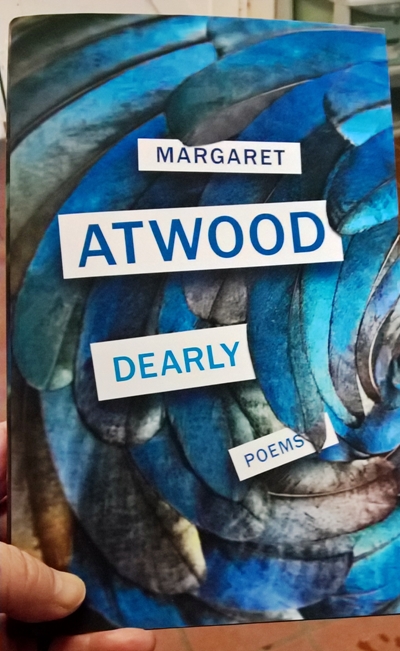 Bob also surprised me with another birthday gift. This book of poetry by Margaret Atwood (a current favourite author) was only published last week. Bob ordered it for my birthday, and was told it would take two to four weeks to arrive.
However, it arrived today! It is totally lovely, and I had a very lovely half hour or so, reading some of it, with a cuppa and the sound of the wind outside. Bliss.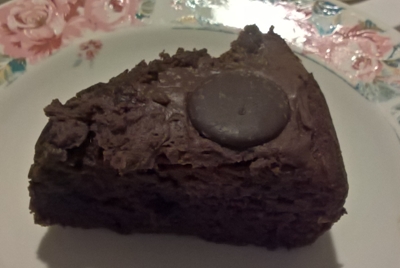 Two more of Bob's friends - Becky and Liz - called at the park to take their dogs and Ollie out for a walk. Liz and Becky are vegans, and Becky is a keen baker. She gave us some 'happy birthday' chocolate cake (vegan) to enjoy. We had it this evening after our meal, and enjoy it we did! It's probably the best chocolate cake I've ever tasted. Yummy.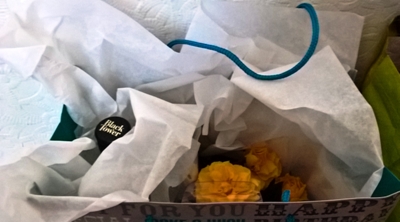 As I mentioned earlier, this afternoon we went in Bob's van to collect a washing machine from another of his friends. Bob has some very lovely friends! Paula is replacing her machine with a washer/dryer and asked if I would like it, as she knows I don't currently have one. Of course, I said 'yes please'. It's quite old, but in fab condition and works well. I'll pop a picture on when we've plumbed it into my house.
I really appreciate the fact that Paula went to the effort of offering it, and then organising for us to go and collect it. She could have just left it out for the scrap metal collectors, or taken it to the tip. So, I got her a little gift as a thank you. It will be nice not to be washing everything by hand any more.
So as you can see, today has been very much a day of giving and receiving. Another lovely day and a fab end to Weekend. I hope whoever is reading this has had a lovely weekend and I wish you a healthy, happy, blessed week ahead.
I'd love to see your feedback!
please click here if you would like to comment on this blog entry via my Facebook page.

Saturday 14th November 2020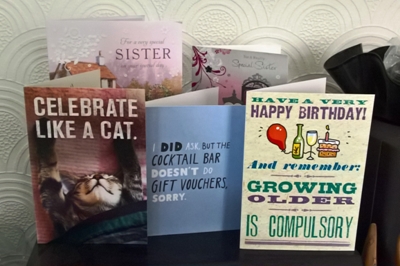 Picture of the day......"Happy Birthday..."
Well, today has been a lovely birthday so far......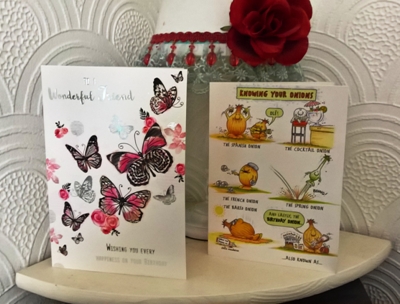 ......with cards from some of my favourite people......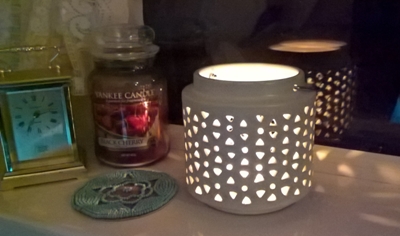 ......and this gift from my lovely friend Angela, who called around to see me.
It was very strange not being able to give her a cwtch, and going outside the house to chat to her and hubby...although we did have a lovely conversation about toast! As you do.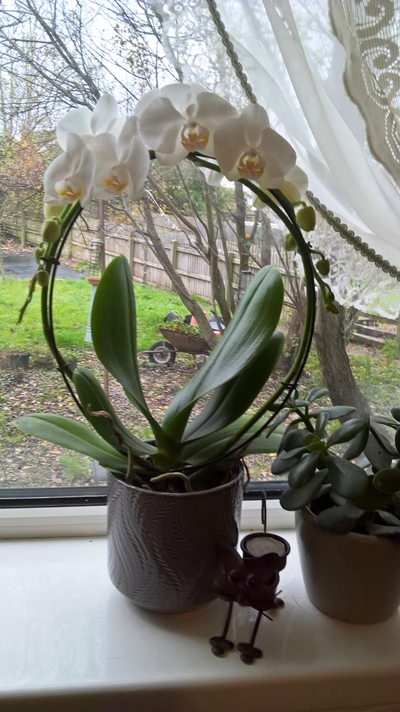 Of course, I've spent lots of time with my Lovely Man, who gave me (amongst other things) this beautiful orchid.
He had to work this afternoon, but he and Ollie were here first thing, and came back later so that as well as each other's company, we could enjoy......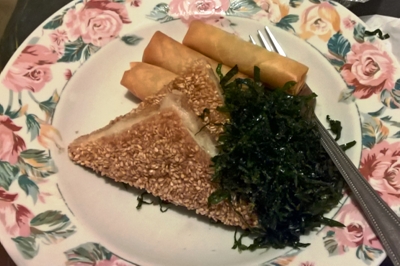 ......a yummy Chinese takeaway, starting with crispy seaweed, prawn toast, and vegetable spring rolls......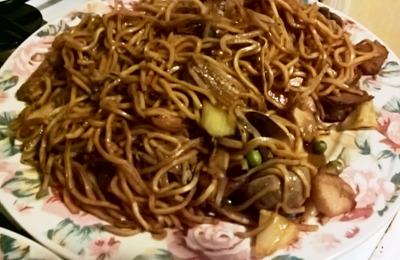 ......and progressing to a main course of vegetable chow mein for me......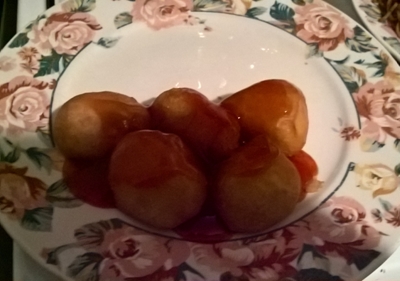 ......sweet and sour pork for Bob, accompanied by......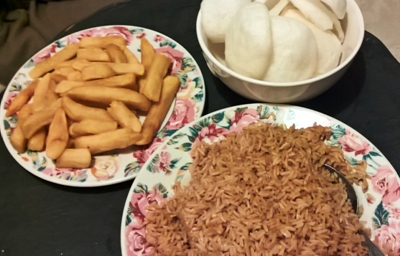 ......chips, rice, and prawn crackers!
Wow, lots of lovely food...and plenty for leftovers. We were pretty stuffed. In fact, too stuffed for......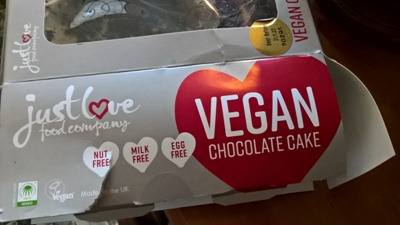 ......my favourite vegan chocolate cake (another gift from Bob).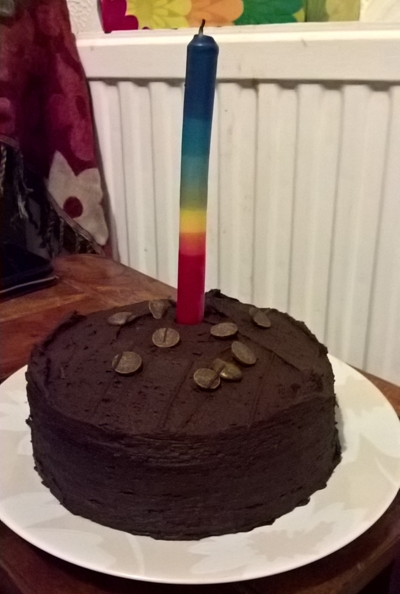 However, I didn't want to miss out on making a birthday wish, so I went in search of candles.
I have lots of candles and holders in this house, but do you think I could find them? Oh no! So, I 'borrowed' one of the rainbow candles I've kept from Lydia's 7th birthday (rainbow) party - 21 years ago! Haha. It did the job anyway. Bob sang Happy Birthday to me (blinkin' lovely) and I made a wish! Of course I can't tell you what it was, or it won't come true - and I am so determined that it WILL come true.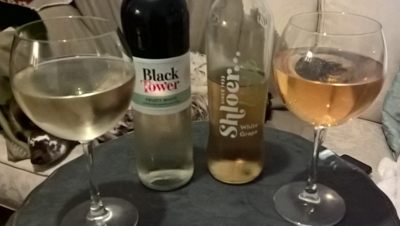 Ooh! I forgot to say that of course there were birthday drinks. My favourite wine for me, and Shloer for Bob.
It has been such a lovely day. Thank you to my Lovely Man for making it so special.
I also had a fab long 'phone call with my Gowjus Girl, and texts from all my siblings. What more could a birthday girl ask for?
I'd love to see your feedback!
please click here if you would like to comment on this blog entry via my Facebook page.

Friday 13th November 2020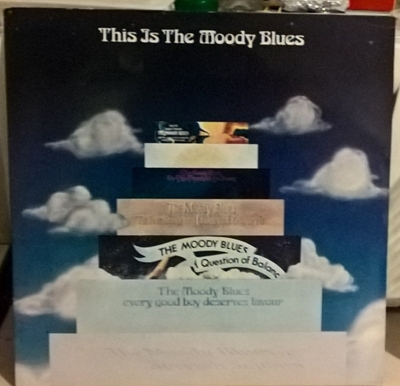 Picture of the day......"Listen to the music..."
We fancied listening to a bit of Moody Blues, so this album was my music to cook to this evening.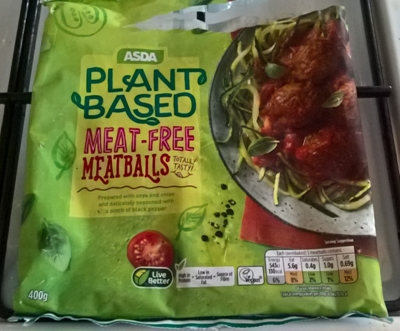 I bought these a little while ago, and decided to try them out this evening.
I fried a chopped-up onion and a few mushrooms, added them to a pan with a large can of chopped onions, and simmered that whilst I fried the vegan meatballs. I then added them to the simmering mixture, together with a Colman's beef casserole mix (also vegan, as are lots of the Colman's mixes), with a bit of water, and just let the whole thing simmer for about thirty minutes.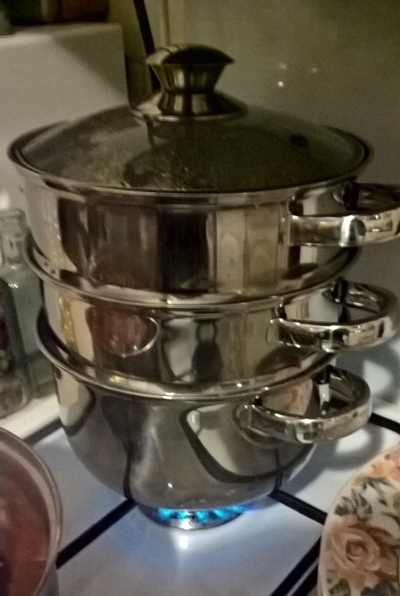 In the meantime, I decided to try out my latest kitchen purchase!
Two of my saucepans needed replacing, so a few days ago I went to get them, and spotted this layered steamer, so bought it instead. I'm all for saving a bit of energy whilst cooking, and we like our veggies crunchy, so this seemed like a good bet.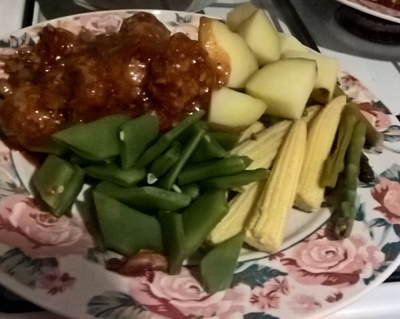 Potatoes, green beans, asparagus and baby corn all accompanied our yummy meatballs, and the whole thing was delicious. Plenty left for lunch tomorrow too.
Bob and I received some sad news on Thursday evening. Bob's brother Richard has passed away. Richard was diagnosed with liver cancer around two-three weeks ago, and was told that it was too far advanced to be able to operate or receive treatment, and he was given just weeks/months to live.
It's been a horrible time. Bob wasn't able to go and visit Richard, because of covid restrictions, although he did manage to talk to his brother a few times on the 'phone. As far as we know, Richard passed away in his sleep. Hopefully his pain and discomfort were kept to a minimum.
Richard was a lovely man - just like his brother - and I'm so glad I got to meet him, and to spend time with him and Bob a couple of times when he visited. RIP Richard.
I'd love to see your feedback!
please click here if you would like to comment on this blog entry via my Facebook page.

Thursday 12th November 2020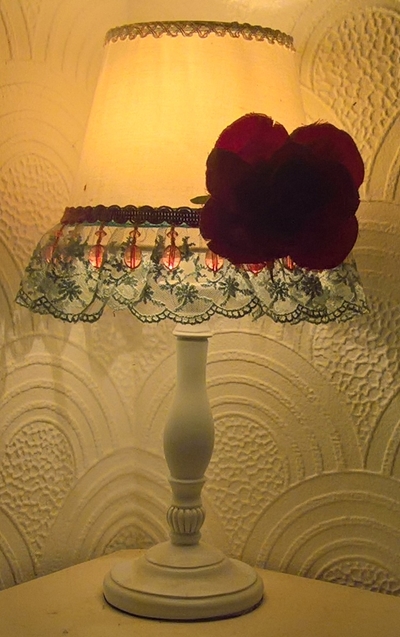 Picture of the day......"Lamplight..."
This evening it's all about the home comforts!
I just wanted to get home from work, shut the door, make my home nice and cosy, and cwtch up.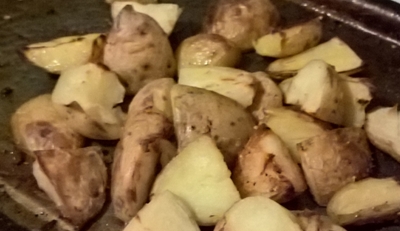 I forgot to take something out of the freezer this morning for my meal this evening, and whilst pondering what I would make, I decided that I really fancied a proper, oven-baked jacket potato.
When I checked my spud stash though, I didn't have any big enough, so I opted for some home-made chunky wedges instead. I ate them with a couple of slices of yummy seeded bread, spread with Flora vegan butter.
Clearly not the healthiest of meals, but absolutely what I needed!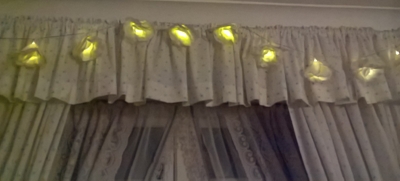 Whilst they were cooking, I went around turning on lamps and fairy lights, and generally preparing for a cosy 'hygge' evening...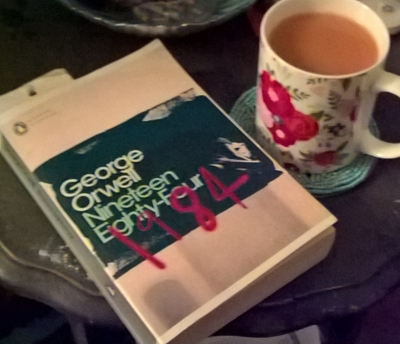 ...which will include some crafts and tea & chapters...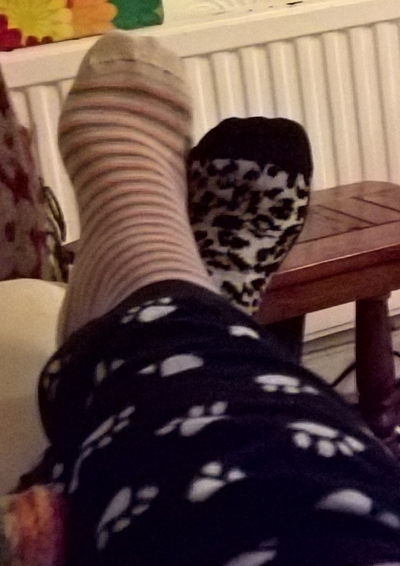 ...definitely putting my feet up...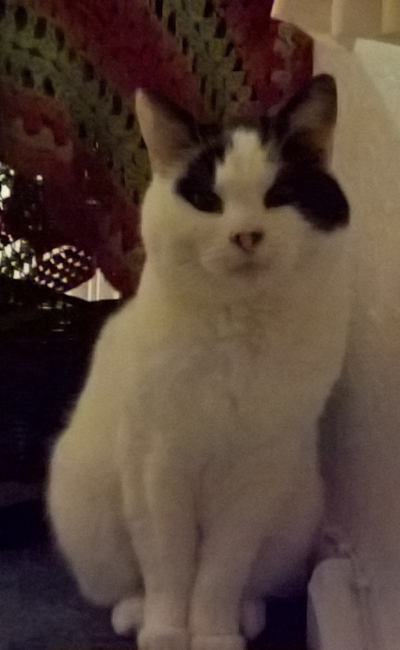 ...and being joined by a cwtchy kitty...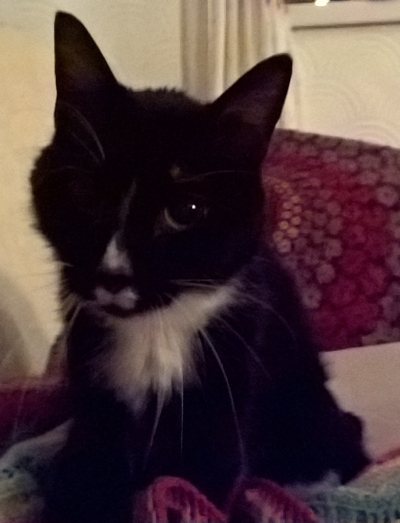 ...or two...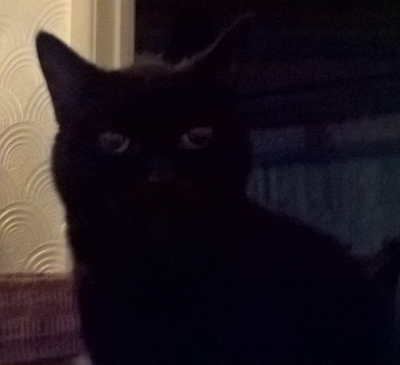 ...or even three!
And at some point a chat on the 'phone with my Lovely Man...
...and most certainly an early night in my cwtchy bed.
I wish whoever is reading this a happy, cosy evening....and if you're not able to be cosy, then at least stay safe!
Night night.
I'd love to see your feedback!
please click here if you would like to comment on this blog entry via my Facebook page.

Wednesday 11th November 2020
I've had some serious technology issues over the last few days. On Sunday my old and slow PC finally gave up the ghost. I'm working on an old (and slower) laptop and I am grateful for it, but it's like pulling teeth! A new PC is on the horizon, but it's not going to be for at least a few weeks.
In the meantime, there is lots of counting to ten going on! Haha.
Anyway, here is a round up of the last few days, starting with today.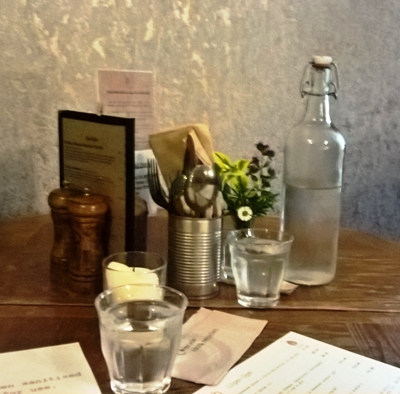 Picture of the day......"Good times..."
It's almost my birthday, and Bob took me for a pre-birthday lunch today.
We went to a lovely little place in Carmarthen, called "The Warren" - oldy-worldy, with a hint of modern.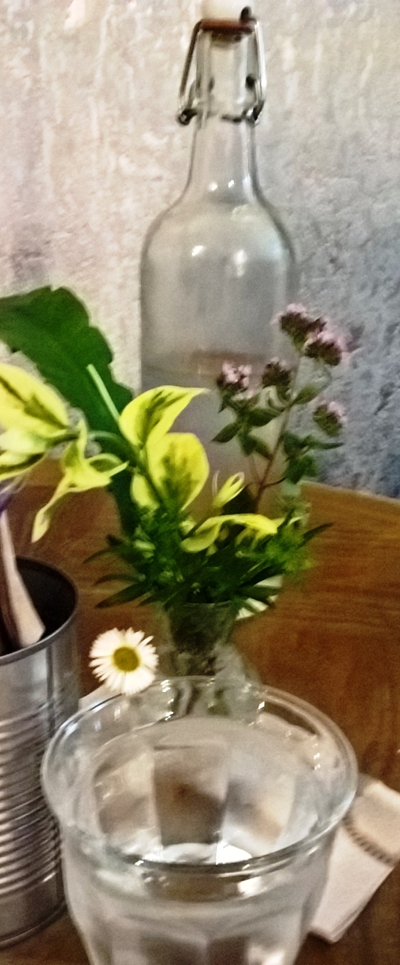 I loved the little touches on the table, like the cute bottle which they brought filled with drinking water...
...and the wild flowers in a little jar.
It was so nice to be out together, after so much lockdown.
We did take a couple of selfies, but the lighting was a bit rubbish for people photograph taking, so they're not for this blog I'm afraid.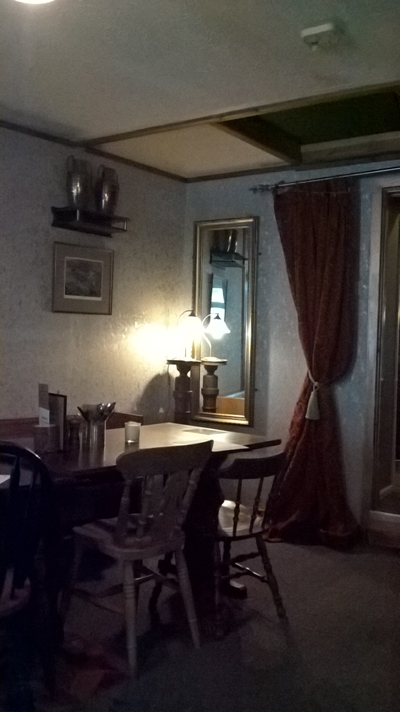 I did take quite a few pictures of the lovely decor though.
The atmosphere was also good, and the staff were really lovely too - especially one young lady, who was very chatty and told us all about her little dog who is a "Frug" (a cross between a Frenchy and a Pug). She even treated us to a video of her!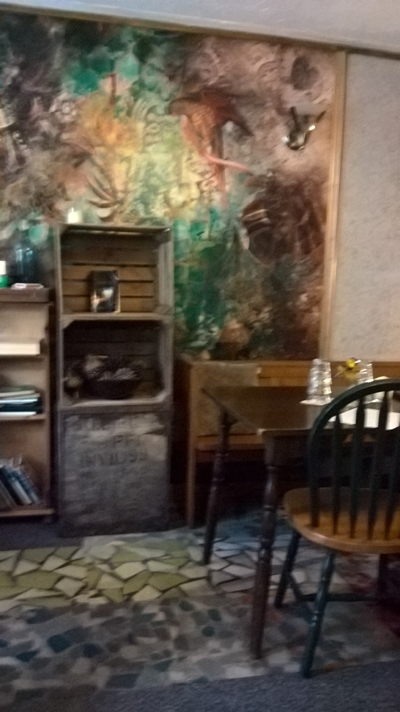 Other than the fact that social distancing and mask-wearing was taking place, you wouldn't know there's a pandemic on. It was relaxed and friendly, and we felt safe.
Such a nice experience.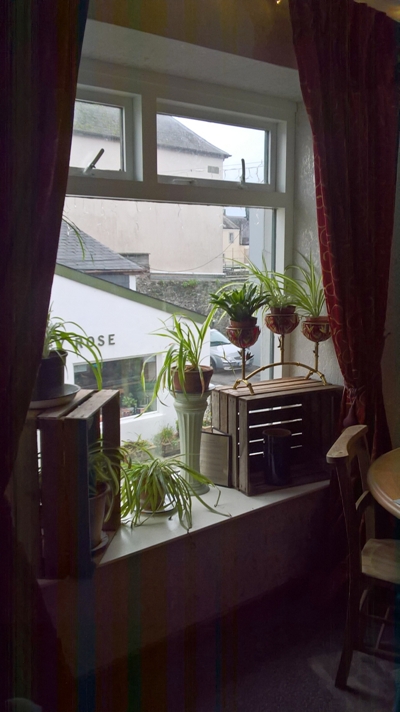 They seem to be very keen on spider plants, and had lots of them dotted around the place.
Spider plants are among my favourites of plants, and so I was very happy to photograph them.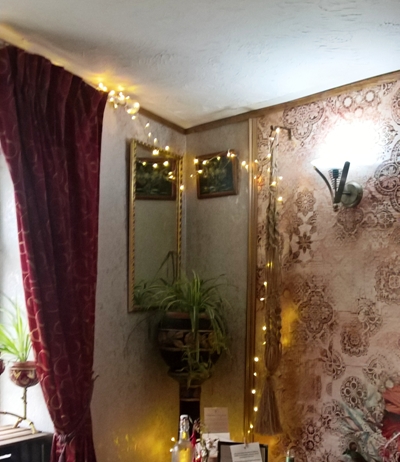 They also used quite a lot of fairy lights, alongside the subdued lighting.
They clearly share my view that fairy lights are for life, not just for Christmas!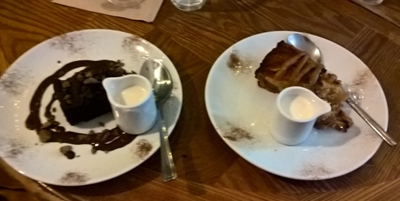 The food was lovely and they had a few vegan and vegetarian options for me to choose from.
Bob had beef bourguignon and I had chick pea curry (there was a main veggie in the title too, but I can't remember what). It was served with rice and seasonal veg, and it was delicious.
Unfortunately, I didn't get a picture of the main course, just the desserts!
Bob had pear frangipan, and I had vegan brownies with soya cream. Yummy!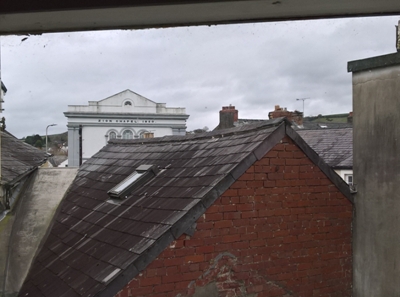 I love views of rooftops - all sorts of rooftops! When I went to use the loo, there was a lovely view of local rooftops from the window, and a Zion Chapel in the distance...
...so I popped back to the table to grab my camera, so I could take a snap!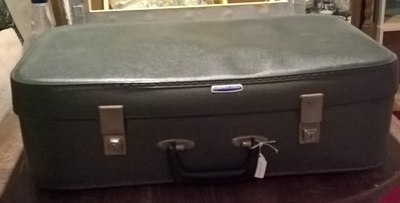 On the way back to the car, we had a browse around Carmarthen, including the obligatory charity shops tour - one of our favourite things to do!
I found this lovely vintage suitcase, so snapped it up. I need another two or three to go with it, for a project I have in mind.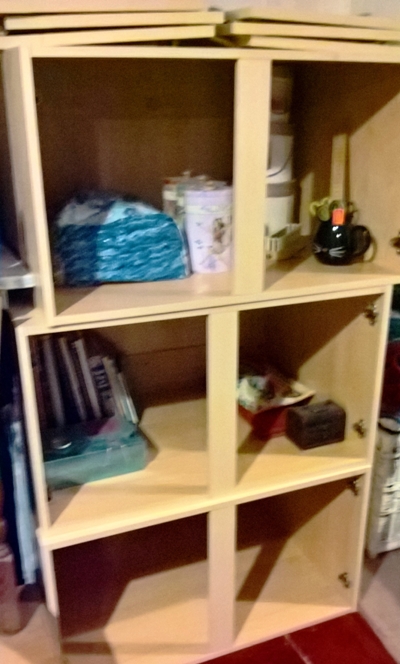 When Bob turned up this morning, he brought with him some lovely wall units, which a friend of his had put onto one of the free sites.
They are perfect for my craft room.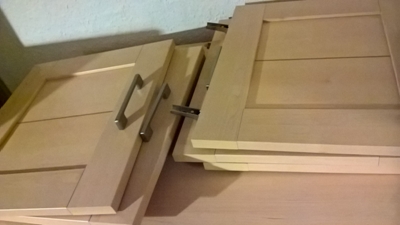 I'm planning to upcycle them to make them a little less modern...
...and marry them up with another couple of pieces of furniture I have in the craft room, to create a new piece which hopefully will be really nice, as well as holding lots of my craft stuff and books. Watch this space.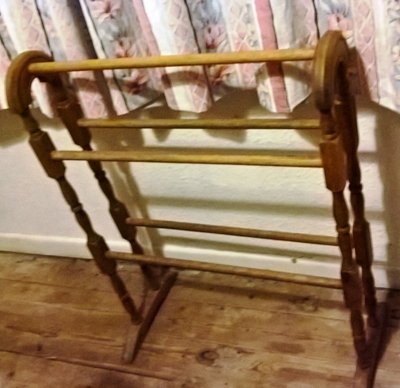 Bob also brought part of my birthday present with him this morning.
This gowjus Victorian towel rail which I had my eye on, on Fb Marketplace. I love it, and have wanted one of these for a long time. Although of course - me being me, I won't be using it as a towel rail! Well, not for now anyway.
The last couple of days have been rather uneventful. My usual headache has been at pounding level, so after getting home from work yesterday and Monday, I slept quite a lot to try and sleep it off.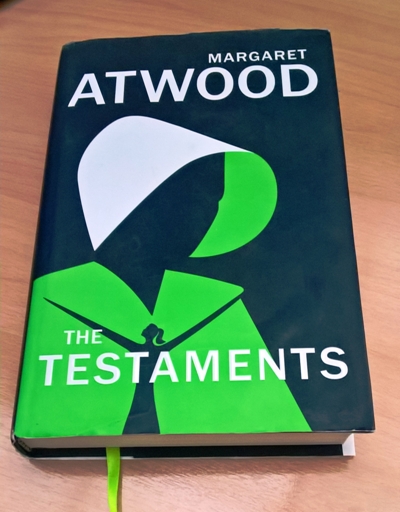 I have, however finished this book.....and what a book!
If this and it's predecessor (The Handmaid's Tale) are anything to go by, I think I'd like to read a lot more of Margaret Atwood's books!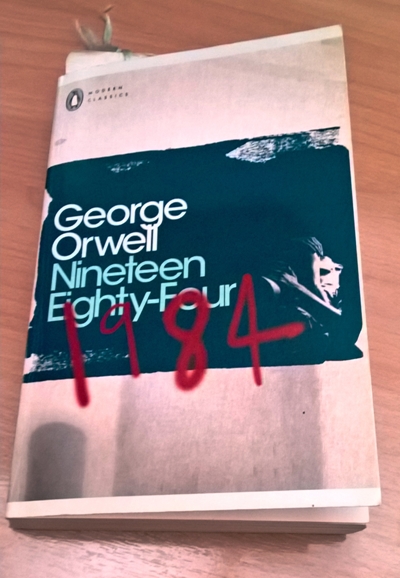 I've also started reading this one, which has been on my reading list for quite some time.
Bob has the film lined up for us to watch, but I really want to read the book first.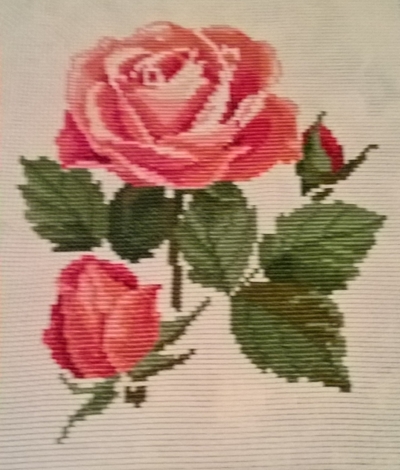 I've been doing some more work on my cross stitch rose cushion panel.
It's coming along nicely. I had to stop, as I was missing one of the thread colours, but I've got it now, so hopefully I can get this finished over the next week or so.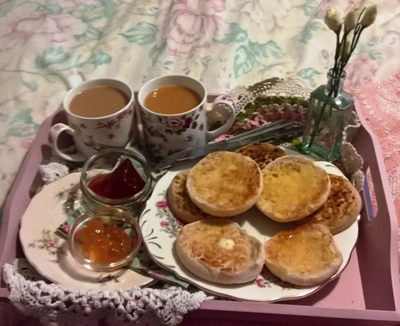 We had a lovely, chilled day on Sunday...
...starting with breakfast in bed.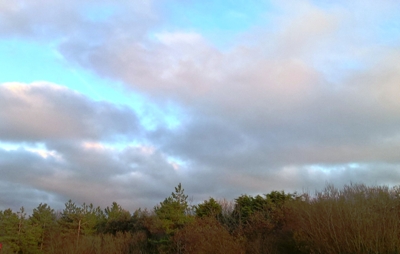 Then in the afternoon we took Ollie to the beach. Ollie's favourite place!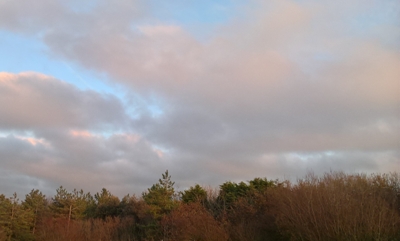 I was very happy to get some gowjus, moody sky pictures again!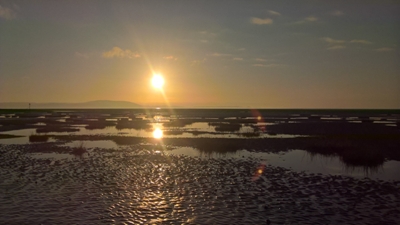 Plus of course the sun on her way down to her bed.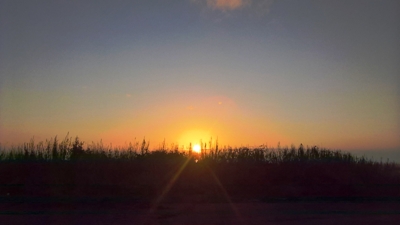 Blinkin' lovely.....before going back home for some food and then a relaxed evening before Weekend finished and it was time to hop on the hamster wheel again!
So that just about sums up the last few days. I don't know if I'm going to be able to blog every day for a while, but I will keep taking the pictures and blogging as and when I can, until I can sort out a new PC.
I hope whoever is reading this, is having a happy, healthy, and not-too-busy/stressful week!
I'd love to see your feedback!
please click here if you would like to comment on this blog entry via my Facebook page.

Saturday 7th November 2020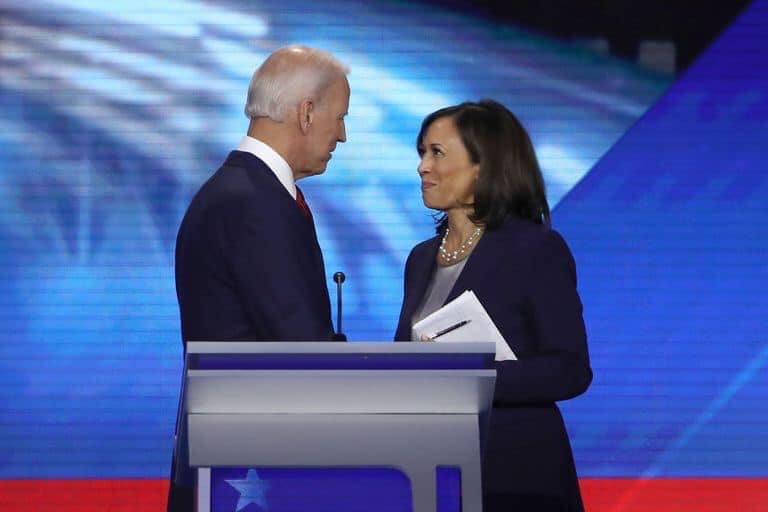 Picture of the day......"Like a bridge over troubled water..."
I obviously didn't take this picture....but I think it's the most significant picture to come off the internet today. The new President of the USA, Joe Biden, and his Vice-president Kamala Harris - the first woman in history to be Vice-president.
The end of the Trump reign! What a day, for both America and the world! I have no more to add to this, neither by way of pictures, nor of words. This is enough.
I'd love to see your feedback!
please click here if you would like to comment on this blog entry via my Facebook page.

Friday 6th November 2020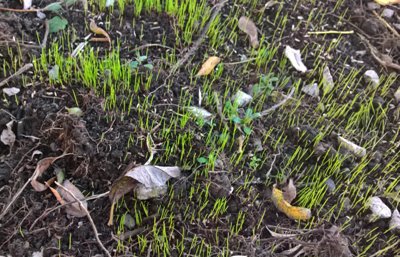 Picture of the day......"The green, green grass of home..."
Know what this is? New grass, that's what! In my garden...which I planted! Excited is an understatement!
This is the stuff I planted last week and the week before. I haven't been out in the garden since last weekend, mainly because it's been raining so much. It's so nice when you do something, then turn your back for a week or so, and then see a result. Blinkin' fab!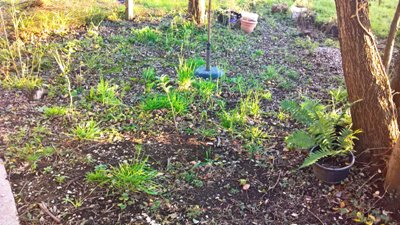 Today was our monthly (first Friday of the month) Early Friday Finish in work, so I was home by around three.
The weather was lovely, and my energy levels are up, so I popped out into the garden for half an hour. I wanted to dig over, rake, and plant grass seed in the next little area, as well as plant a few daffodil bulbs at the base of the trees in that area.
It was a bit of a struggle, as well as frustrating, because although I had the energy, I didn't have the strength needed to dig. Also, there are lots and lots of tree roots in that area, which made it harder.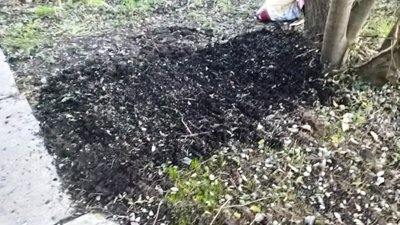 However, I didn't get hung up over it. I just did my best, and dug as much as I could, then popped down some seeds and raked over. I also planted a few spring bulbs along the next part of the path edge.
When it came to the daffodil bulbs, I dug down as far as I could (which wasn't very far) to put the bulbs in, then put some new compost over the top, to provide the depth needed. I don't know if this will work, but hey ho, it's worth a try.
I'm definitely not disappointed with my forty minutes' work, just a little frustrated at my own shortcomings. I'll try to get out over the weekend (weather, energy and strength permitting) and do the next patch and beyond.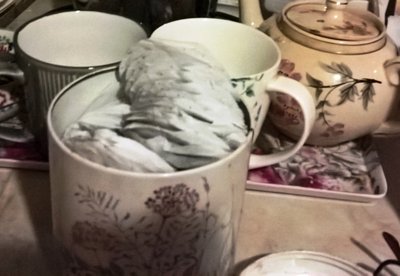 After the garden, Bob and I took Ollie for a walk locally, then home for a cuppa. One of my favourite smells is opening a new pack of tea! Simple pleasures.
My scan appointment this morning was mixed. I did have two - one for my hip, and one for my head. The hip one was absolutely fine. The head one was a different story. It felt so claustrophobic, and I hope I never have to do that again. Having said that, it was much needed, and may or may not give some answers, but I'm glad I had it done. Just the waiting game now for any results.
With that out of the way, I'm looking forward to a lovely weekend......sixty hours to do all sorts of lovely things, especially spending time with my Lovely Man, Ollie Dog and three cwtchy kitties! Bliss!
I wish whoever is reading this a very happy, healthy weekend.
I'd love to see your feedback!
please click here if you would like to comment on this blog entry via my Facebook page.

Thursday 5th November 2020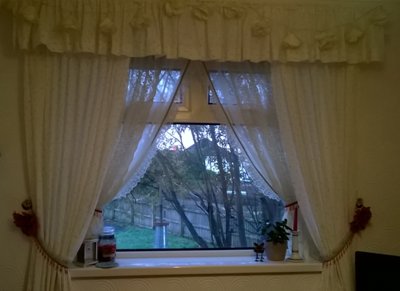 Picture of the day......"Just hanging around"
My lounge curtains are finally back up!
I'm really pleased with how they've turned out.
We just have to be vigilant with Nala cat now, to make sure she doesn't claw them again!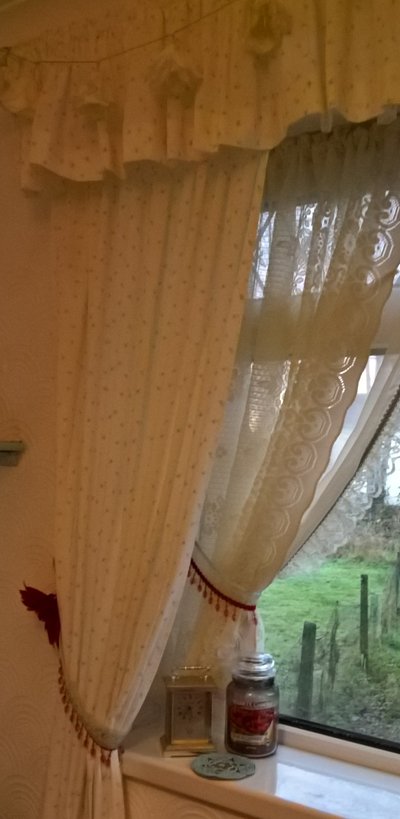 The flowers across the top of the valance are fairy lights. I love fairy lights and have them in lots of places in the house, and want to have even more!
I have some lined up for the bathroom, the spare room (currently my own bedroom, but that's going to change), the cwtch (for around the Welsh dresser), and the craft room - some pretty coloured ones (a bit like large version Christmas tree lights) and some twinkly ones for around the mirror in the fairy corner!
Fairy lights are for life, not just for Christmas!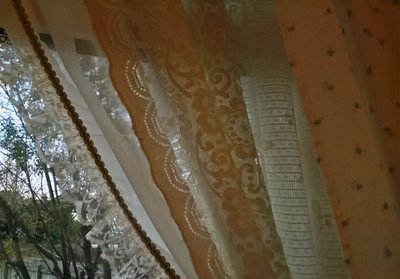 This picture shows the little flower print on the main curtains, the lace overlay, and the lace and braid edging I've put on to the organza.
Having it separated in the middle and pulled back to the sides means that we get the privacy of curtains, but we're still able to see the garden. Best of both worlds.
I have an appointment for an MRI scan tomorrow morning on my brain (I think they're going to see if there's one in there!) and hopefully my hip too. I think it's for both things. I can't say I'm really looking forward to it, but I'm glad it's being done.
Today has been fairly good. I've had more energy than usual, which is always a good thing.
I think everyone in the neighbourhood (except for us) is letting off fireworks this evening. Lots of bangs and whizzes going on. Watching them through the window they look so pretty, but they are terribly noisy. Fortunately, neither Ollie nor the kitties seem to be too bothered by them. I feel so much for the animals who are frightened by them - it must be dreadful - and I wouldn't be sorry if they stopped being made and sold.
Time for a cuppa now, and some T.V. before hopefully a good night's sleep.
I'd love to see your feedback!
please click here if you would like to comment on this blog entry via my Facebook page.

Wednesday 4th November 2020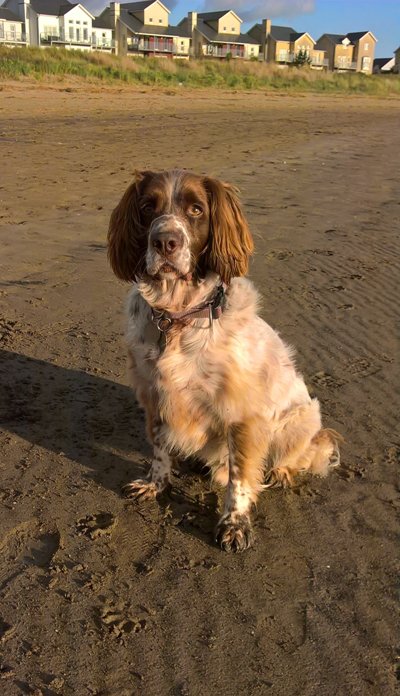 Picture of the day......"Hound dog!"
Ollie loves the beach!
What better thing to do with a day off, than visit the beach with my Lovely Man and his lovely dog?
Aside from having such fab quality time together, it's so special to see Ollie run around and enjoy the beach....especially when the tide is out, and he can jump and roll around in all the little pools of water left behind and sniff all the obviously yummy smells in the marsh and on the sand. He is totally in his element, and it is delightful to witness.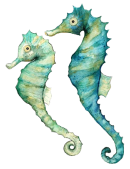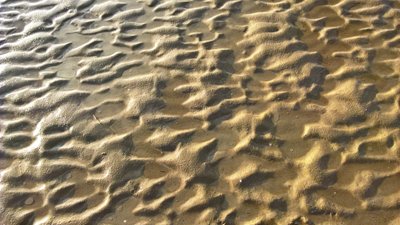 I love the ripples in the sand.....pretty patterns.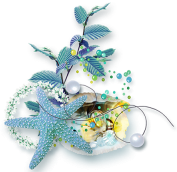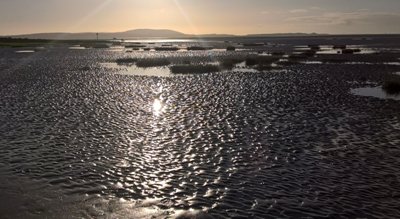 It wasn't dark when I took this, I just took it facing the sun, so it looks that way, but I did it deliberately, because I like the moody effect of the reflections on the ripply sand.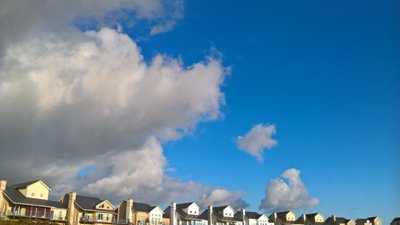 Today was such a lovely day - crisp, and sunny. Quite mild and warm. Look at the lovely blue sky against the fluffy clouds. Gorgeous!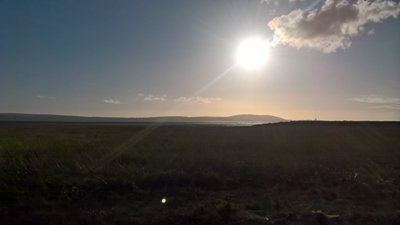 Another moody sun picture. It was quite late afternoon - between three and four - when we went, so not ever so far from sunset, and the sun was quite low in the sky, but still so bright.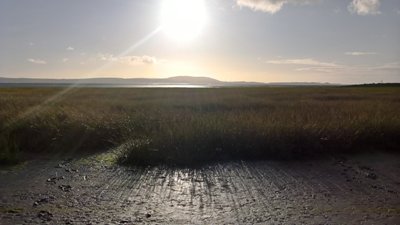 I love the colours when the sun is getting ready to set. So beautiful.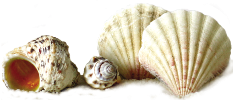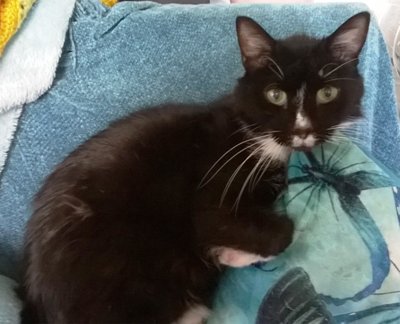 And just to redress the dog/cat balance......
......here is a picture of Basil Bumface, who decided that the cushion was a lovely thing to cwtch today. Dear old Basil.
Why do I always end every day feeling like I've done sod all? Even though I know I've done stuff, I never feel like I've done enough. I wish I wasn't so hard on myself. Must work on that!
I spent some of the morning on the 'phone sorting out some personal admin stuff. I hate making and receiving telephone calls, especially official ones. I have to psyche myself up to them, and always feel exhausted afterwards.
This afternoon was more of the same - another 'phone call. It needed doing though, and I feel better for having done it.
In between all that, and as well as our walk on the beach, I did some washing, and cleaned the lounge window before putting up the new curtains! Yaay, they're up! I'll photograph them in the morning though, so that the view beyond is the garden, and not a night-time reflection of my untidy craft room! Haha. I'm very pleased with how they look.
You know when you plan a lasagne for dinner? So you make the filling with yummy veggies - courgettes, onions, mushrooms, peppers.....then you go to get the box of lasagne out of the cupboard...and discover that it's actually a box of canneloni tubes? Yeah, that was me today. So the lasagne became a bolognese! Albeit a rather chunky one. It was yummy anyway, and at least I hadn't got as far as making the white sauce before I discovered my error. Must put lasagne sheets on the shopping list!
Also, how lovely this evening to log into my guest book and find a new message from Kate! Thank you Kate, I'm glad you're enjoying, and I have replied to your guest book message. I love seeing new messages in there and getting feedback.
Toodlepip!
I'd love to see your feedback!
please click here if you would like to comment on this blog entry via my Facebook page.

Tuesday 3rd November 2020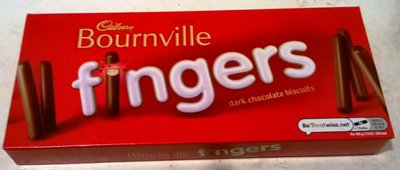 Picture of the day......"Sweet like chocolate..."
I spotted these little beauties in Tesco this evening.
Since giving up dairy, one of the things I miss is chocolate fingers, and it seems Cadbury have brought out these.
They're not milk chocolate obviously, but I think they're going to be a pretty good sustitute for the absent chocolate fingers!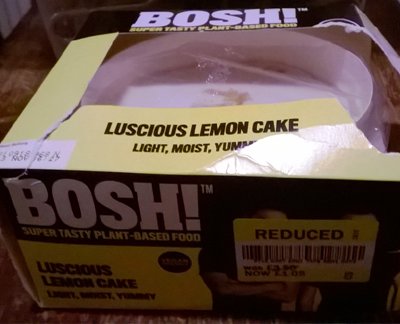 I also spotted this Bosh cake, reduced to a third of its usual price. Tonight is GBBO night, and I am definitely TTTB (too tired to bake). Last time I was TTTB I bought one of these at full price, and I have to say that I wasn't over-impressed with it. However, Bob liked it, and since it was reduced by so much, I decided that it would definitely do, for a TTTB Bake Off evening!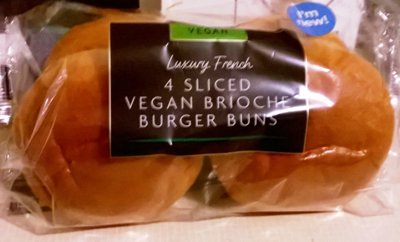 On to Aldi, and these delightful little lovelies caught my eye. I love brioche, but of course, it usually contains butter and milk.
It'll be burgers on the menu later in the week, and I really hope these rolls don't disappoint!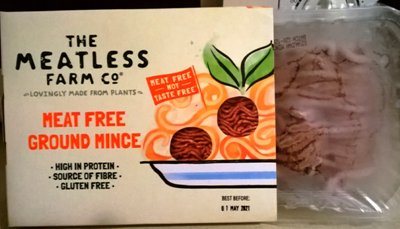 I've seen "Meatless Farm" products advertised, but haven't tried any so far. This was quite a good price in Home Bargains, so I thought I would give it a go. It's frozen, so will keep until I next make a bolognese.
I do find it a bit weird that it does look just like meat mince, but hey ho.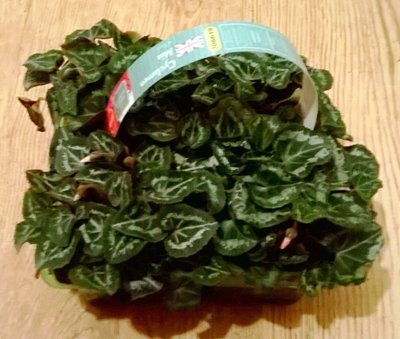 Whilst shopping, I couldn't leave my garden out.....that would be so rude!
These cyclamen were a good price, so in the basket they went! Not sure where I'll put them yet, but for now they can go on what counts as a patio, with all the other plants I haven't quite decided where to put yet!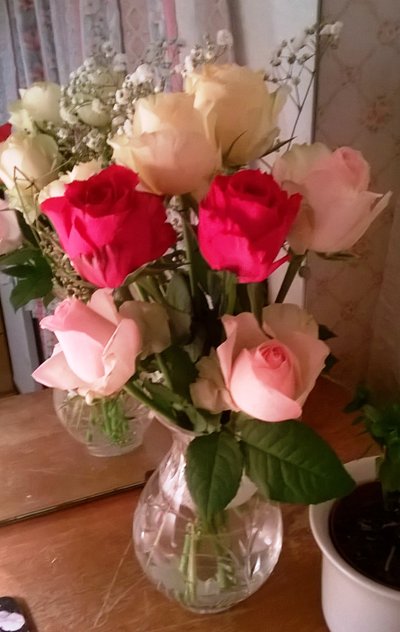 I bought myself some pretty flowers. A small gesture from me to me, which makes me feel good!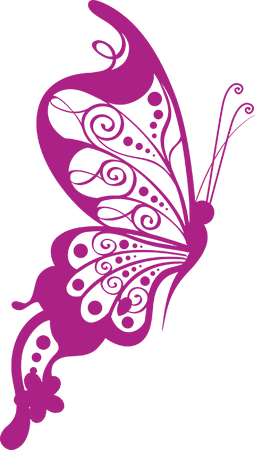 Tomorrow is a day off from work.
If I'm feeling as tired as I have today, it will be a day spent resting and recharging. However, if I do have some energy, I'd love to get out into the garden for a while (apparently the weather forecast is good), and it would be great to get my new lounge curtains up.
However, for now it is bath, T.V., and bed!
I'd love to see your feedback!
please click here if you would like to comment on this blog entry via my Facebook page.

Monday 2nd November 2020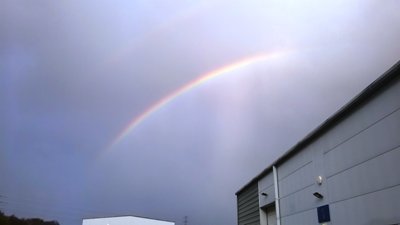 Picture of the day......"Up above the streets and houses..."
This beautiful rainbow was in the sky this morning when I was going into work.
By the time I'd parked, and got out of the car with my camera, most of it had gone, but I did manage to capture this.
It was a double rainbow and you can just make out the second one just above and to the left, if you look closely.
I love rainbows, they always make me feel hopeful.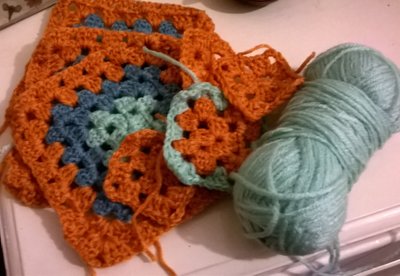 For the last week or so, I've been doing a bit of crochet in my morning and afternoon breaks, whilst I drink a cuppa.
It's amazing how quickly things progress when you're just doing ten minutes here and there. I'm quite pleased with how the filler edge squares for my current throw are progressing. I'm looking forward to joining them on and then being able to do the edging.
This evening I am very tired. I went to do the weekly shop after work. I used to love food shopping, but since the advent of Covid I really dislike it. I find it stressful and worrying. I managed to get most things, but will still need to pick up a few bits and pieces tomorrow.
This evening's meal was fish fingers, chips and peas....with bread and (vegan) butter for a chip butty! Simple but yummy, and proper comfort food!
Off to watch another episode of the "The Killing" now, and then bed to start all over again tomorrow!
I'd love to see your feedback!
please click here if you would like to comment on this blog entry via my Facebook page.

Sunday 1st November 2020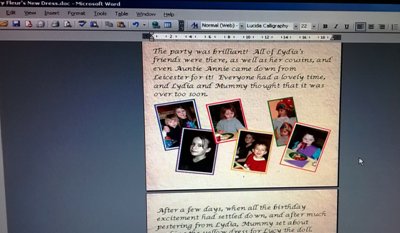 Picture of the day......"Let me tell you a story......"
Today I've been working on "Fairy Fleur's New Dress".
I've finished editing the text in the document for the flip book, and am now adding pictures. In the first Fairy Fleur story ("Lydia and the Tooth Fairy"), I used clip art and png images from the internet. This time I also want to use real photographs - some which I have from the actual rainbow party, and some which I'll need to 'stage'.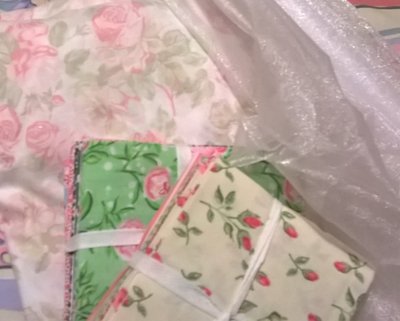 I've also been getting fabrics together, ready to make new curtains for my bathroom.
Well, when I say 'new curtains', it's more of an upcycle of the ones which were there before. The original floral curtains are to the back of the picture. I really love them, but they've faded down one edge, caused by the sunlight.
I was a bit sad, thinking that I'd have to replace them, but then I saw an image on Pinterest, which really caught my eye. By using organza fabric alongside the original curtains, and adding some pretty hanging hearts, I can make the window look really gorgeous. I won't put the Pinterest picture here, in case what I end up doing looks nothing like it! Haha.
Today hasn't gone at all to plan.
I was intending to hang my new lounge curtains, then make a meal plan and go off to do the weekly shop.
However, I spent three hours in A&E in Morriston Hospital! It's ok, there's actually nothing wrong, thank goodness.
I'll start at the beginning. On Thursday of last week, when I got into work, whilst taking my bag off my shoulder, the strap of my bag caught on the toggle of my coat (one of those elastic strap things which you use to tighten the hood, with a metal toggle hanging on the end). The metal toggle pinged up and hit me smack in my left eye!
Fortunately, because I was looking down, my eyelid was partly down, and it hit me on the eyelid, rather than in the eye itself. However, it bloody hurt, like a bloody hurting thing! I saw stars! It swelled up pretty quickly, and I put a cold compress on it, which reduced the swelling. However, it was quite sore for the rest of the day, and the day after, and then not so sore yesterday. Also, there is a small amount of bruising, although it's quite subtle. I don't bruise easily.
I didn't really think too much more about it. I've kept an eye on it (no pun intended), and put it down to one of those things - I am rather clumsy and am always bumping into things, etc. However, yesterday, I had a couple of visual disturbances, and this morning, after I got up, there were lots of little black dots in front of my eyes, as well as a load of grey 'floaters'. On testing, it seemed that it was only happening with my left eye. Bob was really concerned and insisted I 'phone NHS 111 to get some advice, so I did.
They told me that I needed to go to A&E, and that I wasn't to drive there myself. So Bob took me over, and I was seen by a very nice doctor, who checked out both my eyes. He said that I'd probably thrown out the alignment of things, but that there was no 'front bleed', and that I hadn't damaged the retina, iris, or lense, and that my vision should return to normal over the next few days. Phew - that's a relief! I quite like having decent functioning eyes!
Anyway, by the time I got back from the hospital, I didn't have the same enthusiasm for either hanging curtains or going shopping! The shopping can wait until tomorrow after work, and the curtains can wait until my day off on Wednesday.
This evening's going to be fairly chilled - I'm just making vegan meatballs for dinner, and then it'll be an episode of "The Killing". Weekend definitely goes too quickly though.
To whoever is reading this - I hope that you've had a lovely weekend and that you have a fab week ahead. Stay safe!
I'd love to see your feedback!
please click here if you would like to comment on this blog entry via my Facebook page.

Back to life......