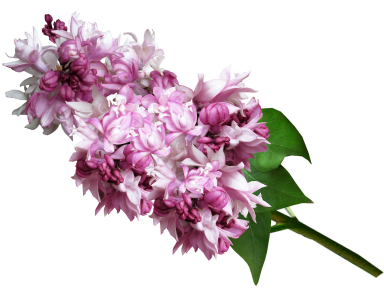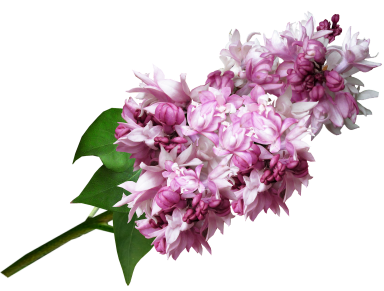 ♫ "......In the month of May,......
...in the month of May..." ♫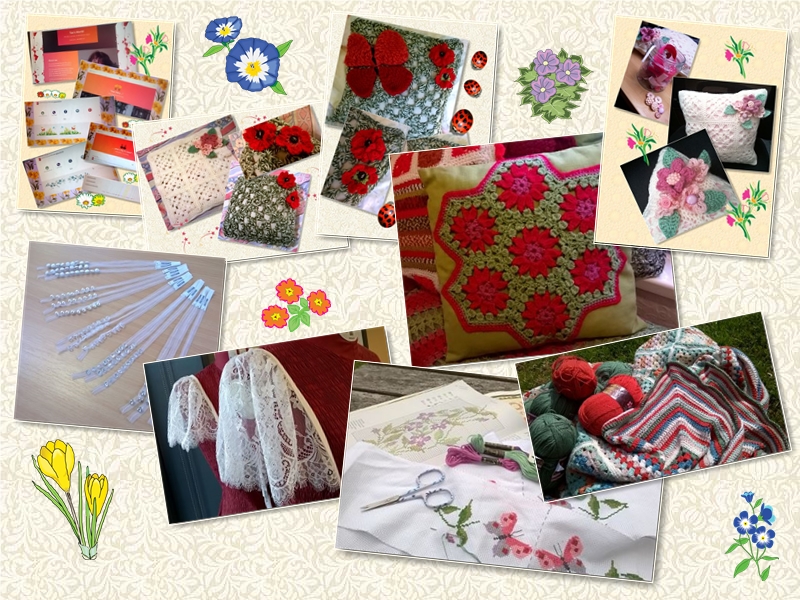 ♫ "... In the month of May, in the month of May ... " ♫ is a lyric snippet from this Arcade Fire song.
May.......

365 Days of Creativity - ♫ "Month of May"...... ♫ ......was another busy and creative one!
Lots more creativity this month!
I've been busy creatively both at home, with cross-stitch, knitting, crochet, updates to my website, and of course sewing.
I finished a few knitted and crocheted cushion WIPs (works in progress) and am getting on really well with my cross-stitched towel borders. My crocheted 'cwtchy blanket' is coming along nicely, and I've been working on some lovely customisations on gowns, as well as making up new samples for the kit boxes, in work.
I've been up at Craig-y-Nos Country Park quite a bit, crafting in the sunshine, and each time I go there at this time of year there is something lovely to see with all the spring flowers coming up, and the new leaf growth on the trees.
I'm looking forward to being just as creative during June.
If you want to look at the posts from the first one on May 1st, then please click here.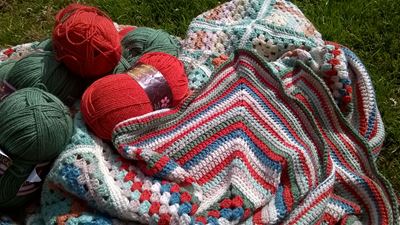 Day 151 - Monday 31st May 2021
Today I was working on my cwtchy blanket. I crocheted the last row of single crochet, and technically, I've arrived at the point where I said I would put some scalloped rows on to finish it off.
However, I have so much of the red and green yarn left, that I think I'm going to do a few rows of single crochet in alternating red and green, just to add a bit more to the border, make it that much bigger so that's it's extra cwtchy, and to add a bit more weight to help flatten out the bit where I did a slip stitch for the blue to save yarn, and is still curling a little at the moment.
So, by my reckoning, it's going to be a few more weeks before it's finished and we get to actually cwtch under the cwtchy blanket!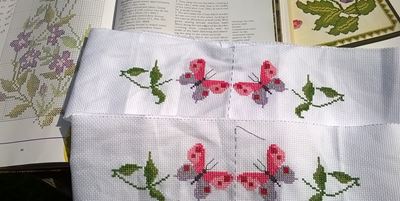 Day 150 - Sunday 30th May 2021
Some more work on my cross stitch towel borders. The butterflies are finished now, and I've made a good start on the trailing periwinkles.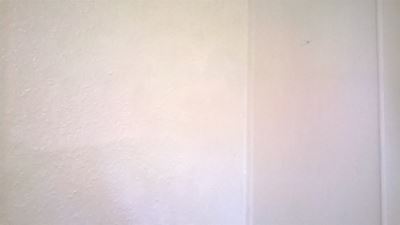 Day 149 - Saturday 29th May 2021
A plain white painted wall. That is all!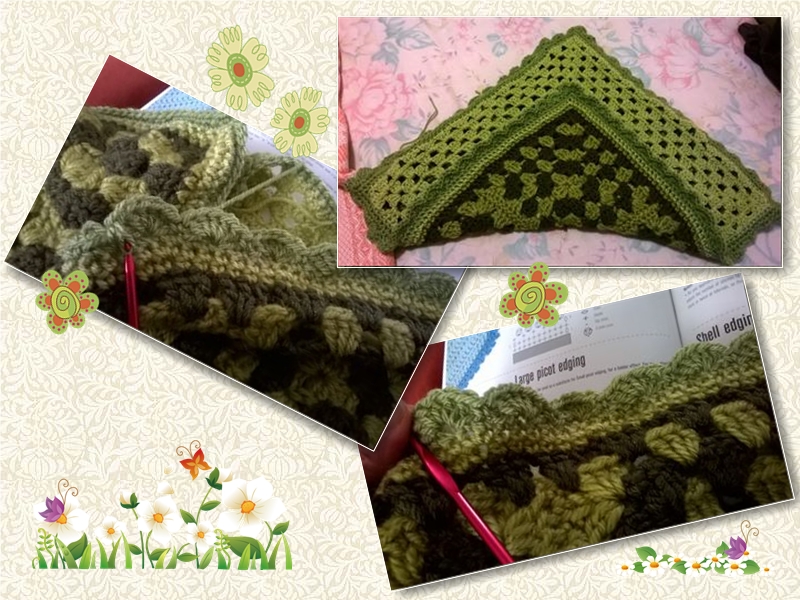 Day 148 - Friday 28th May 2021
Today I finished the crocheting part of my last WIP cushion. I popped a single crochet row around each the front and the back using the new contrast I found in my stash, then crocheted both parts together and finally added a scalloped edging around the whole thing.
Now I need to make up a cushion pad for it, put that inside and crochet or stitch it closed, then add the butterfly and flower crocheted appliqués I have for it.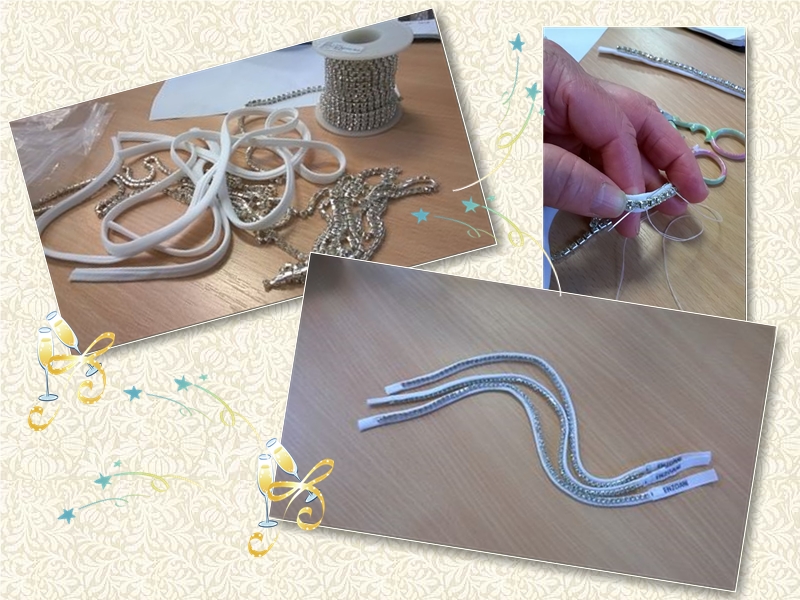 Day 147 - Thursday 27th May 2021
The customisation sample straps I've been working on today are very simple, but quite effective.
For each strap, we use a strip of diamanté and stitch it along a plain georgette strap.
The result is a sparkly, elegant strap which can be added to either a plain gown to give it a bit of sparkle, or a gown with existing gems, in order to enhance what's already there. Lovely.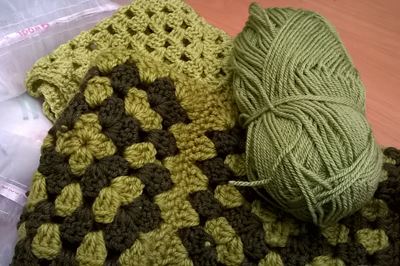 Day 146 - Wednesday 26th May 2021
I've been through my stash and found some more green yarn for the tones of green cushion cover.
Before I use it to crochet the back and front together, I'll put a row of single crochet around each, just so that there's more yarn than just the crocheting together, so it's not quite so random! I think there might also be enough to put some scallops or picot edging around the whole cover when it's done.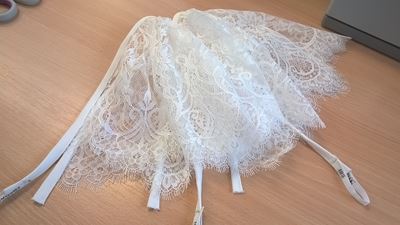 Day 145 - Tuesday 25th May 2021
Today I've been making some pretty Chantilly lace sleeves for our customisation kit boxes.
These sleeves are one of my favourites - they are so feminine and floaty. I love them.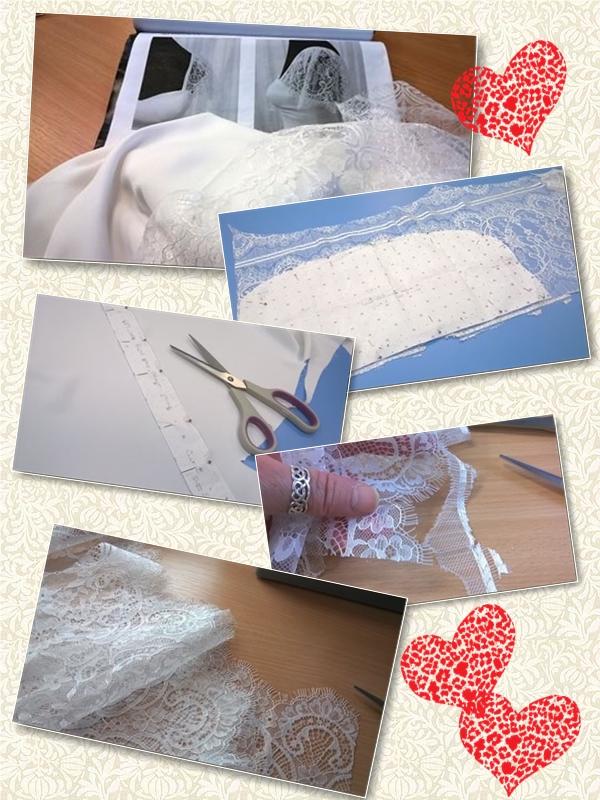 To make these we start by cutting out the pieces - lace for the main sleeves, and georgette for the straps to go over the shoulders.
Then we trim the edge of the lace to reveal the lovely eyelash fringing along the scalloped edges.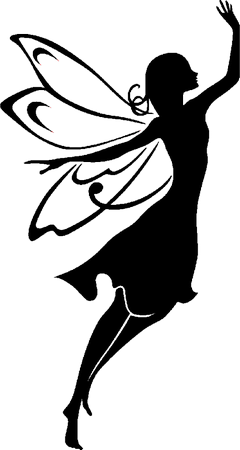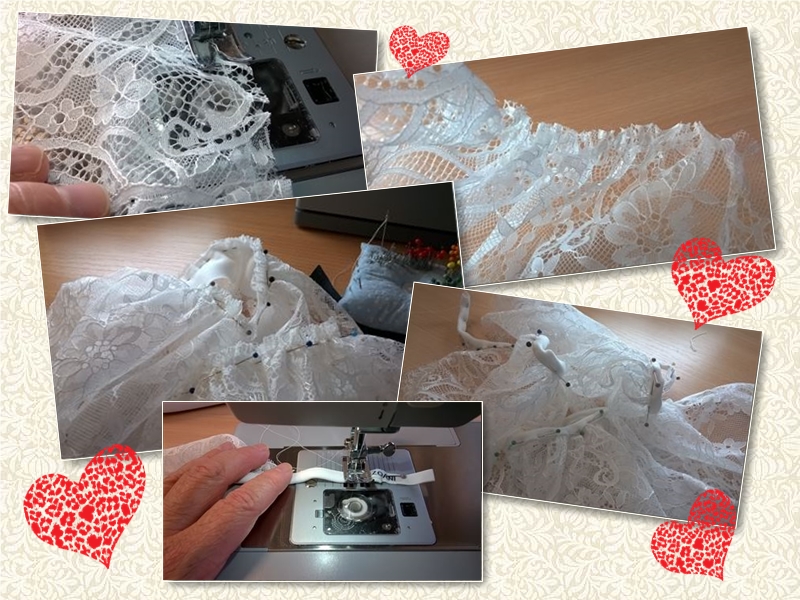 Then the lace is gathered along the straight edge, and evened out to fit along the long edge of the strap. They are pinned, and then stitched together, and top-stitch closed neatly.
After this we add one of our woven labels, with the unique code for ordering.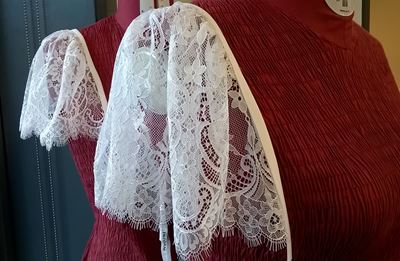 The sleeves are then ready to put into the customisation kit boxes, ready for our stockists to demonstrate them to brides when choosing their gowns.
These sleeves look particularly effective when added to a plain strapless gown. They can be stitched in permanently, or poppered in for adding sleeves for the wedding day but with the option of removing them again for the evening party. In this picture they are modelled beautifully by our dressmaking mannequins!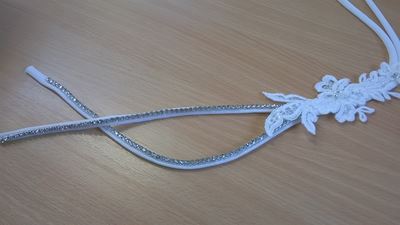 Day 144 - Monday 24th May 2021
More strap samples for our customisation kit boxes.
This particular strap is one of my favourites - the divided strap. It's made by stitching motifs and diamantés onto two separate georgette straps which run parallel to each other and join at the shoulder.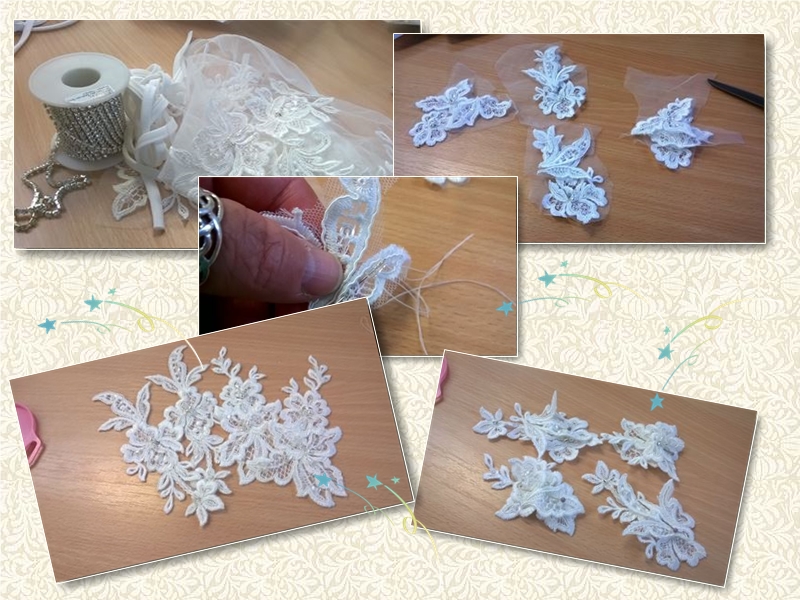 We start by isolating and cutting smaller elements from a large motif, then trimming around them closely and securing any beadwork.
Next we re-assemble the small parts into a new motif shape.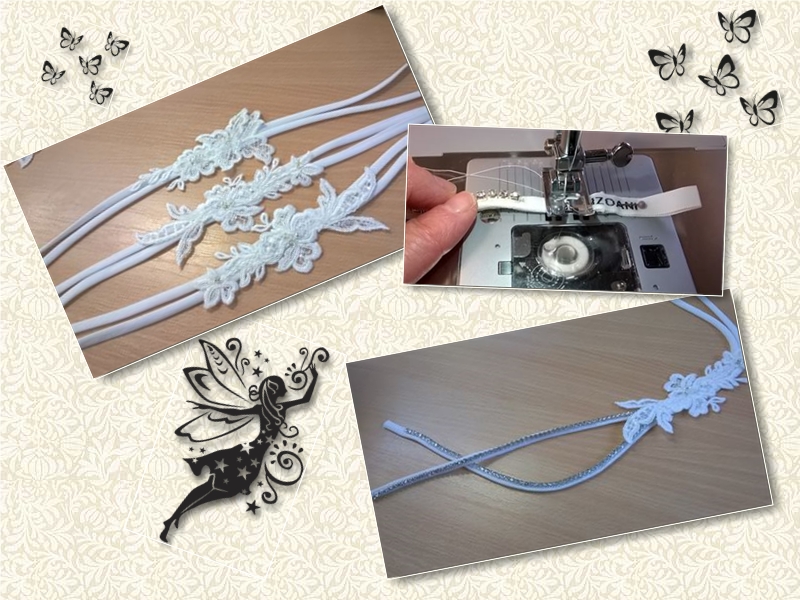 Two georgette straps are joined together at the centre and the new motifs are stitched into place, forming a decorative focal point which will sit on the shoulder of the bride.
Diamanté strips are then stitched along the length of each of the 'legs' formed by the separated parts of the straps. Although for the sample, we only stitch the diamantés along the back 'legs', the bride can choose to have them along both the front and the back or just the front/back, or none at all if that's what she wants.
Finally we stitch one of our woven labels with the allocated code number on to each sample, and they're ready to go.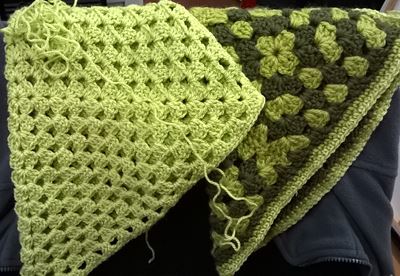 Day 143 - Sunday 23rd May 2021
I've crocheted the back for the green two-tone cushion, which is the last of my cushion WIPs. I need to crochet the two parts together now, but I'll need to find a small amount of a different green, as I don't quite have enough left of what I've used for the back. I shall have a look through my stash when I get home from work tomorrow.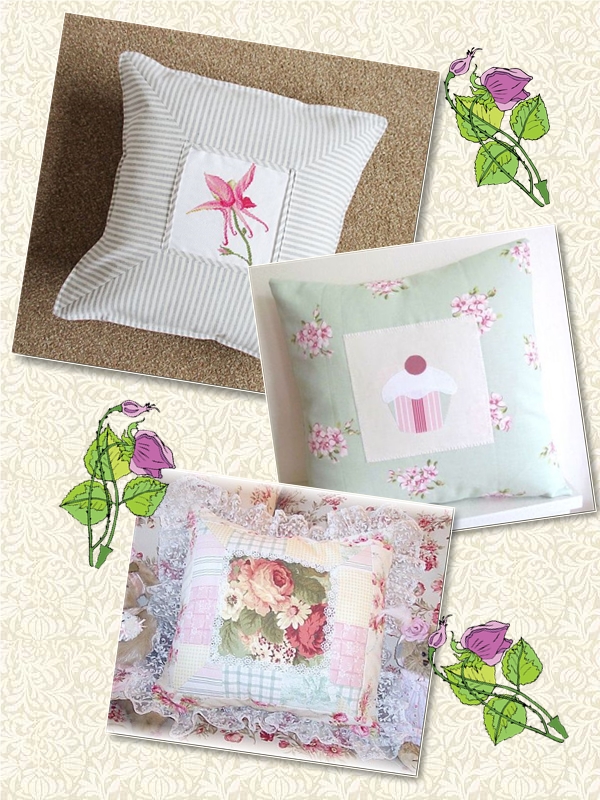 Day 142 - Saturday 22nd May 2021
I'm in the process of making up some cushions using the crocheted butterfly panel and the cross stitched flowers panels which I've recently finished from my WIPs.
There's not a lot to see at the moment, so I thought I would share some of the inspiration pictures I've gathered for these cushions.
I basically want to put the crochet/cross stitched panels in the centres of the cushions, and then surround them with pretty fabrics, lace, braid, ribbon and other trims to make them as feminine and 'vintage/shabby chic' as possible. Very similar to the ideas in this collage of pictures. I love the combination of a centre panel and printed fabrics.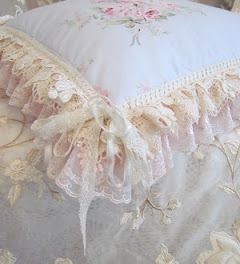 I love this idea of more than one layer of gathered lace, and additional trims on the corners of the cushion.
I think this might look quite nice on one or even both of the cross-stitched panel cushions.

I love lace insertion - I have fond memories of my Mam making me dresses with lace insertion around a square yoked neckline when I was a child!
The cushion I'm making with the crochet butterfly panel would suit this very well. The panel is filet crochet, which has a sort of mesh base, which would provide the holes for threading the ribbon through, without using actual lace.
So there you have it - these are the pictures I've been inspired by, and I'll use these to influence my finished makes. I usually start a craft project with some kind of inspiration.....it can come from anywhere - something I've seen on T.V. or in a shop, something from nature, a poem or story, etc.
I then like to find pictures of what I have in mind, and take it from there. I find Pinterest to be a very valuable source of images and I use it often!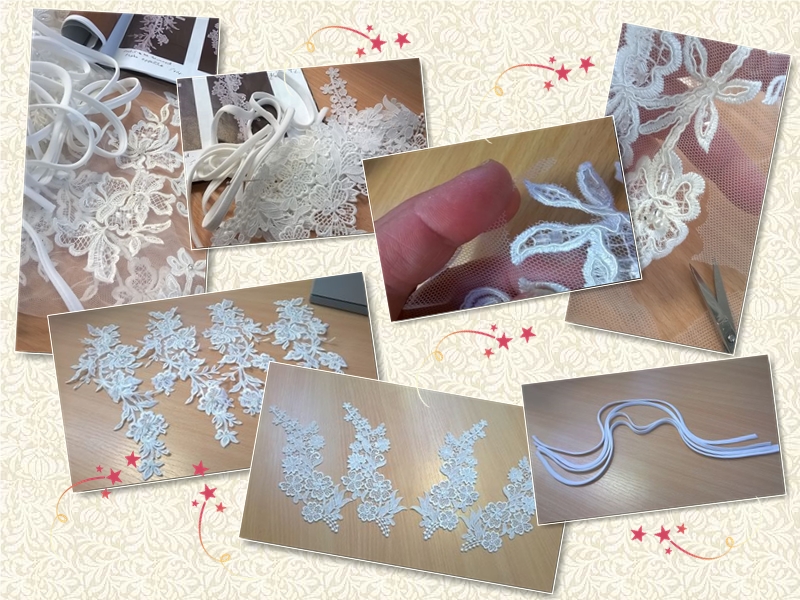 Day 141 - Friday 21st May 2021
Some more sample pieces for our customisation kits today. This time I was working on some particularly pretty straps.
The straps are made up by attaching lace motifs (some beaded and some unbeaded) to plain georgette straps.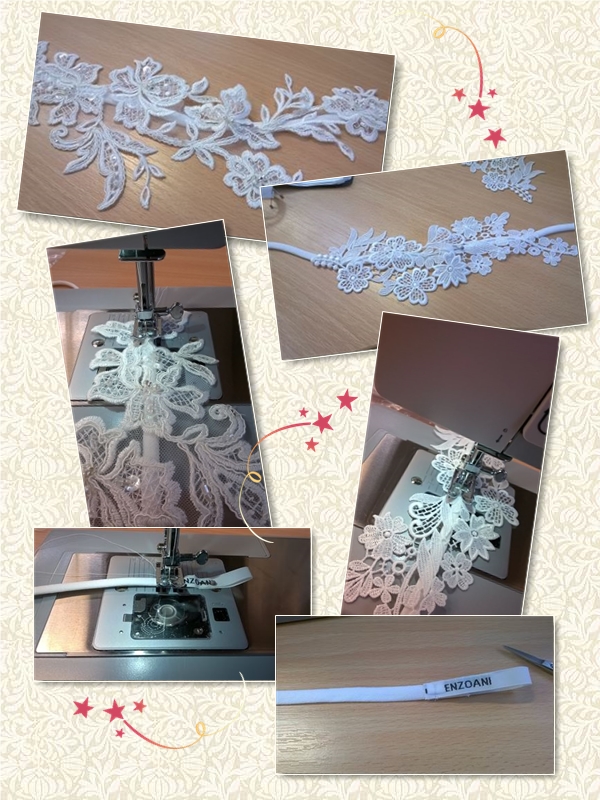 So I began by gathering all the components together, then cutting the motifs away from their tulle backing (where needed) and securing any beading which may have come adrift during this process.
Next I carefully pinned and then stitched each motif to each strap, and finished off by adding one of our woven labels. Each sample has an unique number so that our stockists can be sure they are ordering the correct sample style for the bride.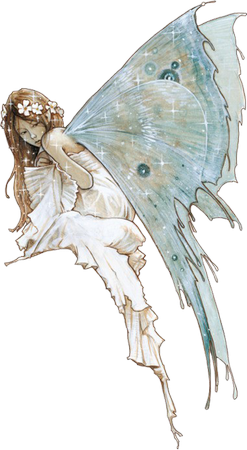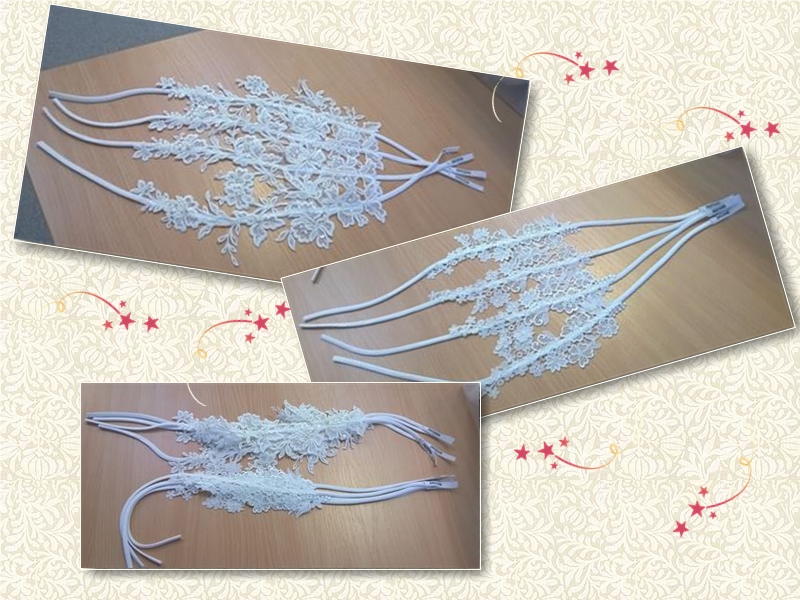 And there we have it - two different styles of pretty lace straps, ready to go into our customisation kit boxes and wing their way to our stockists, so that brides can choose something a little bit different to enhance their chosen gowns.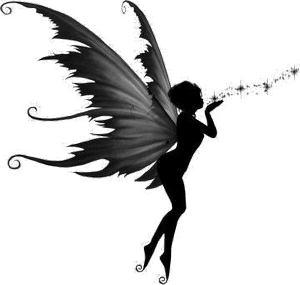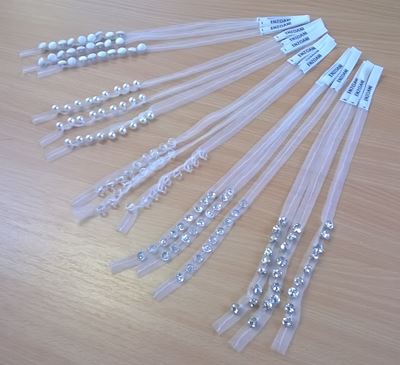 Day 140 - Thursday 20th May 2021
Today in work it was all about the buttons!
One of the customisations which we offer to brides is an addition or change of buttons.
Basically, when a bride has chosen one of our gowns, she can choose from six different styles of buttons which we offer to carry out one of the following customisations:
Add buttons to a gown which currently doesn't have any.
Change existing buttons on a gown to different ones.
Extend how many buttons are currently on the gown....for example, if buttons are only used from the neckline to the bottom of the zip, and the bride feels she would like to extend them down to the hem or to where the skirt flares out.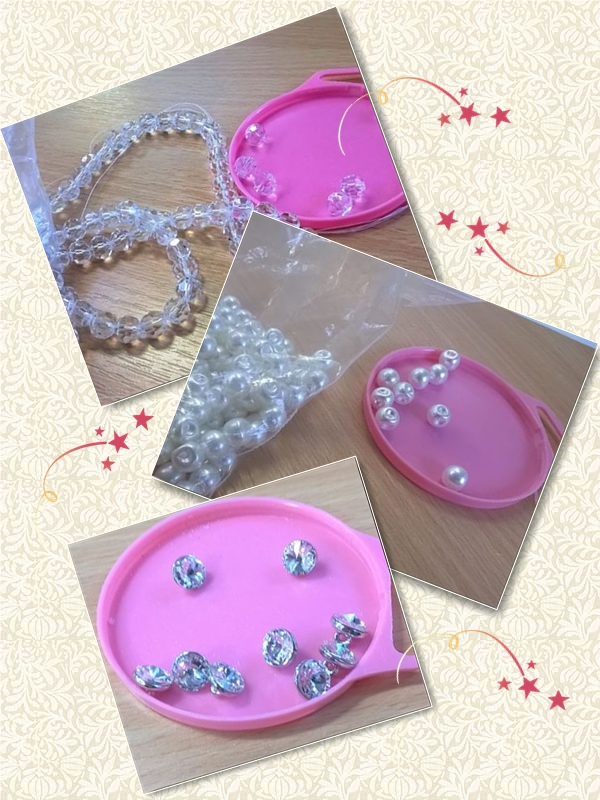 Our six button designs include simple covered buttons in satin or tulle, pearl-effect buttons, dainty three-layered buttons, and sparkly buttons in either cut glass or Swarovski crystal, which catch the light and gently reflect colours like tiny prisms!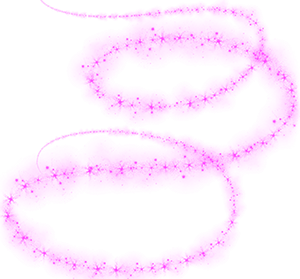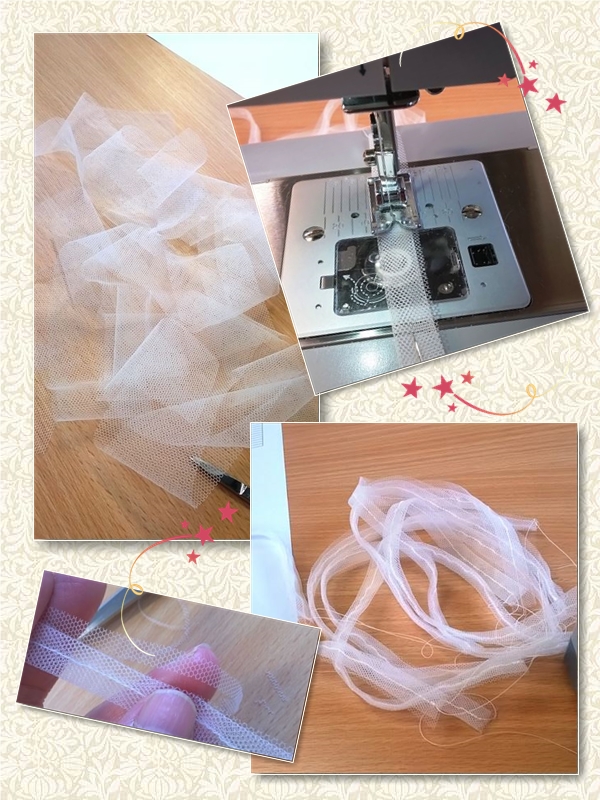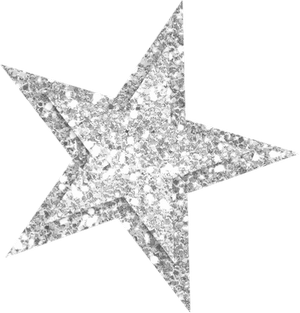 Today I've been making up strips of buttons to use as samples in our customisation kit boxes.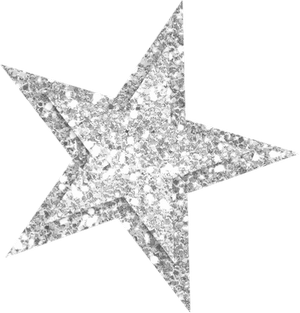 For this I cut out strips of tulle, then fold and stitch them along the longest edge to form a three-layer strip. I then trim them so they are neat and give them a press.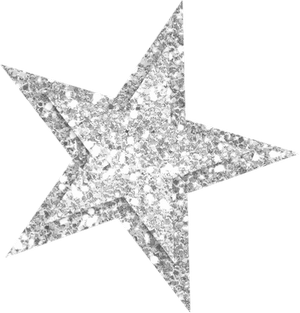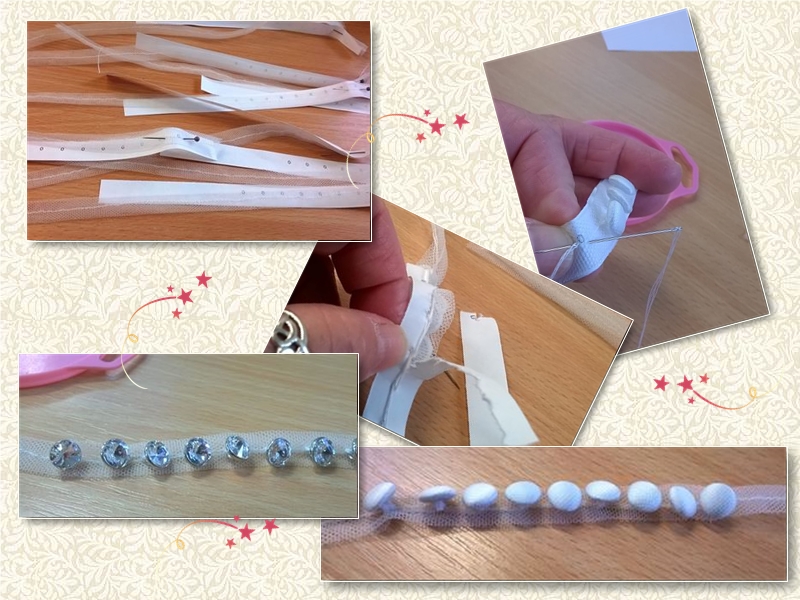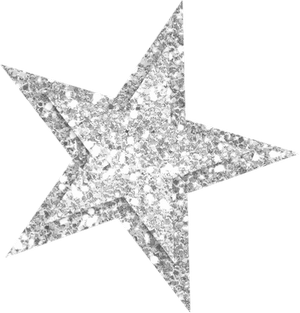 Next, I stitch nine buttons along the strip, using a printed paper guide so that they are evenly spaced, tearing the paper away when the row is complete.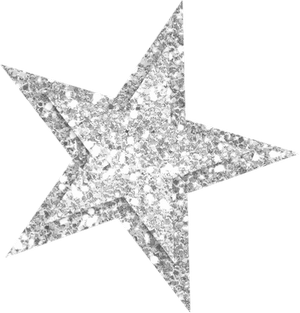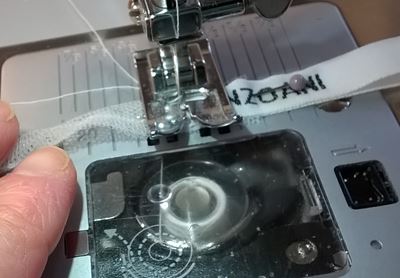 I finish off by stitching one of our woven labels to the top of the strip.
A strip of each button design is then put into each kit box, so that the retailer can use the strips to hold against a gown, in order that the bride will have an idea of what the buttons will look like on her chosen gown.
Tomorrow I'll be working on some strap samples, so watch this space!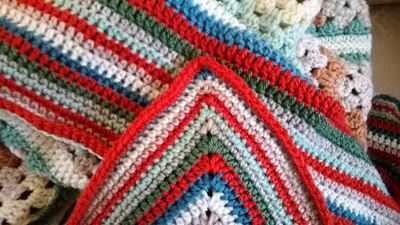 Day 139 - Wednesday 19th May 2021
I've had a bit of a dilemma with my cwtchy blanket. I've been doing single crochet rounds as part of the border, and to use up yarns. However, when it came to the blue yarn, I ran out of it with about a third of one side to do!
I bought the yarn quite a few years ago at Hobbycraft, as part of a pack, so no hope of getting any more there. I've checked out all the local yarn stockists, and looked online but there is nothing which is near enough to the colour. I was thinking that I would have to undo the whole round, and miss that colour out of the final rounds before I scallop, which was an annoying thought!
Then I had a brainwave - to undo the round, then use a smaller hook to go around, which should take less yarn. Nope, that didn't work!
Then I had another brainwave - I went around using a slip stitch instead of a single crochet. I had enough yarn, and it's ok. The round is obviously slightly narrower than the single crochet ones, but you can still see the colour, so that's ok - at least the colour's there. It's not ideal, but it will do.
The only thing I'm finding now is that the edge is curling slightly, but I'm hoping that this will sort itself out once I've completed the two remaining single crochet colours, and have put the scallops on the edge. Also a good steam will help. Fingers crossed!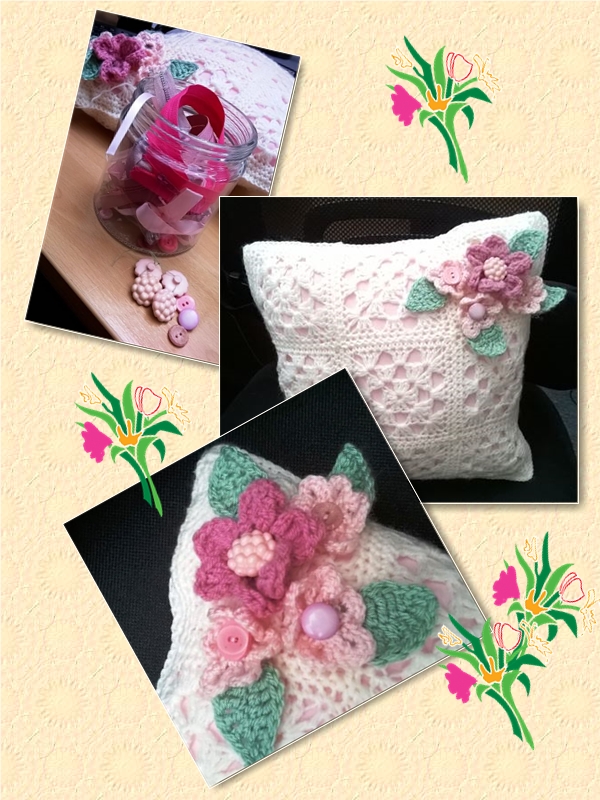 Day 138 - Tuesday 18th May 2021
Today I finished the cream crochet cushion with pink flowers.
I crocheted it together to close it, and then found some lovely vintage buttons in my stash to use as flower centres. I'm so pleased with it!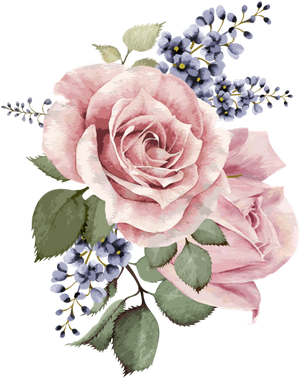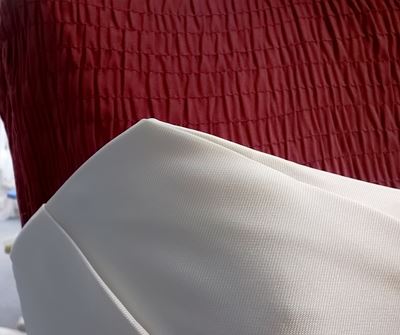 Day 137 - Monday 17th May 2021
I've been working on a fairly simple customisation. The bride has purchased a gown with no embellishments, and wants to add a bit of bling, so has asked for some sparkly straps.
We have a strap in our customisation kit which is a georgette base, with a row of sparkly diamantés stitched along the length. This is perfect to add just a little bit of glamour.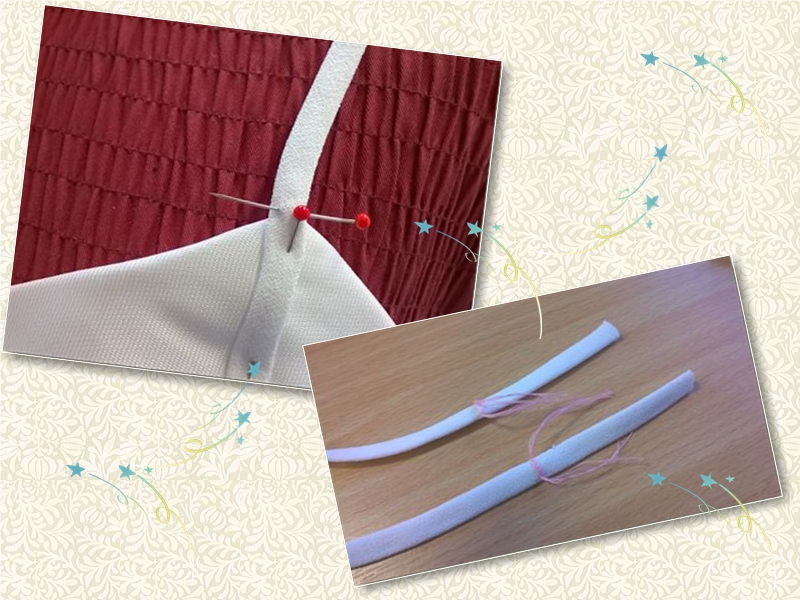 I started by pinning the strap base to the gown on each side to determine the placement of them when they will be attached.
Then popped a tailor's tack on each end of each strap to mark this properly.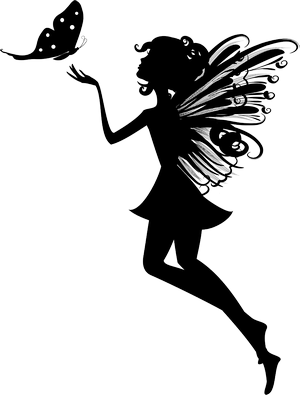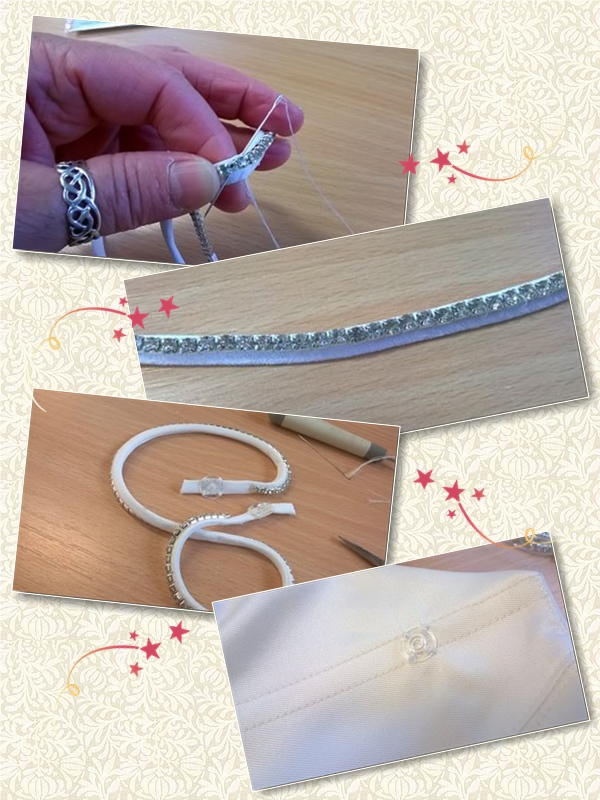 Next I stitched the row of diamantés carefully along the strap, put male halves of poppers on each end of the straps, and corresponding female halves inside the gown where they will attach.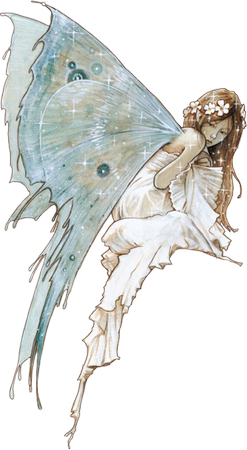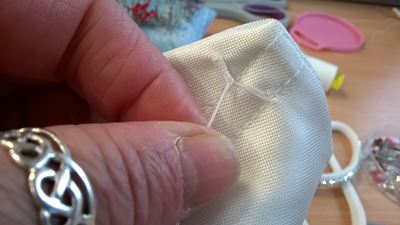 Finally I hand stitched four little chain bars inside the gown near the top, in order to anchor the straps in place, so that they don't wobble around.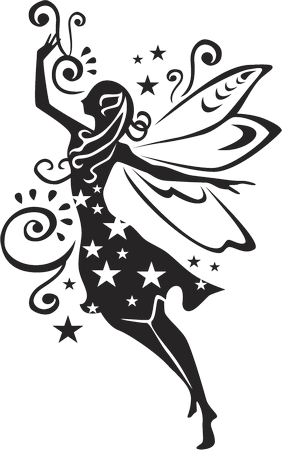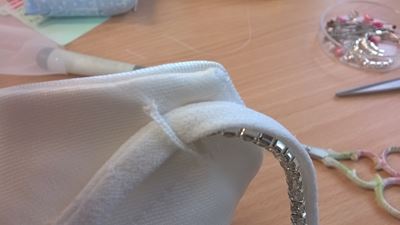 Unfortunately, I forgot to take a photograph of the finished straps on the gown! So you'll just have to take my word for it, that they looked fab!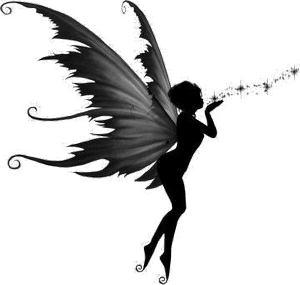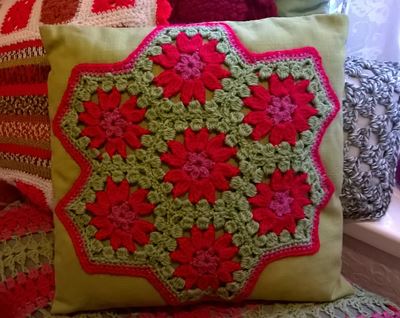 Day 136 - Sunday 16th May 2021
Another of the WIP cushions finished. All I needed to do was hand stitch the top seam closed, and stitch the crocheted motif on the front, which I did today in the sunshine up at Craig-y-Nos Country Park.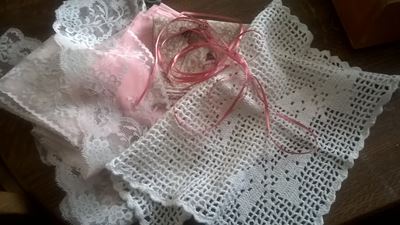 Day 135 - Saturday 15th May 2021
I've been sewing today and working on the cushion with the filet crochet butterfly panel.
I started by gathering all the materials I need together. I went through my lace stash for something pretty to put around the edge as a frill. I knew I had some butterfly lace, and I do, but I don't have enough for this project, so I'll save it for another butterfly-themed project, and I've found some wide, pretty pink/grey lace which I can use instead.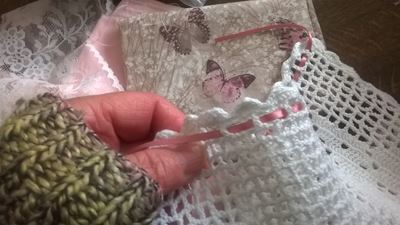 First step was to thread some narrow pink ribbon around the edge of the butterfly panel. The holes in the mesh of filet crochet lend themselves well to this. It reminds me of the old-fashioned lace insertion technique.
So I threaded the ribbon in and out of the outermost set of holes......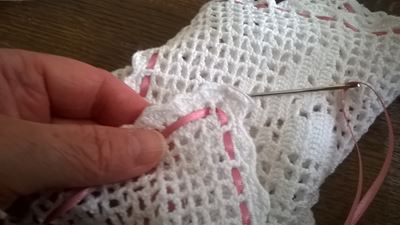 ......taking care to fold the ribbon neatly at each corner so that it sits nicely.
For now I've pinned the ends in place, but when the cushion is finished I'll adjust the ribbon to fit properly and then stitch down the ends. I'll probably also trim each corner with a small bow or a butterfly charm.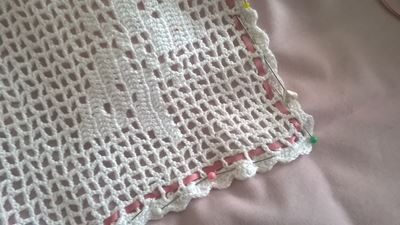 Next I needed to pin the panel in place on the pink fabric.
For now, I've cut the pink panel larger than I need, because I'm aware that because of the nature of the crochet, it is likely to stretch to its full size when I'm stitching it into place......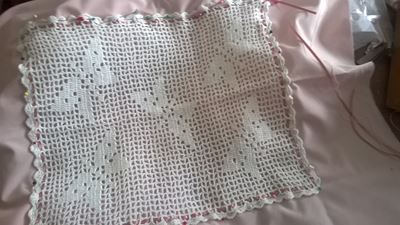 ......so really the pinning is just a guide at this stage.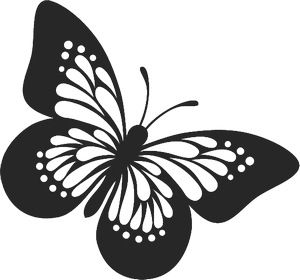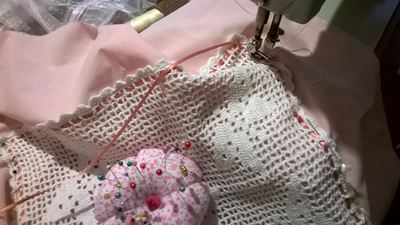 Now the next step is to stitch the panel in place which I will do over the next couple of days.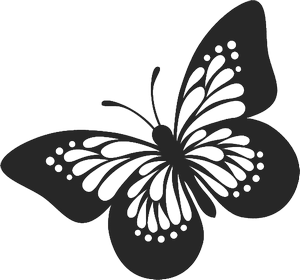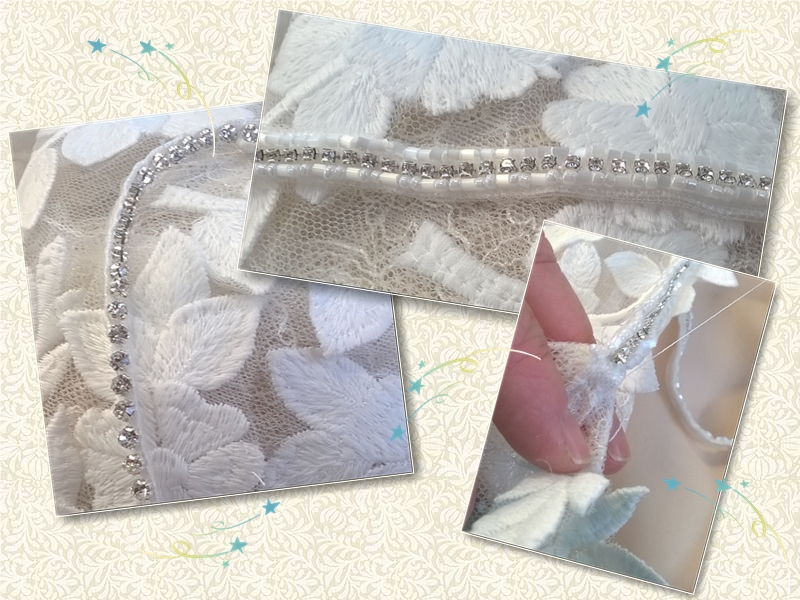 Day 134 - Friday 14th May 2021
At work today I was working on a customisation. The bride wants to change the straps on her gown from the strap in the first picture to the strap in the second picture.
I got as far as taking the old straps out, and stitching in the new ones. I need to do all the finishing off, which I'll do on Monday!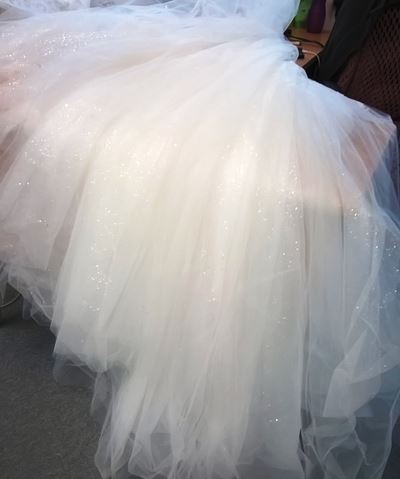 Day 133 - Thursday 13th May 2021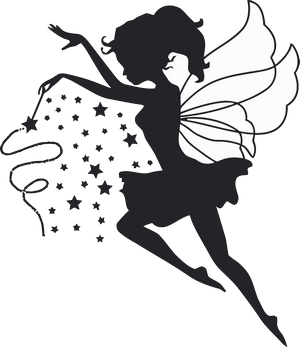 Just a simple appreciation of the deliciousness of the skirt with the sparkly layer, draped over my table as I was finishing it off. I just love the folds of the drape, and the sparkle of the fabric. That is all - no more, no less.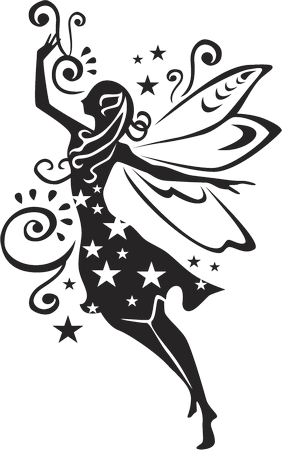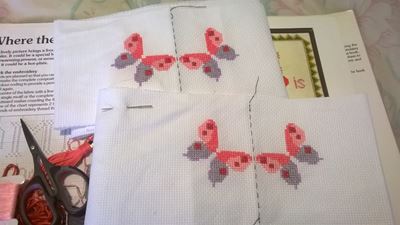 Day 132 - Wednesday 12th May 2021
A little bit of cross stitching today.
I've finished the wings of the butterflies for my towels borders, and just have the bodies and antennae to do, before starting on the trailing periwinkles either side.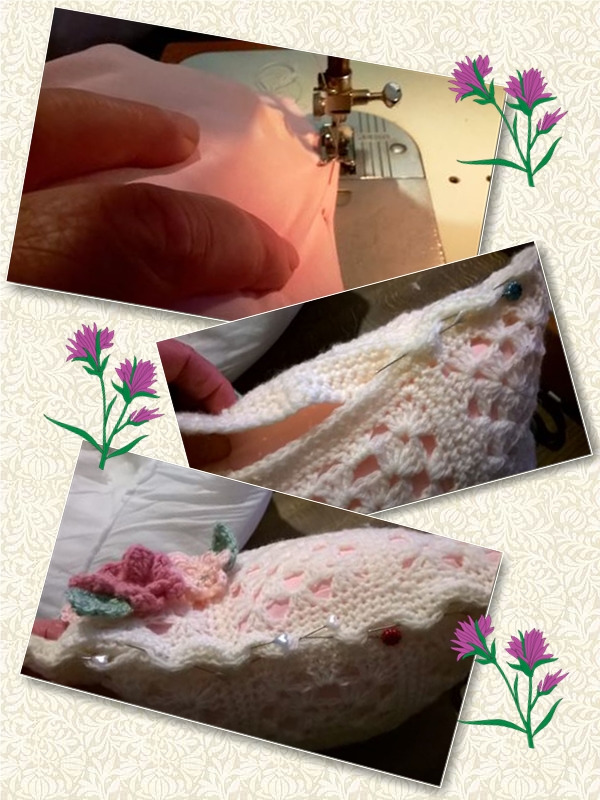 Day 131 - Tuesday 11th May 2021
A bit of work on the cream crochet cushion with pink flowers.
I made a cushion pad for it, using some of the fabric from the pink duvet cover. That 50 pence bargain is going a long way! Haha.
Then I popped the cushion pad inside it, and have pinned it together ready for me to crochet it closed. I also need to find some pretty buttons or beads to go into the centres of the flowers.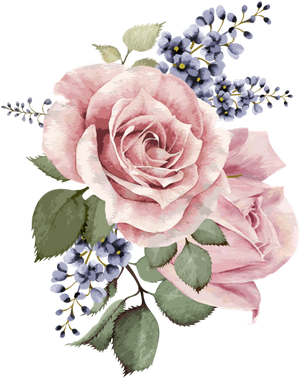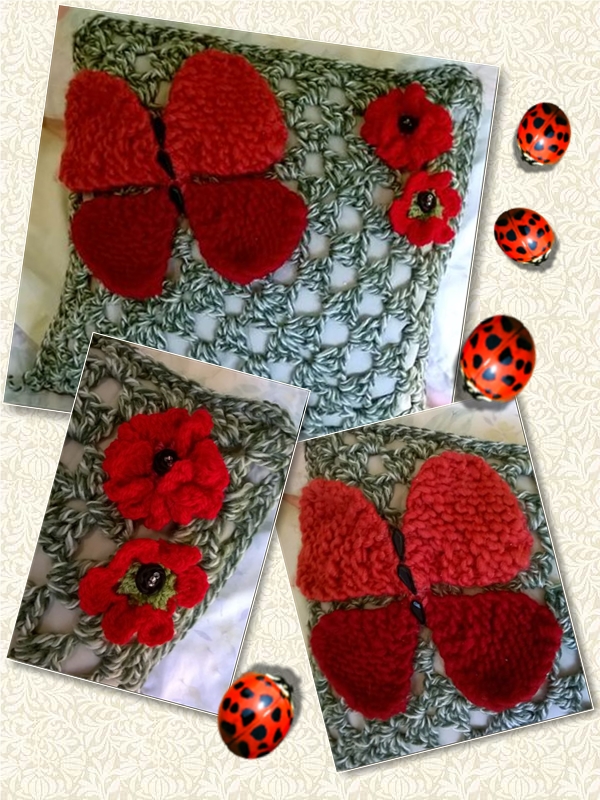 Day 130 - Monday 10th May 2021
Another cushion WIP finished - one of the red & green colourway ones.
I added some black beads to the butterfly for a body, and some black buttons and clear beads to the flower centres
Because the large beads are partly stitched and partly glued, I couldn't get them to sit quite flat and straight.... but it's ok - I have it on good authority from the fairies that all the best butterflies have wibbly bodies!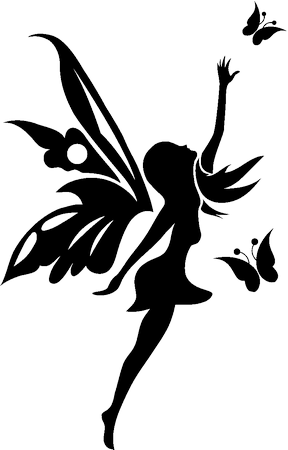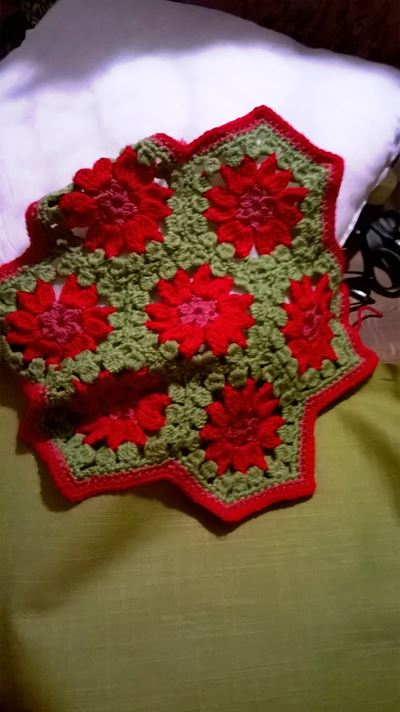 Day 129 - Sunday 9th May 2021
One of the cushion WIPs which I have been making in the red and green theme.
I decided to make a plain green cushion from some lovely cotton twill and stitch the hexagonal crochet panel - centred - onto the surface.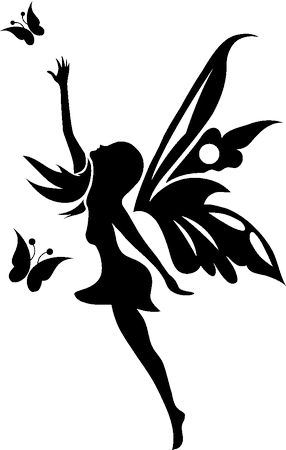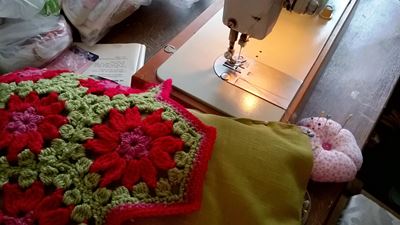 So today I've been making up the green cover for a ready-made cushion pad and pinning it closed along the top edge......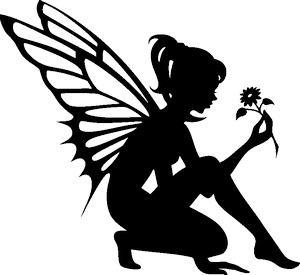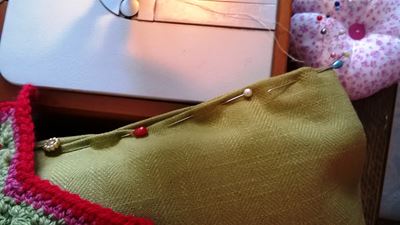 ......ready to be stitched closed neatly by hand, before stitching the motif onto the front. If I was putting an entire crochet cover over the top, I would just machine (top stitch) the opening closed, but since the green fabric is forming the main cover, I want the closure to be as inconspicuous as possible, hence the hand-stitching.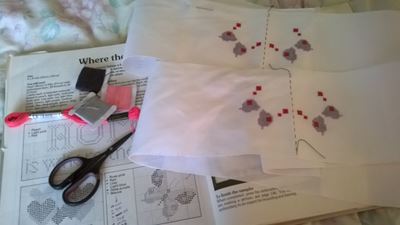 Day 128 - Saturday 8th May 2021
Back to the cross stitched towel borders.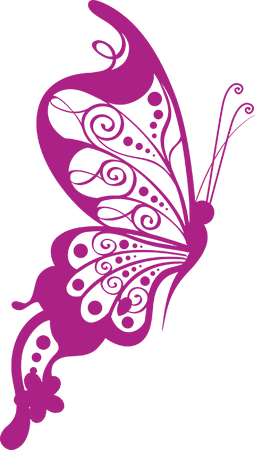 The butterflies are now starting to resemble........well, butterflies!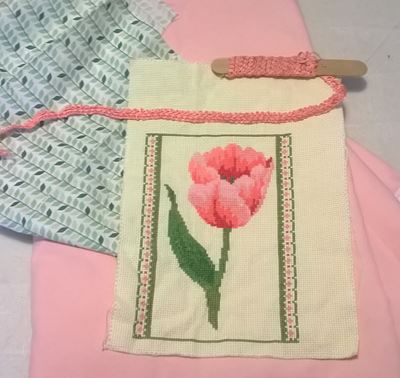 Day 127 - Friday 7th May 2021
Even more sewing preparation!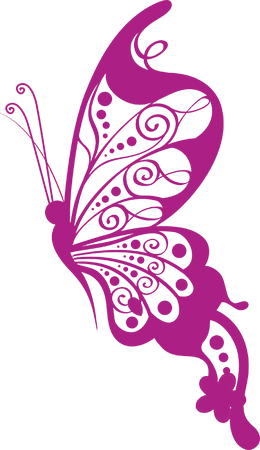 This time it's the lovely tulip cross stitched panel, which has been washed and is ready to be made into a cushion.
I'll be using the pink duvet cover fabric for the front of the cushion......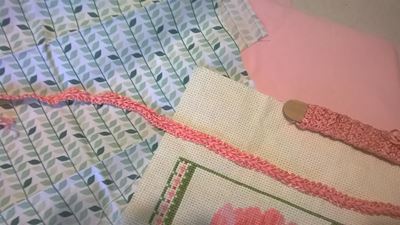 ......and the leaf design fabric for the back.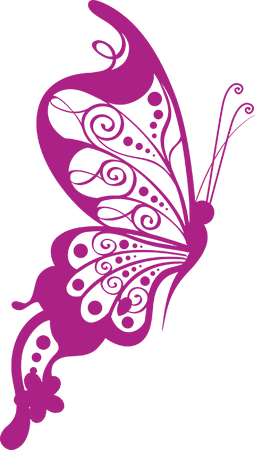 I'll finish off by edging the tulip panel with this lovely braid if I have enough, or something similar to it, if not.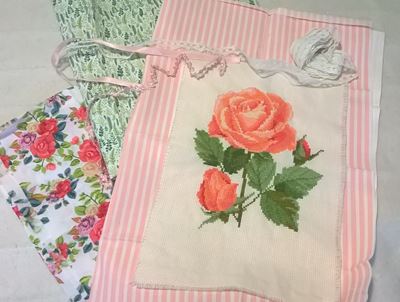 Day 126 - Thursday 6th May 2021
More sewing preparation.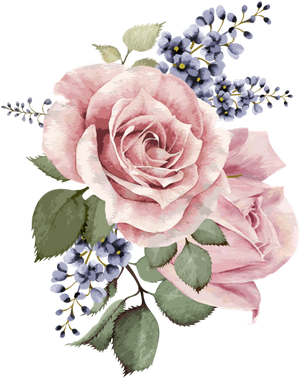 I've now washed this lovely cross stitched roses panel and can make a pretty cushion from it.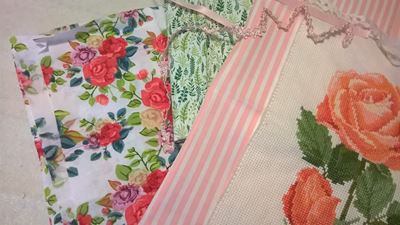 I'll be using the pink and white candy stripe fabric to mount the panel on for the front of the cushion.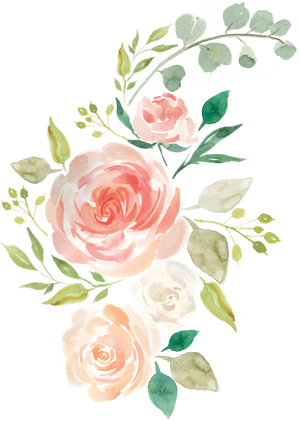 I haven't decided yet whether I will use the floral fabric or the mini print leaves fabric for the back of the cushion, but at the moment I am leaning towards the green leaves.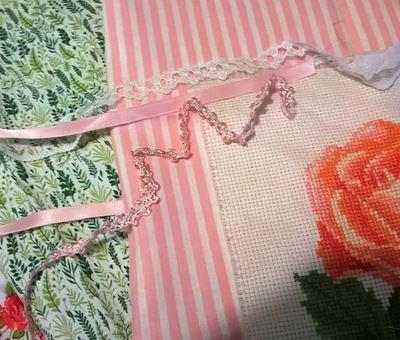 To avoid any raw edges from the Aida fabric which the roses are stitched on to, I'll use some ribbon and lace, or some braid to edge the panel...similar to the ones in the photographs, but I'll probably need to buy some new, as I only have short lengths in my stash.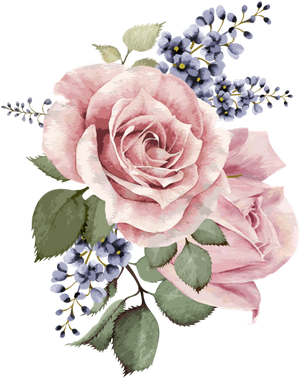 As with the butterfly cushion, I now need to wash the fabrics, which are new, to allow for any shrinkage, before I use them to make up the cushion. It'll be really nice to see this as a finished cushion after it being in cross stitch form for so long!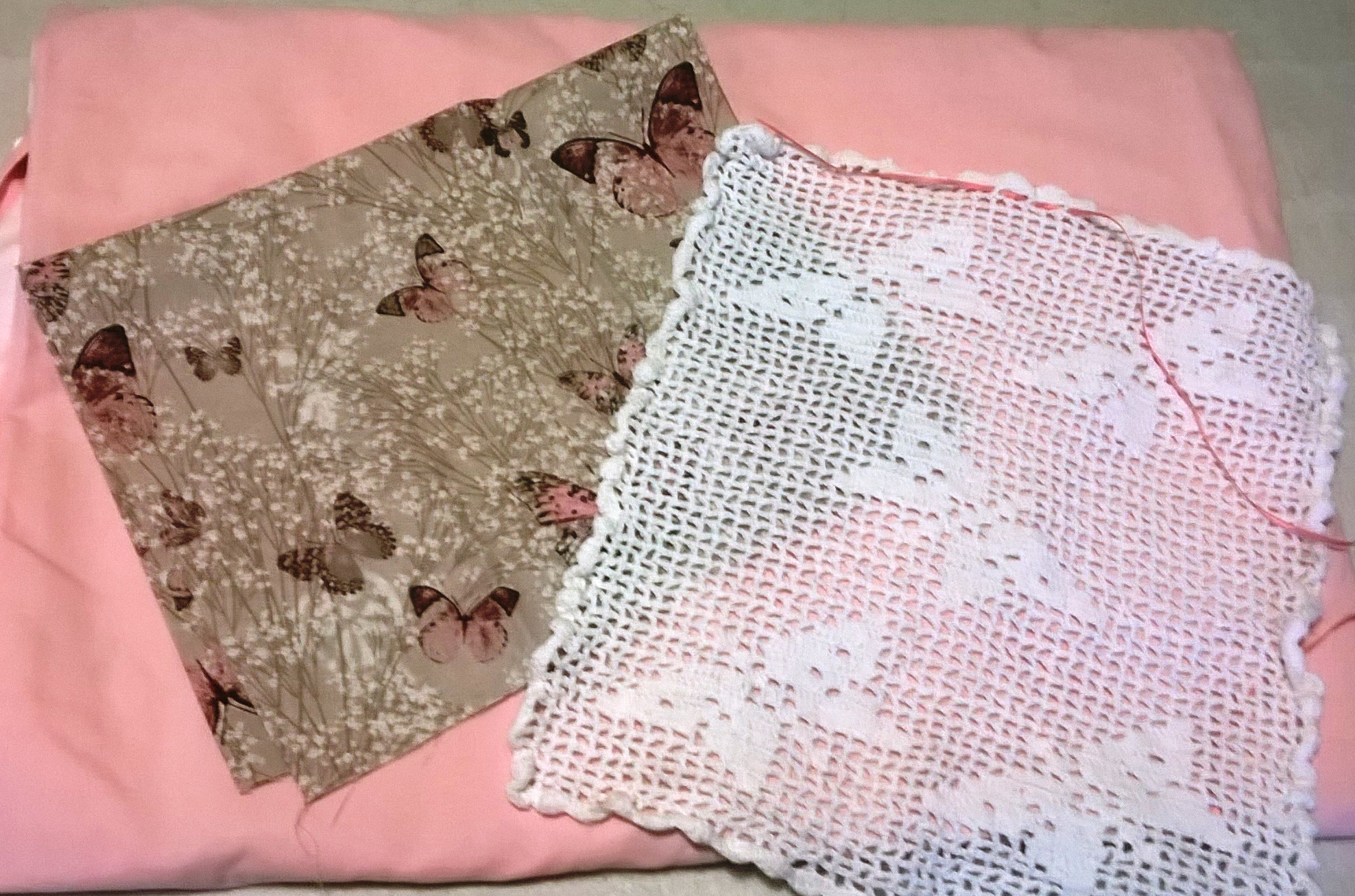 Day 125 - Wednesday 5th May 2021
Some sewing preparation.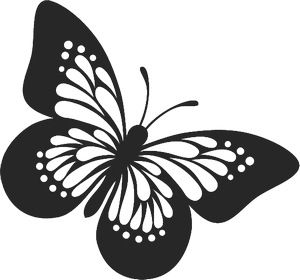 I made this filet crochet butterfly panel a few years ago and now I want to make it into a pretty cushion, so I've been looking for suitable fabrics.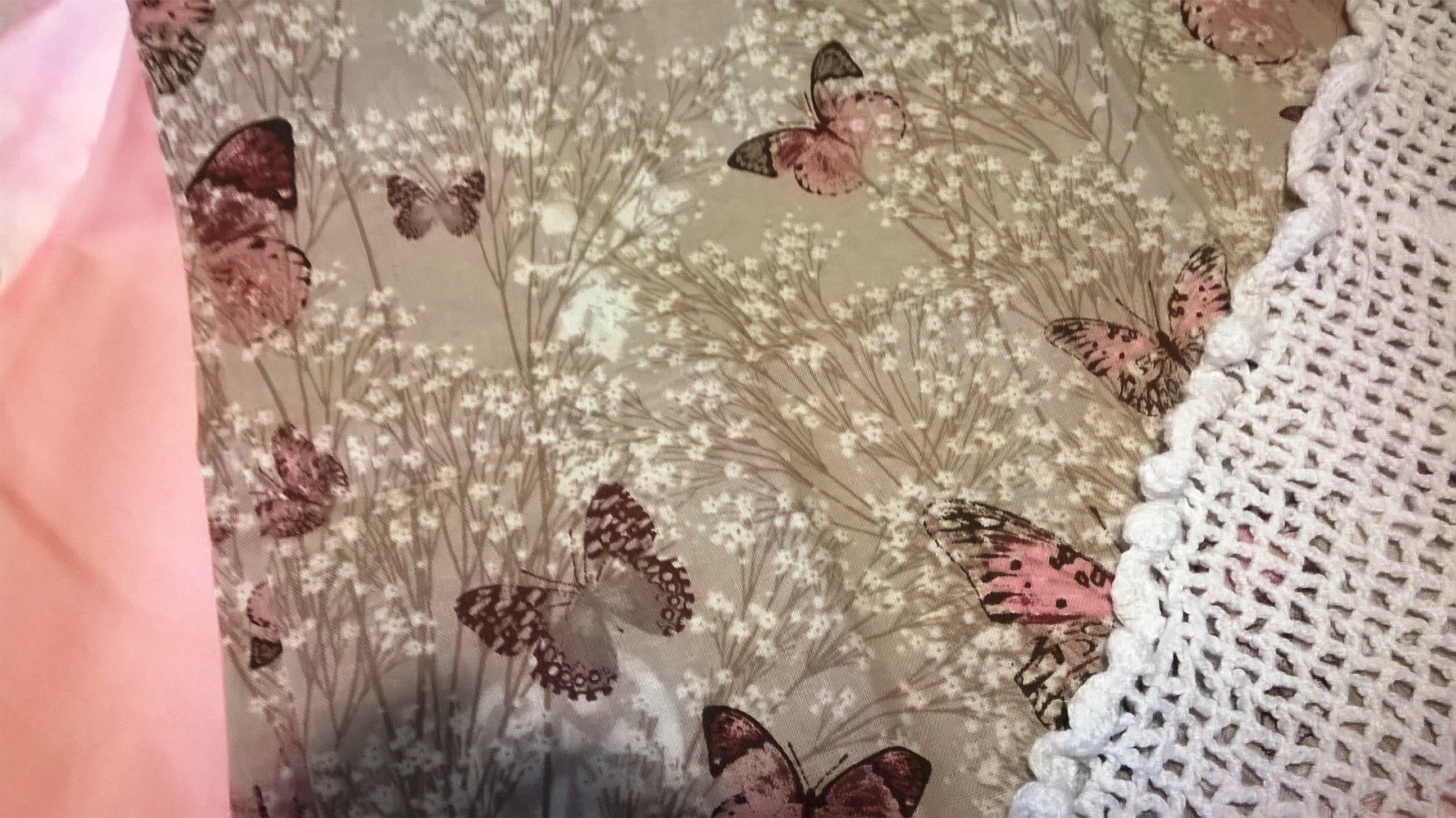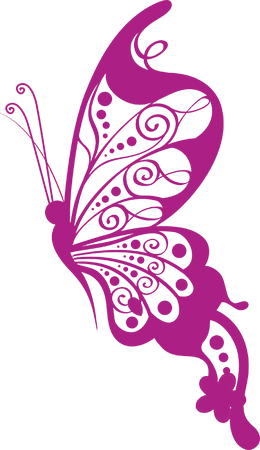 I'll make the front of it from the plain pink fabric, which is in fact a single duvet cover which I recently bought at a bootsale for 50 pence! I think the colour shows through the panel fabulously.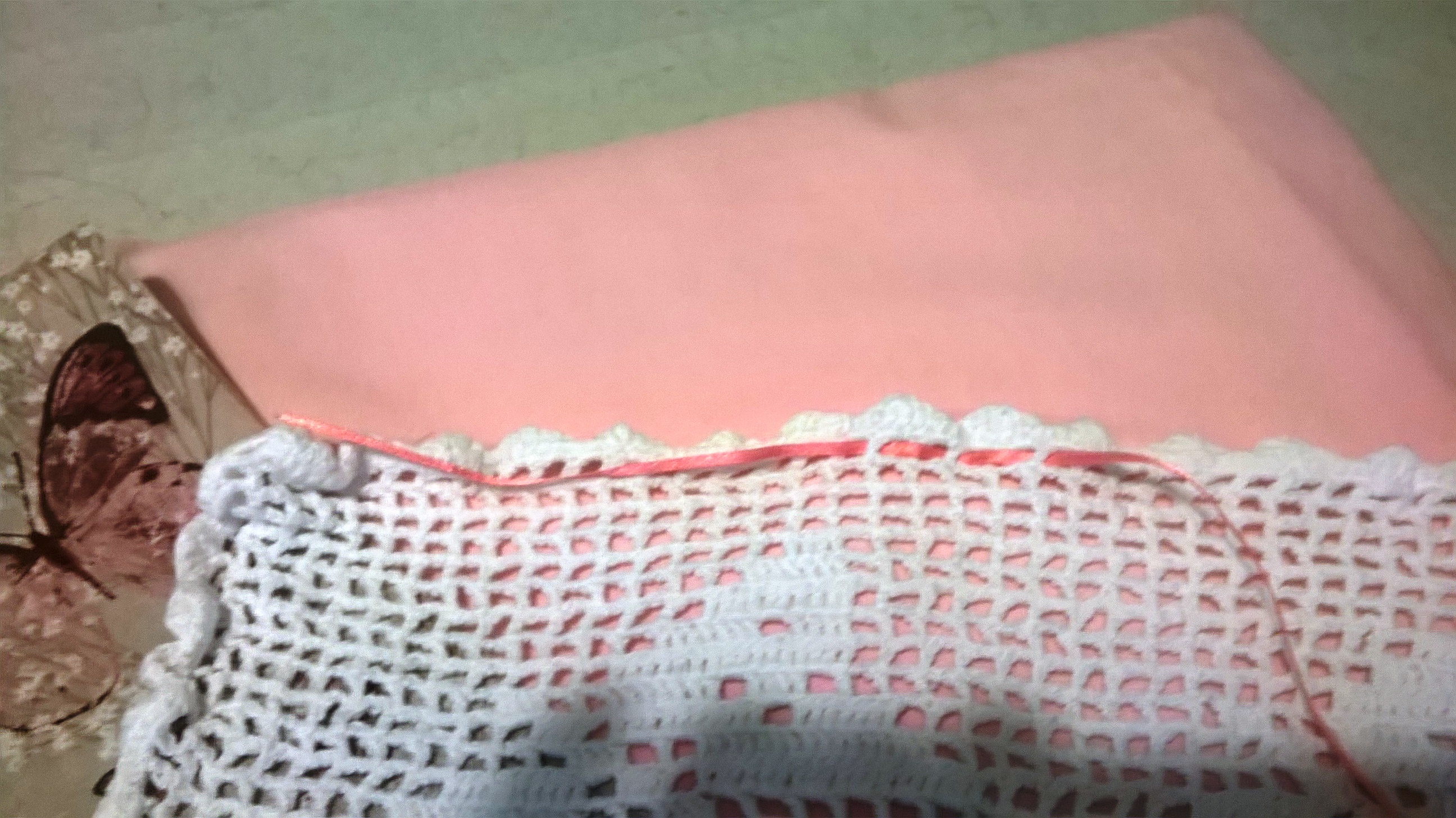 To finish it off nicely I'll thread some narrow pink ribbon through the edge of the panel - a bit like the old-fashioned lace insertion idea. I like the colour of this one, but I only have a short length of it, so will try and get some in the same colour at some point over the next few days.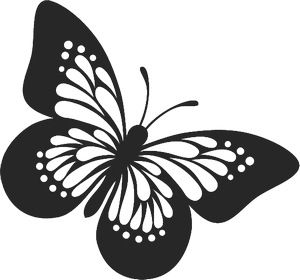 Now I need to wash the butterfly fabric because it is a new piece - part of a 'fat quarter' set I bought a while ago - to allow for any shrinkage, and wash the duvet cover just to freshen it up, before I work with the fabrics to make up the cushion.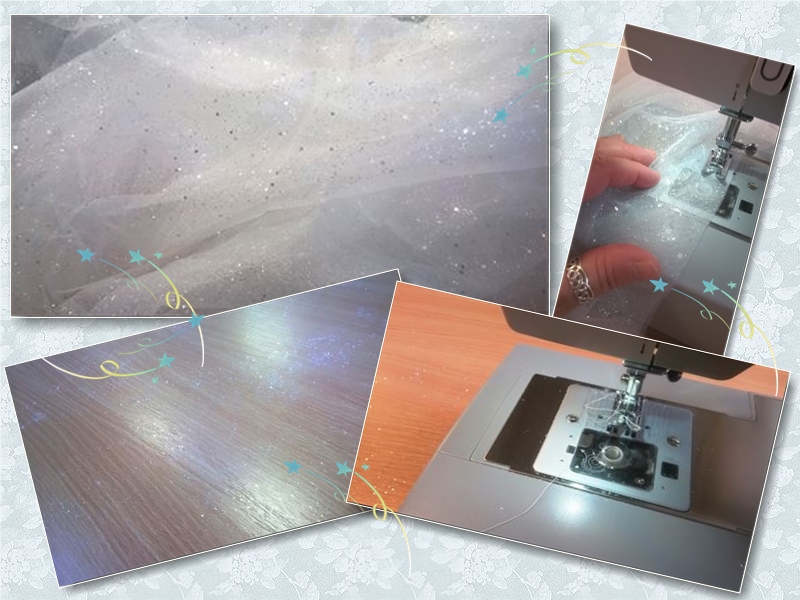 Day 124 - Tuesday 4th May 2021
A yummy fabric day at work!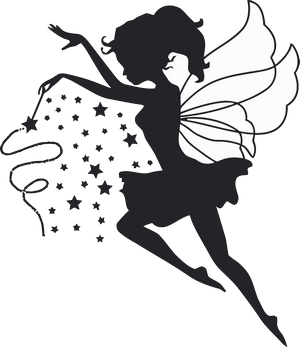 I've customised quite a few gowns lately by adding a layer of sparkly tulle under the top layer of the gown, and they always look so lovely when they're finished.
I haven't used this particular sparkly tulle before, and it is so nice!
Unfortunately it does shed glitter quite a bit, so I've been leaving a sparkly trail.....on my desk....on Martha my trusty sewing machine.... and on myself so that it comes around the building with me, and of course comes home with me at the end of the day! Haha. It's fun to feel like a sparkly fairy! Oh, and it's ok - there's still more than enough sparkle left on the fabric, so the bride can feel like a fairy too.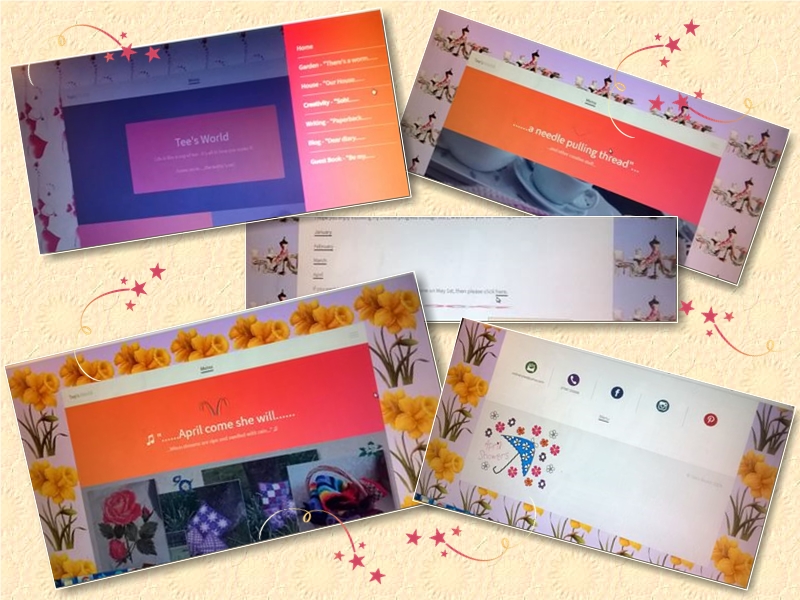 Day 123 - Monday 3rd May 2021
More website housekeeping creativity.
This time to archive the 365 Days Of Creativity posts for April. Usual stuff - I set up the page, moved the posts across from the main creativity page, changed the blurbs, gave the April page some suitable April showers & rainbows images, and made a collage picture for the top of the projects completed during April.
Then I linked it all up so that it's accessible from the main creativity page, and that's that!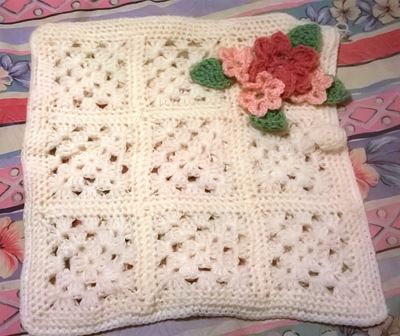 Day 122 - Sunday 2nd May 2021
Cushions! Well, there's a surprise! Haha.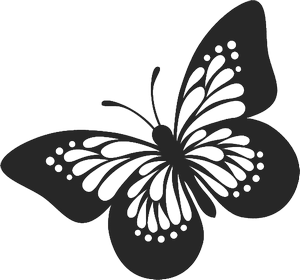 Just as I think I'm at the end of the cushions WIPs, another one turns up. This is just a plain cream cushion cover, made up of small granny squares, and I just added some crocheted flowers and leaves to it, made from oddments. I need to find a few beads now to go into the centres of the flowers, and then find or make a cushion pad to put it on.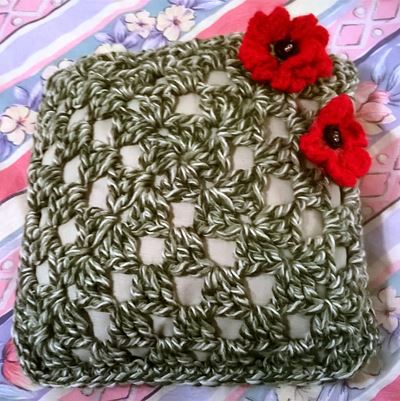 This is the flower-embellished cushion which accompanies the one with the butterfly on. I have embellished the butterfly on the other cushion with black beads, but because the beads have holes only one end to stitch them on, I need to secure them down with some fabric glue, so I'll do that in the next couple of days and then post a picture of it.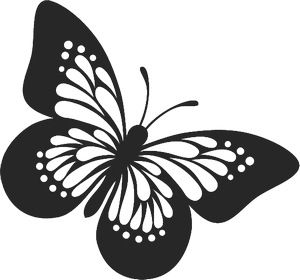 In the meantime, I've added buttons and beads to the flowers on this smaller one......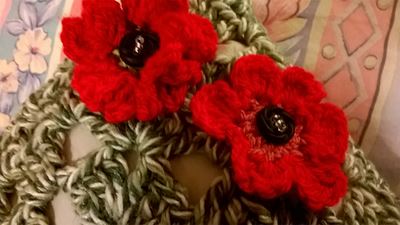 ......and here are the flowers close up.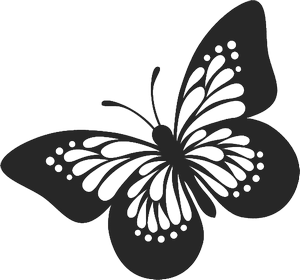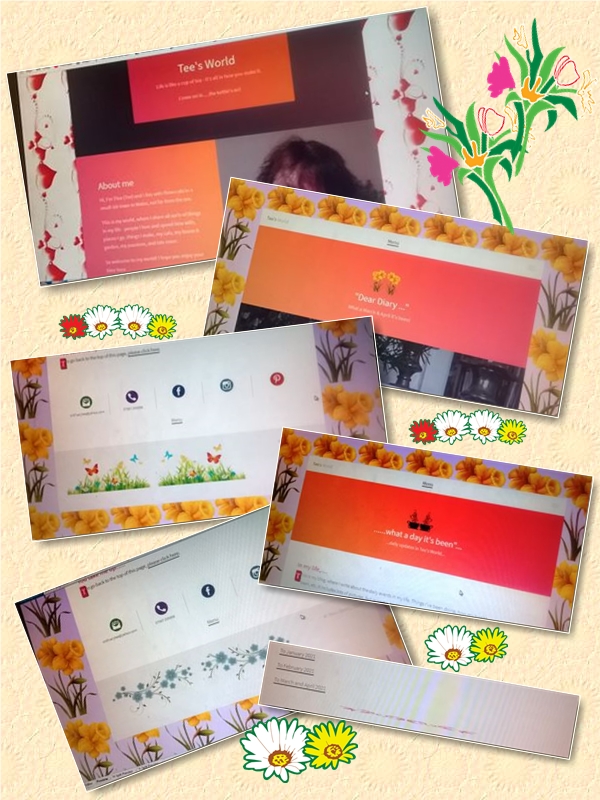 Day 121 - Saturday 1st May 2021
Some website housekeeping creativity today.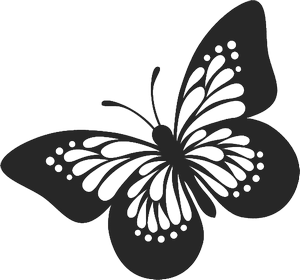 I've now archived the blog for March and April. I've done them on a combined page, because there were a couple of weeks at the end of March and the beginning of April that I had got behind with the blogging and did one catch up blog combining and covering all those days.
So I've set up the new page, moving all the relevant posts over to it from the main blog page......put a new banner picture at the top of it, given it a lovely spring background, some daffodils at the top and some spring flowers along the bottom, and have written a blurb about the two months.
Back at the main blog page, I've changed the blurb at the top, put some May time style flowers across the bottom border, and added a link to the new archived page. The main blog page now has only the current month on it, which should cut down loading times for anyone who goes there. From here on in I'll archive each month as it comes to an end.

Up, up and away......
Back to the top of this page..
Back to the main Creativity page..
07597 205956