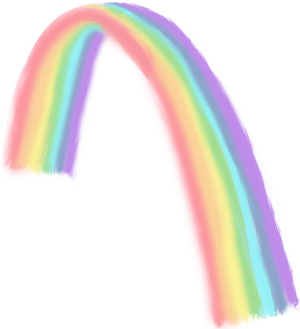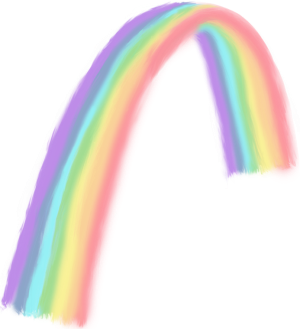 ♫ "......April come she will......
...When streams are ripe and swelled with rain..." ♫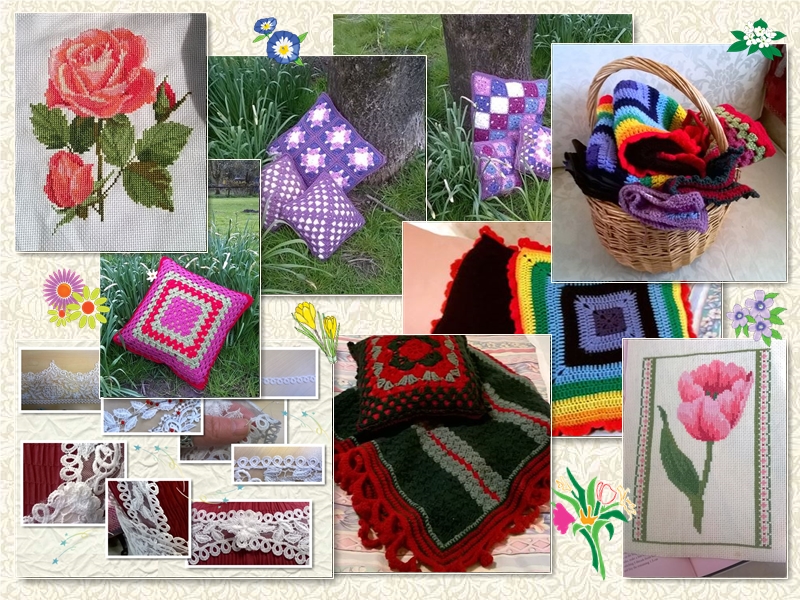 Lyric snippet from "April Come She Will" by Simon & Garfunkel.
Please click here if you would like to listen to it via YouTube.
April.......

365 Days of Creativity - ♫ "April come she will" ♫ ....she came and went in the blink of an eye!
April has been another creative month.
Inspired by the new season of "The Great British Sewing Bee" I got out my sewing machine to make up some cushion pads and covers so that I could finally finish some of the crocheted cushion cover WIPs.
I've also been creative in my job with some lovely customisations on beautiful gowns, I finished two cross stitch panels which will become cushions, and started on some pretty cross stitch borders for towels. I've made updates to my website, and of course there is that learning to spin journey, which I've only just begun, but I'm sure I will make some progress on during May.
We've had very mixed weather during April, but there has been some lovely sunshine and I've enjoyed crafting in the sunshine and fresh air up at Craig-y-Nos Country Park.
I'm looking forward to see what creativity May brings.
If you want to look at the posts from the first one on April 1st, then please click here.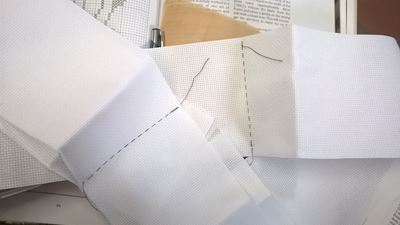 Day 120 - Friday 30th April 2021
I was keen to start stitching my new cross stitch project today.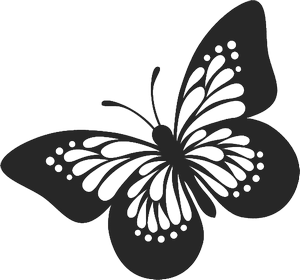 First though I needed to prepare by marking out the centre of the design on the fabric with a row of running stitches.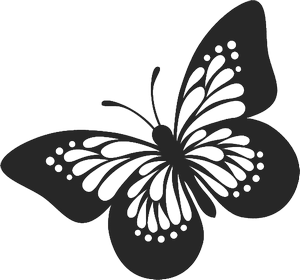 On checking through my threads, I only have one of the colours to do the periwinkle design, so I'll need to order the ones I need online.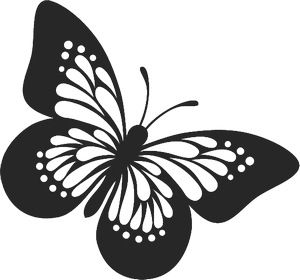 In the meantime, I've started stitching the butterflies for the centre of the design for each of the bath sheets.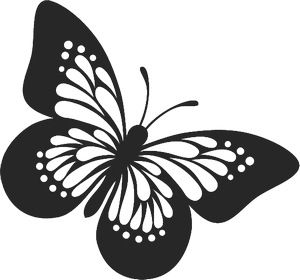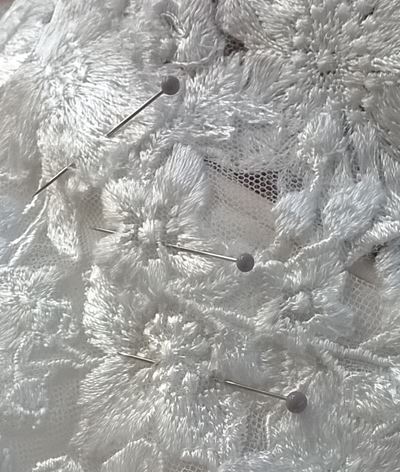 Day 119 - Thursday 29th April 2021
Today at work, my time was spent finishing off the gown with the lovely printed tulle.
I needed to stitch back all the appliqué which had needed to come off, and replace any buttons and other fastenings, etc.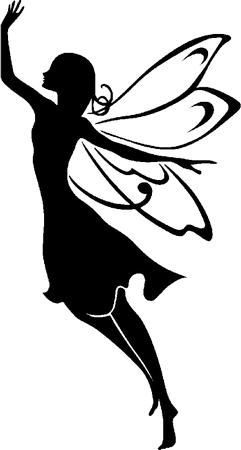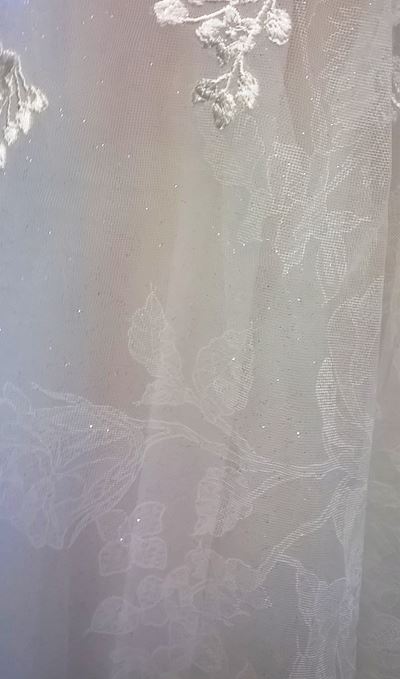 If you look carefully in this picture, you can just about make out the sparkle underneath the patterned tulle.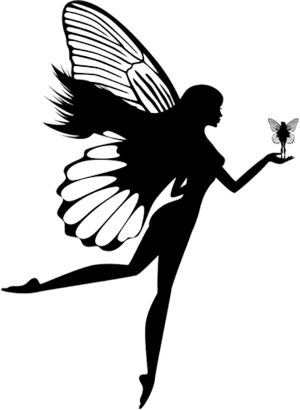 Another job done and another personalised lovely gown on its way to a bride. 😊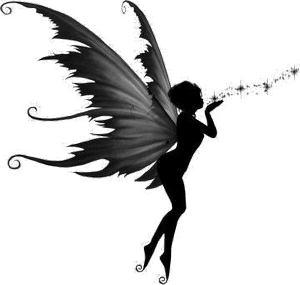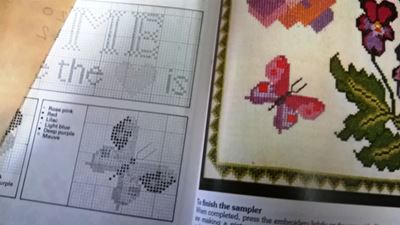 Day 118 - Wednesday 28th April 2021
I made a start on my latest cross-stitch project - borders for new towels.
I've decided to do this butterfly in the centre - two of them, facing towards each other......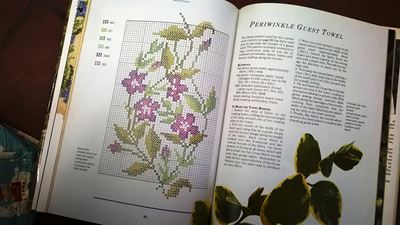 ......and this trailing periwinkle for either side of the butterflies.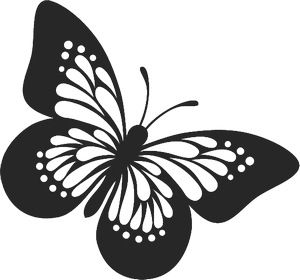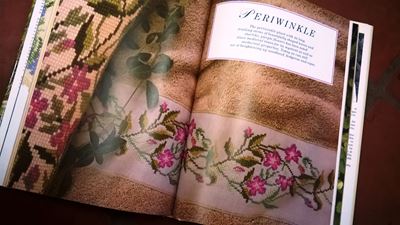 I think this design is so pretty. I'll be using mainly pinks and greens, with bits of purple.
I have two sets of four towels, plus a couple of face cloths, so I definitely have plenty of stitching to keep me going for the next few months at least!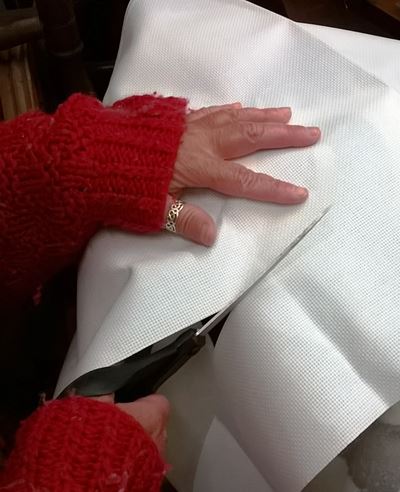 I'll be starting with the two bath sheets, which are the largest, and I'll work down to the hand towels. Although I'm going to keep the same butterflies as the centre of the design for each towel, I may choose a different trailing pattern for the smaller towels. I quite like things to be different to each other, rather than all the same, so we'll see.
Today I got as far as working out the placement of the design, and cutting the Aida fabric ready to start the stitching.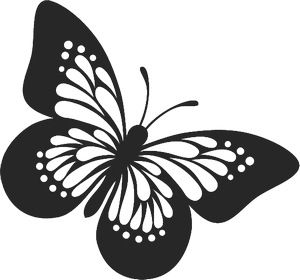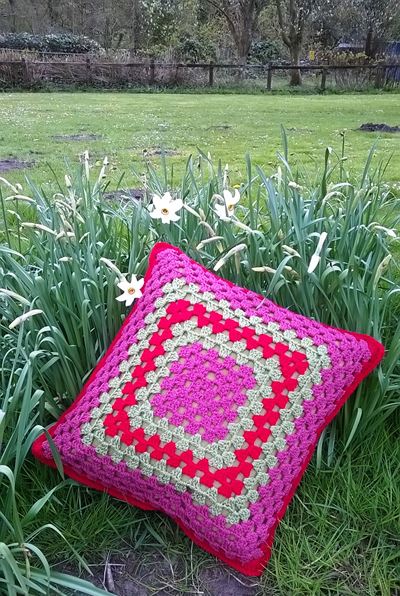 Day 117 - Tuesday 27th April 2021
Another day another cushion WIP finished! A simple granny square cushion in bold colours.
This cushion is for my hall/landing/stairs area. The colours are actually a bit more intense than the photograph is showing.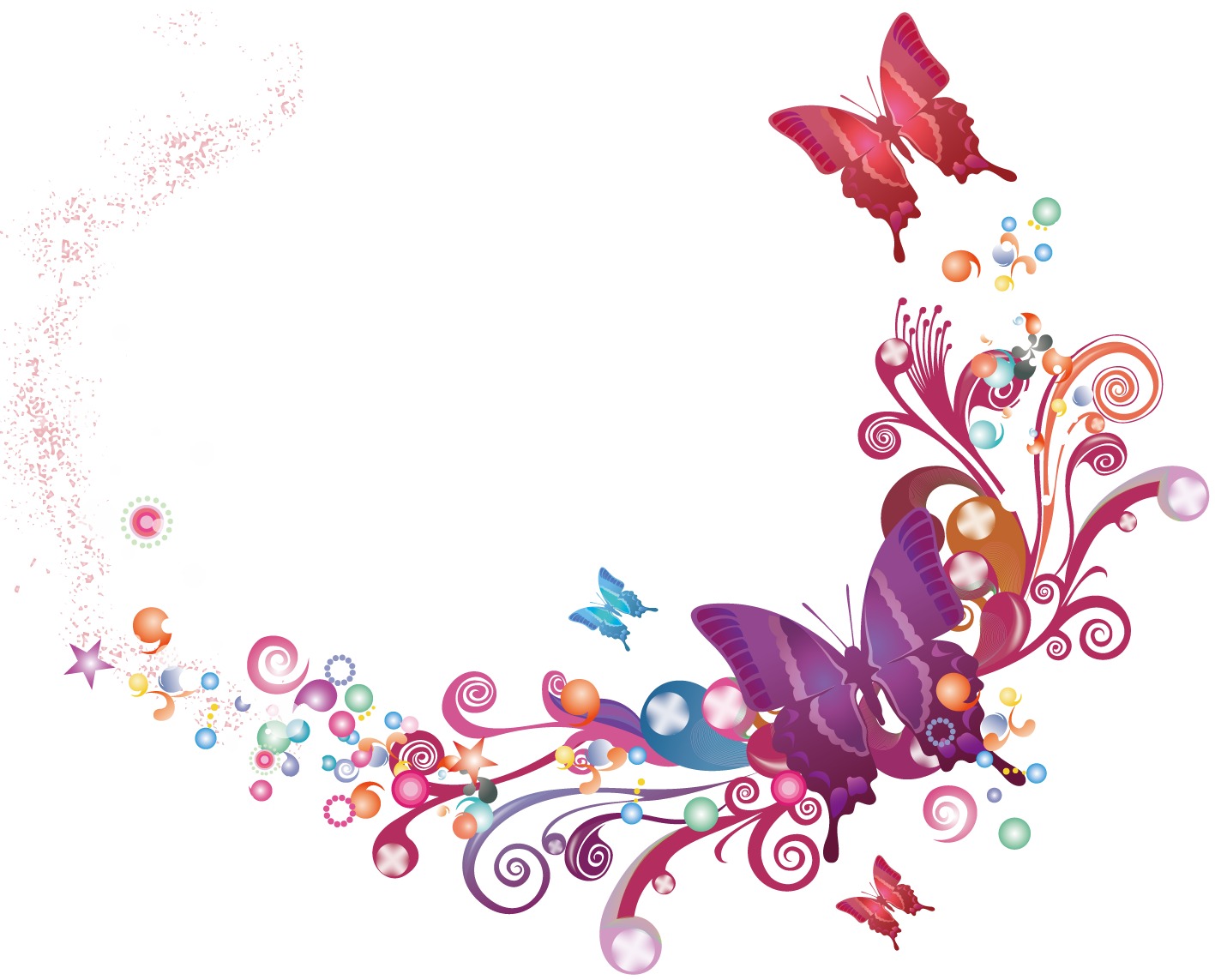 It's really nice to be getting through all these cushions and getting stuff finished!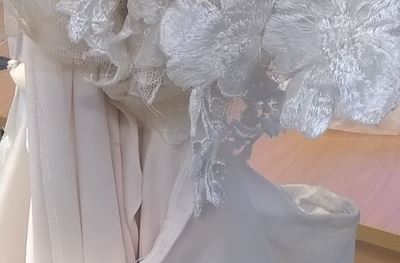 Day 116 - Monday 26th April 2021
Wedding dress gowjusness!
I've been working on another gown where I'm adding a layer of sparkle. Before the glam though...taking a dress apart and back to its basics is a necessary evil when carrying out some customisations. Thankfully, the brides don't get to see this stage or perhaps they'd worry! Never any need though, because we always put them back just as they were, so that nobody would know an alteration or customisation had been done. It is an art!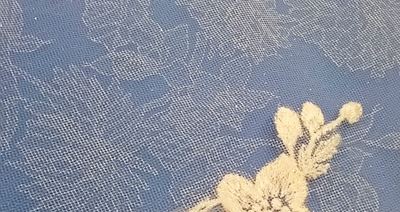 I wasn't going to feature another sparkly layer gown, but this one has caught my eye because not only does it have beautiful lace appliqué, but its top layer is a floral printed tulle, which I absolutely love.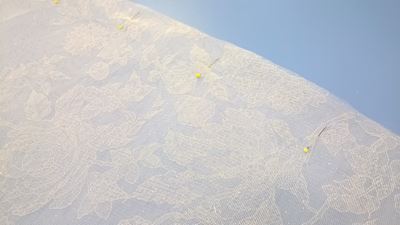 It is a very yummy gown, and will be even more so with the added sparkle.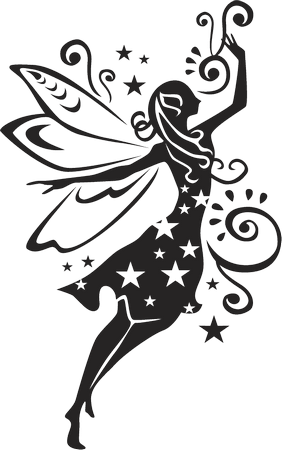 Day 115 - Sunday 25th April 2021
Another cushion crocheted closed and finished.
This is the one I made for my lounge, using leftovers of some beautiful Jaeger Matchmaker yarn, which I had left over from a throw I crocheted a couple of years ago.
This is the front of the cushion......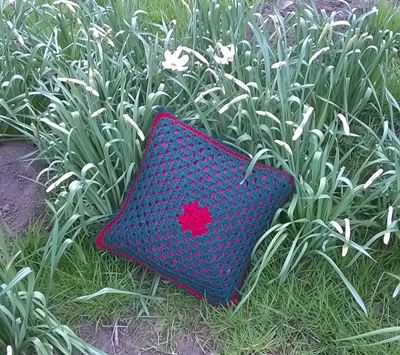 ......and this is the back.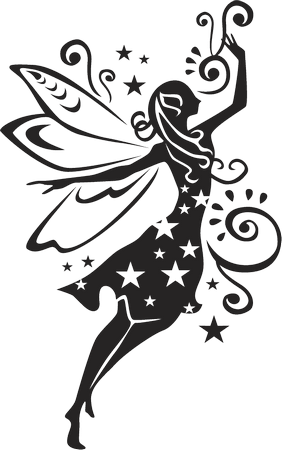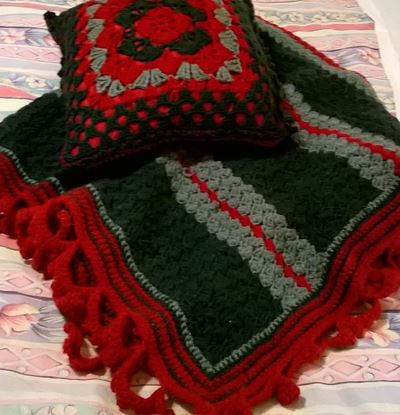 This is it with the original throw. In this picture and the next, the colours are more true.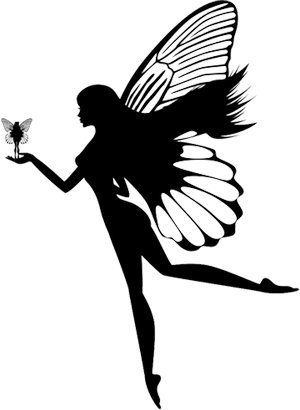 I photographed them on the bed together, and this is the best of a bad batch of pictures, because they looked very ghostly - as if they were rising up off the bed!
I think it's because of the bright colours in contrast with my pastel bedding. Especially the red. Red seems to be very hard to photograph in digital - it does weird things!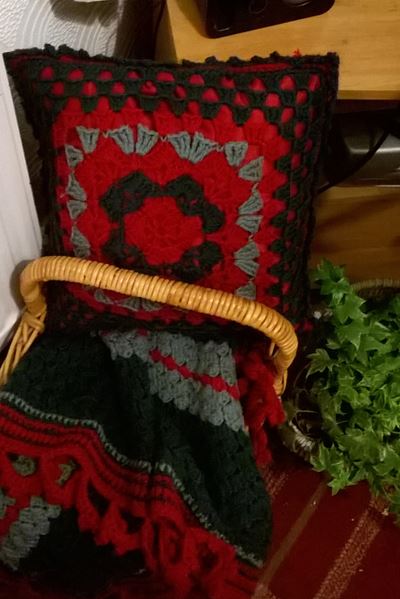 This is a picture of the cushion and the throw in their current spot in the lounge, although I'm not sure I like them with the basket any more, so I may move them to another spot!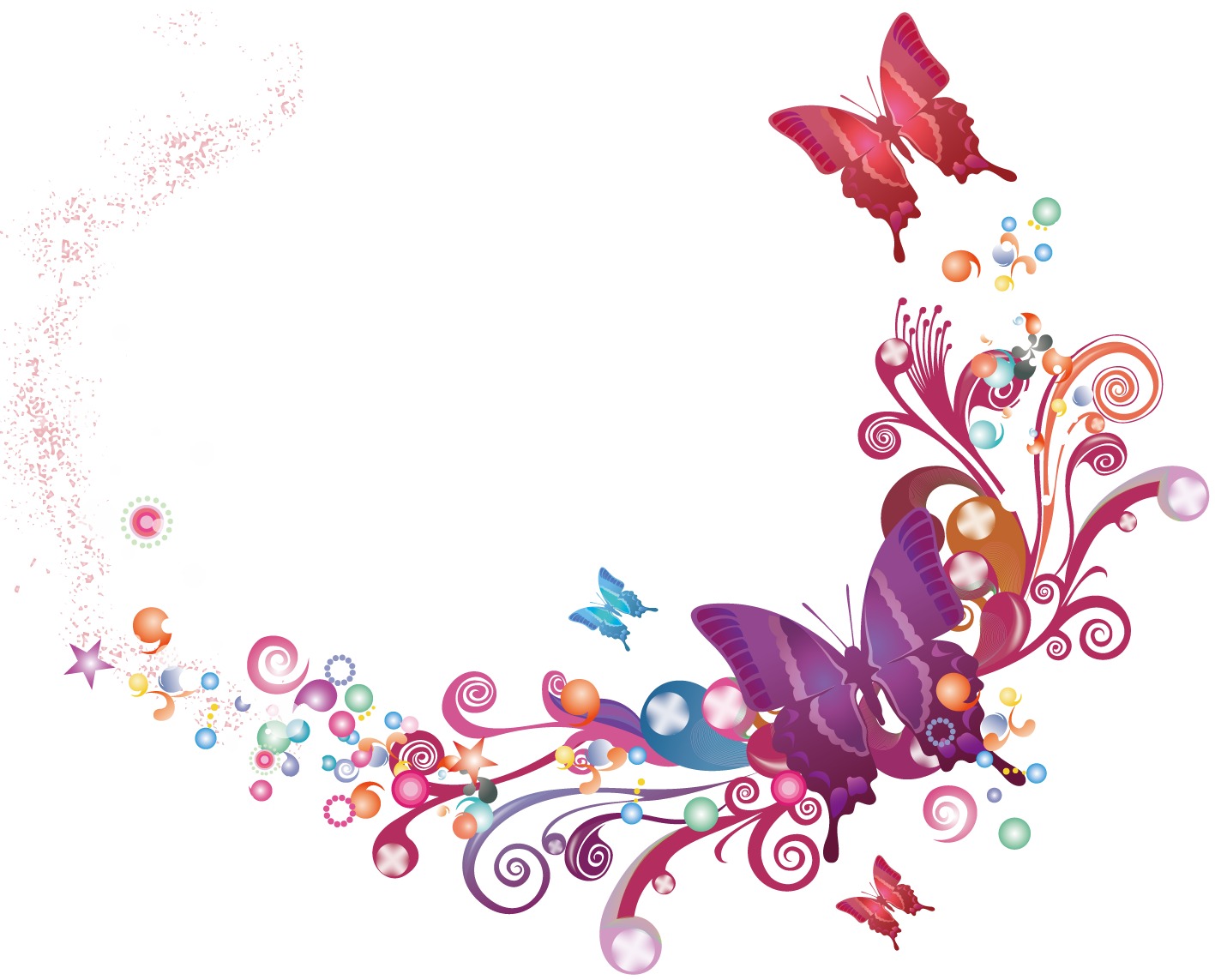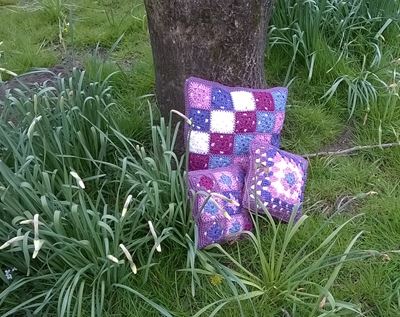 Day 114 - Saturday 24th April 2021
Today I finished my trio of pretty cushions.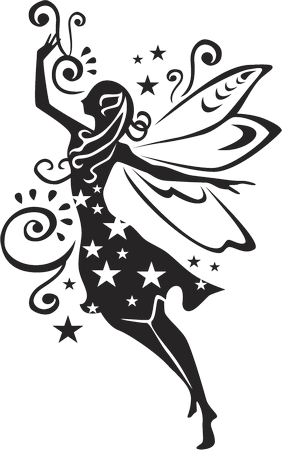 These are the fronts......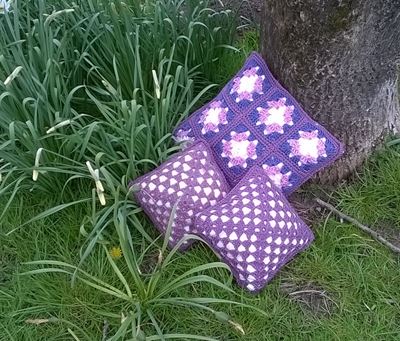 ......and these are the backs.
They're probably going to be for the spare bedroom,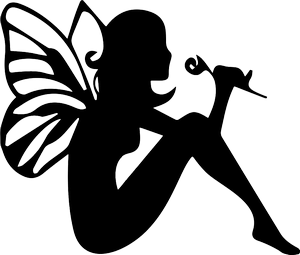 but I'll decide whether they go with the decor when it's done.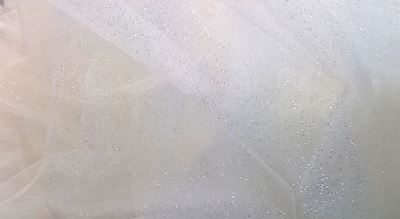 Day 113 - Friday 23rd April 2021
Today I've been working on another gown where I've put in a sparkly layer.
This one is less gathered, and has more of a fitted shape on the top of the skirts, which means that the sparkle shows through that much more.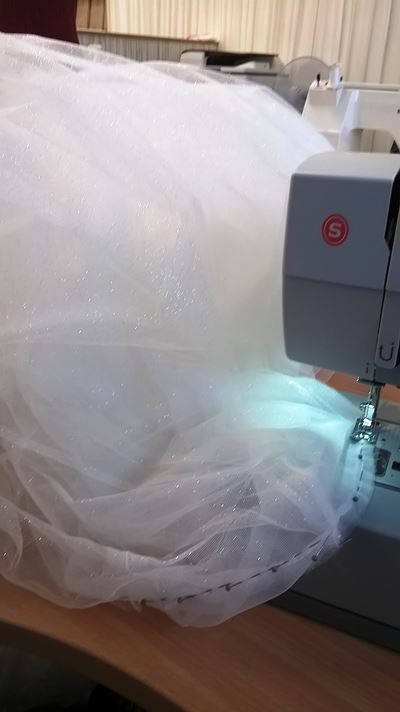 Today's job was to put the skirt layers all together and attach them to the bodice.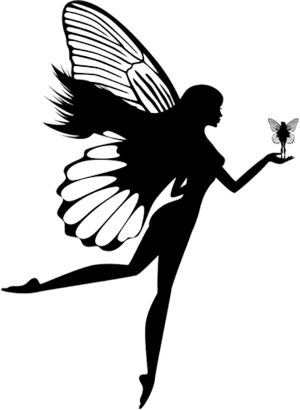 After that I needed to stitch back all the appliqué which had needed to be removed, to facilitate taking the gown apart to separate the layers.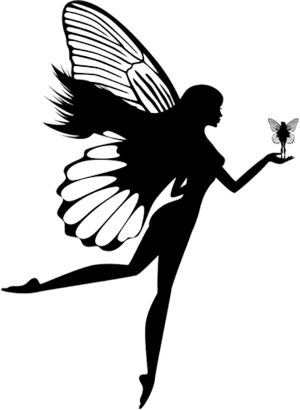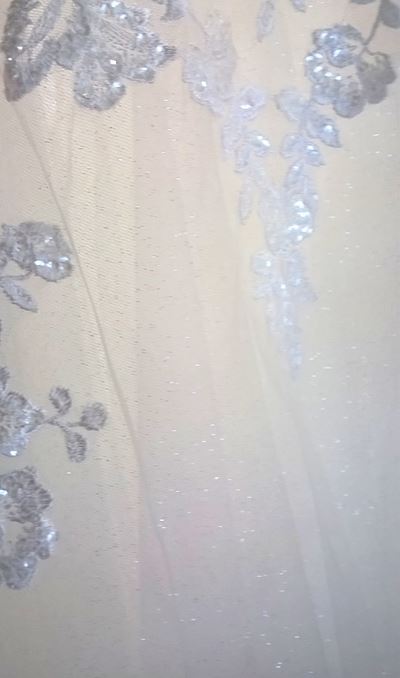 This particular gown has such pretty motifs......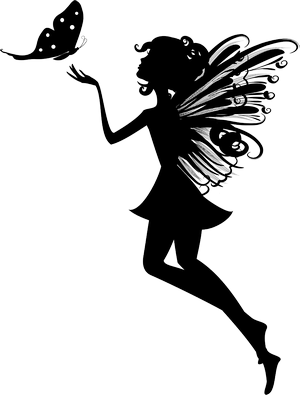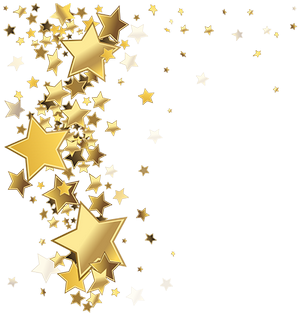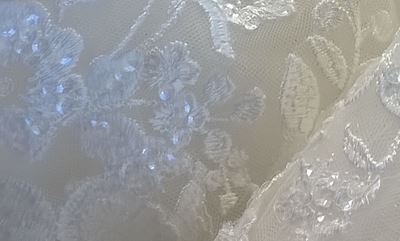 ......which complement the sparkly layer beautifully.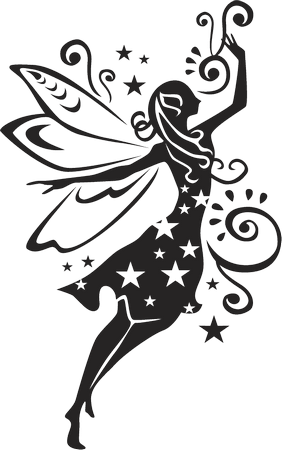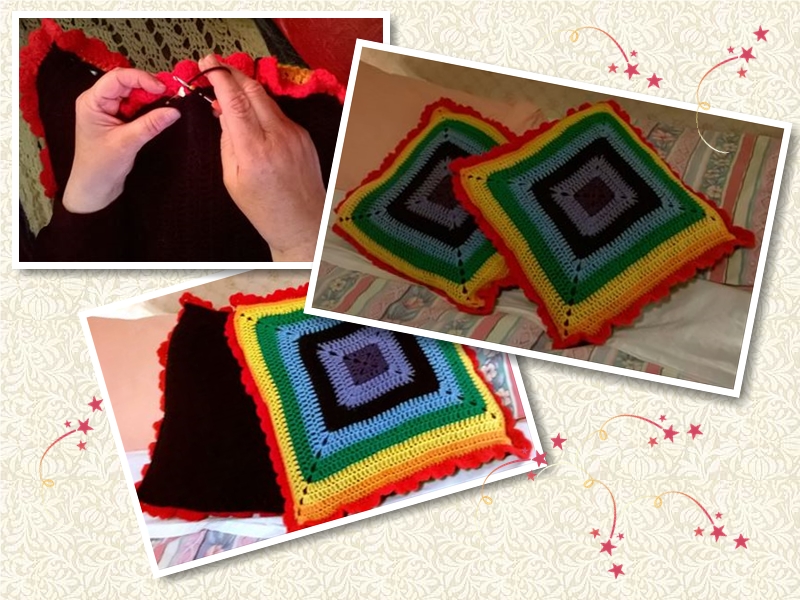 Day 112 - Thursday 22nd April 2021
Two crochet rainbow cushions finally finished! Yaaay!
They are for my craft room - I'm hoping to set up a 'rainbow corner' in there, so they'll go on a chair, or the floor, or a table, or wherever I think they look nice!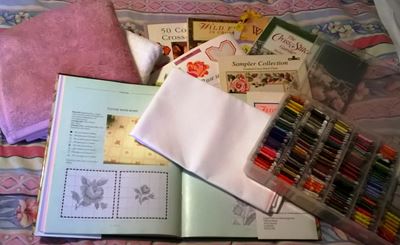 Day 111 - Wednesday 21st April 2021
Sometimes creativity isn't about the actual doing, it's about the planning.
Having recently finished two cross stitch projects, I'm keen to get another one off the ground.
My home is really in need of some new towels, so I've bought a couple of sets and I want to cross stitch lovely borders along the narrow edges of each towel, with one motif on each face cloth to match. So this evening I've been getting lost in all my lovely cross stitch books.
I want to keep with my style of feminine/pretty/vintage, and so at the moment roses and butterflies (of course!), in pretty pinks, greens and neutral colours to match my bathroom, are looking quite promising. I'm hoping to make a decision and start these within the next few days. Watch this space! 🌺 ☺ 🌺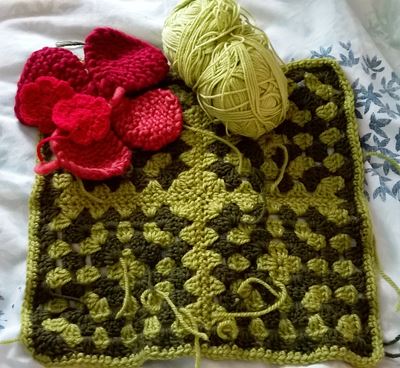 Day 110 - Tuesday 20th April 2021
My seemingly bottomless bag of cushion WIPs is finally coming to an end. I think this one is just about the last one to do.
It's just one panel, made up of four granny squares, in two shades of green.
I've found some toning green Stylecraft Special DK to make a back for it, and will embellish it with the spare butterfly and flowers I have left over from some of the other cushions I've been making.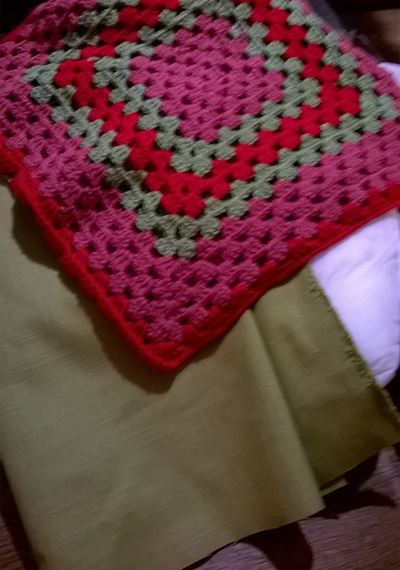 Day 109 - Monday 19th April 2021
Today it was the turn of the red, pink & green cushion cover, made as a large granny square, to receive the cushion pad treatment!
I found some lovely sage green cotton twill to cover the cushion pad with......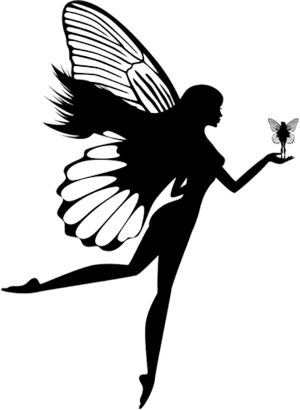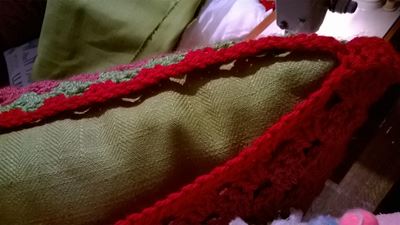 ......so I made it up, top-stitched it closed, and popped it inside the cover.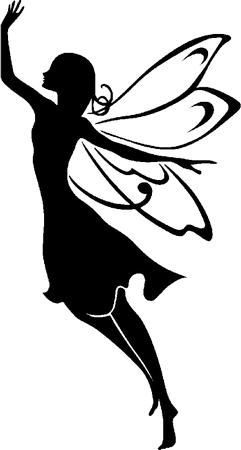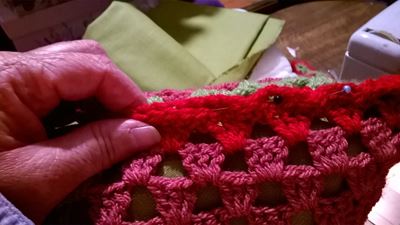 Then I pinned the opening together......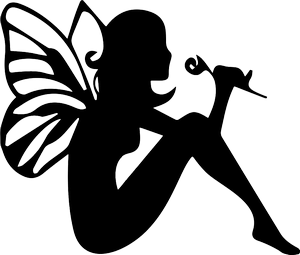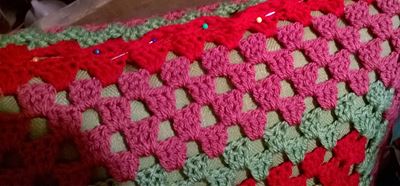 ......and it's now joined the ranks of 'cushions waiting to be crocheted closed'.

Day 108 - Sunday 18th April 2021
Some crochet in the sunshine today, up at Craig-y-Nos Country Park, where I spent the day with my Lovely Man.
The weather was so lovely, and I was able to sit outside and indulge in making some flowers and leaves from one of my favourite crochet books.
The flowers and leaves are to decorate this plain granny-square based cream cushion cover. I've chosen pretty pinks and green for the embellishments, and I've made what I need from the pale pink, so just have to decide which flower to make with the darker pink.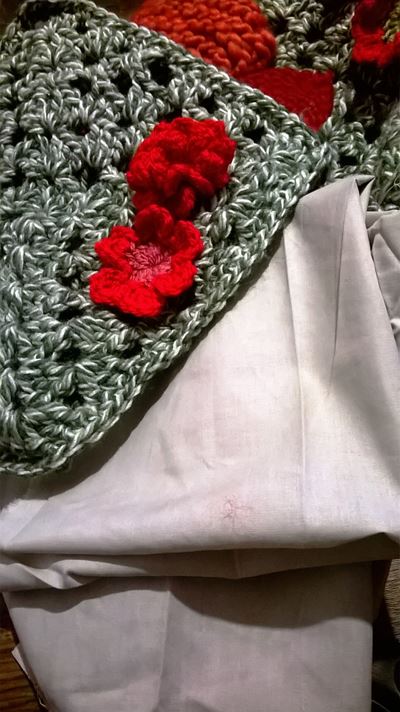 Day 107 - Saturday 17th April 2021
More cushion pad making and covering today.
This time for the two green cushions which are embellished with a butterfly and some flowers. I had some pale grey-green fabric in my stash, which is perfect for under this crochet.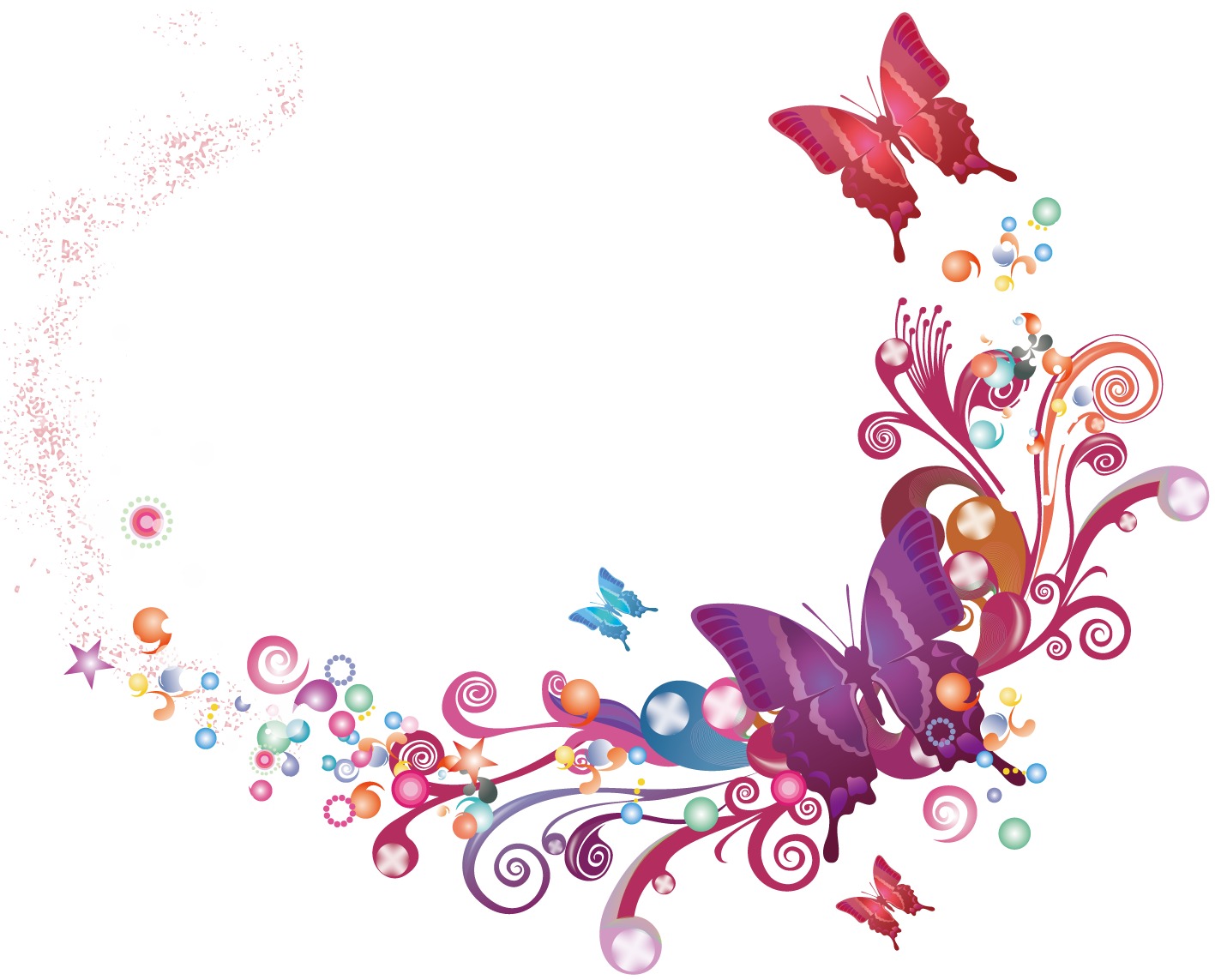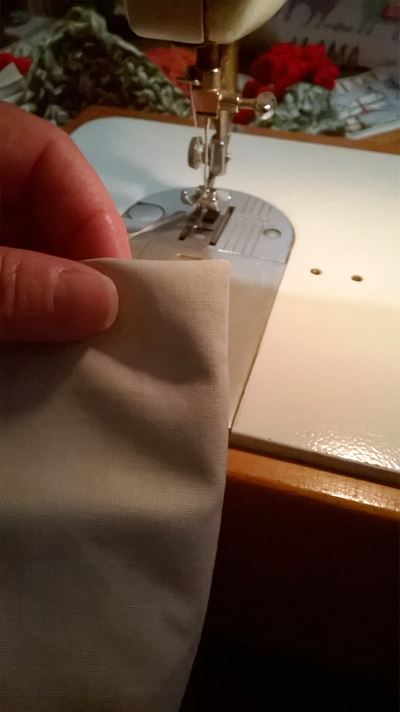 It's not just crochet work which produces satisfying corners - there's something very nice about clipping corners when sewing, so that they are really sharp when the cushion cover is turned out the right way.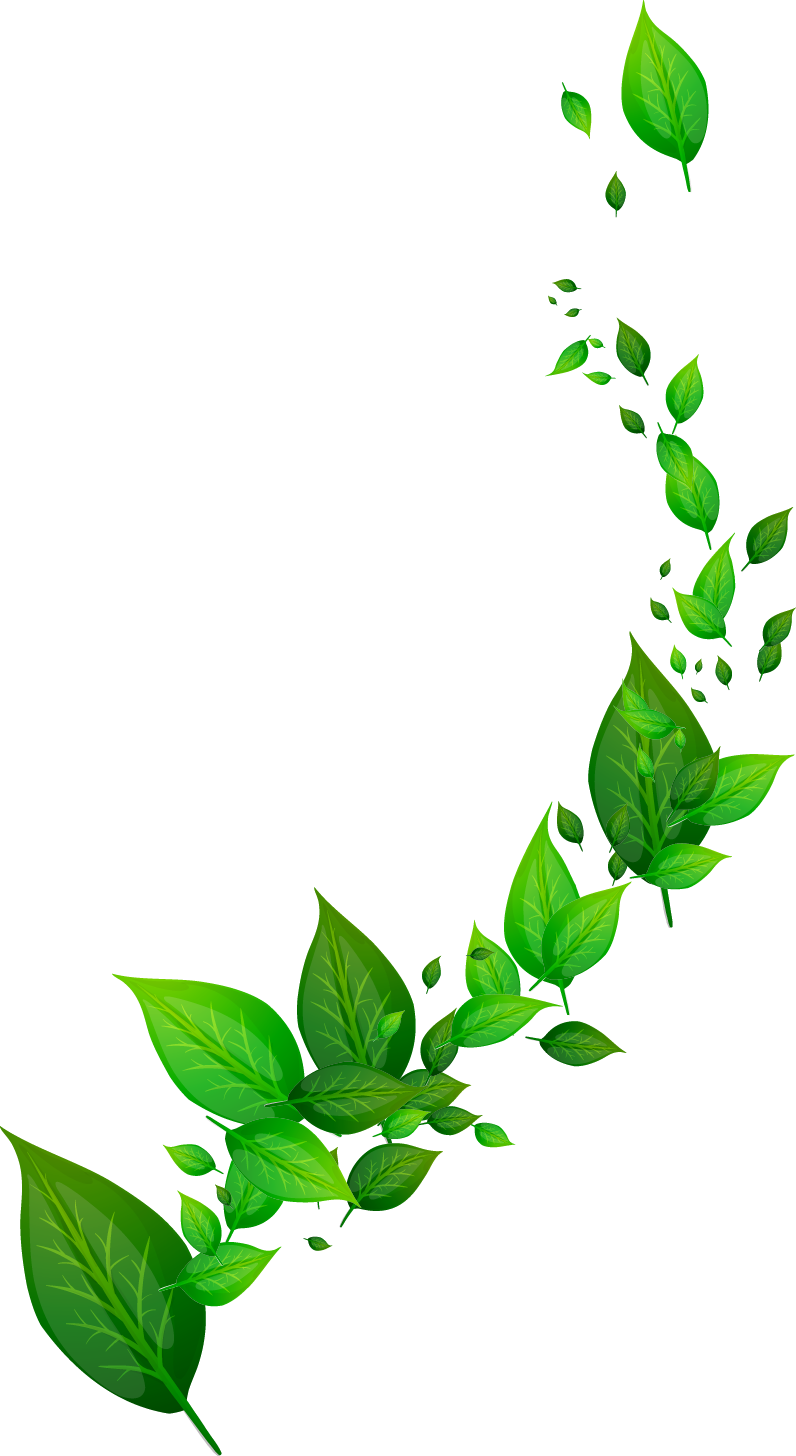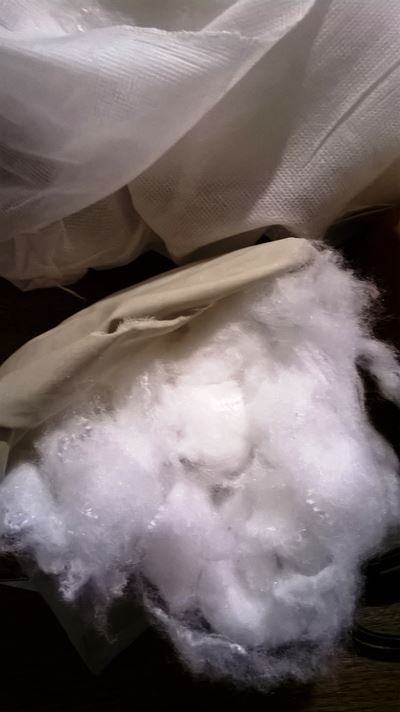 Again, one of these cushions is small and not a conventional size for a purchased cushion pad, so I made my own, using more of the burst cushion filling.....another fluffy cloud!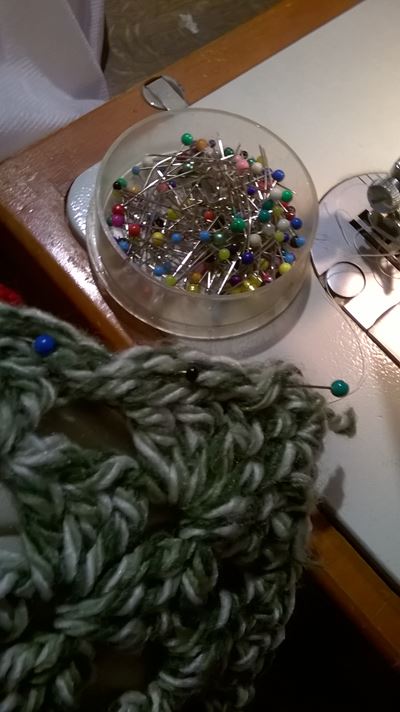 The two cushions have now been pinned closed, ready to be crocheted together, the same as all the others I've done this week......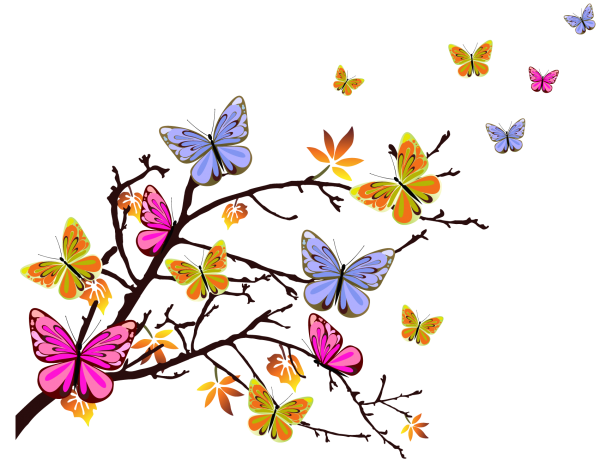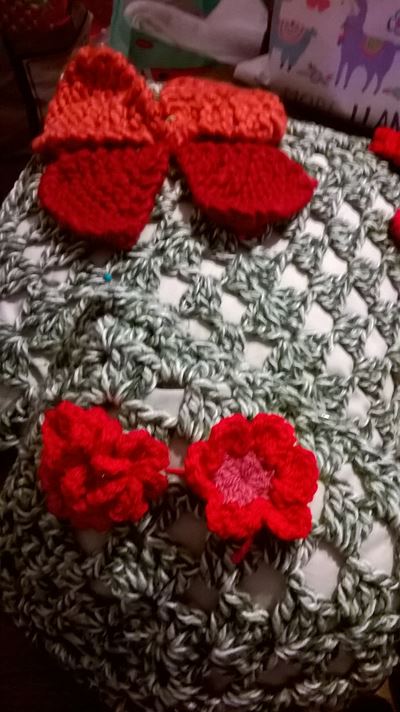 ......plus of course I need to raid my bead stash to make the butterfly body and head, and maybe to embellish the flowers too.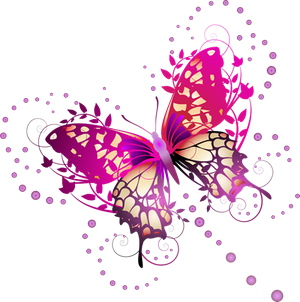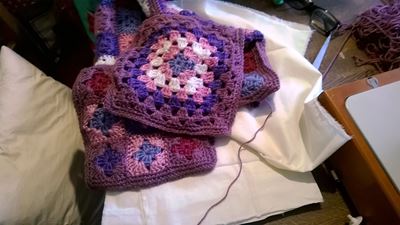 Day 106 - Friday 16th April 2021
Today it was the turn of my pretty trio of cushions to have the cushion pad treatment.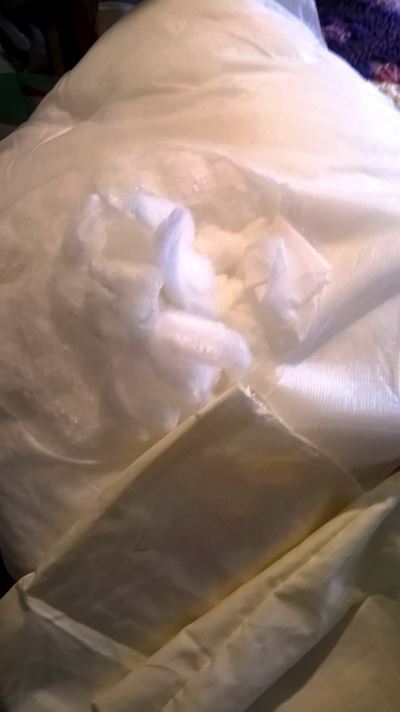 The cushions are mainly pinks and purples, but I didn't have a suitable fabric in my stash. The cushions do have some cream in them, so I chose a cream poly cotton for covering the pads.
I needed to make actual cushion pads for the two smaller covers, because they're not a conventional size.
One of the cushions which came through the post with Bob's spinning wheel burst open when I washed it in the machine, so I used some of the stuffing from that to stuff the two tiddly cushions!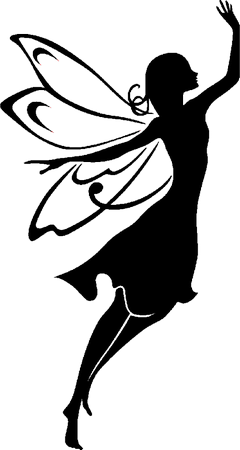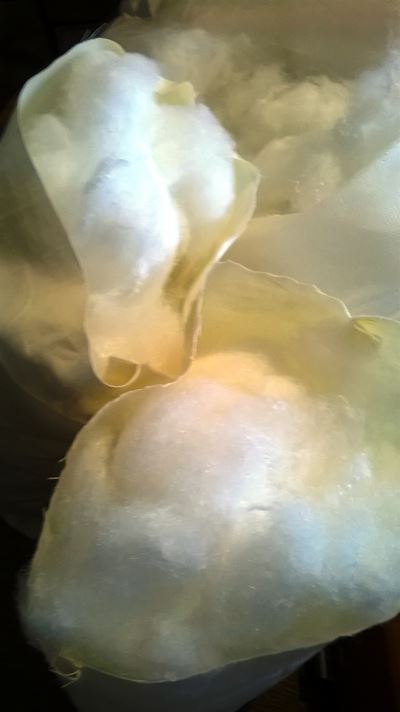 After being washed it was so fluffy and yummy - just like working with two little fluffy clouds! Haha.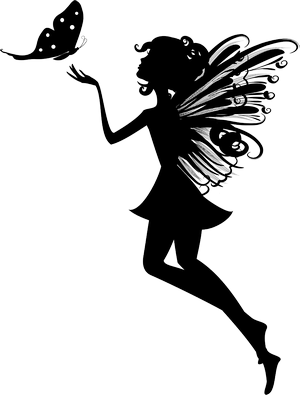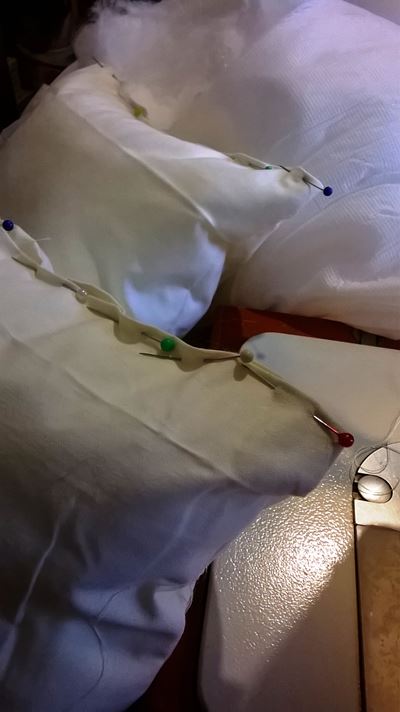 Here they are both pinned, ready to be top-stitched closed, and before being steamed to get rid of the creases in the fabric.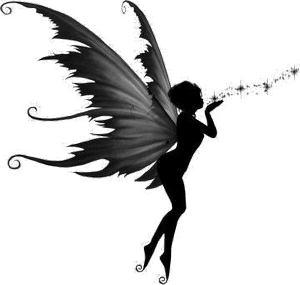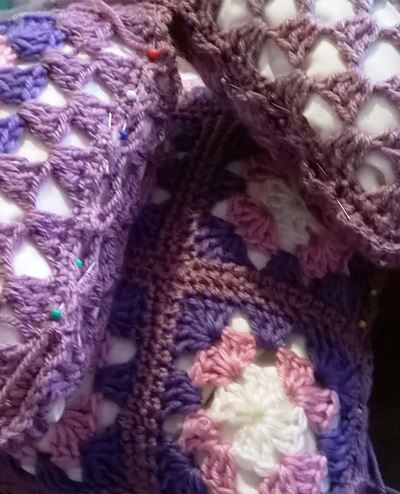 Now all three crocheted covers are on the pads and they've joined the pile waiting to be crocheted closed.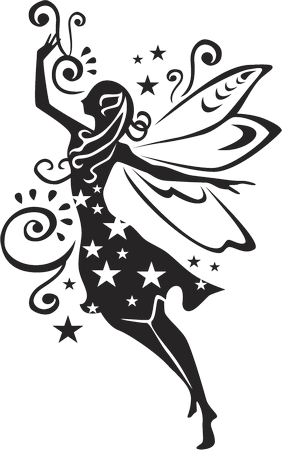 Day 105 - Thursday 15th April 2021
Sewing at work and at home today!
At work I was stitching the appliqué back onto the latest gown which has had the sparkly layer treatment. This sewing is done by hand, and it's really important to stitch it back on exactly as it was originally.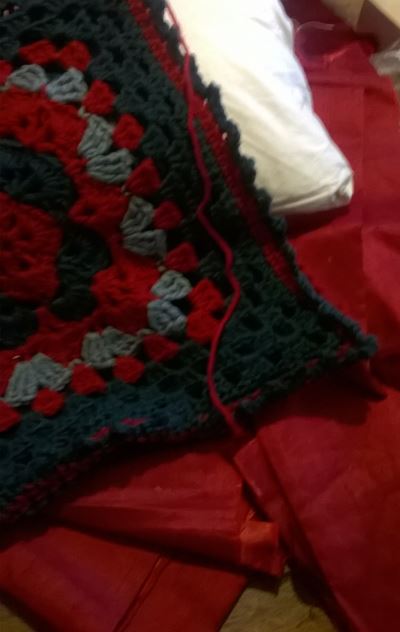 At home I made a slip cover to go on a cushion pad, for the latest cushion cover I have made for the lounge.
It's the one crocheted from the pure wool Jaeger Matchmaker yarn, which I finished making a couple of weeks ago.
In my fabric stash I found some lovely dark red dupion to cover the pad.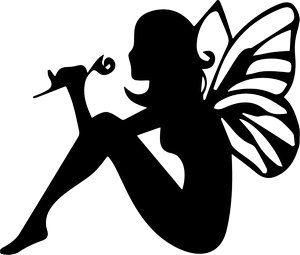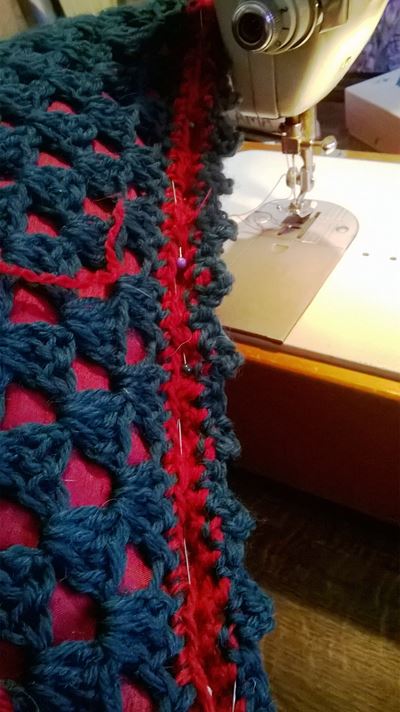 As you can see, the red shows through the gaps in the crochet beautifully and really complements the colours of the cushion. All that remains now is to crochet the final opening closed, which I've pinned ready to do that when I have a few minutes.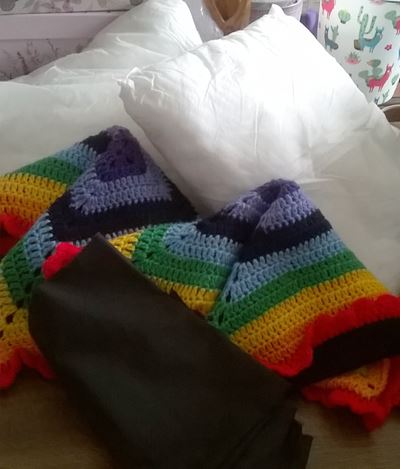 Day 104 - Wednesday 14th April 2021
The first of my Great British Sewing Bee inspired sewing. I need to cover the cushions to go inside the crocheted rainbow covers I finished a few weeks ago.
These two cushions are two of eight which arrived in the post to Bob, being used to pad out a spinning wheel he'd bought! The seller of the wheel told Bob that they had 'lots of spare cushions' so didn't want them back. I was in need of cushions for all the covers I've made recently, so there ya go! Talk about 'ask and ye shall receive'. Haha.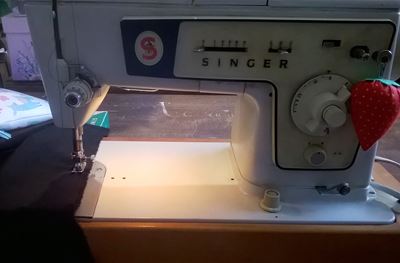 The cushions inside the covers need to be black, in keeping with the black crochet on the backs of them.
I had some lovely black poly cotton in my fabric stash, so I'm using that.
Slip covers for cushions are pretty easy to do - just cut out the fabric to the size of the cushion, adding 1.5 cm all around for seams, and stitch them up along three of the sides.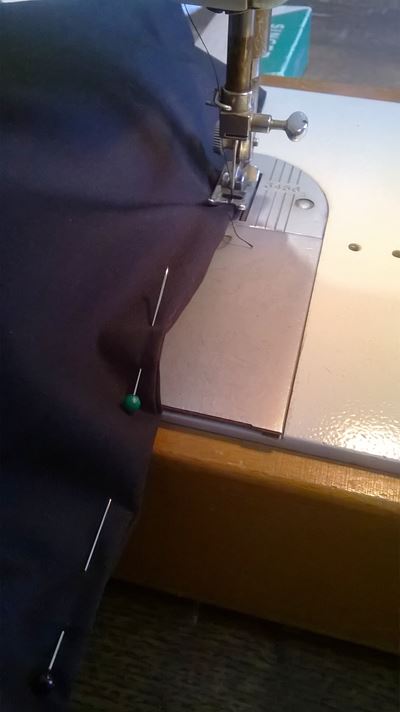 Then press the seams, turn the cover to the right side, pop the cushion inside and top stitch it closed.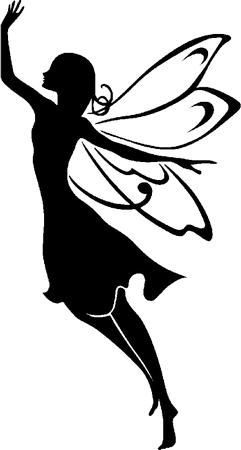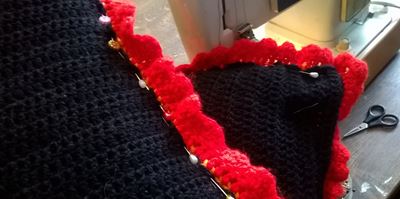 All that's left to do on these now is to crochet the actual rainbow covers closed. I'm not going to go to the effort of putting a zip or anything in, because if they need washing, I'll just put the whole cushion in the wash, rather than taking the cover off separately.
I do that with most of the crocheted and knitted cushions I make, and they always seem to be fine.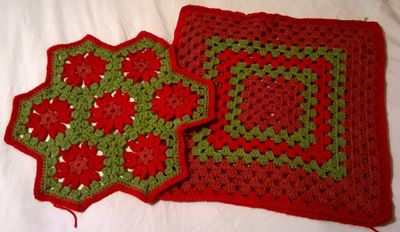 Day 103 - Tuesday 13th April 2021
Two more cushions! The one on the right is just a bog-standard large granny square. I've been crocheting the back and front together and tidying up any loose ends. All it needs now is a cushion pad to put it on, so I'll cover one with red or green fabric, depending on what I have in my stash. I may leave it completely plain or I may embellish it with a crocheted flower or something, I haven't decided yet.
I'm going to stitch the panel on the left onto a plain cushion - again red or green, depending on what I have.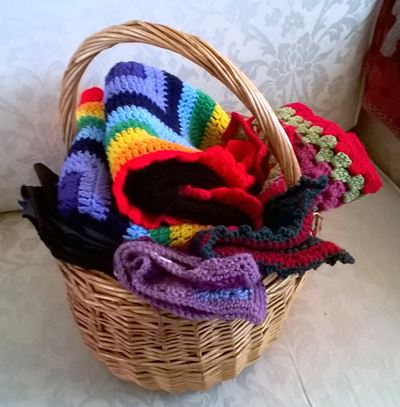 This is a basket of sewing projects for the week ahead.
Tomorrow evening sees the start of the new series of The Great British Sewing Bee, and during the six weeks it is running, I want to do some home sewing every day. The contents of this basket is what I'll be starting with. They are all crocheted cushions which I've finished the crochet work on over the last few weeks, and they now all need cushion pads. I have some ready-made pads which I can cover with the relevant coloured fabrics, but for others I'll need to make the actual cushion pads because the covers aren't 'conventional' sizes.
This next week should see a significant reduction in my WIPs and an increase in my actual finished projects! Yaay.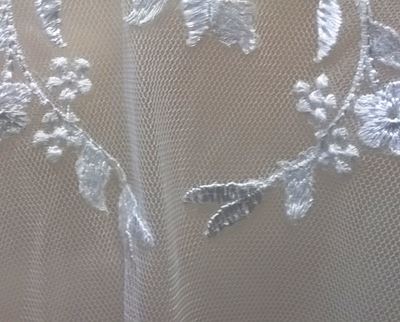 Day 102 - Monday 12th April 2021
Another day, another sparkly layer to make and put into a lovely wedding gown. This one has such pretty lace appliqué......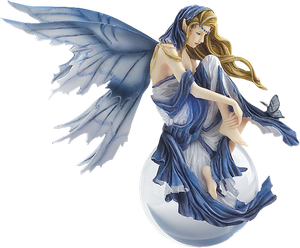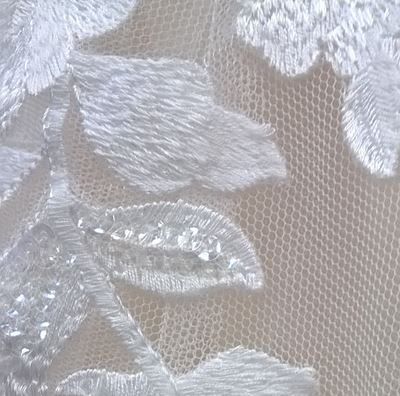 ......including some with sequins, which will complement the sparkle in the new layer beautifully.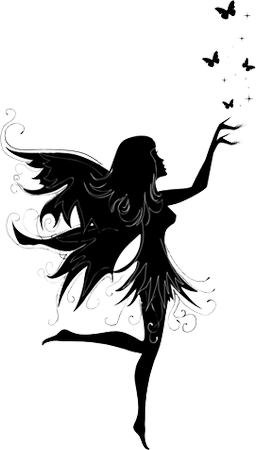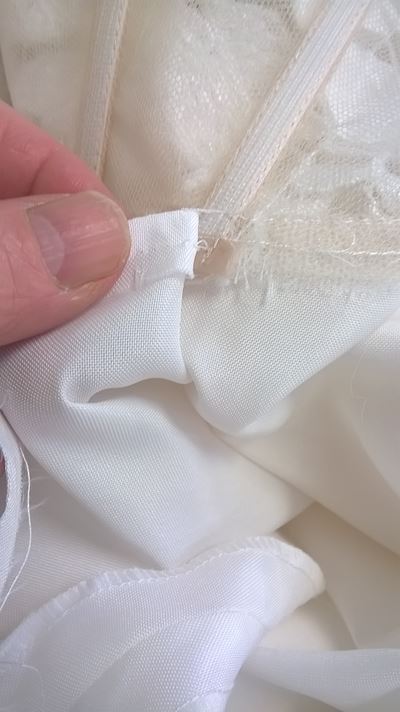 My first job was to peel away any lace appliqué over the waistline join, and then separate the bodice from the skirts, so that I could take a pattern from one of the tulle layers to cut the new sparkly layer.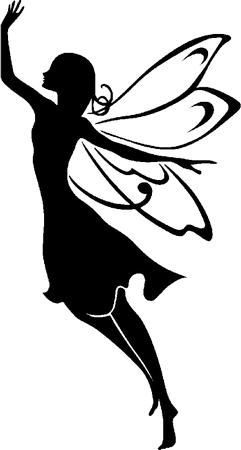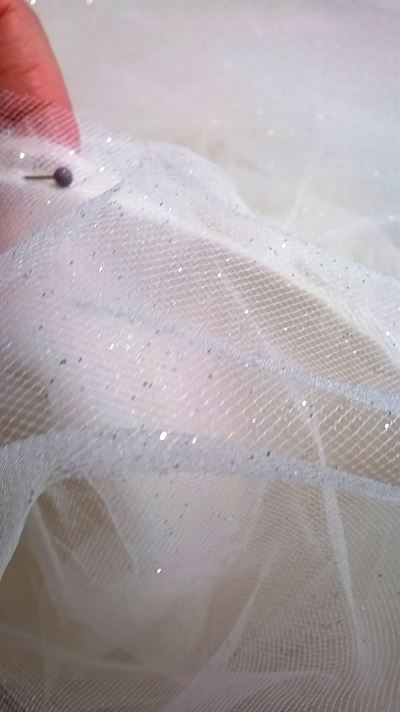 After cutting out and making up the new layer, I pinned it all into place, with the other layers of the skirt, along the waistline......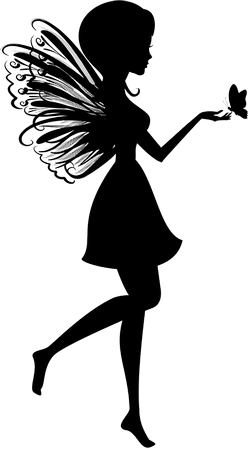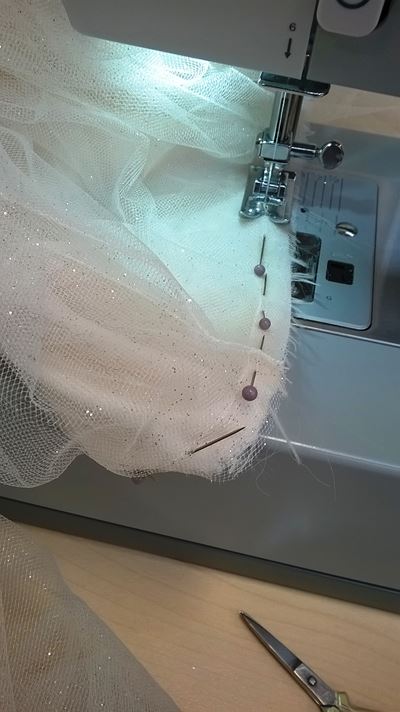 ......and then stitch it all into place.
The next job - which will probably take the longest - will be to replace all the appliqué back onto the waistline, together with any fastenings and other notions which needed to be removed.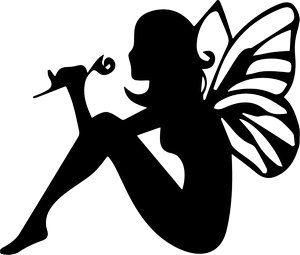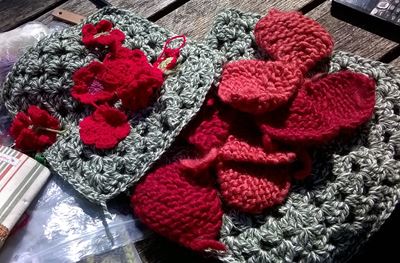 Day 101 - Sunday 11th April 2021
I'm nearing the bottom of the cushions WIPs pile now. These are two cushion covers I crocheted quite a while ago, and made a selection of appliqué pieces - some flowers and a couple of butterflies - to stitch onto them. Then of course they got put to one side.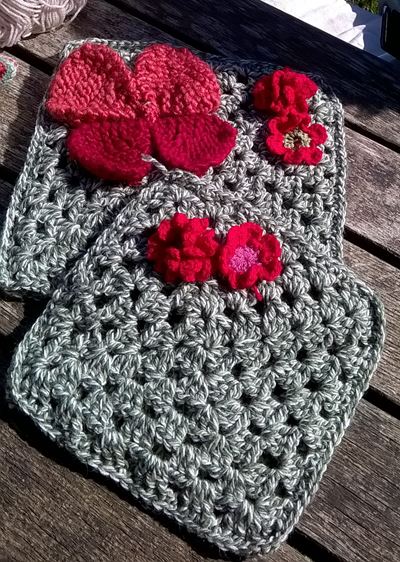 Today up at Craig-y-Nos Country Park there wasn't much sunshine, but when it did peep out, I grabbed the opportunity to sit outside and do some work on these. I've stitched butterfly wings and some flowers onto the cushion covers. I now need to raid my bead stash, to make a body for the butterfly and embellish the flowers.
The covers themselves are more of a green. In the pictures, they look a bit grey!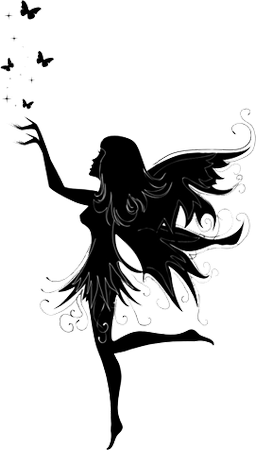 I have one butterfly and three flowers left for another cushion (I do have one in mind), and for another day! All of these cushions will be going somewhere in the vicinity of my hall, landing & stairs.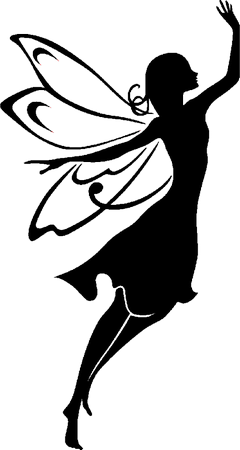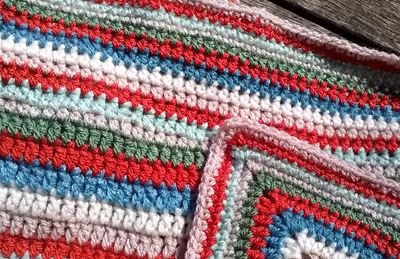 Day 100 - Saturday 10th April 2021
An update on my cwtchy blanket. I'm now half way through the single crochet rounds. Four more to go, and then I can start on the final, scalloped rounds. I am looking forward to that!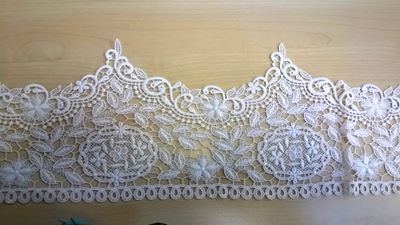 Day 99 - Friday 9th April 2021
I've said before that I love my job, and I particularly enjoy doing the customisations of gowns, especially when I get really lovely lace like this one to work with.
Today I finished making up a customised key hole strap for a gown, using this lace.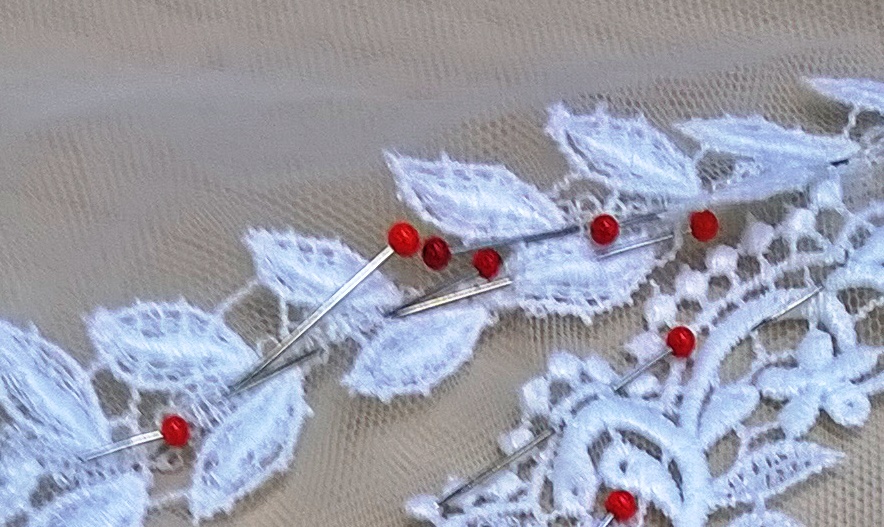 Since the lace is so wide and the area to work with is fairly small, the first job is to cut up the lace into workable sections and then place it on the area where it needs to go, pinning and moving it around to get a lovely design, as I go along.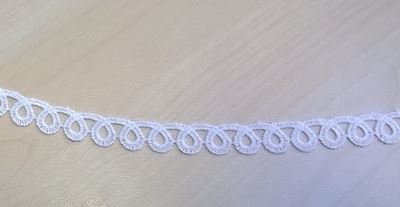 For this job, I needed to use the narrow edging along the armhole and neck edges of the keyhole, in keeping with what is already on the gown, and so I cut this away from the rest of the lace......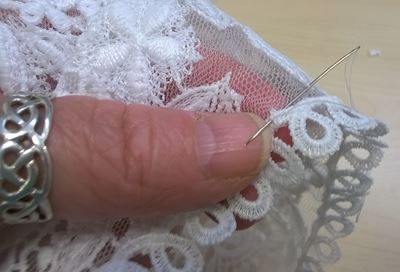 ......then carefully hand-stitched it in place along the edges......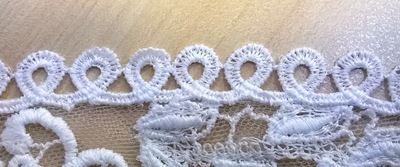 ......so that it looked nice and neat and blended in with the rest of the lace, as if it hadn't been separated at all.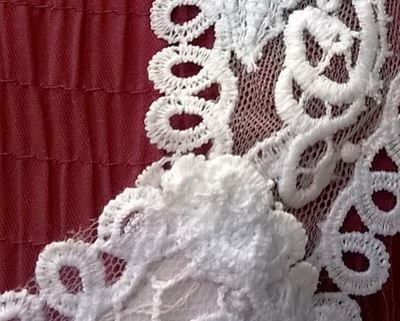 The final keyhole needed to blend in with the neckline of the original dress, to look part of the design, both on the front......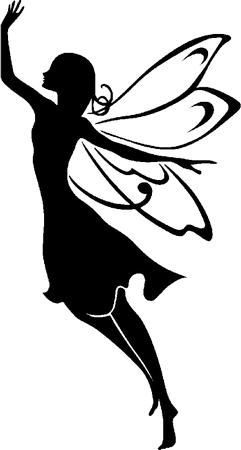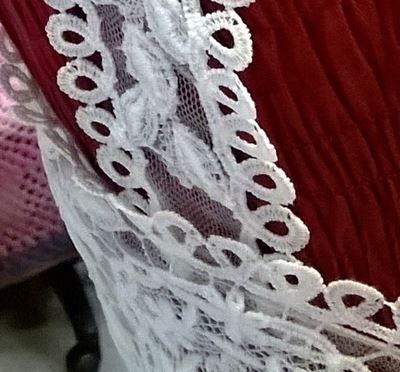 ......and on the back.
I enjoy doing this, and creating a look which doesn't give away that the gown has been changed, but looks as if it were like that all along!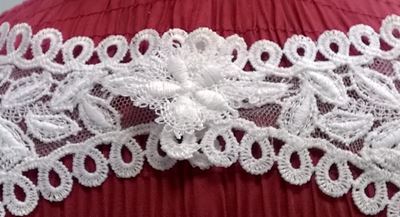 Finally, I finished off with a pretty little flower over the centre back fastening.
I really love how this looked, and I wish I could show you the finished keyhole and gown, but that would be giving too much away and would spoil it for the bride, so you'll have to use your imagination!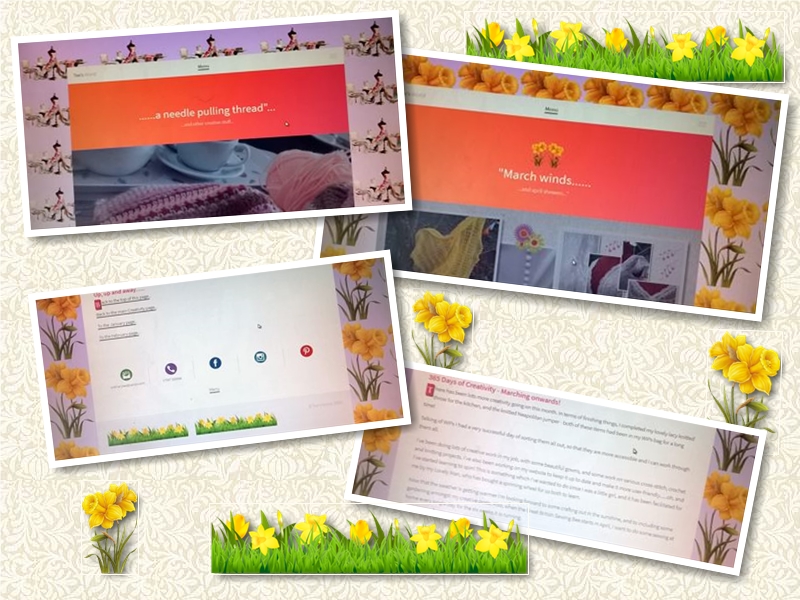 Day 98 - Thursday 8th April 2021
Website creativity. I've been archiving the March creativity posts to a page of their own, to keep clutter down on the main creativity page and make it load more quickly, and be more user-friendly.
I set up the page, made up a collage of some of March's projects for the top of the page, gave it a lovely daffodil background and bottom border, and adjusted all the blurbs. The page is accessed via a link from the main creativity page.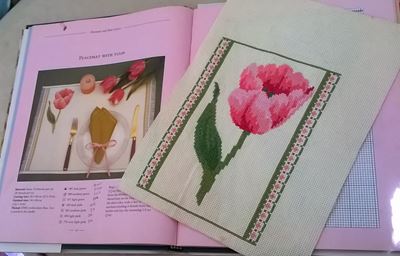 Day 97 - Wednesday 7th April 2021
The cross-stitched tulip is finished.
In fairness, I cannot take complete credit for this, because it was started by my Gowjus Girl a few years ago, and she had done lots of it, so there wasn't much left for me to finish.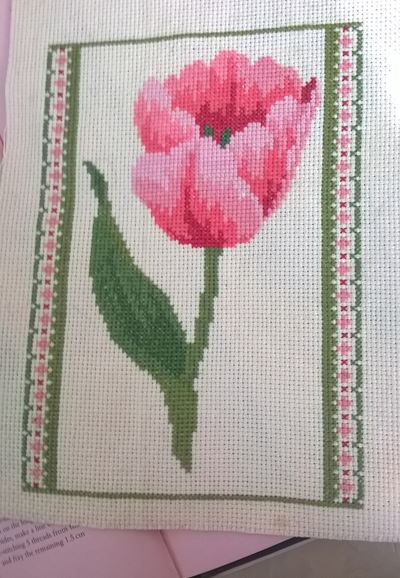 The original design in the book it's taken from was for a place setting, but Lydia adapted it to make a cushion panel.
I'll be looking for fabrics over the next few days for this and the roses one, so that I can make them both up into lovely cushions, and I'll include them into the sewing projects I'm planning for the six weeks that Great British Sewing Bee is running.
Also, I need to find a new cross-stitch project to do now! I do have something in mind.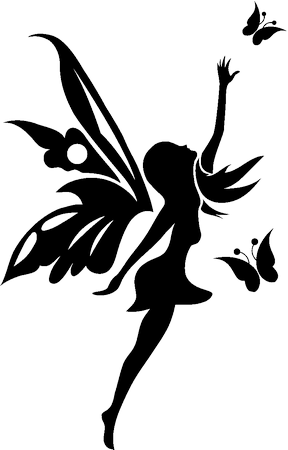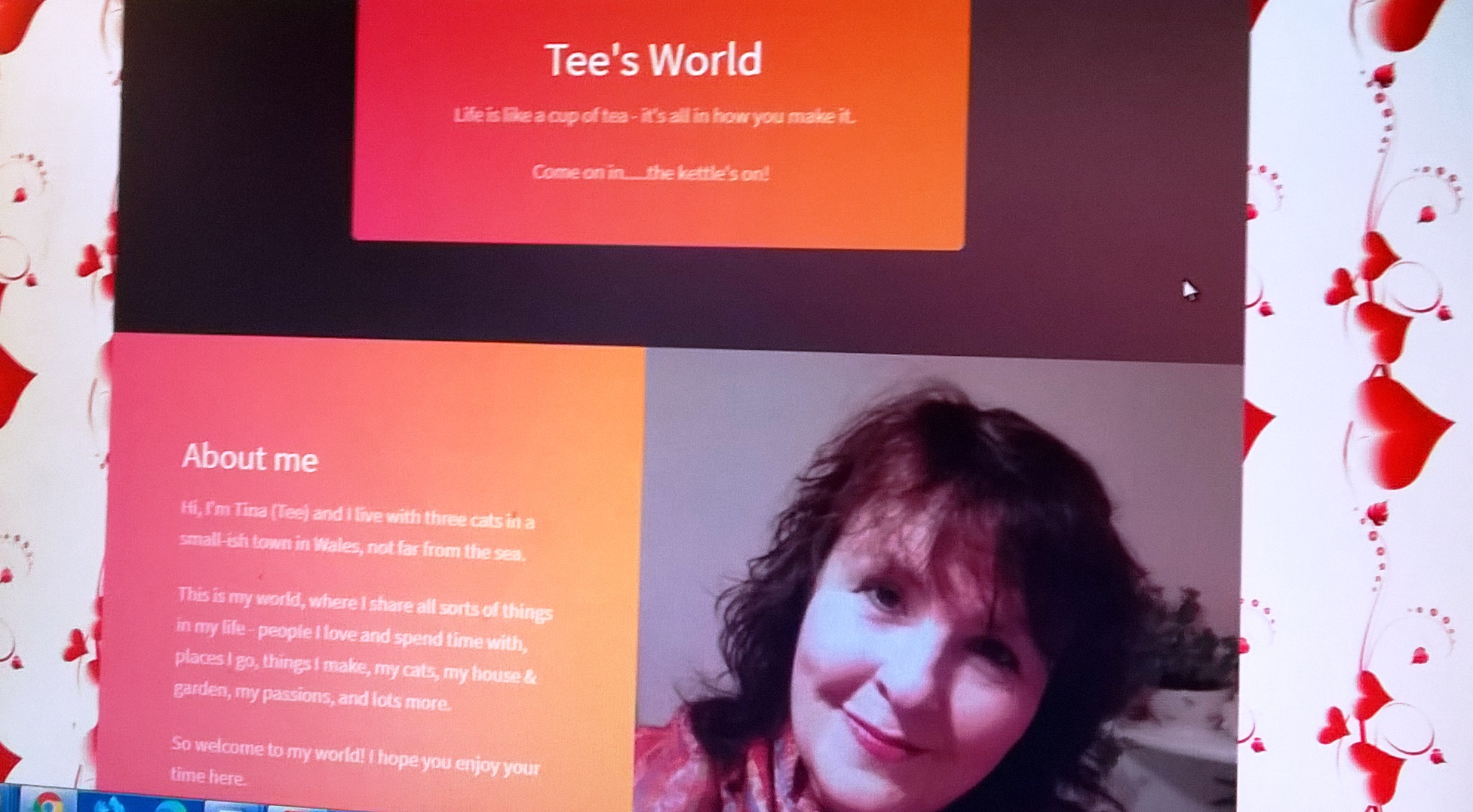 Day 96 - Tuesday 6th April 2021
Some website creativity.
I've now archived February 2021's blog to its own page.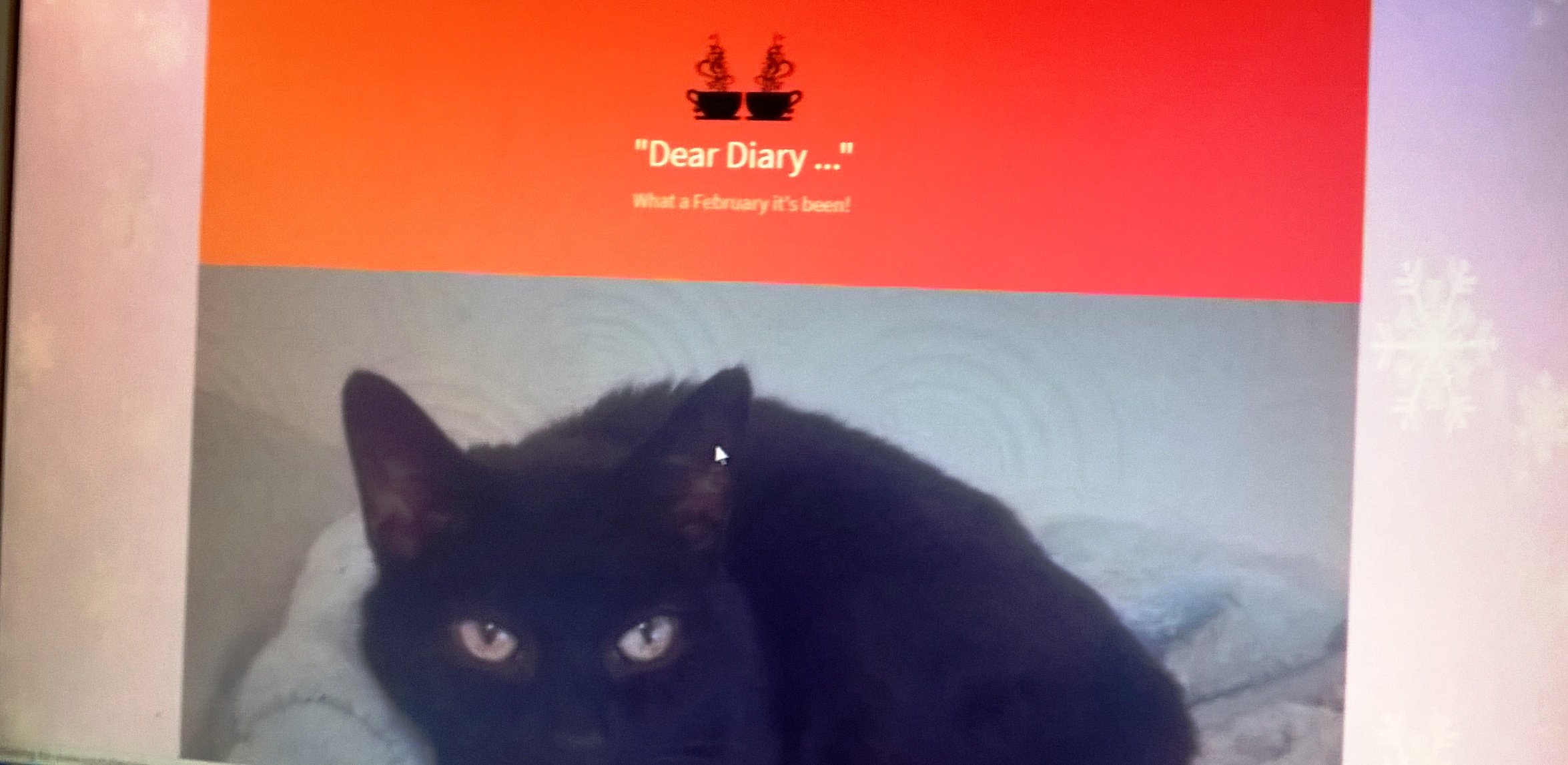 I set up a new page for it, and gave it a banner picture at the top, which I chose from the ones I'd taken during the month. I chose Nala for this one, as this was the month that she passed away.
I used a couple of Valentine's Day themed pictures for the bottom banner border.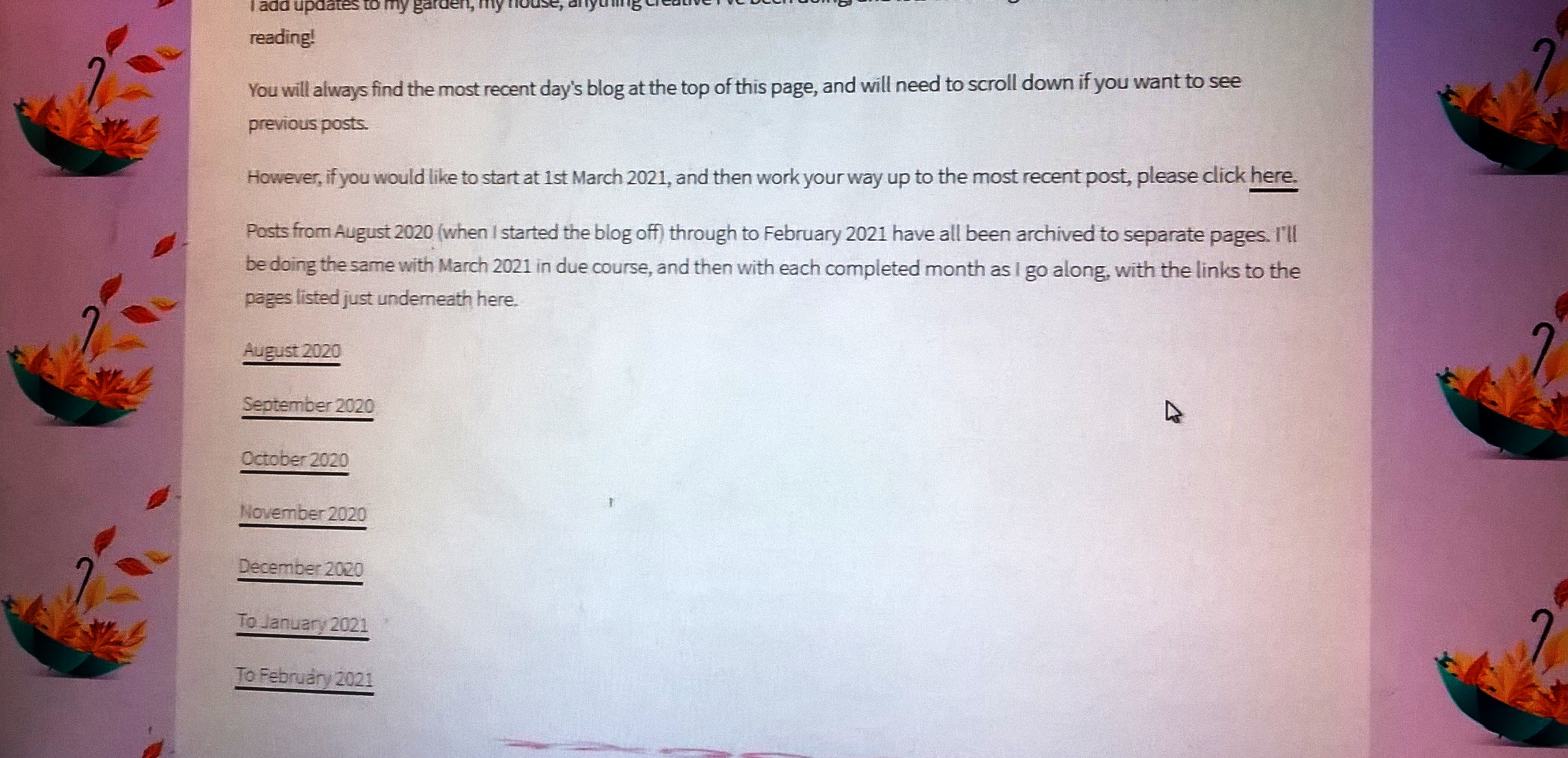 Then I changed the blurb on the main creativity page, added an introduction blurb to the February page, and popped some links in so that the page can be accessed via the main creativity page, and each of the already-archived pages.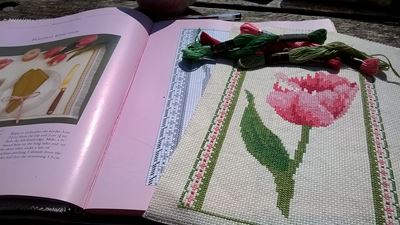 Day 95 - Monday 5th April 2021
Having finished the roses cross stitch, I've picked this tulip cross stitch up to continue where my Gowjus Girl left off a few years ago.
The original design was for a place setting, but again Lydia adapted it so that I can use it as a panel on a cushion. Lydia had already done quite a bit on this, so it shouldn't take me long to finish it.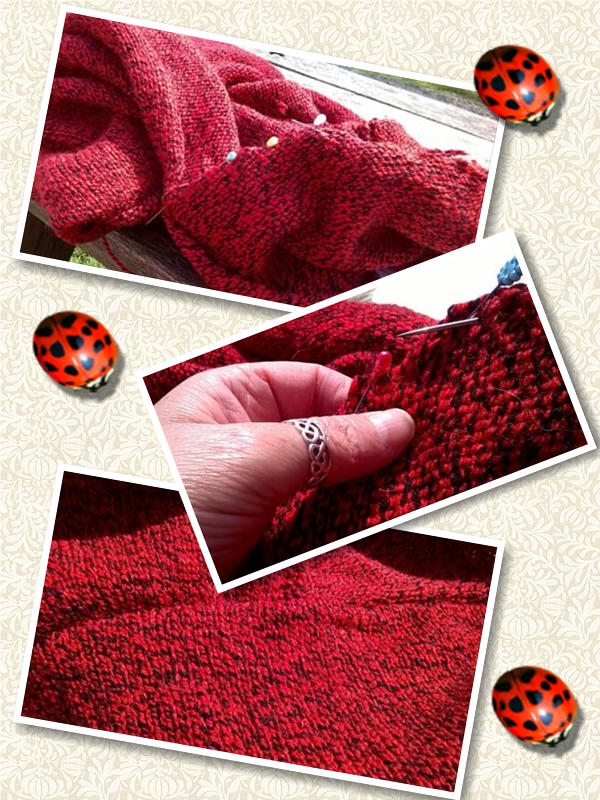 Day 94 - Sunday 4th April 2021
Today I continued stitching up the black and red cardigan - I did so in the sunshine at Craig-y-Nos Country Park. Very relaxing!
Both sleeves are now stitched in. As with the shoulder seams I used a neat, medium-sized back stitch, which gives a lovely neat, flat seam. Just the sleeve seams and sides to sew up now.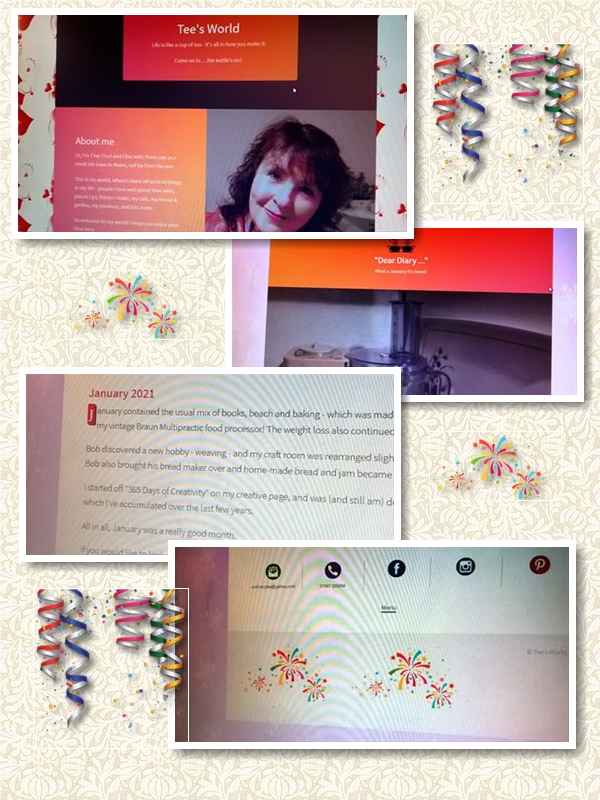 Day 93 - Saturday 3rd April 2021
More website creativity - this time to archive January's blog to its own page.
As with the previous ones, I set up a new page for it, gave it a picture which I chose from the ones I'd taken during the month, a bit of a blurb about the month, and found a new year themed image for the bottom border. I added links so that anyone visiting my website can go from the main blog page to the January one, and between all the other archived pages too. Only February and March to archive now, then I should be on track to archive them as and when each month comes to an end and another one starts!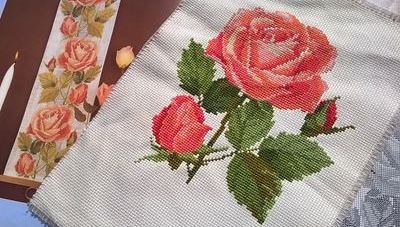 Day 92 - Friday 2nd April 2021
I've finished the cross-stitched roses cushion panel.
I am so happy with it - I love the colours and the design.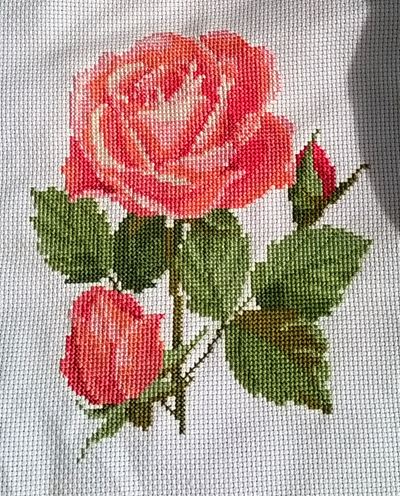 This was originally started by my Gowjus Girl a few years ago, and she adapted the original design, which was for a bell pull. Lydia just reduced the amount of the design which would be stitched, so that it would fit into a rectangular panel to go onto a cushion.
Now it needs to be washed, dried and pressed.
Then I will look for some suitable fabrics to make it up into a cushion.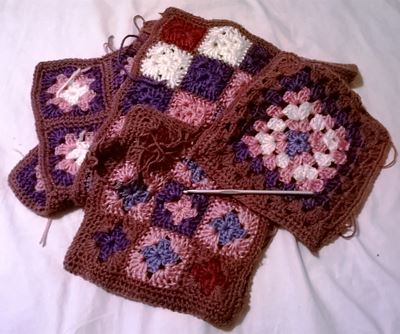 Day 91 - Thursday 1st April 2021
I've been working on a trio of pretty crochet cushions, in pinks and purples. The colours on my camera are a bit off sometimes - the outside colour looks brown, but it is actually purple.
These were amongst all the WIPs cushions I got out a while ago. At the moment I'm just snipping off/weaving in ends, and edging & joining them, ready to make cushions to go inside. As with my new lounge cushion, I'll be putting these on the pile of sewing jobs to do whilst The Great British Sewing Bee is running.

Up, up and away......
Back to the top of this page..
Back to the main Creativity page..